Buying a second home may seem like a pipe dream, something reserved for only the most well-off. But in reality, that's far from the truth. Buying a second home is more doable than you might think for homeowners of all income levels who are looking to make a property investment or just have a place to vacation. According to a Redfin study, demand for second homes skyrocketed over the pandemic, growing an astonishing 84% year over year.
Where you purchase your second home can make or break your investment, not to mention how much enjoyment you get from your new pad. To help ensure you make the right decision for your needs, the team at Hippo analyzed data such as median home costs, average home insurance premiums, property value gain, crime rates and much more for the 100 most populous cities across the nation. Below, we break down the top cities in every region of the U.S. that are worth investing in.
Top cities for a second home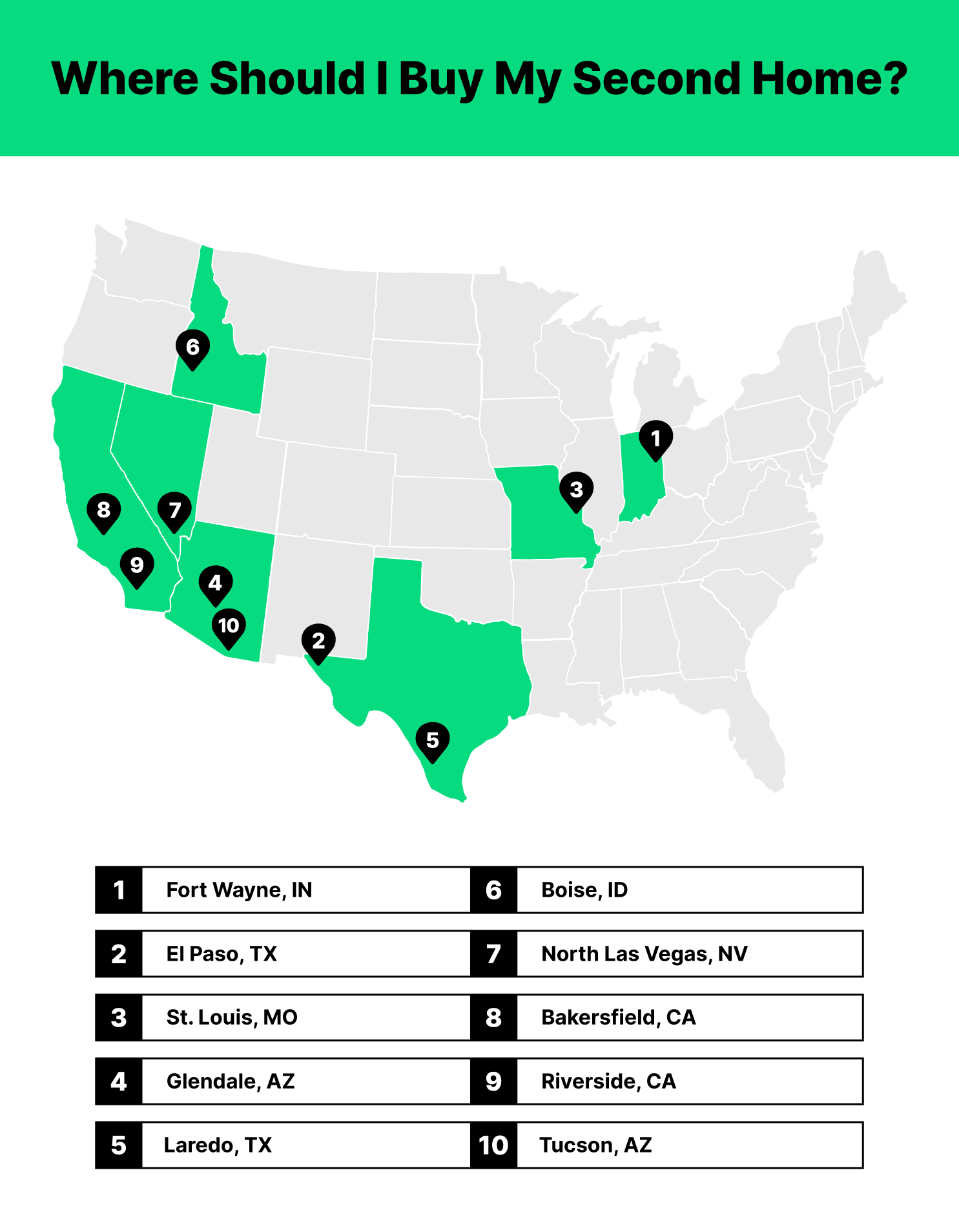 If you don't have your heart set on living in any particular part of the country but feel you're financially ready to buy a second home, consider any of the following cities to settle down. With low median housing prices, relatively low property crime rates and high walkability scores and comfort indexes, these cities are perfect for families and young homeowners alike.
Fort Wayne, Indiana
El Paso, Texas
St. Louis, Missouri
Glendale, Arizona
Laredo, Texas
Boise, Idaho
North Las Vegas, Nevada
Bakersfield, California
Riverside, California
Tucson, Arizona
To learn more about what makes these cities so exceptional, keep reading for our regional breakdown.
Getting coverage for your second home
Though you may not spend all your time at your second home, that doesn't mean it doesn't deserve protection. Quite the opposite, actually. Since you won't always be around to keep watch, it's a smart idea to beef up security and invest in proper insurance for your home. It's also worth noting that the type of insurance you need will vary based on how often you plan on visiting and if you plan to rent it out to others. You can learn more about protecting your second home with our guide.
No matter where you buy your second home, Hippo's got you covered with modern, smart home insurance policies that work for you to make sure your investment is properly protected. Have a few questions, or are you ready to get a policy? Give us a call and we'll help you get what you need. Want to learn more about the best cities to settle down? Check out our NY home buying guide.
Methodology: This study was conducted in August 2021. To identify the top cities to buy a vacation home, the team at Hippo pulled the following data sets for the top 100 most populous cities in the United States:
We then assigned a weight out of 100 to every data set, based on the most important factors for those shopping for a second home. Each city was then given a score based on these factors and assigned an overall ranking. The cities with the highest scores were deemed the best cities for second home purchases.