Life in the Silver State is what you make it. Whether you've chosen to live a life of glitz and glamor in Vegas, or you prefer a quieter life in places like Battle Mountain, if you own your home, you'll need homeowners insurance in Nevada.
To make sure you have the coverage you need — and that you aren't paying for any coverage you don't — you'll need to do some research. Or, you could just turn to the experts. For all the information you need on getting coverage worthy of a brand-new mansion at an affordable price, check out Hippo. We just expanded our modern policies to cover Nevada homeowners and all their different types of homes.
How much is homeowners insurance in Nevada?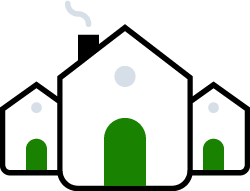 Homeowners insurance in Nevada costs an average of $849 per year, the same amount you and a friend would pay for a three-night stay in Las Vegas. While you may worry about wasting money on the slots, you should know that Nevada is one of the cheapest states for home insurance, so you have a little money to burn.