Whether you just bought your dream home or invested in a fixer upper, maintenance is a mandatory part of home ownership that's not always completed properly. According to the national statistic on the Cash Value of Home Maintenance, every dollar spent on maintenance prevents up to $100 of repair costs. But still, even with this startling statistic, proper home maintenance can be overwhelming.
To turn a daunting requirement into manageable pieces, we've broken down home maintenance tasks into monthly, quarterly, yearly and seasonal checklists. You can also check out books from home improvement experts to learn even more on how to care for your home.
Seasonal home maintenance
In addition to the monthly and quarterly home maintenance chores, each season brings about it's own challenges that need to be preemptively addressed for proper home wellness.
"As seasons change, our homes are exposed to different elements that can really affect the structure," says Andrew Wynn, Director of Hippo Home Care. "Preparing for changing seasons in advance is a great way to save money and the stress of unexpected or unnecessary home repairs. You will prevent issues from happening in the first place and won't be competing, and paying higher prices, for tradespeople who come into high demand seasonally."
From spring deep cleaning to protecting your home from summer hazards, keep the following lists handy throughout the year to help reduce strain on your home appliances and prevent big repairs down the line.
Spring
Spring is often associated with new birth and growth in nature, and it's no surprise that the same changes tend to happen inside homes across the nation. Often a time for organization overhauls and deep cleaning of the corners of your home, homeowner care during spring will require some outdoor work as well. But it's not all in vain. Rolling up your sleeves and getting to work with spring cleaning provides a major monetary payoff. Check off all the items on this list to ensure proper spring maintenance.
Check for mold. Areas with high humidity such as sink cabinets, bathroom tiles and sealant can be a breeding ground for mold. Make a point to routinely check for mold and clean any signs of growth, and hire a professional when necessary.

Time required: 30 minutes
Potential savings: $1,928

Complete lawn maintenance. Reseeding, fertilizing and regularly mowing your lawn helps boost the curb appeal of your home and give grass time to grow before the summer sun sets in.

Time required: Two to three hours

Trim trees. Cut back longer branches that extend over your home or other structures on your property. This will not only help maintain your tree health, but prevent any damages from fallen limbs during storms.

Time required: two to three hours
Potential savings: $7,750 in roof repairs

Paint over cracks. Check the internal and external walls for cracks or peeling paint. Give any nicks a fresh coat to prevent damage to the structure of your home.
Service HVAC units. Getting your AC system inspected by a professional each spring can help detect minor issues before they turn major, and ensure you're comfortable in your home all year long.

Time required: One to two hours
Potential savings: $9,015

Power wash your home and deck. Cover doors and windows, then power wash the layer of dirt that has built up on your outside fixtures over the winter months.

Time required: Three hours
Summer
Summer maintenance is all about upkeep. While the warm weather may draw your attention to the outside portions of your home, it's worth taking some time to inspect and repair indoor features as well. From DIY summer projects to money-saving preventative tasks, make sure to add all of the following to your summer to-do list.
About one in 400 insured homes has a property damage claim due to theft each year. Source: Insurance Information Institute
Check locks. According to alarms.org, burglary rates are the highest in the summer months. Take extra precaution against intruders by checking locks on doors and windows and replacing when needed.

Time required: 30 minutes

Clean out the garage. Reorganize and sweep out dirt from your garage to allow for plenty of space should you need to protect your car from a sudden summer hail storm.

Time required: One to two hours

Check weatherstrips. Not only can this prevent pesky bugs from sneaking in under your door, but it can also help keep your home cooler and lower your energy bills. Make sure all weatherstrips are fully functional and don't have any rips or holes.

Time required: 20 minutes

Wrap water heater. Place a water heater insulation jacket or blanket on your tank to lower utility costs up to 16% according to energy.gov.

Time required: 30 minutes
Potential savings: $1,118 in water heater replacement costs

Examine the sump pump. Malfunctioning sump pumps can lead to a water backup in your home and potential mold growth, so checking to ensure it's properly pumping away water each summer can prevent damage to your home or basement.

Time required: 30 minutes

Spray for bugs. Summer is a breeding ground for bugs who are looking to escape the heat. Closing up any cracks in your walls and spraying insect repellent can help keep them away and prevent any future damage.
Install smart home tech. Devices such as motion detection lights, smart doorbells and cameras can help increase your home's safety and allow you to check in from anywhere.

Time required: One to two hours
Smart home devices can protect your home from risks like fire, water damage and theft, and lower your insurance premiums.
Fall
Let preparation be your main focus throughout all of fall, as the extreme weather during upcoming winter months can cause severe damage to your home if not taken into account ahead of time. The steady temperatures of the season allow for ample time to finish up renovation projects and complete the few fall tasks required.
About one in 50 insured homes has a property damage claim caused by water damage or freezing each year. Source: Insurance Information Institute
Clean the chimney. If your home has a fireplace, hire a chimney sweep to clear out excess debris before making your first fire. This can help prevent potential damage to your fireplace and the inside of your home when using the fireplace.

Time required: One to two hours

Examine the fireplace. Another routine check of the fireplace itself before lighting your first fire can help prevent any smoke from entering your home as well as other potential hazards.

Time required: 20 minutes

Protect exterior plumbing. Insulation around all exterior plumbing fixtures can help prevent freezing or burst pipes once the temperature cools off.

Time required: 30 minutes

Inspect your radiator. Check the radiator and thermostat for proper function to help prevent cold nights waiting for a repair during the winter months.

Time required: 20 minutes

Winterize your AC. Towards the end of Fall, cover your AC with tarps to prevent water and snow from entering. This can help extend the life of your units.

Time required: 10 minutes
Winter
Taking care of your home after winter weather strikes and completing interior projects are the main categories of winter home maintenance. Cold temperatures and snow mean most outdoor projects that aren't related to prevention are on hold, leaving plenty of time to play around with interior upgrades. To make sure your home can properly protect you throughout the season, complete the following chores each winter.
About one in 40 insured homes has a property damage claim related to wind or hail each year. Source: Insurance Information Institute
Check for ice dams or icicles. Use warm water or a de-icer spray to remove ice build up from your roof or sidings. This will help prevent damage to your home's structure and damage to others should the ice melt suddenly.

Time required: One to two hours

Look for leaks. During warmer periods, check the basement or bottom floor baseboards for leaks and patch up holes before they lead to water damage.

Time required: 15 minutes

Inspect exterior for damage after storms. Checking and repairing damage as soon as it happens can keep the problem from getting worse over time.
Shovel snow. Keeping walkways and driveways clear of snow helps prevent accidents that your family (or others visiting your property) could sustain.

Time required: One to two hours

Stock up on supplies. On clearer days, make a trip to the grocery store to stock up on supplies in case a major snowstorm hits and travel isn't possible for a while.

Time required: One to two hours

Monthly home maintenance tasks
While you may spend a few hours each Sunday dusting off surfaces and doing general cleaning, there are more unique items that require your attention over time. By taking the time for preventative care on life-saving items such as fire extinguishers and carbon monoxide detectors, you can help prevent major accidents before they happen. And luckily, the payoff of these homecare tasks extend well beyond the amount of work required.
To keep your home running smoothly for the long haul, add these quick and preventative projects to your monthly cleaning checklist:
Clean dishwasher filter. Remove and clean the filter each month to keep your dishes sparkling clean, along with regular kitchen cleaning.

Time required: 15 minutes
Potential savings: $112/yr

Clean kitchen disposal. Throw some ice cubes and bleach into your disposal, and run until clear to sharpen blades and disinfect. Run again with orange peels for a fresher sink.

Time required: Five minutes

Clean dryer vent. Even with proper lint filter cleaning, lint can still build up in the vent over time. Remove the vent from the back of the dryer each month and vacuum out excess lint to prevent fires and boost your dryer's efficiency.

Time required: 15 minutes
Potential savings: $1,669

Dust surfaces. Help prevent allergies and extend the life of your air filter by dusting off all surfaces in your home at least once a month, if not more.

Time required: 10 to 20 minutes

Inspect and locate fire extinguishers. Ensure fire extinguishers aren't expired and are easy to access. If needed, go over how to use them with your family in case of an emergency.

Time required: Five minutes

Test smoke detectors. Check batteries in all your smoke detectors each month and replace if necessary, to give yourself peace of mind in case of a fire.

Time required: 10 minutes
The average fire and lightning claim costs more than $68,000. Source: Insurance Information Institute
Replace air filters. While it's often recommended to replace your HVAC filter every month, it may not be needed as frequently depending on your dusting habits and pets. Make it a habit to check each month and replace when necessary.

Time required: Five minutes
Potential savings: $1,669

Test carbon monoxide detectors. Test your carbon monoxide detector to ensure it will alert your family in the event of a leak.

Time required: Two minutes
Approximately 430 people die in the U.S. from accidental CO poisoning each year. Source: CDC
Unclog drains. Drain buildup can sneak up on you and cause unsightly pooling of water. Use a snake or liquid drain cleaner to prevent buildup in all your sinks and shower drains.

Time required: 15 to 20 minutes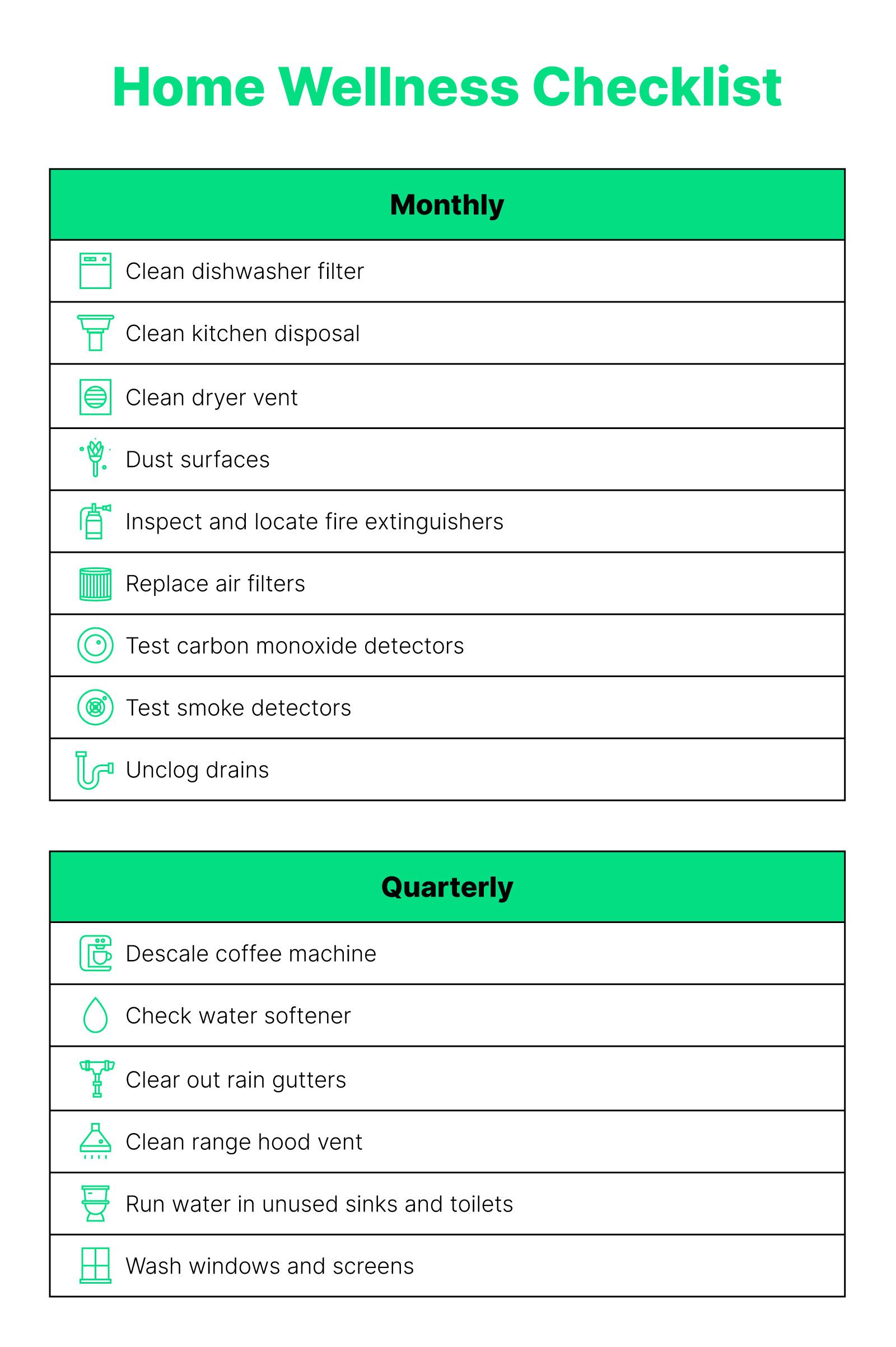 Quarterly home upkeep
As a homeowner, it's important to keep in mind the more extensive tasks that need to be tended to every three months. While not as simple as the monthly chores, these quarterly cleanups are crucial to maintaining the indoor and outdoor function of your home. Many items in your home can get strained over time by constant use, so scheduling some time every few months to knock these tasks off your list can counteract some of that wear and tear. And when you see how long these items can last with a little TLC, you'll be grateful you did.
Descale coffee machine. Follow manufacturer instructions to clean and descale your coffee machine to remove mineral build up and brew a better cup of coffee.

Time required: 30 minutes

Check water softener. Take a look at your brine tank to ensure salt levels are normal, and add more if necessary. This will help prevent hard water damage from occurring on your clothes and dishes.

Time required: 20 minutes

Clear out rain gutters. Remove leaves and other outdoor elements in your rain gutters to ensure proper drainage during the next storm.

Time required: 40 minutes to one hour
The average claim amount for flooding is more than $42,000. Source: Insurance Information Institute
Clean range hood vent. Remove and rinse off the vent above your stove top range to allow for better airflow when cooking.

Time required: 15 minutes

Run water in unused sinks and toilets. Flush rarely used toilets and run hot water through sinks and showers to prevent grime build up in your pipes, which will help prevent costly pipe repairs over time.

Time required: Five minutes

Wash windows and screens. Remove screens and wash them, as well as your windows, to get rid of dirt and bugs and keep your home looking new.
Upgrades for long-term home health
To take your home maintenance care to the next level, pencil in more unique chores and appointments on a yearly or five- to ten-year basis. Things like repainting, inspections and sealing driveway cracks don't need to be addressed as often as the tasks above, but they can still make a major difference in the appearance and life of your home. Before diving into these tasks yourself, it's best to take into consideration the time, potential dangers and cost. Hiring a professional can be helpful for bigger projects, especially those that require an expert eye.
Yearly
Check for infestations. Look for signs of termite or other bug infestations throughout your home, especially in less-frequented areas such as basements or attics. Bring in professional help to inspect and treat if needed.
Clean out heating/AC ducts. Hiring a professional service is your best move here, to ensure all dust, debris and moisture are removed from your ducts. This can help extend the life of your HVAC system and keep your home cleaner.

Time required: Two to five hours
Potential savings: $4,820–$9,350 in replacement costs

Vacuum refrigerator coils. The coils used to power your refrigerator can collect dust over time, reducing their utility. Vacuuming them (and the area behind your fridge) once a year can help reduce energy consumption.

Time required: 15 minutes
Five- to ten-year upkeep
Seal driveway cracks. Cracks in your driveway are not only unsightly, but unsafe as well. You can repair minor cracks quickly with sealant and asphalt, though it's important to note it takes time for these items to dry before they can be used.

Time required: One hour
Potential savings: $4,041

Get a full inspection. Home inspections aren't just a step in the home buying process. Having a professional take a closer look at your home's electrical wiring, foundation and structure every few years can help you understand how your home is holding up and what repairs might be coming.

Time required: Two to three hours

Recaulk. Check bathroom grout and sealant of windows and doors, recaulking as needed to prevent mold, save on energy and improve the appearance of your home.

Time required: 15 minutes
Potential savings: $80–125 in replacement costs

Paint the exterior. Over time, the paint on your home can start to wear from rain, wind and sun damage. Giving your house a new coat every few years can help keep it looking new for a long time.

Time required: Three to four days
Regular maintenance of your home can help prevent costly repairs over time, allowing for properly performing appliances and lower utility and energy bills. According to Wynn, it's ultimately about being prepared.
"Develop a home-specific, proactive maintenance routine and invest in the small things before they become costly, stressful repairs," says Wynn. "An ounce of prevention is worth a pound of cure!"
You invested a lot into your house, so make sure your home insurance company takes care of your home like the priority that it is. Interested in switching coverage? Give Hippo a try and take advantage of our Home Care Maintenance service, with experts available to help you whenever you need.