It's been quite a year for new homeowners. With interest rates hitting record lows and lockdowns forcing people to stay inside, it wouldn't be a surprise if you knew several people that purchased their first home recently. While a lot of work goes into the process of actually buying that first home — getting approved for a mortgage, touring properties, writing letters to the sellers, negotiating updates and getting an inspection — the research tends to halt once the home is purchased.
But new homeowners will quickly discover they have a lot of questions, from how to fix a leaky faucet to how to decorate their living space properly, and once again, they'll need to do some research. Luckily, there are plenty of books out there to help you tackle every aspect of homeownership. Get your home in tip-top shape (and keep it that way) with the following books that'll help you become a more handy homeowner.
The best books for new homeowners
Whether you bought a brand new home or a fixer-upper, homes are expensive. So it's no surprise that homeowners want to make sure their home looks good on the inside and out. That's why lots of new homeowners dive into additional hobbies such as gardening, woodworking or decorating. The following books are for the new homeowners looking to pick up some fresh skills (or for those who want to fill up their home library). If you're looking to make your home feel more like "you" or you just want to know what to do when you spot a crack in your foundation, consider the following for total home confidence.
Home improvement books
As a homeowner, there's no landlord to call when the dishwasher breaks or when the front door jams. With the exception of hiring a professional, you're on your own when it comes to fixing or updating your home. And to save money, many new homeowners are interested in learning how to make these improvements themselves. Turn that dream into a reality with any of the following books, perfect for novice to intermediate DIY-ers alike.
Gardening and lawn care books
Tending to your lawn can be a rite of passage for new homeowners. However,  some may be scratching their heads when it comes to how to get started. Fill that head with an array of gardening, lawn care and indoor plant knowledge with the following books catered to those looking to get their hands dirty.
Decorating books
Decorating a brand new home is an exciting process. However, it can easily turn frustrating if the process doesn't come naturally, runs over budget or isn't properly prepared for. Luckily, many decor experts have lent their time and created books to walk homeowners through the process. If you (or someone you know) is admittedly overwhelmed at the thought of decorating — or just wants to learn more about interior design — these books are sure to please.
Cleaning and organization books
Homes are bound to get messy. With work, family, dinners and lazy afternoons, even the cleanest turn-key homes will end up a little disheveled from time to time. But with a few simple organizational hacks, cleaning up and staying organized is easier than ever. Once you've settled in (and hopefully completed a home inventory), dive into one of these books and get ready to undergo a total home transformation.

What first-time homeowners really need
There are a lot of hidden costs of homeownership. And those don't stop once the mortgage is signed. From lawn care and repair needs to decorating and remodels, there is always something expensive just around the corner. That's why it's helpful to know ahead of time what things you actually need so that you can adequately budget for upcoming expenses.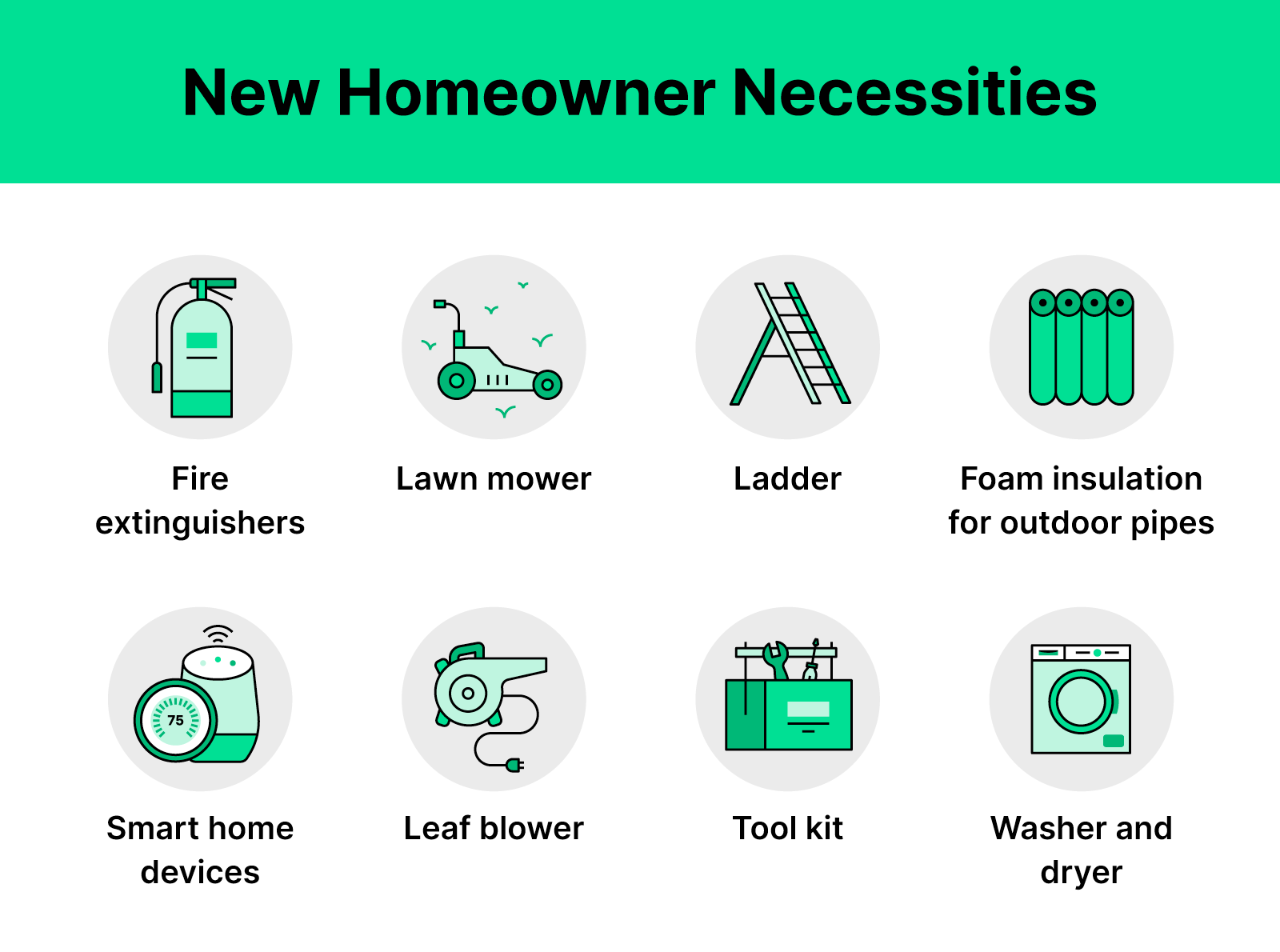 Consider whether you'll need the following items and rank them by importance to help you determine how much you'll need to save during the first few years of homeownership.
As a new homeowner, the best gift you can give yourself is the knowledge of how to care for your house properly. Besides being the place you call home, a house is a great investment opportunity and can help you build generational wealth that simply can't be matched. Once you've learned the ins and outs of home improvement, gardening, plant care and organization, turn to the home insurance experts to learn more about things like home contents and P&C protection to make sure your insurance policy has your back.