Reading is a great way to learn for all ages. From small children to the elderly, opening a book can offer a multitude of benefits. Reading can help with academic and employment efforts, reduce stress, and serve as a healthy hobby to take up during the new year. Books can also turn your home into a treasure trove of information for you and your family.
For many avid readers, figuring out how to store their growing book collection can be a major challenge. Building a home library is an excellent way to address this issue because it provides you with a dedicated space to enjoy your collection. If you want to build your own personal library but aren't sure where to start, we've compiled a list of tips to help you in creating your dream home library.
What is a home library?
A home library, also called a private library, is a collection of the books and other reading material a person keeps in their home. Typically owned by an individual or a small group, a home library is tailored to fit its owner's preferences. While many people already have a study in their home, a home library can be a beneficial way to keep all of your books in one designated area to keep them safe and organized. That being said, placing and designing your home library is extremely important, especially if you are adding to an existing one.
How to make a home library that's functional and stylish
Because a home library is a private space, much of its design will be influenced by your own preferences. Nevertheless, there are a few tips to remember to make your home library work for you, no matter your style.
1. Take inventory of your current collection
Before building your home library, you'll want to take inventory of your current collection. You may be surprised at how many books you already own. Taking inventory will also help you determine how much space you'll need for your library and will make the organization process easier as you'll already know what books you have. 
If you have a lot of precious and priceless books, make sure to notify your home insurance company about your inventory list so that they can cover anything that gets lost or damaged.
2. Find an available space
The first step to creating a home library is finding the perfect location within your home. Depending on your library size, this could mean taking on a DIY project in the space you have or undertaking larger renovations to make room. 
When taking inventory of your space, there are a few considerations. Avoid situating your home library against outside walls, which are subject to temperature changes. These changes can have a significant impact on the state of your library and lead to the growth of mold or mildew. Areas close to food and drink should also be avoided as they can attract small animals and insects. Try to place your home library in underutilized areas of your home, such as under the bed or in awkward corner nooks.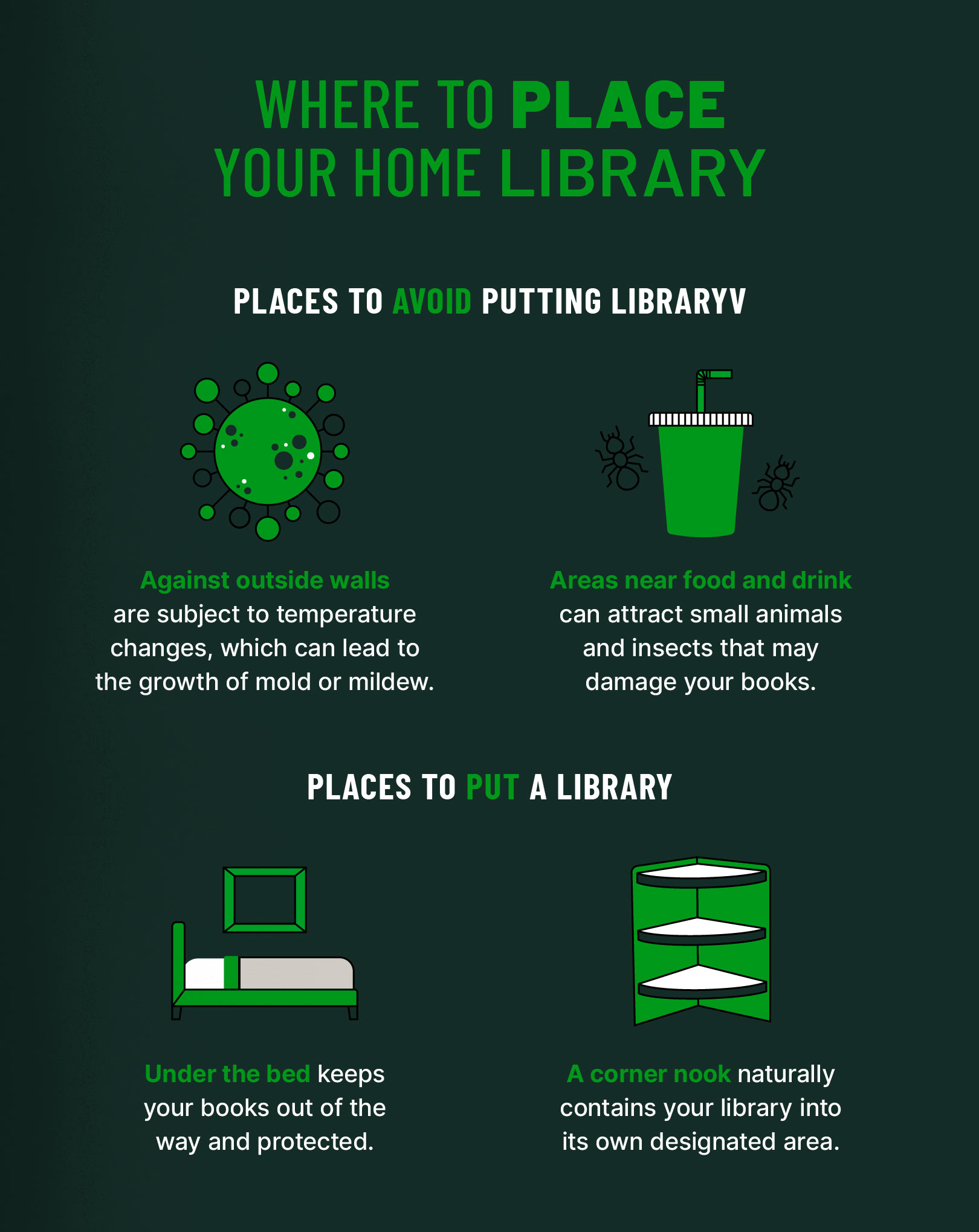 3. Nail down your budget
Once you've decided on the placement for your home library,you'll want to invest in the renovations for it. You'll want to consider the size of your library, how many shelves it's going to have, and how intricate your home library will be. Identifying these key features will give you a good idea of how much your home library will cost and how much renovation will be required. If you intend to expand your library over time, you'll need to budget for the cost of new books as well.
4. Install your new book storage
Installing book storage can help to expand your home library, but also affects the structural integrity of your house as well. As a result, any financial losses incurred during the construction of your library are typically covered by dwelling insurance. Dwelling insurance is a component of your homeowners insurance policy that covers structural damage to your home. When installing book storage, you'll first need to determine which types of installation will fit into the space and whether they will meet the needs of your home library. You may also want to look into these free renovation programs or ideas before installing new book storage.
5. Get creative with shelving
When it comes to selecting shelving for your home library, there are two standard types to choose from: built-in and freestanding. Built-in shelving units are permanent fixtures in the home that are affixed to the walls themselves. Freestanding shelving is placed against a wall and is a temporary and movable shelving unit, usually in the form of a bookcase or cabinet. 
Within those two options, there are numerous shelving styles to choose from, including floating shelving, corner shelving, hanging shelving, and adjustable shelving. You'll want to choose which shelves to use for your library prior to its construction.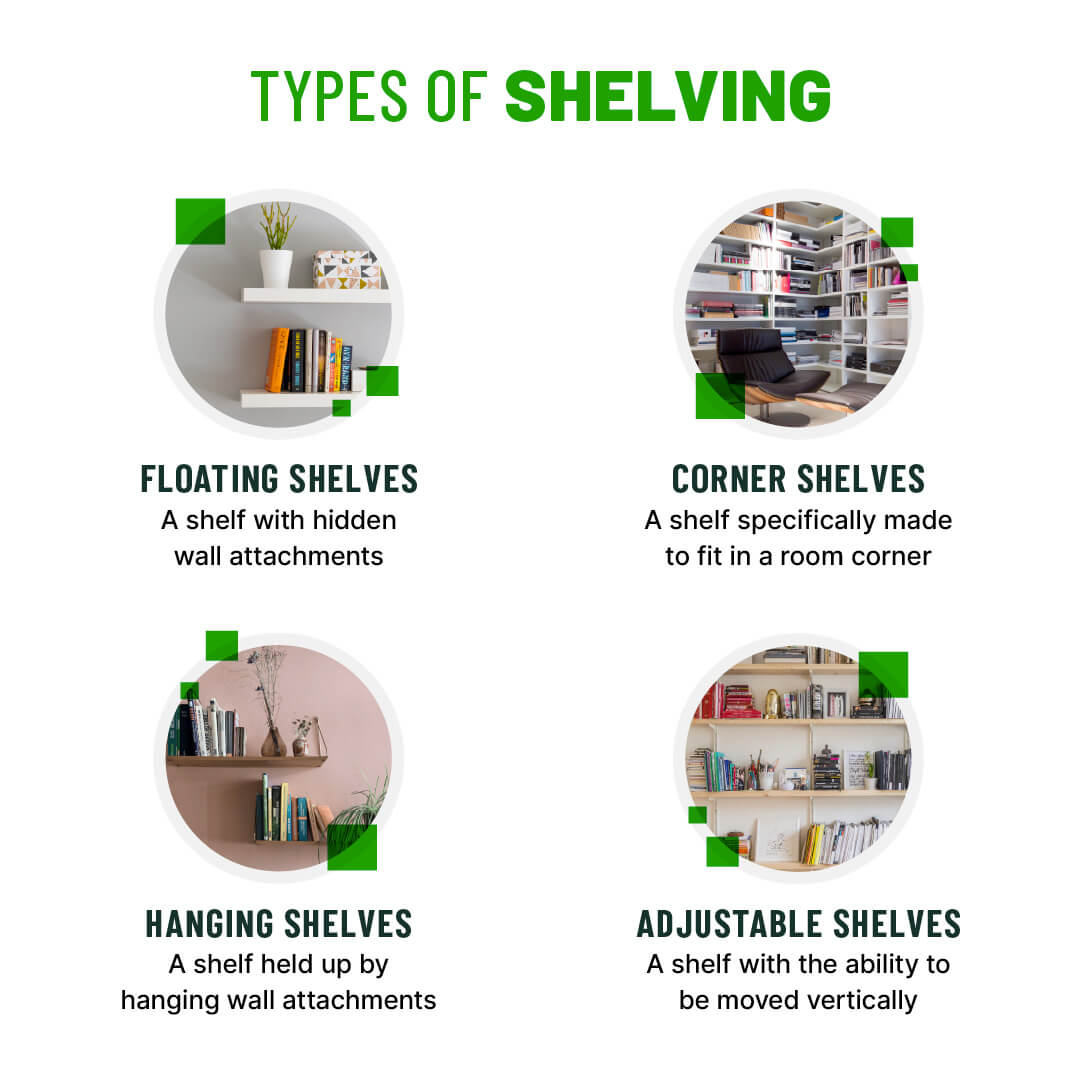 6. Embrace color
Color is a fun way to express yourself and show off your style in your home library. You can add color to your library by painting the entire bookcase or its shelves. You can also line your library with colorful wallpaper if you're feeling particularly creative. 
Indirectly adding color to your home library is also an option. You can do this by decorating the walls around it or adding small ornaments or trinkets to your shelves.
7. Match your home's aesthetic
It's important when building your home library that it matches the aesthetic of the room it is going to be in. You can do this by matching your home library to the room's pre-established color scheme, since nothing ruins the atmosphere more than a clashing color scheme. 
You'll also want to ensure that the organizational style of your home library complements the room. For example, if you prefer a more minimalist aesthetic, leave more space on shelves and only highlight the most important books. 
8. Think about seating
Including appropriate seating in your home library is an excellent way to create a comfortable environment and increase the amount of time you spend reading. A small built-in reading nook or sitting area is a great method to incorporate seating into your home library. Adding furniture to your home library is another excellent option. You can even make use of existing furniture in your home, such as a chaise lounge or accent chair.
9. Include both natural and artificial lighting
While there are many different types of artificial lighting you can use in your home library, the three most common are task lighting, accent lighting, and ambient lighting. These types of lighting can be incorporated into your home library using desk or office lamps, ring lights, and floor lamps. Natural lighting, on the other hand, is the light a room gets from the sun. 
As opposed to artificial lighting, natural lighting can be extremely beneficial for your health. Not only does natural light not damage your eyes to the same extent as artificial light, but it can help to maintain your circadian rhythm and is a good source of vitamin D. According to an article by TIME Magazine, natural lighting can also improve mood and even help combat seasonal affective disorder. You can include natural lighting in your home library by selecting a light color palette, placing mirrors or reflective surfaces in the area surrounding your library, or installing your library in a room with a lot of windows or a skylight.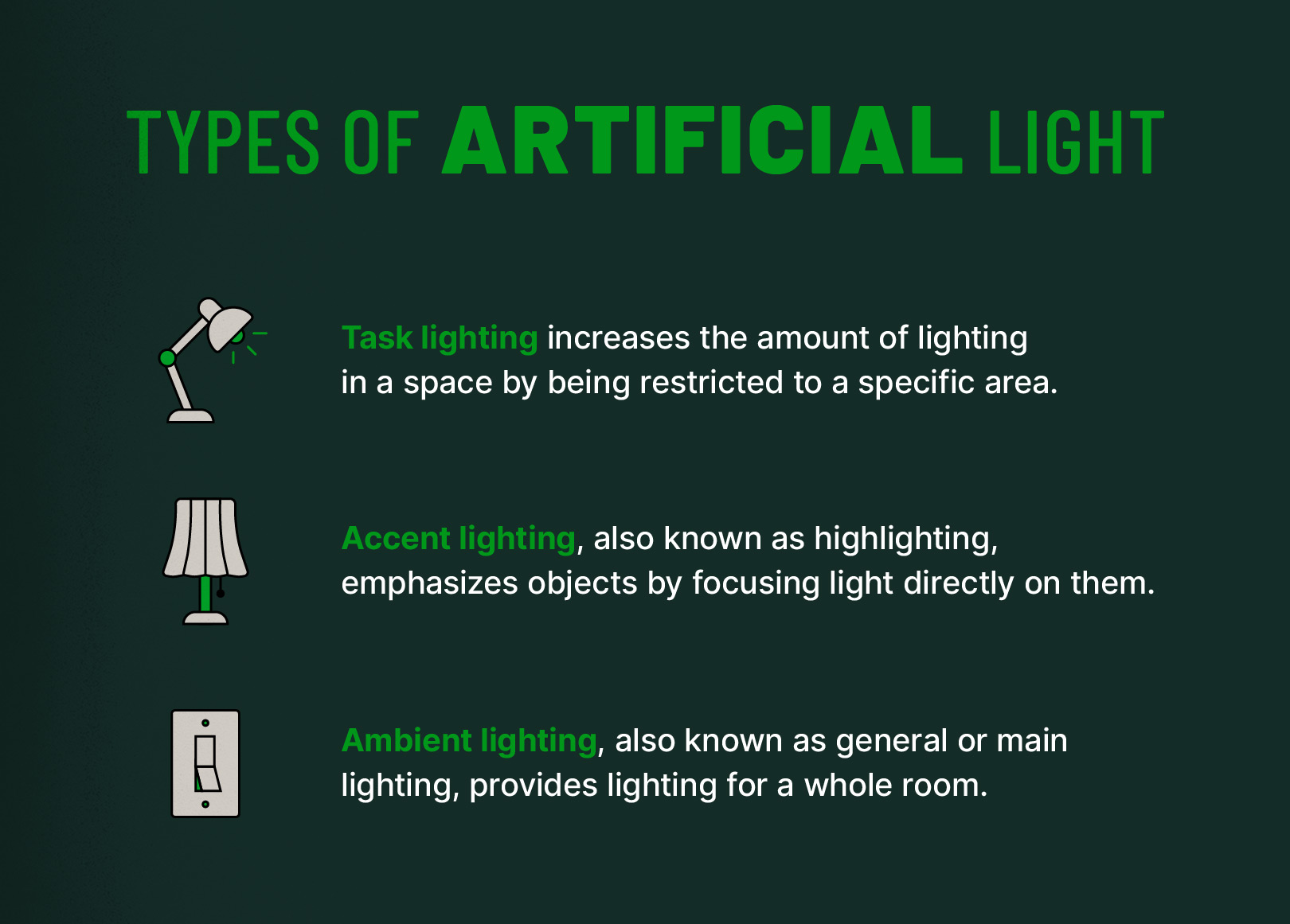 10. Create a book wishlist
Making a book wishlist can be helpful when building your home library, as it allows you to plan where you'll store your current books and how much space you will need for the books you want to add in the future.
You'll want to prioritize your wishlist accordingly, putting the books you're most excited to add to your library ahead of those you're still undecided about. Making a book wishlist will also help you in the future when looking for books because you will already know which books you want to buy.
11. Organize books to fit your needs
There are numerous ways to organize your home library. Because this is your personal library, you should select the organizational style that best suits your needs. Whether organized alphabetically, chronologically, by genre, or by color, your library should be arranged in the way easiest for you to maneuver. If you have children, place their books on lower shelves in your home library to make them easier to access.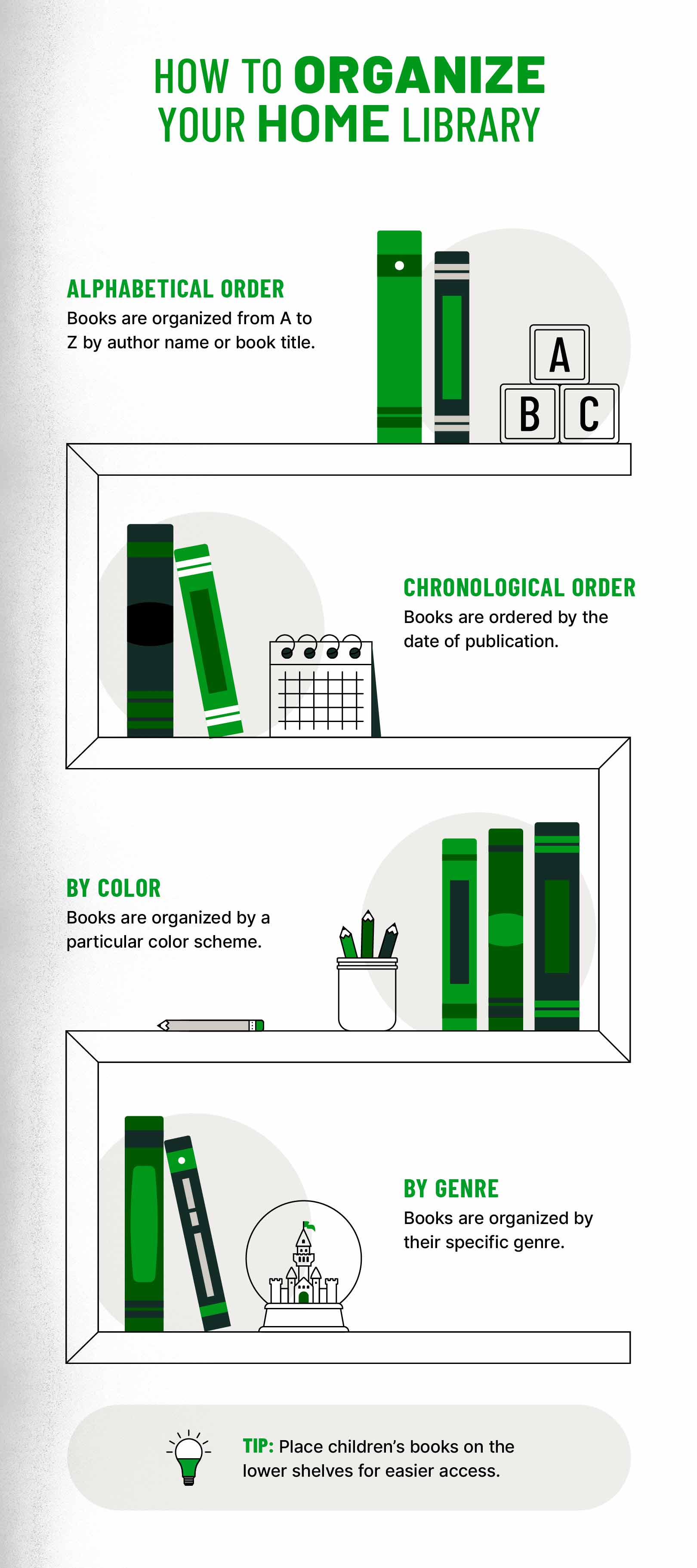 12. Include books you loved when you were younger 
If you have kids, including your childhood favorites in your home library can be a great way to share the books that were important to you as a child. Revisiting classics like "Charlotte's Web," "The Giving Tree," or "James and the Giant Peach" may even rekindle your love of fiction. Including children's books in your home library can encourage your children to take up reading as a hobby, too.
13. Find books that match your interests
When building your home library, look for books about topics you and your family enjoy or are interested in learning about. This could range from outer space to true crime to fantasy. To make your home library as interesting and diverse as possible, include a variety of genres in both fiction and nonfiction. For example, if you've recently purchased a new home, you can add expert books for new homeowners to your home library.
14. Give or collect books to celebrate
A book can be a fantastic way to celebrate an important moment in life. Whether you buy one for yourself to commemorate an achievement or give one to a loved one during a special occasion, books make for great gifts. Writing a quick note inside the book to remind yourself of the event and what it means is another great way to give your collection sentimental meaning.
15. Explore yard sales and Little Free Libraries
While building a home library is fun, it can also be quite expensive. However, there are a bunch of ways you can grow your library without dipping into your savings. When looking for an inexpensive way to add to your home library, yard sales are a great place to go. Books there are typically cheaper than at your local bookstores, even if they aren't in the newest condition. 
You can also look for books at your local Little Free Library. Little Free Library is a nationwide book-sharing organization that promotes 24-hour book access for everyone. To locate one in your area, you can visit the Little Free Library website.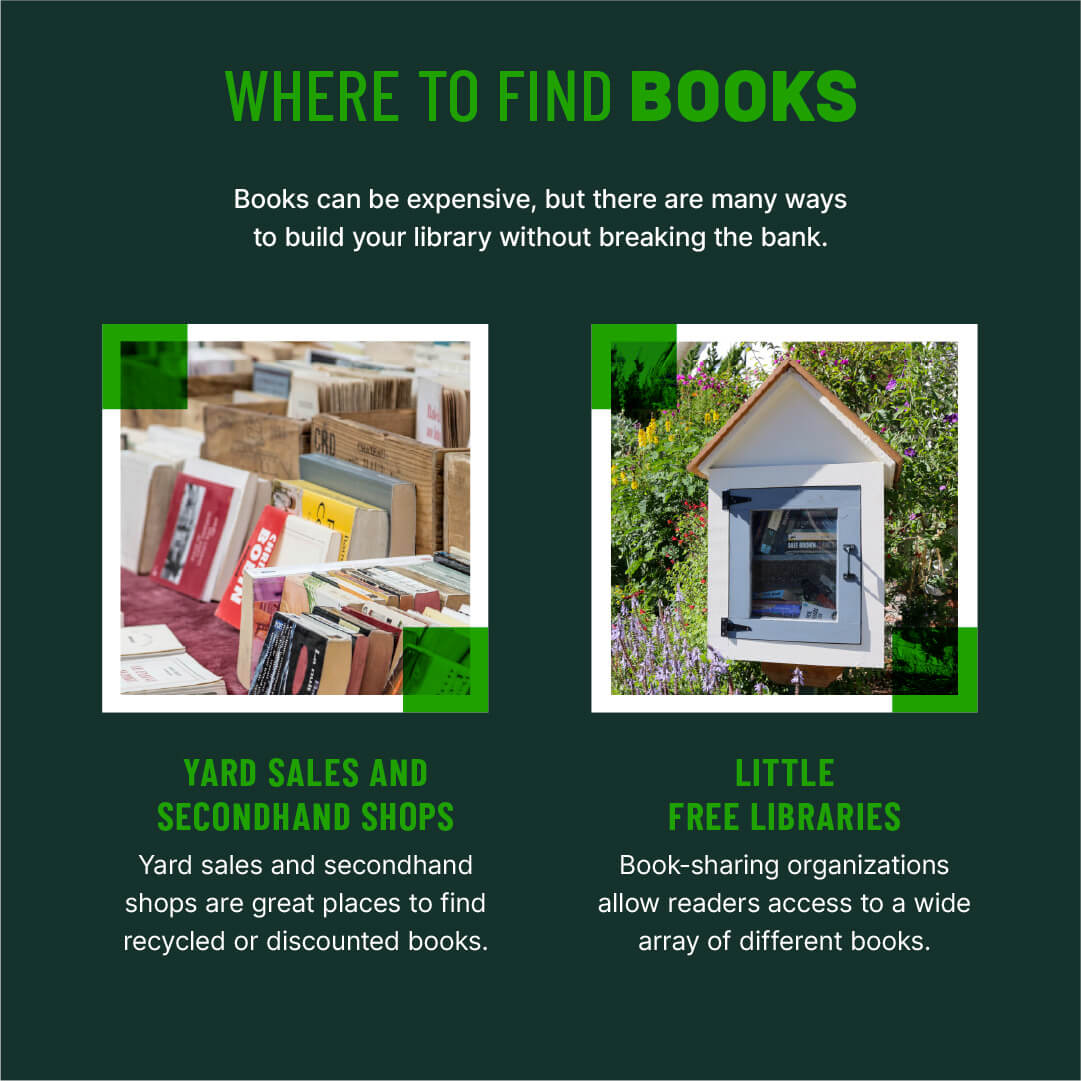 16. Keep your home library clean
You'll want to keep your home library clean once you've built it. The best way to accomplish this is to keep book jackets on, as they will protect the book from any superficial stains, and dust your home library weekly. You should also keep your books away from direct sunlight, which can accelerate deterioration and cause fading. To remember to complete these tasks, add them to your home maintenance checklist.

Benefits of in-home libraries
Having a home library has numerous advantages. Home libraries can help you improve your literacy skills, broaden your cultural understanding and promote an interest in learning.
Home libraries can help academics (not just kids!)
Research has shown that having a large number of books at home has numerous benefits. According to a recent study published in the journal Social Science Research, not only do home libraries have a positive impact on people's academic growth and job attainment, but a book-filled home encourages reading for fun and promotes the discussion of literature. 
Owning more books improves literacy levels
According to the Social Science Research study, researchers observed an increase in literacy levels among homeowners who owned 80 or more books. It was also noted that having so many books in the house seemed to help people build vocabulary, increase awareness, and improve overall comprehension. 
These benefits are great for those looking to expand their knowledge base or those who have small children. Don't worry if you haven't reached the 80-item mark yet, as building a home library takes time.
Leisure reading has been proven to reduce stress
Leisure reading can be a great way to destress, especially among students. In a recent study published by the Journal of Rawalpindi Medical University, students who enjoyed reading in their free time demonstrated fewer moments of high perceived stress than students who did not. This suggests that leisure reading can be a beneficial stress-reducing activity.
Insurance for your literary collection
When building your home library, you'll want to make sure your books are covered by your insurance company. Generally, your books will be covered under personal property insurance, but you'll want to talk to your insurance agent to determine if they are. Having your book collection insured allows you to file a claim if any of your books are ever accidentally damaged or are stolen. Unlike a free-standing library, built-in shelving will be covered under dwelling insurance, since they are a permanent fixture in your home.
A home library is an excellent way to increase your book collection and broaden your knowledge. It's also a great way to add some creativity to your home. For this reason, you'll want to make sure it's secure both before and after installation. 
Are you unsure whether your home insurance will cover your new home library? No worries — you can contact us with any questions!