There's a reason why California is mentioned in just about every song under the sun. From legendary artists like Led Zeppelin, The Beach Boys and The Eagles to modern pop-culture icons like Katy Perry and John Mayer, many have crooned about California's golden coasts and carefree lifestyle. And people listened. In fact, so many people listened that California is the most populous state in the nation, followed by Texas and Florida.
Apart from the epicenter of the United States movie industry in Los Angeles and tech innovations in the Bay Area, California is home to plenty of other benefits that draw in residents each year (including both a booming economy and over 258 days of sunshine). But life in La La Land isn't all palm trees and celebrity sightings — occasional bad weather events can cause homes throughout California to need repairs. Luckily, getting the needed protection isn't complicated.
In addition to the government programs set up in the state, there are also plenty of independent insurance companies offering comprehensive policies to get Californians covered. Below, we break down what you need to know about home insurance and just how Hippo can help.
What is the average cost of homeowners insurance in California?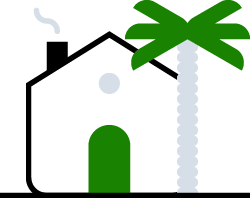 The average home insurance premium in California is $1,133. You can thank that gorgeous, year-round weather for lower premiums than the rest of the country, as many other states pay at least $1,200 a year, if not more. Just another reason why California is so popular.