Types of Homeowners Insurance

Purchasing a new home (or reconsidering how your current home is protected) can be a complex experience. There are many decisions to make throughout these processes, and none are more important than your homeowners insurance. So why do you need home insurance? If you plan on taking out a loan to purchase your home, you'll need to get home insurance, as all lenders require some form of coverage before approving a loan. Home insurance also keeps you from having to pay for repairs and replacements on your own, if you find the right coverage for your needs. Because of this, it's worth reevaluating your home insurance policy (and company) each year to ensure you are getting the right protection and the best deal.
Insurance is a complex topic. To help you understand what types of homeowners insurance will give you the protection you need, we've broken down everything you need to know below. From what home insurance covers (and what it doesn't) to how to make the best decision for your needs, Hippo has your back.
Types of policies
There are eight types of homeowners policies available, and the one that's right for you will be based on your coverage needs and the type of home you have. Special form (HO-3) policies are the most common option, as it provides foundational coverage that serves as a good baseline to provide protection for typical issues homeowners face. 
However, not all homeowners insurance policies are created equal, so it's best to shop around and read carefully to find a policy that will best fit your needs. For instance, there are policies available for unique living situations. This includes those living in a condo or mobile home, those renting a home, or those who own an older or historically significant home.
Each policy falls within two categories: named peril policy or open peril policy. A peril refers to an event that causes damage to your home such as a fire, break-in or damage from a storm. A named peril policy means that you are only covered for listed events, while an open peril policy provides more robust coverage from unexpected events that are explicitly listed. Below, we break down what you need to know about home insurance policies and terms to make the best decision for you.
Single home and other insurance policies
If you are purchasing a new house or looking to switch insurance policies, there are a variety of homeowners policies to consider. Special form policies (HO-3) are the most common, but there are basic (HO-1), broad (HO-2) and comprehensive (HO-5) options for those looking to only cover the structure of their home or their personal property. Below is a breakdown of all the single home coverage options available, including the damages and categories they cover. 
Special home insurance: HO-3 policy
The most common type of homeowners insurance, special form insurance (HO-3) includes dwelling, belonging and liability coverage. This means that your insurance company will help you financially when repairing or replacing your home's structure (including additional structures on the property), your personal belongings (even when it's not inside your home) and any costs associated with injuries that occur at your home. This includes both resident and guest injuries, as well as protection in the event of legal action.
Special form homeowners insurance follows an open peril policy for dwelling protection. Though this means the structure of your home is covered for all different types of damage, your personal belongings are under a named peril policy. Special form protection for personal belongings typically don't cover events such as earthquakes, floods, government seizures, mudslides, ordinance updates, sewer backups and sinkholes.
Basic homeowners insurance: HO-1 policy
Basic form (HO-1) coverage only offers dwelling protection. This means that while the structure of your home is covered, your belongings and personal liability are left unprotected. In recent years, this basic policy has become less common, as most lenders don't consider them to provide sufficient coverage for homes.
Basic form is also a named peril policy, meaning you will only receive coverage for damage from the following named disasters: damage from an aircraft or vehicle, explosion, fire, hail, lightning, riots or civil commotion, smoke, theft, vandalism, volcanic activity and wind.
Broad form homeowners insurance: HO-2 policy
The coverage of broad form (HO-2) policy's extends beyond basic form's (HO-1) to include personal belongings and additional perils. In addition to the basic form (HO-1) events, broad form policies also cover named perils such as artificial electrical current, cracking or other damage to pipes, falling objects, freezing, water or steam overflow and weight of snow or ice.
It's important to note that broad form homeowners insurance is fairly uncommon, and is not usually recommended by lenders as it doesn't include liability protection. This is because of the high cost associated with medical and legal fees that often occur in the event of a personal injury on the property and accompanying lawsuits.
Comprehensive homeowners insurance: HO-5 policy
Although not available with all insurance companies, comprehensive insurance (HO-5) is typically only considered for brand-new homes. This open policy includes more coverage than the special form (HO-3), but often excludes earthquake, flood, mold and nuclear damage. It also has higher limits to choose from for personal belonging and liability coverage. 
Excluded events typically include animal damage, corrosion, earthquake, flood, foundation damage, fungus, government seizure, landslide, mold, mudslide, nuclear hazard, ordinance upkeep, rot, rust, sinkhole and smog.
Renters insurance: HO-4 policy
HO-4 insurance policies were created specifically for renters, as they benefit from personal property and liability coverage but don't need coverage on the home itself. Often renters insurance will provide the same disaster coverage as a basic or broad form, and can even help you pay for lodging should you have to leave your rental due to unforeseen circumstances. 
A full list of named perils covered include artificial electrical current, damage from an aircraft or vehicle, explosions, falling objects, fire, freezing, hail, lightning, riots or civil commotion, smoke, theft, vandalism, water damage from plumbing or HVAC overflow, water heater damage, weight of snow or ice and windstorms.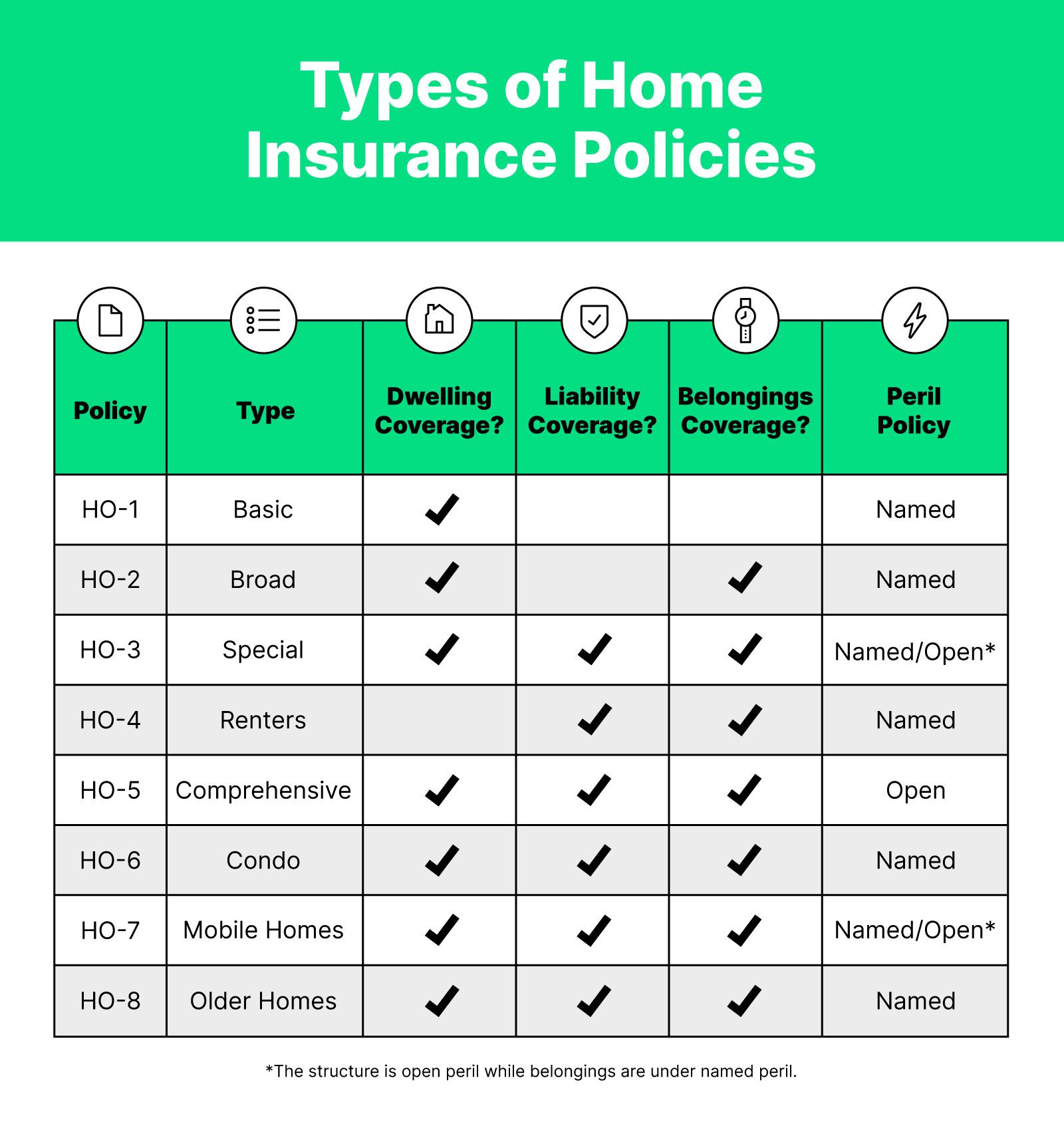 Condo insurance: HO-6 policy
Condo insurance (HO-6) covers the structure of the condo itself, the items inside and the owner's personal liability. Condo insurance's named peril policy covers common events such as damage from an aircraft or vehicle, explosions, fire, hail, lightning, riots or civil commotion, smoke, theft, vandalism and windstorms.
When purchasing condo insurance, it's important to first determine what protection your building owner will provide. While most complex owners will protect external walls and common areas such as hallways and trash rooms, double checking their coverage limitations can help save you headaches down the line. This way, you can ensure you aren't paying double for coverage you already have through your building owner, or that there aren't any gaps in your protection in case of an emergency or natural disaster.
Mobile homes: HO-7 policy
A mobile home (HO-7) policy offers a very similar level of coverage as the special form (HO-3), but for mobile homes instead of standalone houses. Mobile home insurance includes an open peril policy for the structure of RVs, mobile homes and trailers. 
Coverage for personal belongings, however, is a bit more limited and runs on a named peril policy including damage from an aircraft or vehicle, explosions, fire, hail, lightning, riots or civil commotion, smoke, theft, vandalism and windstorms.
Old or significant homes: HO-8 policy
An HO-8 policy offers a more robust coverage option for older and historically significant homes that often need more repairs and have higher costs associated with replacements and repairs. Dwelling, belongings and liability coverage are all included in a named policy that covers damage from an aircraft or vehicle, explosions, fire, hail, lightning, riots or civil commotion, smoke, theft, vandalism and windstorms.
Additional insurance policy options
If you don't find yourself fitting into any of the situations above, you may need a more unique insurance policy. Luckily, there are plenty of outlier protection plans available to suit your needs. Make sure to talk to your insurance provider about your situation to determine which option is right for you.
DP3 insurance is similar to a special form (HO-3) policy but is tailored to landlords who are renting out their homes to tenants.
Personal umbrella policy provides additional liability protection on top of what your homeowners insurance policy already covers.
Scheduled personal property coverage extends your policy limit for high-risk or expensive items in the event of damage, theft or loss.
Short-term home insurance covers vacation homes during peak seasons.
Vacant insurance offers protection for empty homes that are more susceptible to major damages from events like fire and theft.
How home insurance works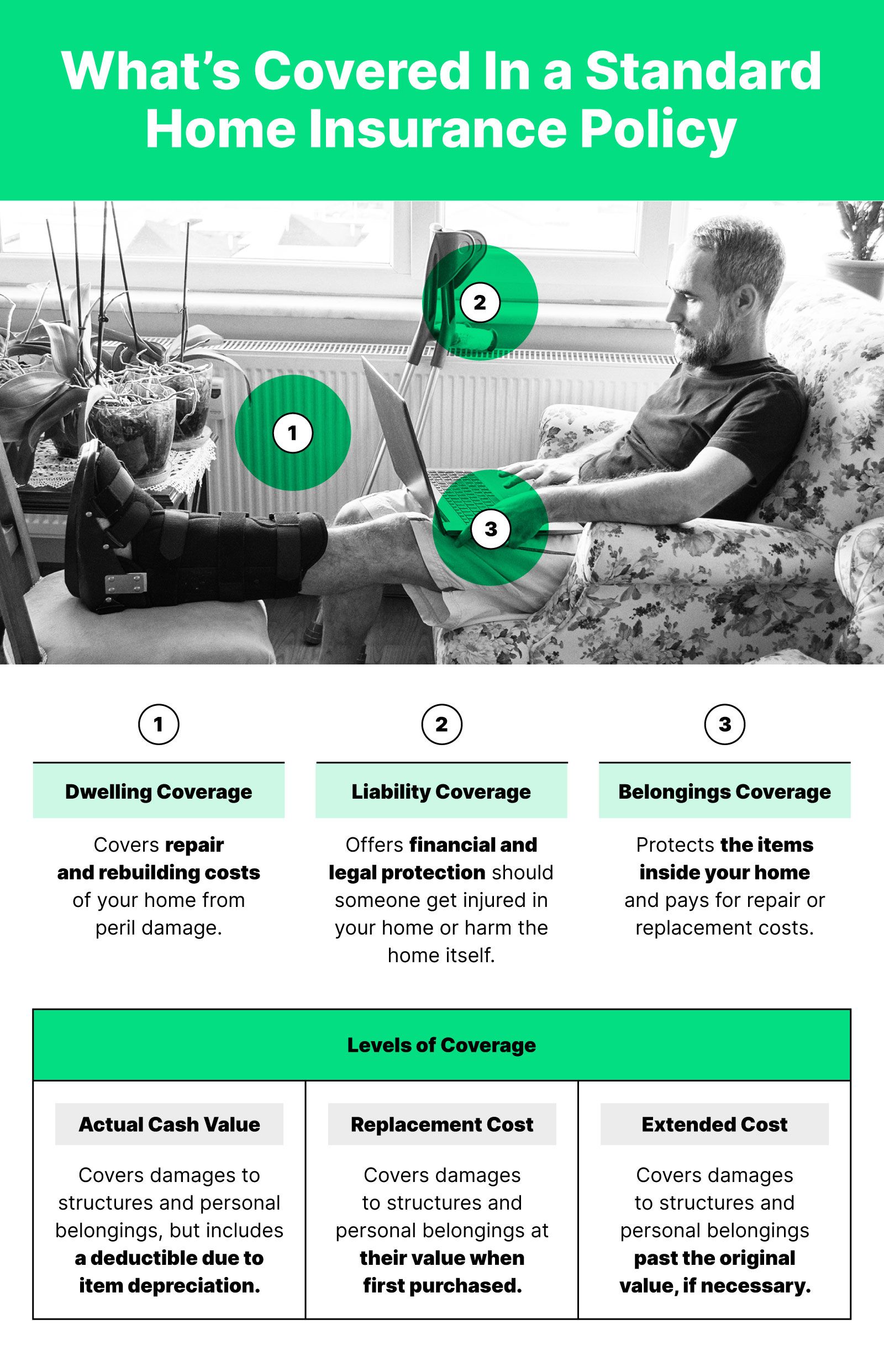 Homeowners insurance works by covering costs associated with damages to your home and belongings, or injuries to others that occur on your property. In some instances, it may even protect you financially should you damage someone else's home. Homeowners insurance is mandatory unless the home is paid for in cash and you plan to take on the financial risk yourself. 
While home insurance policies are pretty comprehensive, you may choose to purchase additional coverage. Examples include protection for other structures on your property or extended natural disaster coverage. Typically, homeowners insurance will cover your home (dwelling), your personal belongings and liability.
Dwelling coverage
Dwelling coverage is usually the largest part of your policy, as it covers repair and rebuilding costs of your home. Sometimes referred to as Coverage A, this section of your policy will protect you from damage from most disasters including fire, wind or lightning. However, if you live in an area prone to flooding or earthquakes, you may want to look into additional coverage as those events aren't often covered.
Liability coverage
The liability portion of your homeowners insurance offers financial and legal protection if someone gets injured in your home or harms the home itself. It also includes coverage in case you damage someone else's property or need financial assistance from an injury that occurred outside the home. Liability coverage typically includes coverage for medical bills, legal fees, lost wages and even death benefits.
Personal belongings coverage
Personal belongings coverage, also known as personal property protection, takes your coverage a step further by protecting the items inside your home. This means that if your furniture, tech, appliances or even jewelry gets damaged, stolen or lost, you can file a claim for reimbursement for the cost of the item. However, there is usually a claim limit for these types of items, so additional coverage may need to be purchased for unique natural disasters or more expensive belongings.
Levels of coverage
Outside of the main three pillars of coverage listed above, you'll also see a few terms related to the levels of coverage on your homeowners insurance policy. Levels of coverage refers to the amount of money insurance companies will pay you in the event of damage or destruction. The three levels of coverage are actual cash value, replacement cost and extended replacement cost.
Actual cash value coverage means that the insurance company will pay to replace the structure or personal belongings, but will deduct some money from their total payment due to depreciation on said items. Replacement costs take this policy a step further by agreeing to pay for the damaged home or items inside at their value when first purchased, no depreciation deduction taken. 
Finally, guaranteed replacement costs means that the insurance company will cover the full cost to repair or replace a damaged dwelling for a covered peril regardless of the policy limits. This can be especially helpful for homeowners after a natural disaster or when supply prices suddenly jump.
Home insurance add-ons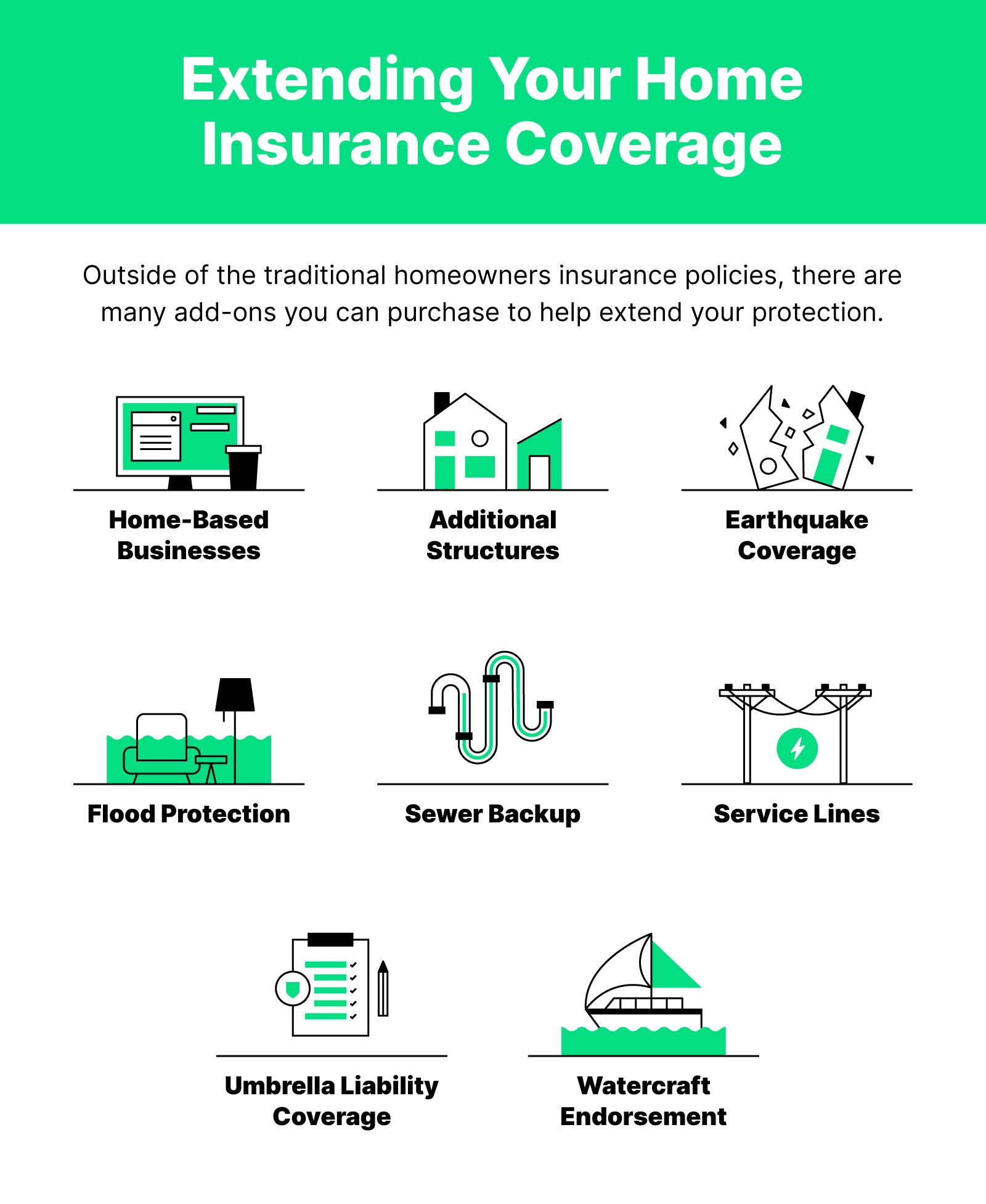 Outside of the traditional homeowners insurance policies, there are many add-ons you can purchase to help extend your protection. Those with home businesses or additional structures may want more coverage, while those with pricey heirlooms may need increased policy limits. Check out the home insurance add-on options below to make sure your policy is as comprehensive as you need it to be.
Additional structures. Additional structure insurance provides coverage for the cost of repairs and replacements for structures outside the home (but still on your property). This includes guest homes, sheds, storage containers, detached garages and fences. 
Earthquake coverage. While many natural disasters are included in the "perils" section of your policy, earthquake coverage usually isn't. This additional policy provides financial aid in the event of damages to your home and personal belongings during an earthquake.
Flood protection. According to FEMA, just one inch of flood water can cause up to $25,000 in home damages. While not often included in insurance policies, flood insurance will aid in the cost of repairs to homes with water damage. Insurance rates for flood protection are set by the government and are often required for homes in high-risk areas. 
Home-based businesses. If you're running a small business out of your home, you may want to add more protection for your equipment or expand your liability coverage. This add-on is best for those working independently, as businesses with multiple people or large amounts of tech will need a separate policy for more comprehensive protection.
Scheduled personal property. Often purchased for valuable items such as jewelry, art or antiques, this coverage extends your policy limit for higher-risk items in the event of damage, theft or loss.
Sewer backup. Sewers and street drains, if malfunctioning or overworked, can cause sewage backup in your home. This coverage ensures repairs will be taken care of in the event of water damage to your home or belongings.
Service lines. Underneath your home, there are a variety of service lines that bring in water, gas and electricity. Service line insurance helps you pay for any damages that happen to these lines due to wear over time, growing tree roots or other natural causes.
Umbrella liability coverage. Umbrella insurance extends the limit of coverage for damages to yourself, your home or others when on your property. This provides you with more financial protection for necessary repairs, legal fees and medical bills after an accident.
Watercraft endorsement. While most homeowners policies don't cover boats or other watercrafts the policyholder owns, this coverage helps extend the same replacement, damages, medical and legal coverage your homeowners policy provides to any boats kept on or off the property. 
Wind only. In coastal areas, it's common not to list high-wind damages as a peril on insurance policies. Insurers in this area, however, do offer a wind only coverage add-on which protects your dwelling in the case of high wind, hail or tropical storm damage.
Are all homeowners insurance policies the same?
Not all homeowners insurance policies are the same. There are a variety of coverage and payout amounts available depending on the type of home you have and the items you want protected. It's best to consider all belongings and structures on your property, as well as the daily wear and tear on your home before deciding which policy to move forward with.
What type of homeowners insurance is right for me?
To determine what type of homeowners insurance is right for you, it's important to know what type of coverage you want and what deductible limits you can afford. Getting the proper coverage for your home can make or break how easy it is to recover from setbacks such as theft or fire. It's also important to take into consideration how vulnerable your home may be, as you might need to add on additional peril coverage or increase your policy limits. 
Determining the policy that fits your need takes a lot of consideration and shopping around, but rest assured the effort is worth it. Protecting your property and belongings is crucial to long-term home health and can help prevent a dip in your savings should a major repair arise. By taking factors such as market rates, customer service, coverage amounts and costs into account, you can ensure you're making the best decision for your needs.
Ready to upgrade your coverage for total home wellness? Reach out to our home insurance experts to learn about our smart home and virtual maintenance packages that come standard with each policy provided by Hippo.