There are plenty of options to consider when deciding what type of home is right for you. Many who want to stay close to the city or live in a communal environment purchase condos, as they offer the opportunity to own property in a way that better fits their lifestyles.
When purchasing a condo, making sure it's properly protected with a comprehensive insurance policy is a crucial part of smart financial planning and protecting your investment. Below, we break down what HO-6 insurance is, what coverage you can expect to receive and all the add-ons available to expand your policy. 
Key takeaways:
Condo insurance works by protecting any damage to the internal structure of your condo, as well as your personal property, liability and additional living expenses.
HO-6 insurance doesn't cover any structures or property that you don't actually own, such as common areas.
Condo insurance is required by your building association as well as the bank mortgaging your loan.
What is HO-6 (condo) insurance?
HO-6 insurance (commonly referred to as condo insurance) is a policy specifically created for condo owners, as it provides protection to the internal structure of your condo, as well as your personal belongings and liability. When used in tandem with your building owner's insurance plan, you can receive full coverage for every aspect of your condo. Before purchasing condo insurance, it's important to check what your homeowners association or building owner will cover, so that you don't purchase coverage or make a claim on items and structures you aren't responsible for repairing.
What does condo insurance cover?
Often called "walls-in" coverage, HO-6 insurance works by filling in the gaps that your condo association may not cover in their insurance plan. By protecting any damage to your internal structure, personal property, liability and additional living expenses, condo insurance offers well-rounded protection against standard home issues such as loss of belongings or damaged walls.
Under a typical condo insurance plan, your internal structure (coverage a) is an open peril policy while your personal property (coverage c) is covered under a named peril policy. This means that you will only be covered for events listed on your policy, which can include damage from fire, smoke, theft, burst pipes, wind, hail, lighting, explosions and vandalism. If you want coverage from additional perils not listed in your policy, such as earthquakes or water damage, you'll likely need to purchase them separately.
Other covered categories include personal liability and additional living expenses. Liability protection offers financial aid should someone else get injured on your property and take legal action against you. It also helps you pay for their medical expenses or lost wages that occur because of their injury. Should your home become unlivable due to repairs or damage from a named peril, your additional living expense coverage will help pay for food and lodging at a safe location until your home is habitable again.
It's also a good idea to install smart home devices throughout your condo to provide extra protection and warnings from perils like theft, fire and gas leaks. Not only will this save you from repair expenses throughout the life of your home, but many policies (like the ones provided by Hippo) also offer discounts for installing these devices and keeping them up to date.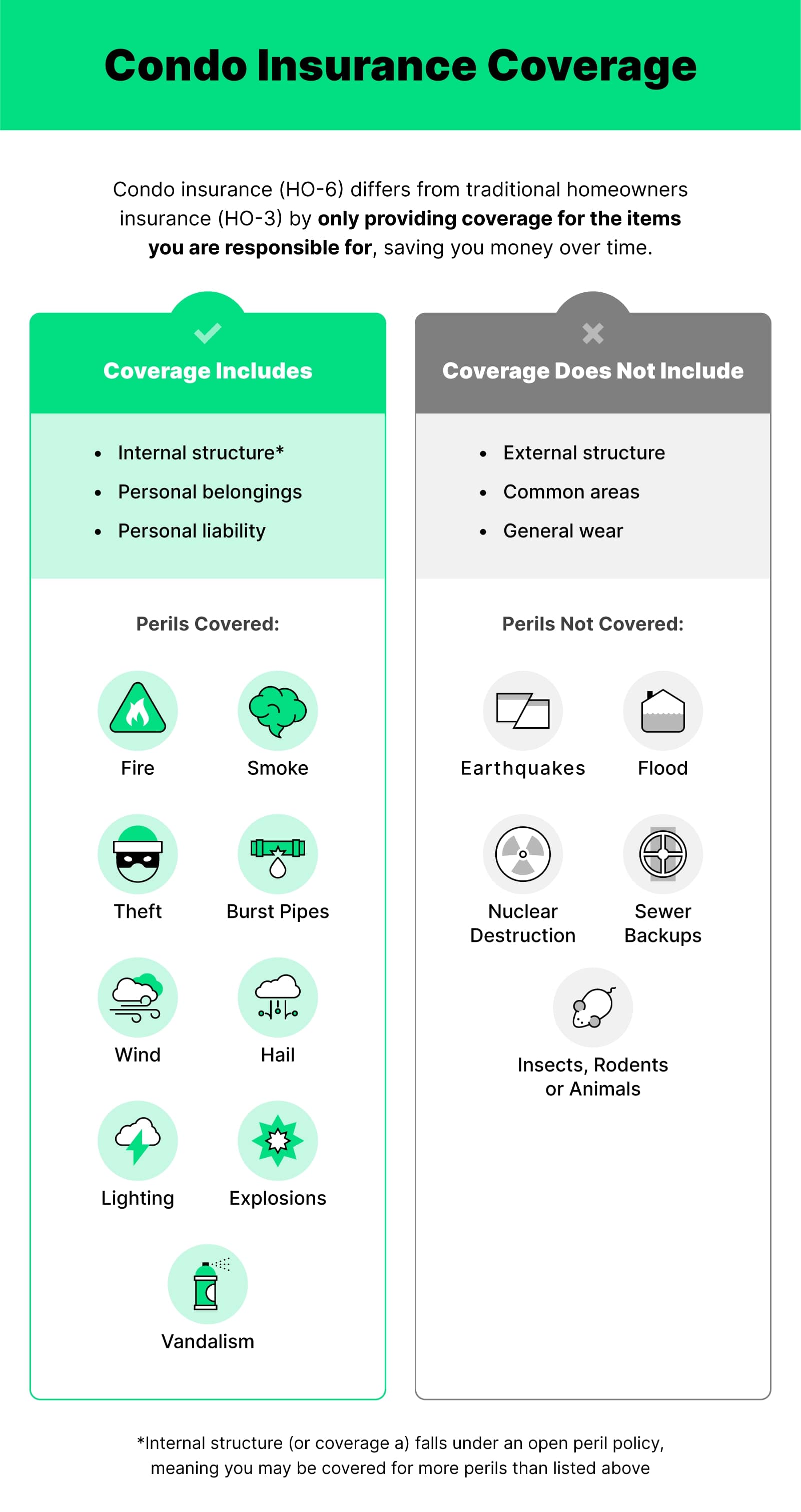 What does condo insurance not cover?
HO-6 insurance doesn't cover any structures or property that you don't actually own. And while traditional homeowners own their entire home and surrounding land, condo owners only own the internal structure and the items inside. This means that any damage or needed repairs to the external structure of your building (and common areas such as hallways and pools) will not be covered by your individual insurance policy, but by your building owner.
There are also particular perils your condo insurance policy won't often cover. This includes floods, earthquakes, wear and tear, insects and nuclear damage. To make sure your home is properly covered for whatever comes your way (and that you aren't paying for coverage you already have) it's important to consider if you need coverage for high-risk events and double check with your condo association to see what they will pay for.
If you don't plan to live in your condo full-time, no matter if you are leaving it empty or renting it out to others while you are away, you'll need to update your insurance to match your new living situation. Vacant home insurance can help cover your empty home, while policies like DP-3 and short-term insurance can offer more protection as you allow renters into your property.
HO-3 vs. HO-6 insurance
So how does homeowners insurance differ from condo insurance? The main distinction between the two falls within cost and coverage amounts.
Condo insurance helps save you money by only offering coverage for the items your condo association does not, such as internal structure and belonging protection. Traditional homeowners insurance policies include all the same coverage categories as condo insurance, but with add-ons including external structure and property protection.
They also differ in terms of covered perils, as condo insurance categories fall under named peril policies, while homeowner policies offer both named and open peril options.
Condo association: what your complex will cover
When determining your individual coverage needs, taking into account what your building owner covers is key to ensuring that you are fully protected and not overpaying for things you are not responsible for as a condo owner. While there are several forms of master insurance policies for condo owners, some form of coverage is required to cover common areas and external damage.
The three main insurance options for your complex are bare walls, single entity and all-in coverage, each with a different depth of coverage to fit individual needs. If your condo association has bare walls coverage, only external structures and common areas will be financially protected. Single entity coverage extends this protection by shielding condo owners from liability to replace or repair original fixtures inside each unit. Finally, all-in coverage protects your external structures, common areas, liability, fixture repairs, replacements and even upgrades made by individual owners.
To determine what coverage you'll need, ask your condo manager for a copy of their coverage policy or let our insurance experts do the work for you.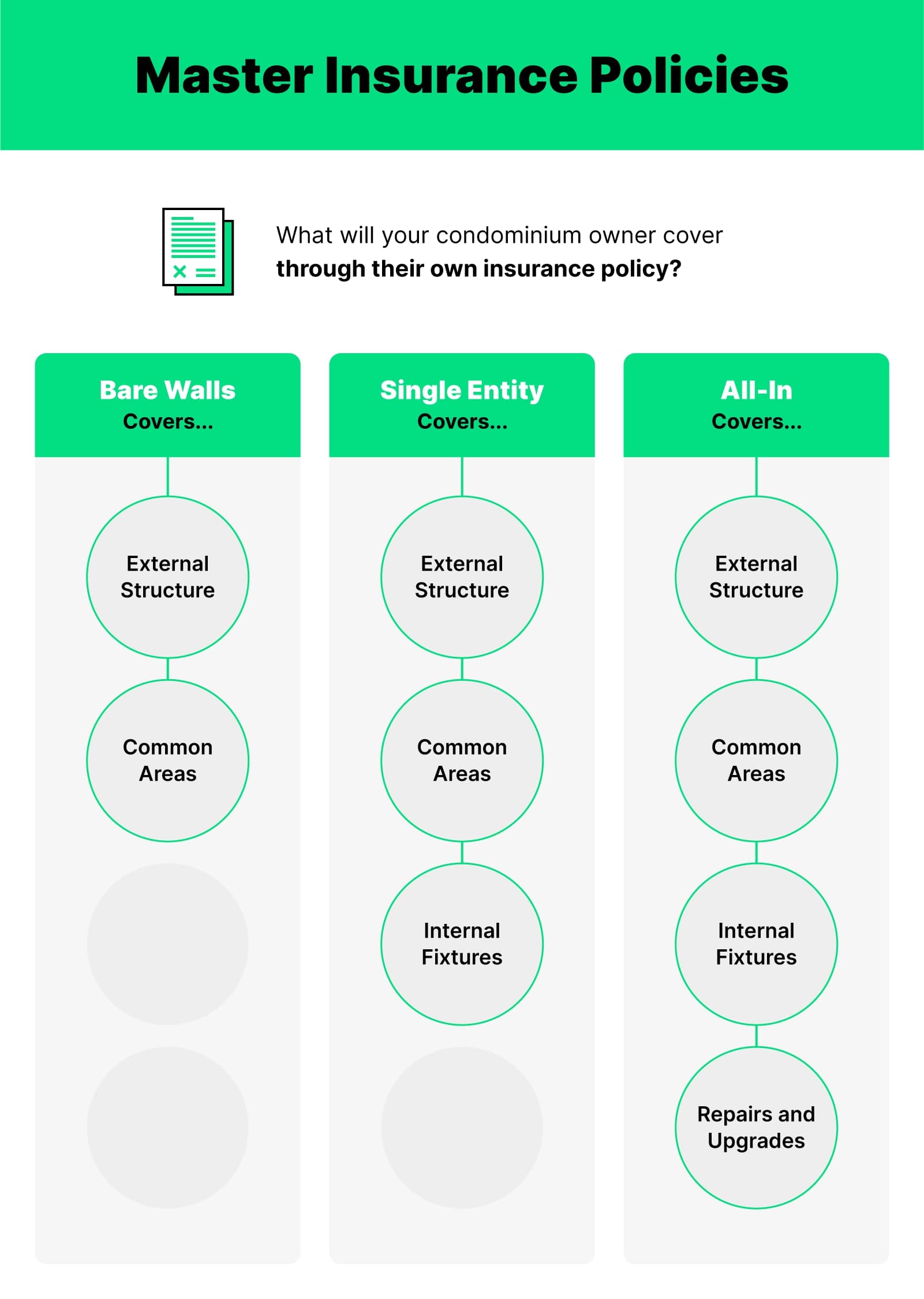 Is condo insurance required?
Yes, HO-6 insurance is required by the building association as well as the bank mortgaging your loan when purchasing a condo, as it provides financial and legal protection from a variety of perils and injuries. While you won't need coverage for parts of the structure owned by your complex, you will be responsible for paying for repairs and replacements on the internal portions of your condo and any items inside, making condo insurance a no-brainer for a financially protected future.
If you're renting, however, condo insurance is not always required. Though you may want to look into renters insurance options (HO-4 policies) to help protect your belongings and liability. Condo insurance is also not required if you don't live in the condo full-time. Other protection options for this kind of living situation include vacant home coverage for second homes, or landlord insurance (DP3) if you're renting out your home to tenants. Both options will provide you with the coverage you need without forcing you to pay for unnecessary protection.
Additional coverage options
As mentioned above, there are a variety of additional insurance policies you can bundle into your condo insurance plan that offer more in-depth and specialized coverage. If you live in a high-risk flooding or earthquake zone, for example, you might want to add in those perils to your policy. You can also add in blanket jewelry coverage or special assessment coverage which will help extend the amount of money your insurer puts out in the event of damage or loss.
When signing up for condo insurance, consider the following add-ons to protect your investment from whatever comes your way.
Blanket jewelry coverage. If you have a lot of valuable jewelry, blanket jewelry coverage can help provide extra monetary protection in the event of damage or theft without requiring an itemized list or proof of value.
Earthquake coverage. Those who live in areas prone to earthquakes may want to consider coverage for this particular peril, as they aren't included in traditional condo insurance policies.
Flood coverage. Standing water and sewer backup can cause great damage to your structure and belongings. This policy add-on will help you repair your home in the event of a flood.
Loss/special assessment coverage. In some circumstances, building owners may encounter an accident or peril that exceeds their policy limit. If this happens, they may require payment from individual owners. Loss or special assessment coverage helps to cover those payments.
Umbrella coverage. Also known as umbrella insurance, this type of add-on offers extended protection and policy limits for all categories of your condo insurance policy.
Condos are a great option if you want to own your home without having to deal with the extra requirements of a standalone house. This way, you can make improvements to the interior of your home without having to worry about landscaping, external upkeep or common area maintenance. Looking to improve your condo coverage or buying for the first time? Let Hippo help you protect your home with an HO-6 insurance policy — it's what we do best.