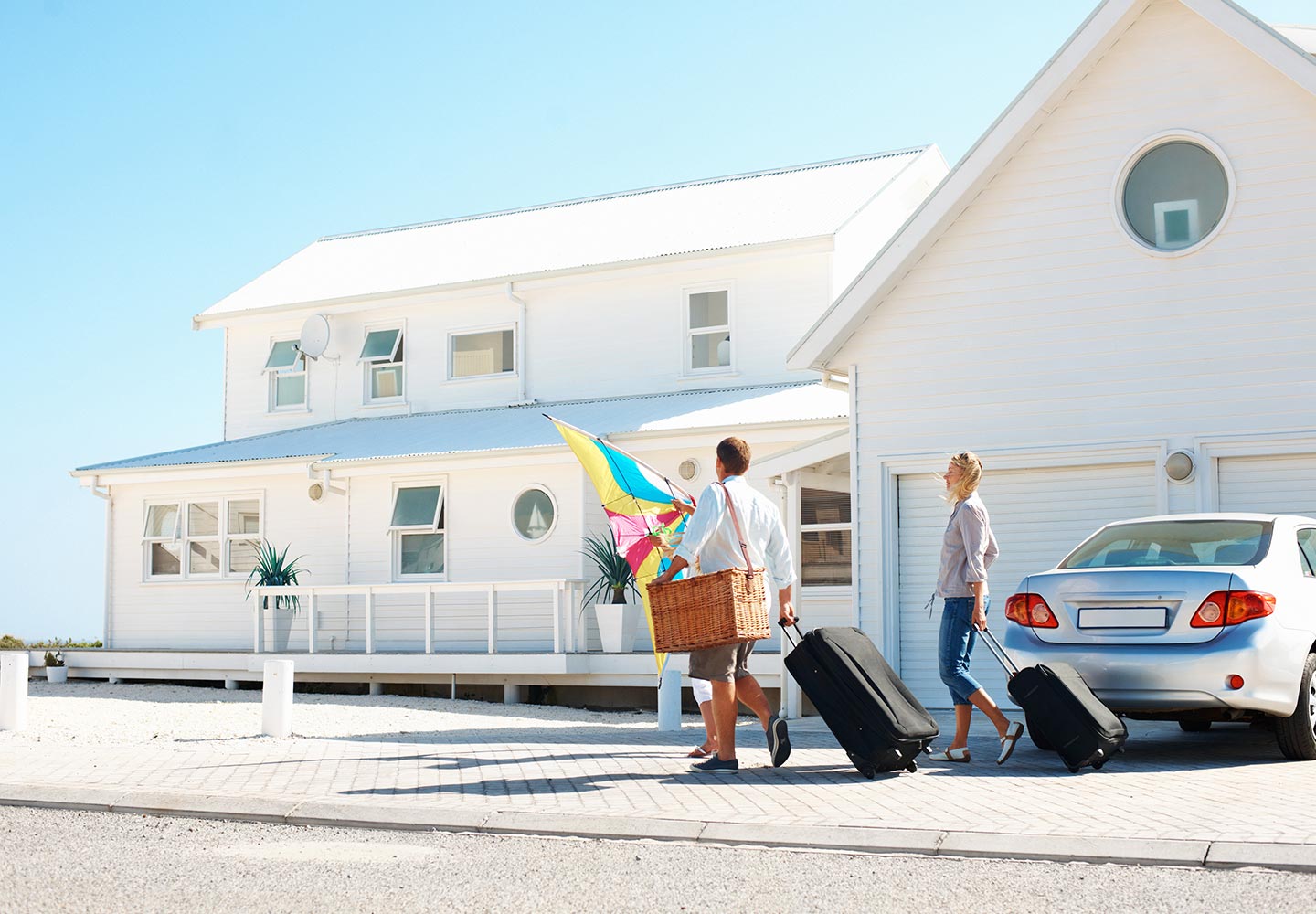 There's something so beautiful about the view of the ocean. The salty-smell of sea spray, the rhythmic sound of the waves crashing into the shore and the unbeatable sight of the sunset make it a sought-after destination, especially for vacation homes. 
There's a lot that vacation homes offer: a change of scenery, a chance to get away — even extra income in the case of rental properties. They also require a different type of home insurance coverage.
Whether you have a vacation home or a rental property, live on the beach or in the mountains, this guide will walk you through how to get insurance for your second home so that you can enjoy that incredible view without worry.
Key takeaways:
Second home insurance is coverage for other properties separate from your primary residence.
Insurance for second homes typically cover the structure of your second estate and the contents inside.
Second home insurance policies tend to be more bounded and involve named perils.
What is second home insurance?
Second home insurance is coverage for properties separate from your primary residence. This could take the form of a condo you use as a rental property or a vacation home you escape to during the summer months. Because second home insurance covers residencies you don't live in full time, which can increase threats like burglary, fires and other hazards, insurance for a second home is typically deemed "riskier" than insuring your main residence. You may also need additional coverage depending on your second home's location, it's contents, along with other factors.
Can you insure two homes under the same insurance policy?
Typically, you can't insure two homes — such as your primary residence and your second home — under one insurance policy, given they're prone to different risk factors. To protect the structure of your second home and the valuables inside, you'll likely need to buy a separate home insurance policy.
What does second home insurance cover?
Most basic home insurance policies, including second home policies, will have dwelling coverage; some options include both dwelling and belongings coverage. Of course, you can add additional coverage to these policies based on your second home's at-risk factors in the form of insurance riders. You can see what coverage your policy already includes by looking at the insurance binder given to you by your provider.
In terms of liability coverage, you'll want to see if your primary residence's liability insurance can extend to your second home. This will protect you if someone is injured in your second home, like if a guest falls down the stairs or trips off your porch. Also, double-check that your liability coverage extends to risks posed by potential items at your second property, such as fire pits, hot tubs or in-ground pools.
Insurance policies for second homes tend to be more particular and only cover named perils or specifically listed events, so consider the property's location and potential hazards when creating the policy.
Second home insurance policies also tend to be more particular than policies covering primary residences. Typically, they comprise of named perils or events that must be specifically listed to be covered. When deciding the finer points of your policy, you'll want to contemplate the function and location of your second residency to make sure you include all the potential perils.
What does second home insurance not cover?
While second home insurance checks off most boxes for a typical house, second homes are unique in a few ways, reflected in second home coverage.
Usually, second homes are located in areas more susceptible to the climate, contain specific valuables or items (such as ATVs, boats, etc.), and are an easier target for home invasion since they're not occupied year-round.
Here are a few things not covered in second home insurance that you may consider adding on to your second home coverage:
Boat insurance policy. If your second home includes a boat, your primary home insurance coverage won't cover it, so it's a good idea to get your boat separately insured.
Personal umbrella policy. This double-downs on your liability coverage. For example, say you're having a barbeque with friends at your beach house and the grill catches fire. Two people get burned and name you in a lawsuit for $200,000 each. Your standard liability coverage policy likely will only cover $200,000, leaving you to front the remainder. A personal umbrella policy will cover the rest. Evaluate the risks your property holds and consider adding on some extra liability coverage.
Flood, hurricane or earthquake insurance. Suppose your second property is in a place where certain natural disasters are more common. In that case, you may want to consider adding a rider to your policy to cover those instances, such as flood or earthquake insurance. It's better to predict the worst when it comes to weather, and adding this insurance to your second property is one way to do so.
How to insure a second home
Insurance for second homes starts with setting some expectations. Since this is a different property, your insurance won't look the same as it does for your primary residence — meaning a quick command + C, command + V isn't going to fly for second homeowners insurance. In general, second homes are considered riskier to insure than primary residencies.
These risk factors require different property and casualty insurance than your primary residence. They will also shake out to be more expensive than your primary insurance policy, but with good cause. In 2018, 98.1% of homeowner claims were due to property damage, including theft, according to the III. Considering you won't be at your second home all the time, leaving it more vulnerable to burglary, it's vital to secure your second home's insurance. In the next two sections we'll get into specifics for insuring your second home whether it's a vacation home or if it's a rental property.
Key takeaways:
Some dependent factors to take into account if your second home is a vacation home include location, the building's architectural integrity, the type of building and liable amenities.
Some dependent factors to consider if your second home is a rental property include the rental property's intended use and your tenant screening process.
Insuring a vacation home
Insuring your vacation home depends on a few factors—namely, location, the type and state of the property and liable belongings. Depending on where your second home is on the map, you'll need to take into account the risks of the environment. While a remote log cabin in the middle of the mountains might seem like a picturesque getaway, it's also susceptible to wildfires, snowstorms and other exposure to the elements, increasing the coverage needed to insure it completely.
As with any house or apartment, factors like how the house was built, how long ago it was made, and the structure's current architectural integrity play into the home's safety. Along with the building's condition, you'll need to bear in mind what type of building it is.
If you live in a condominium or townhouse, the price of insurance may be less because the landlord will provide security measures to ward off threats. Whereas if you live in a single-owned residence, you'll have to pay more insurance if you opt not to include a security system.

Along with the geography and structure of your second residence, evaluate the contents inside. What items do you have that pose a risk? Pools, artwork, firepits or expensive technology, should all be insured if fate doesn't work in your favor and an unfortunate event transpires.
Insuring a rental home
According to Property Management, 36.6% of households rent their homes. And if you're one of those percentage points, you'll want to understand how to insure your rental home.
First, you need to crystalize your rental intent and cadence. If you're renting out a property for short periods of time repetitively, that will look different from an insurance perspective than if you were to rent it out to one family for four months.
In the first case, if you rent out the property frequently and for a short time, it might be considered a business. This would require you to establish a business policy for the property. One way to save on insurance costs would be to take extra precaution when screening tenants.
However, if you're only looking to rent the place out once, check your current homeowners insurance policy and contact your insurer. The policy may extend or only require a paid endorsement to cover the short-term, one-time renter.
If you're looking to rent out the property seasonally, you'll want to look into getting landlord insurance. This will protect you from any damage done by the tenant and help you maintain a thorough screening process to assess the tenant.
In any case, if a renter comes into your second home, encourage them to get covered as well by having them obtain their own renter's insurance policy. For most states, with the exception of Oklahoma, landlords are in sound practice to require their tenants to get renters insurance.
So, before you go posting your second home on Airbnb, think about how often you're looking to rent it out, what procedures for vetting the tenant would look like and insure the property accordingly.
Tips for saving on a second home insurance polic
While second home insurance policies may be steeper in price, there are some ways to cut down on the final bill. It's vital to note that you should never mislead your insurer into thinking this policy is for your primary residence. Instead, be upfront about this second property's specific nature to make sure it's secured properly.
One way to cut down the cost of your second home insurance policy is by bundling your primary residence policy and this second residence. By coupling the two policies together and getting the secondary home policy with the same insurer, you may qualify for discounts.
Another tip to save money on a second home policy is taking precautionary measures to mitigate risk. Set up a security system to fend against burglary, or install smart home devices to safeguard your home against other threats. There is an array of smart home devices, including a water leak sensor to alarm you if a pipe has burst, smoke detectors to warn of a fire or C02, motion sensors, smart locks along with a catalog of others. The more security and devices you have, the more opportunity for potential savings.
A third way to save is being strategic about the second home you choose. For any property, it's important to be smart about the location to remain claimless. With the additional risk second homes pose, this consideration is even more essential. Picking a residence at a more secure location or finding a home that is a part of an HOA could qualify you for savings and help you remain claimless. For more help in determining what type of second home is right for you, check out our second home flowchart for seniors.
Protecting your second home shouldn't be complicated — even if that home is off the grid, in the deep abyss of the woods or right against the ocean. If you're looking to get insurance for your second home, get in touch with our experts to get a home insurance quote today. Rest easy knowing that if your vacation home is insured with Hippo, we care about it just as much as you do.