Those looking for their own slice of heaven just might find it in the City of Angels. After all, where else can you experience beautiful sunshine, luxury shopping and maybe even a celeb sighting or two in the same afternoon?
Los Angeles has become a playground for the glamorous, talented and hip. With its palm tree-lined streets and modern architecture, it's easy to feel like you're walking around a movie set — and not because you might literally be doing just that.
With so much to do and see, from Dodger Stadium to Rodeo Drive and the Hollywood Sign, those moving to LA will want to make sure their home is protected while they're exploring the sights. Below we'll detail home insurance considerations for LA residents.
How much is homeowners insurance in Los Angeles?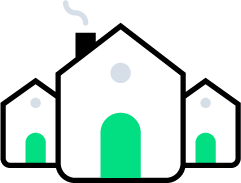 The average cost of home insurance in Los Angeles is $1,240 — putting the rate above the California home insurance average of $1,133 and just above the national average of $1,200. While that may seem steep, Los Angelenos are purchasing a home in the center of the U.S. film industry, steps away from the Pacific coast and home to many cultural icons. Also, consider that those who reside in California seem to love it, making the Golden State one that residents are least likely to move away from.