Owning a home is one of those milestone life accomplishments that many of us dream of checking off our adult bucket list. But the reality is not everyone can afford their dream home, and though it's undoubtedly a worthy financial investment, the unexpected, recurring costs of home renovations, repairs and maintenance can really add up. 
Sure, home insurance will protect against things like structural damage and various other circumstances, but many people are unaware of all the little expenses from things like cracks, leaks and appliances breaking — and they can truly take a toll on your savings. 
The cost of basic home repairs varies significantly. For example, the average cost of a roof repair rings in around $653, while an entire roof replacement could set you back $6,000. Luckily, whether you're actively choosing to renovate or being forced by the aforementioned unseen circumstances, there are several grants, loans and other programs available that help with home repairs and improvements — some that even pay you… because, let's face it, the value in maintaining a home can benefit you, your neighborhood and the overall economy.
Below is a list of home renovation programs and ideas to help you afford that Chip and Joanna-approved renovated house of your dreams and maintain a happy, healthy living environment. 
1. HUD Title 1 Property Improvement Loan
The U.S. Department of Housing and Urban Development (HUD) offers a variety of property improvement loans to help people properly maintain and improve their homes. For those with limited equity, the Title 1 Property Improvement Loan Program is a viable option, offering loans up to $25,000 for single-family homes and $60,000 for multifamily homes. Banks and other lenders make these loans from their own funds, and the Federal Housing Administration (FHA) insures the lender against a possible loss. 
These loans can be used for a handful of things that can improve the overall livability of your home, including improved accessibility for the disabled and even helping with the installation of luxury-type items like swimming pools. Based on your overall comfortability with the tasks at hand, the loans can be used for DIY projects or to pay for a contractor.
Qualifications:
Must show proof that you can repay the loan through regular monthly payments.
The home must be occupied for at least 90 days prior to seeking the loan.
The maximum loan term is 20 years on a single-family or multifamily structure and 15 years on a manufactured home on a foundation.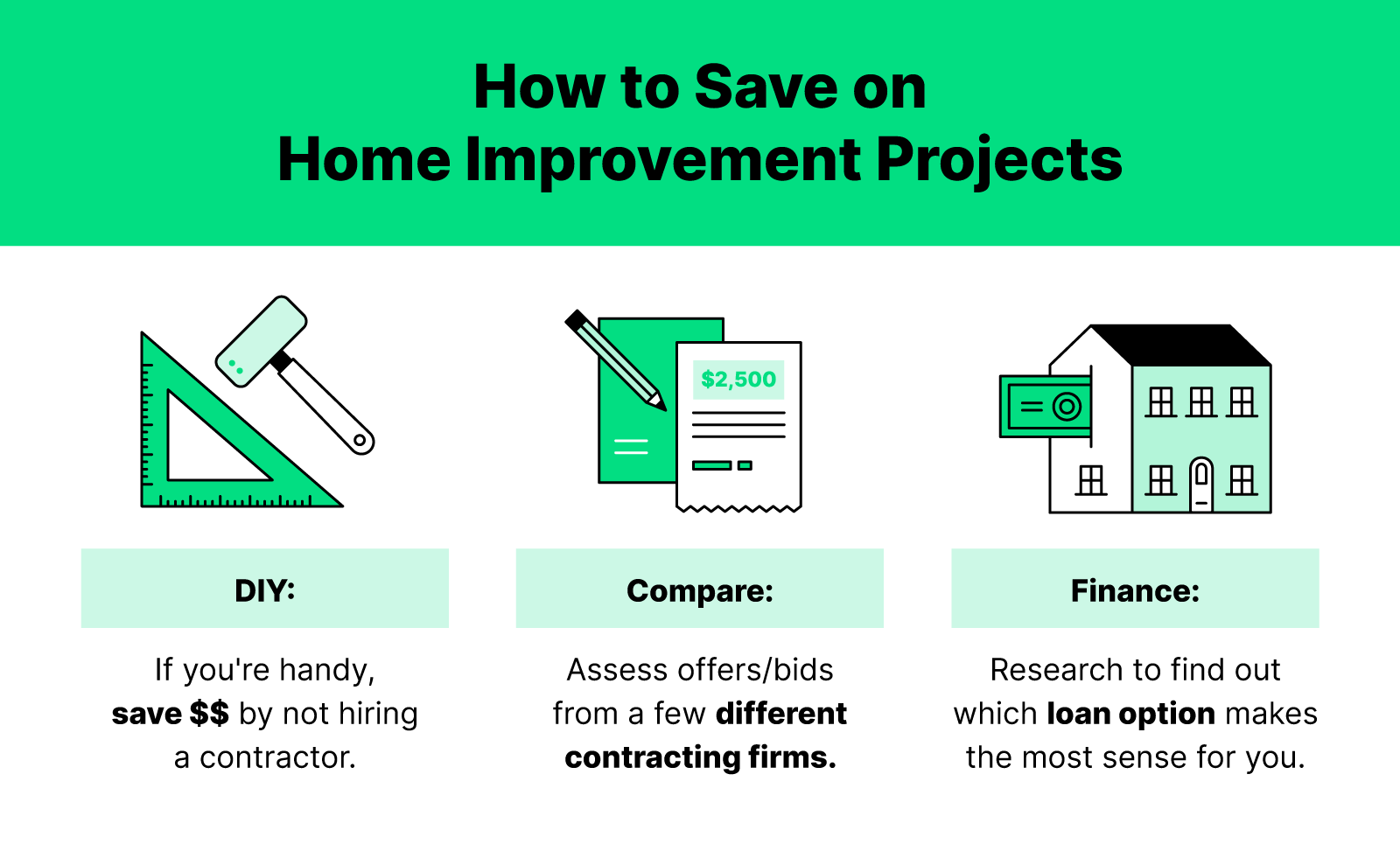 2. 203(k) Rehabilitation Mortgage Insurance Program
Also referred to as a rehab loan or FHA construction loan, this option is great for those on a tighter budget. 203(k) loans can be used in conjunction with the Title 1 Property Improvement Loan mentioned above to finance repairs and improvements on anything from improving appearance to making energy-efficient changes.
Qualifications:
Properties must meet certain basic energy efficiency and structural standards.
The cost of the repair must be at least $5,000.
The loans can only be used on residential structures.
3. Section 504 Home Repair Program
The Section 504 Home Repair Program offers loans to "very"  low-income homeowners, meaning below 50% of the area median income. This loan is available to those looking to repair, modernize or improve their home. The maximum loan amount is $20,000 with a low fixed interest rate of 1% and a repayment period of 20 years.
Qualifications:
The borrower must own and occupy the property.
The borrower must not be able to get credit elsewhere.
The household income must be below 50% of the area median income.
Grants are also available to those 62 and older to remove a health or safety hazard. The maximum grant is $7,500 and can be combined with the maximum loan amount of $20,000 for a total of $27,500 in assistance.
4. Community Development Block Grant Program (CDBG)
Authorized under Title 1 of the Housing and Community Development Act of 1974, the CDBG Program provides annual grants to states, cities and counties. These grants and funds can be used for a range of things, from infrastructure needs to housing rehabilitation. The program is subject to less federal oversight, and funds are allocated on a formula basis used at the discretion of the state and local governments.
5. Low Income Home Energy Assistance Program (LIHEAP)
This federally funded program helps families with all things relating to energy, from paying bills to weatherization and energy-related home repairs. It's designed differently in every state, so be sure to check qualifications and assistance to determine eligibility depending on where you live. 
6. Weatherization Assistance Program (WAP)
This U.S. Department of Energy (DOE) program helps reduce energy costs for low-income households by providing weatherization services to increase the energy efficiency of homes. Their services are used nationwide, allowing close to 35,000 homes to save an average of $283 or more each year. View local and state qualifications and find out more about how to apply for WAP services here.
7. VA rehab and renovation loan
This loan is specific to veterans as a low-cost, no down payment option to renovate or repair a home to enhance its livability. Offered by the U.S. Department of Veterans Affairs (VA), this type of loan caps out at the property's estimated value once the improvement is made. It's worth noting that it may be a challenge to find lenders for this type of loan.
Qualifications:
The borrower must meet all basic VA loan requirements.
The home must be used as the primary residence.
The loan must be used to improve livability or safety versus just cosmetic repairs.
8. Charities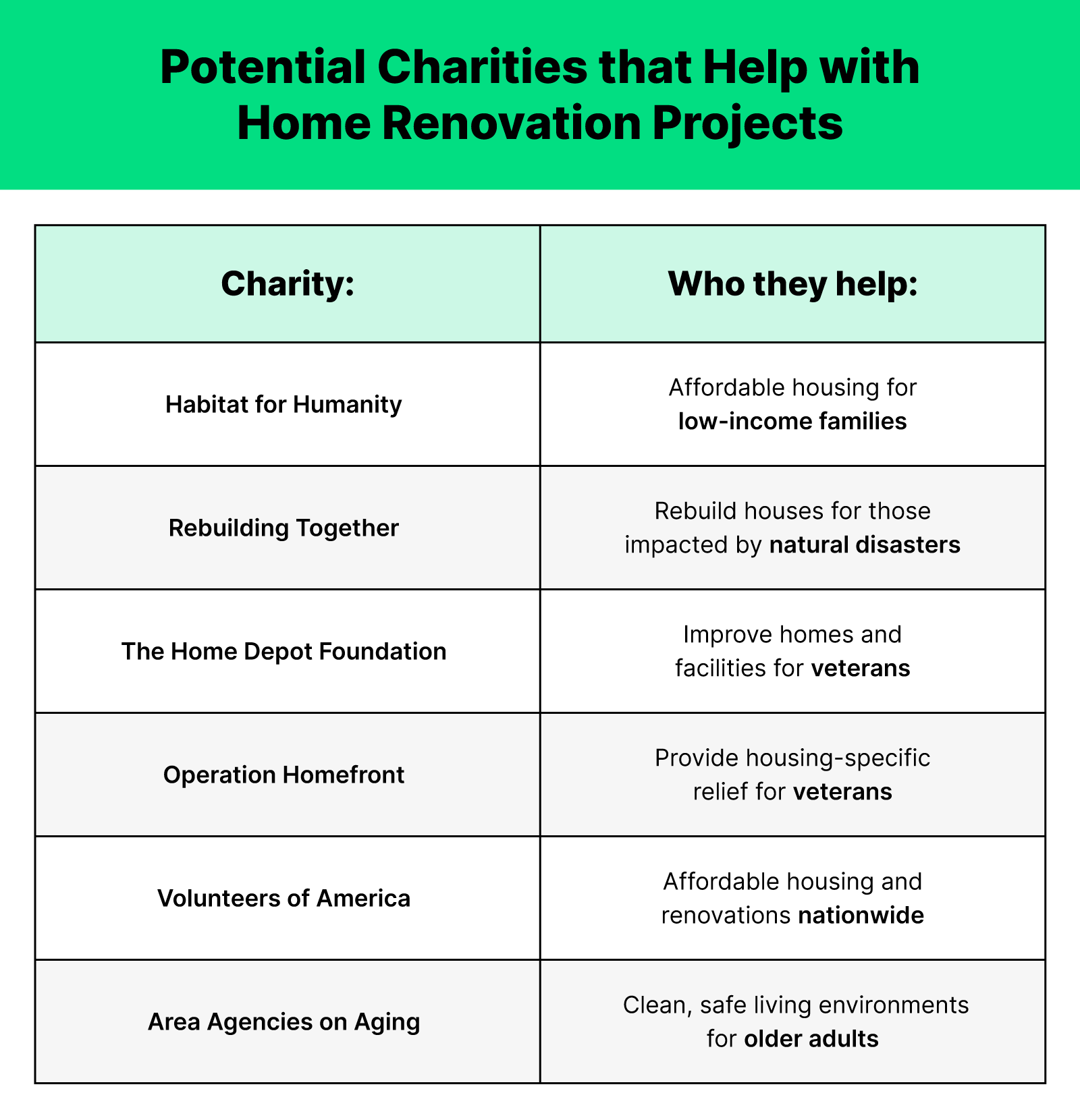 For those who don't qualify for a loan, there are various nonprofits and charities that help with home renovations. Because these types of organizations rely on donations from the public, funding isn't as readily available, so many offer free manual labor if you can pay for the material costs. Below is a list of charities to look into:
9. Insurance policies
While you've likely insured your property for those rare but scary circumstances like floods, fires, earthquakes and everything in between, damage to homes usually comes from more common things like rain or tree branches. Oftentimes insurance policies will cover things like roof repairs, HVAC fixes and other appliance-related issues that aren't caused by normal wear and tear. 
Though it's essential to safeguard your home, look into filing a claim to see if you can get coverage on things like:
Sudden flooding inside the house from toilets leaking, etc.
Shingles torn off the roof from strong gusts of wind
Damage caused by fallen tree limbs
Additionally, lowering your insurance premiums can save money, which can be used on home improvements in general. Here are some quick tips on lowering ways to lower your insurance premiums:
Invest in regular repairs that increase your home's value to incentivize insurance companies
Make your home more secure by installing things like smoke alarms, smart home devices and fire extinguishers
Add smart home devices 
Look for discounts like loyalty discounts, new home discounts, roofing discounts etc. that many insurance providers offer
Other ways to remodel on a budget
If you don't want to take out a loan and you're worried about filing a claim and premiums going up, there are plenty of DIY and affordable ways to remodel your home that take very little time and capital. There are even a handful of renovation apps to help you along the way! Check out our list below of ways to make your home look that much more appealing, with just a little extra TLC.
Add backsplash
Depending on your DIY confidence and budget, a backsplash is a great option to upgrade a kitchen or bathroom with a punch of color or mosaic pattern. There is even a peel and stick backsplash option that saves you the time of grouting tile. Our advice would be to start with an area that may need the protection most, like near a sink or behind a stove.
Swap out hardware
One of the easiest ways to make your cabinets look and feel upgraded is to change out the hardware. Look for small knobs with fun patterns and include backplates if need be.
Update window treatments
Hiring a professional to install new window treatments is a notoriously expensive endeavor, yet there are endless benefits to them. There are many reasons to look into upgrading your window treatments, from options that let natural light in to save on electricity to eco-friendly building materials. There are plenty of DIY options — just make sure to do your due diligence before, and measure and take your time before diving right in.
Paint and paint more
You'd be surprised what a simple coat of paint can do to the aesthetic of your home. There are plenty of things that could benefit from a fresh coat, from cabinets to stairwells to an accent wall—research which colors work best where. For example, light colors make small rooms look bigger, so brighten up bathrooms and smaller areas with those. Be sure to consult with a professional on which type of paint to use before purchasing, as some are less susceptible to mold and mildew if used in a bathroom.
Make safety changes
Taking the time to make small changes to make your home safer has tons of benefits down the line. Invest in ADA-compliant accessories like toilet paper holders and towel bars that not only add to the look of your home but the safety of it as well. Additionally, things like motion-activated outdoor lights are not only energy-efficient but can deter burglars from entering your home.
Benefits of remodeling and home repairs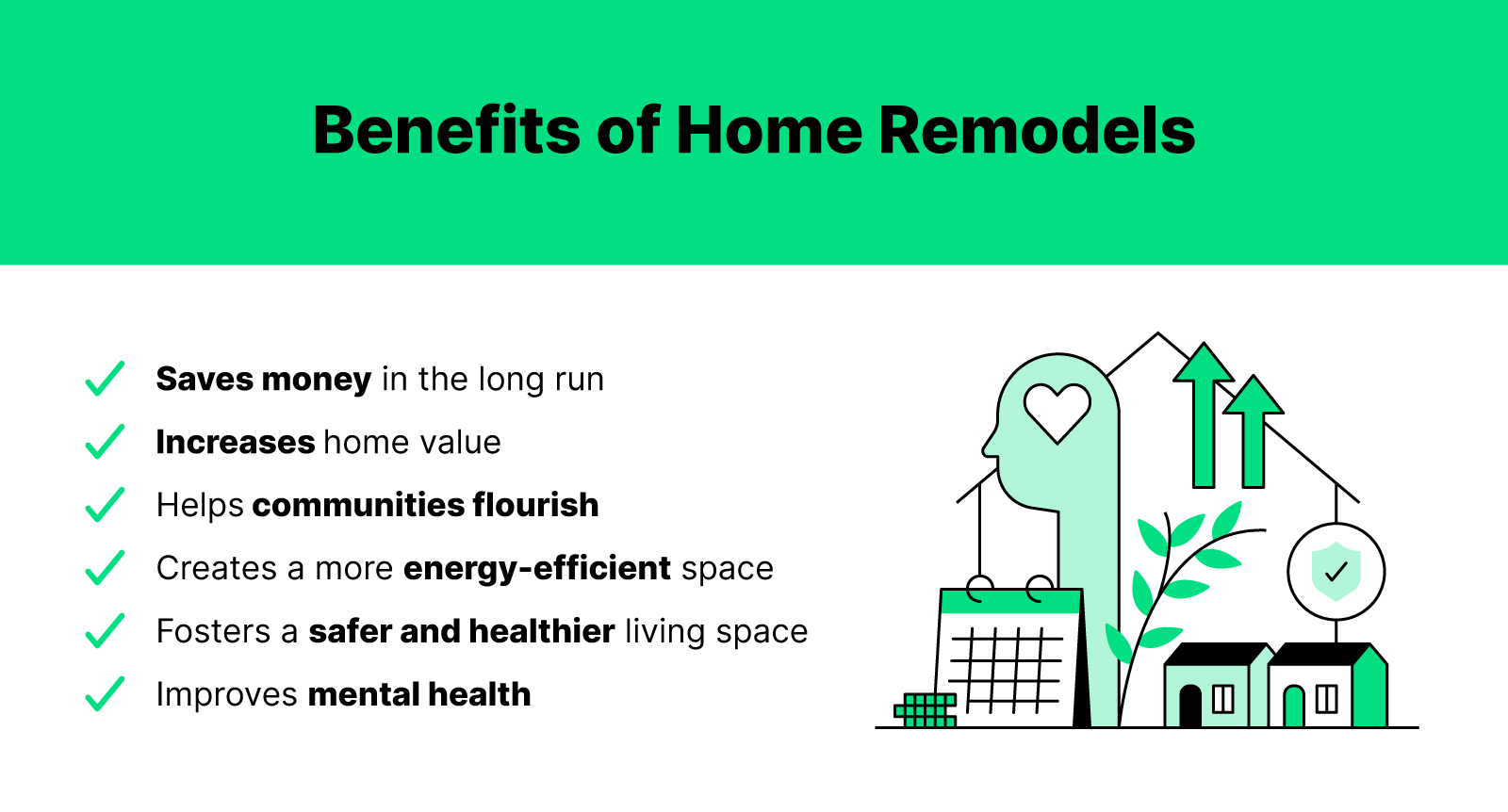 While many assume remodeling is only beneficial from a cosmetic perspective, there are a handful of other benefits that ensue from upkeep, remodels and consistent repairs — precisely why there are so many programs dedicated to investing and loaning money toward it. A few major benefits include:
Remodeling a home saves you money. Yes, that's correct. Even though you may be forking up cash at first, investing in high-quality materials upfront will allow for less costly and unwanted repairs along the way. 
Remodeling a home increases your home's value. Similar to the above point, investing in upgrades can increase the resale value of your home should you plan to sell in the future.
Remodeling a home helps communities. Your community and neighbors benefit from home upgrades as well. A boosted curb appeal is attractive to prospective buyers, and favorable-looking homes can help the overall reputation of the neighborhood.
Remodeling a home can create a more eco-friendly, energy-efficient space. These home upgrades can significantly impact the environment and reduce utility costs from energy-efficient appliances to window and insulation fixes. Remember that government agencies are even offering financial assistance for these types of fixes to help with eco-friendly initiatives. 
Remodeling a home can provide safety upgrades for both family and pets. Older homes are subject to more safety concerns like falling roofs or electrical issues. Renovations help to avoid these types of issues before they happen and can even make living conditions better for your furry friends as well.
Remodeling a home can improve your mental health. Overall comfort and livability are paramount to your mental health as well. A fresh coat of paint or a newly crafted home gym can foster an uncluttered home and mind.
The long-term savings and increased value are wise reasons to invest and keep up with home renovations. Check out our visual below to see which improvement programs and fixes give you the most bang for your buck!

As you can see, the benefits and potential savings from properly maintaining your home should not go ignored. Whether taking advantage of government loans or using charities and funds to hire a contractor to help, there are many free renovation programs and affordable ways to ensure you can get the job done. Using savings from homeowners insurance and other areas can help fund these home renovation costs and keep you on track for a healthy, happy living space.