From taking daily walks to scooping out the litter box — you do a lot to make sure your pets are healthy and happy. Pets are even a leading factor in why millennials are buying homes. After all, what dog wouldn't be pleased with a big petscaped backyard?
But if you aren't on the hunt for a new home (or if you've already purchased the home of your dreams), that doesn't mean you can't make your space a bit better for your best friend. Small projects like adding in a doggy door for pups that love the outdoors or heated tiles for older, arthritic cats can make a huge difference in their quality of life. And if you just brought your furry friend home, pet-proofing each room in your home can help keep your belongings and your new pet safe.
Ready to get started? Grab your hammer (and some treats) and keep reading for all our tips on making your home a better place for your pets.
Home upgrade ideas for dogs and cats
The typical family has changed in recent years. While 2.5 kids used to be the norm, younger couples are actually more likely to have pets than babies. But no matter what your family looks like, you've likely wondered how you can make your home better suit your family's needs. If you look online, the advice on baby proofing is plentiful — but for pet owners? Not so much. Outside of homebuying considerations like a big yard, doggy doors and hardwood floors for easy clean-up, there are other updates you can make to your existing home to make you and your pet's lives much more comfortable.
Changing your home to make your pet's life better shouldn't cost an arm and a leg (or a leg and a paw). Even if you've never taken on a DIY project before, there are plenty of products and easy home projects you can try out for a more pet-friendly space.
In fact, these upgrades can even make you money. We all know that any enhancements you make to your home can help you raise its value when you sell, and that includes pet-focused changes. According to Zillow, 65% of homebuyers have pets — with most owning at least one dog or cat. This means that over half of your potential buyer pool will likely be intrigued by your mudroom with a built-in bathing station or the hide-away food bowls in the kitchen. So do yourself (and your pet) a favor with the following home updates that will pay you back tenfold:
Doggy Door
With traditional and motorized versions available, doggy doors are an easy update to make to let dogs come and as they please. They're also great for outdoor cats too.
Hide-Away Feeding Areas
Declutter your space but keep the necessary things accessible by turning a drawer in your kitchen into a feeding area for your pet. Bonus points if you can teach your pup to open and close the drawer on their own.
Disguised Litter Boxes
Litter boxes are an unfortunate part of cat ownership. But these days there are plenty of more appealing litter boxes out there, including some that look like castles and others that can hold plants on top.
Cat Features
Giving your cat more places to play can decrease the amount of destruction they cause to your prized possessions. Consider adding cat hammocks, trees and other fun things to climb wherever your cat likes to hang out the most.
Heated Floors
Upgrade your bathroom or your pet's favorite room with heated tiles. This surprisingly affordable update is fantastic for colder climates or pets in their senior years.
Outdoor "Catio" Space
Have fun creating an enclosed outdoor area to let your cat roam without the risk of catching a curious bird (which is especially common if you've done some birdscaping). Make sure to offer plenty of things to climb and places to perch for the ultimate cat getaway.
Ramps
As pets age, getting up and down the stairs becomes more difficult. Adding in a ramp to help them get around with ease can save you both a lot of time and energy.
Pup Pool
Cool your dogs off during those hot summer days with a pool made just for them. It's as easy as buying a kiddie pool and securing it to the ground with ties or a small deck.
Dog House
If your pup loves the backyard, why not give them a place outside to call their own? Dog houses provide much-needed shade during a warm day and a protected place to sleep at night. You can even add in their favorite toys and a bed to make it more comfortable for them.
Dog Run
Give your pets a designated place to run free with a fenced-in dog run in one section of your backyard. It's a great addition to have when hosting parties to keep the dogs away from the food and other breakables.
Bathing Station
Add in a small tub and pull-down shower head to your entryway or bathroom to make clean-ups a breeze after hikes or long days at the dog park.
Cats and dogs and smart homes, oh my!
Smart homes are more popular than ever (especially given how COVID-19 has changed our lifestyles), and smart devices are a great addition to any pet owner's life. Not only do they keep a lot of the responsibilities of pet ownership off your plate, but they also improve your pet's quality of life. You can even save money on your home insurance policy if you let your provider know about what devices you've installed in your home — interested in saving money and making your life easier as a pet owner? We thought so. Try out the devices below for a more streamlined home.
Automatic lighting helps your pet see at night if they get up for some water.
Door sensors let you keep track of when your pet comes and goes — you can even set these devices up to work with doggy doors.
Fetch machines provide hours of playtime for your pup so you don't have to lift a finger.
GPS trackers are small enough to attach to your pet's collar so you can more easily find them if they get lost.
Indoor cameras allow you to keep an eye on your pet's activities when you leave the house.
Motion-censored feeding bowls automatically refill to help your pet stay hydrated and fed 24/7.
Smart litter boxes scoop poop for you to keep your home smelling fresh.
Protecting your pet from home hazards
When your pets were young, you probably followed them like a hawk, making sure they didn't get into anything they weren't supposed to. But household hazards aren't just limited to puppies and kittens. Anxious or energetic pets can get themselves into a fair amount of danger if you aren't careful. Spots like HVAC units, medicine closets and cleaning supply cabinets can be toxic (and even fatal) to your furry friends if they aren't properly secured. And while keeping up with home maintenance will prevent some of these issues from occurring in the first place, there are other preventative measures you can take to keep the whole family safe.
First, make sure to keep all cleaning supplies and food stored in a safe place that your pet won't be able to access. If they aren't nosy, a simple cabinet door should be enough to deter them. But if you have a curious critter at home, you may want to place particularly enticing items higher up or add a lock to keep things secure. 
HVAC systems should be locked away and if you have window units, make sure to secure them properly and cover up any wiring to prevent chewing. If you're an avid gardener — or just own a few houseplants  — double-check that all plants within reach are non-toxic, and always put away gardening equipment after each use.

While some of these projects require more work than others, there's no doubt you'll want to show off your completed product after you finish. Before snapping a picture and sharing online, try out our printable sign to hang around your pet's neck so they can be in the picture too! You can pose them in front of your project using treats or set up your phone to get a few action shots. Either way, you'll come out with some adorable photos to celebrate your hard work.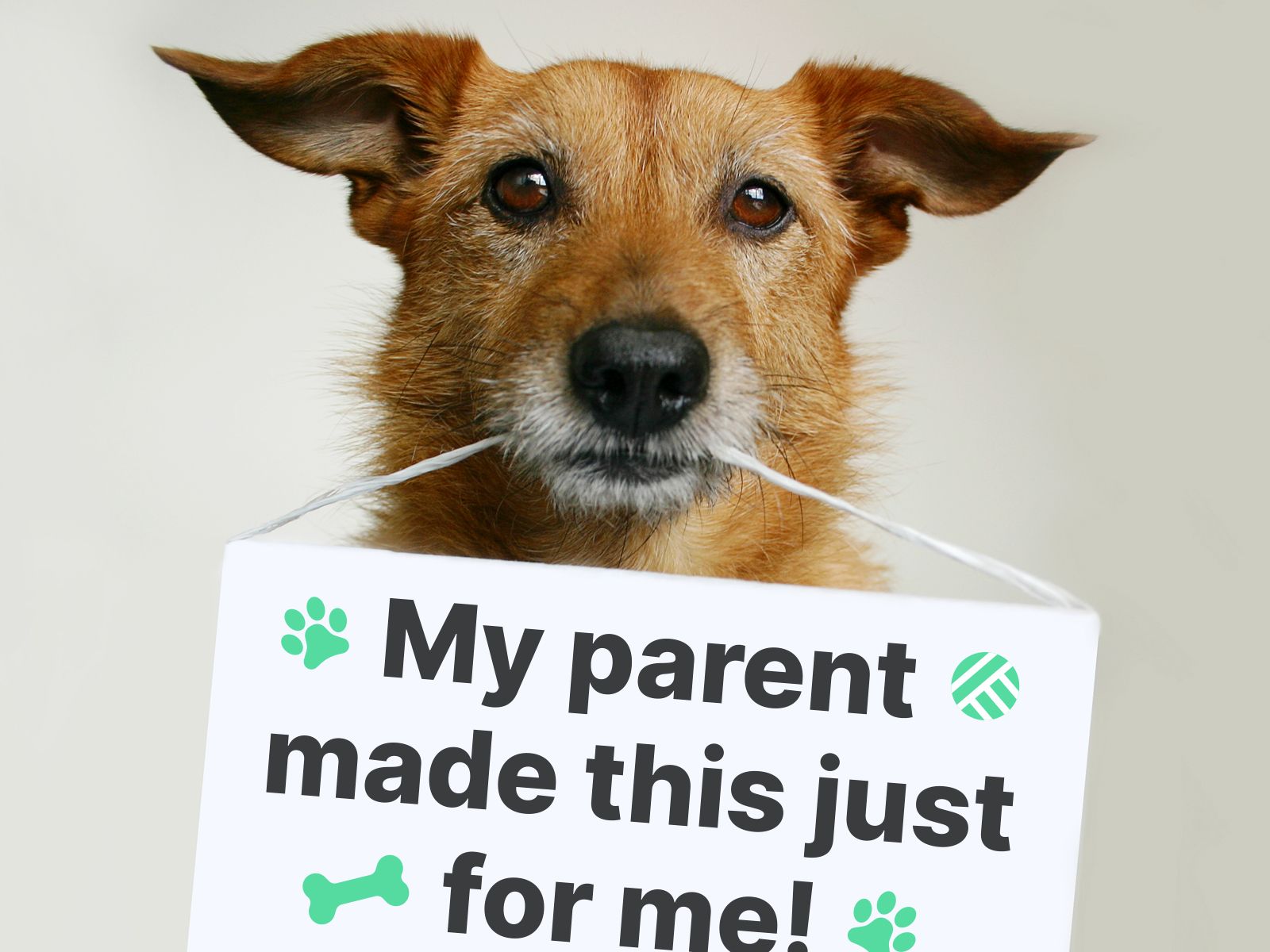 Pets and your home insurance policy
As a pet-parent and homeowner, there are a few things you need to keep in mind when purchasing a policy. Like dog breed bias for example — meaning you may end up paying more for liability coverage if you have a high-risk breed like a pitbull. You might also be able to add things like dog houses, pup pools and detached "catio" spaces to your additional structures coverage on your homeowners policy.
It's essential to chat with your insurance provider to ensure you have the coverage you need regarding pet risk. Though pet claims are minimal, it's always better to be safe than sorry when it comes to your home.
From hamsters to puppies — pets are an important part of your family, and they should be treated as such. Making sure they're comfortable in your home can not only benefit the entire family, but it can also help keep things cleaner too. 
When it comes to pets and your home insurance policy, feel free to contact our Hippos if you're on the hunt for a home insurance company that gets it.