What you've heard is true: Pets are the new kids. Not only are more couples choosing pet parenthood over traditional parenthood, but millennials are even buying homes to give their pets a better life.
So why all the fuss over four-legged companions? Pets have been proven to increase your mood and lower anxiety, not to mention many people find their pets way easier to take care of than their human counterparts. With all these benefits, it's no surprise that 70% of households own at least one pet.
For many generations, especially millennials, pet care doesn't stop once they sign the dotted line for a house with a big backyard. Many are taking things a step further, updating their front or back lawns to meet their pets' specific needs and ensure their safety during all hours of playtime.
This practice is known as petscaping, and below, we break down what petscaping entails, the steps you can take to petscape your lawn and creative ways to make your home's green spaces even more fun for you and your entire family (pets included).
What is petscaping?
Petscaping is the process of landscaping your yard to ensure it's a safe and fun area for your pets to play in. This includes removing toxic plants, adding in pet-friendly alternatives, hardscaping and adding in engaging attractions like water features or agility courses your pets are sure to love.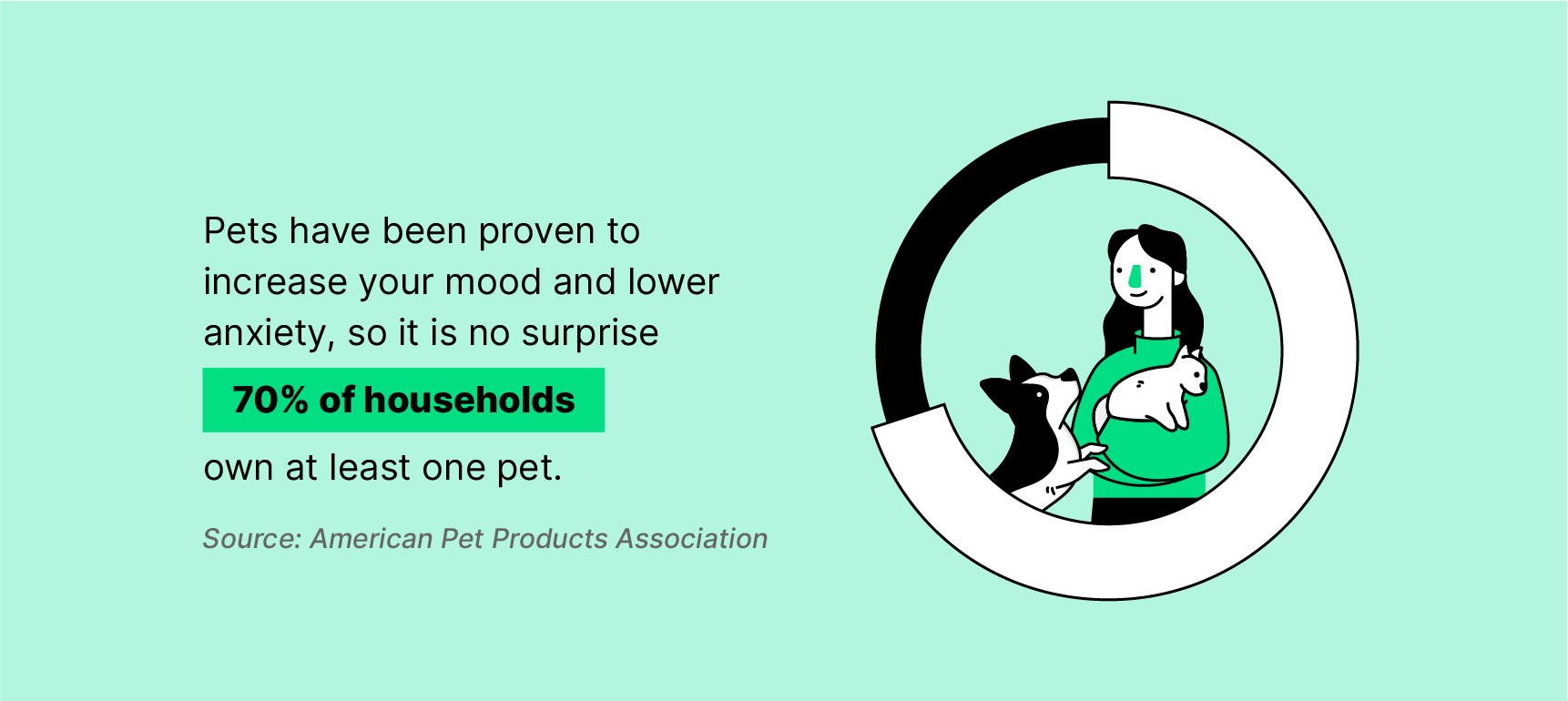 While many new pet parents are familiar with the process of pet-proofing (or even cat-proofing), that same work doesn't often extend to the outdoor areas of their home. But petscaping can be a great addition to your home maintenance routine, as it helps improve safety, curb appeal and even your home's value over time.
7 steps to creating a pet-friendly yard or garden
Ready to get started transforming your yard into a pet-friendly oasis? Follow the steps below to help successfully create a space you and your furry friends are sure to enjoy for years to come.
1. Take the layout into account
When creating a petscaped outdoor space, the first step is to design a layout that lets your pet have fun while staying safe. This includes — but isn't limited to — areas to relax, exercise, play and enjoy each other's company. 
For example, say you want to garden, but your pup loves to patrol the yard as your protector. You can create a layout that achieves both of these goals by creating a fenced-off gardening area and a stone pathway around the yard to keep you both entertained, happy and safe.
Need some help learning how to design your layout properly? Check out our post on xeriscaping for more tips and tricks for creating the yard of your dreams.
2. Add in pet-friendly materials
The next step for petscaping your yard is to consider the materials you use. To construct a safe and flourishing outdoor space, you'll need to use pet-safe materials that are tolerant to the issues that pets can bring about. This includes sturdy materials like rocks, concrete, stones and pebbles as well as non-toxic mulch and plants. Refer to the list below when determining what materials to add to your petscaped lawn.
Bermuda grass
Bricks
Concrete
Driftwood
Gerbera daisies
Masonry
Non-toxic mulch
Non-toxic plants
Paver stones
Pebbles
Rocks
Roses
Shelter from sun and rain
Sunflowers
Water features
Wooden, metal or wire fencing
In addition to incorporating materials that can stand up to your pet's urine, feces and playtime, it's also a good idea to consider the items that can help keep them safe. This includes fencing to keep them out of gardens, shallow water features to keep them hydrated and shelter to protect them from heat, snow or rain.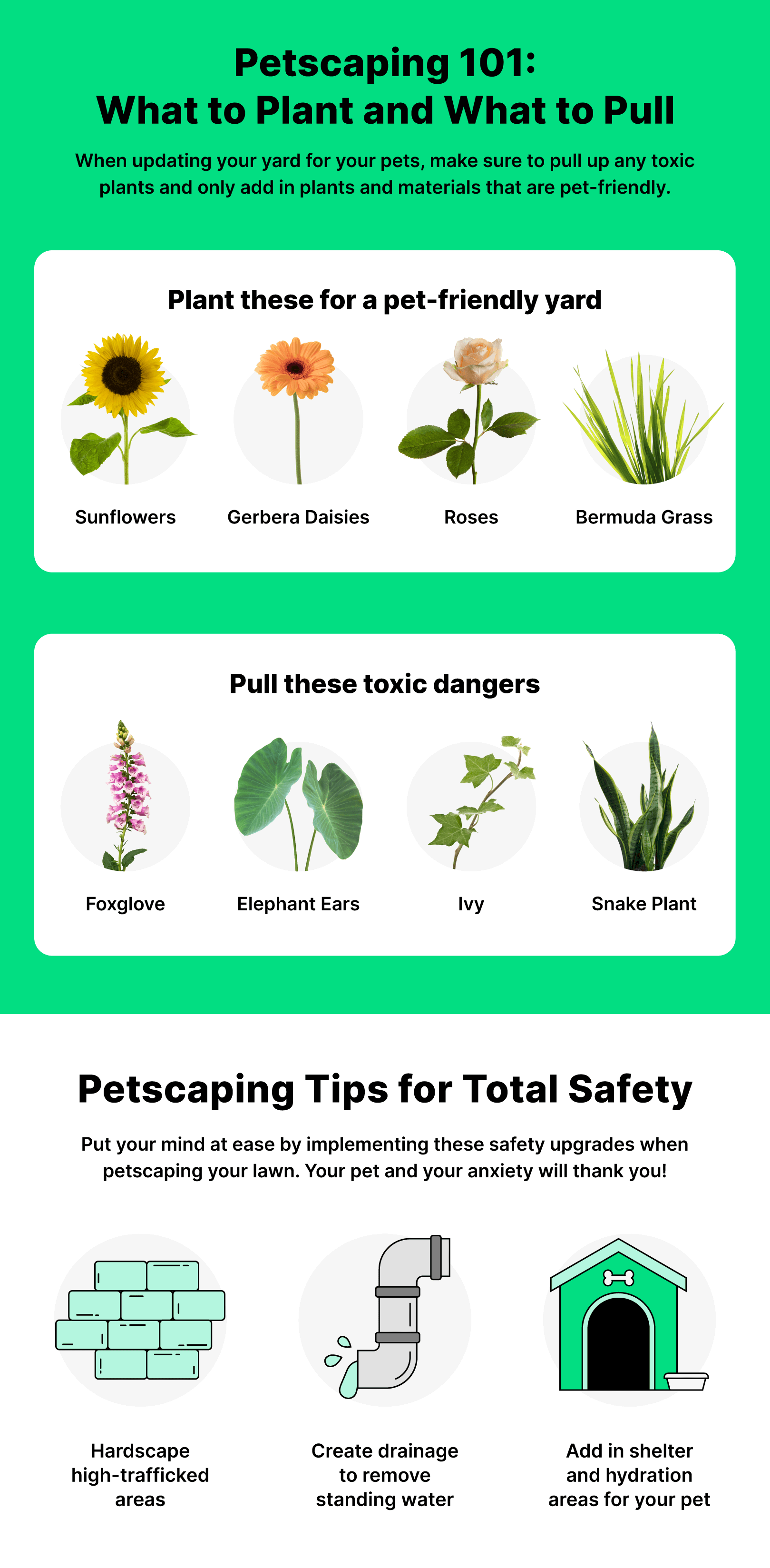 3. Avoid pet dangers
While you want your outdoor space to look beautiful, some plants just aren't worth the looks. Common additions to yards, such as elephant ears, sago palms and snake plants, can be toxic to your pets when ingested, meaning you'll need to keep a close eye on your pets if you choose to plant these in your outdoor space. If you want to let your pet roam freely, or you won't be able to watch them constantly, it's a good idea to avoid these pet dangers altogether.
A few of the toxic plants and materials to avoid include:
Aloe vera
Daffodil
Elephant ears
Foxglove
Geranium
Ivy
Lily
Milkweed
Oleander
Sago palm
Snake plant
Tulips
For more information on what to plant (and what to avoid) when petscaping to keep your furry friends safe, check out this guide from ASPCA.
4. Treat pests the smart way
Pests are an unpleasant reality of spending time outdoors. While all insects serve their own unique purpose, that doesn't mean you want them all over the place. Enter pest control. From treating your lawn for fire ants to spraying for mosquitoes, pest control is a great way to ensure you and your animals can enjoy your outdoor space year-round.
But some chemicals are dangerous to your best friend when ingested or inhaled, so make sure to chat with whomever you hire and let them know you have pets. If you're doing the eco-friendly pest control yourself, follow the product instructions to the letter and keep your pets away from the area for several hours after treatment.
5. Create a dedicated space for them
Whether you have a huge yard with plenty of room for your pets to roam or just a small and quaint outdoor space, creating a dedicated area for your pet is a great way to keep them happy and safe. To create the best space for their needs, consider what activities they enjoy doing outside and cater the area to their interests.
For instance, if you have a high-energy dog, you may want to set up a long stretch of grass with plenty of obstacles to run around and play fetch in. On the other hand, if you have a dog or cat that loves to lounge in the heat, creating a nice sunny spot for them to lie in is a great idea, either in the grass or in their own private catio. (You can learn more about catios and other home upgrades for pets on our blog.)
By creating one area of the yard they're bound to love, you can not only keep them entertained for hours on end, but you can also increase the health and longevity of the rest of your outdoor space. Talk about a win-win!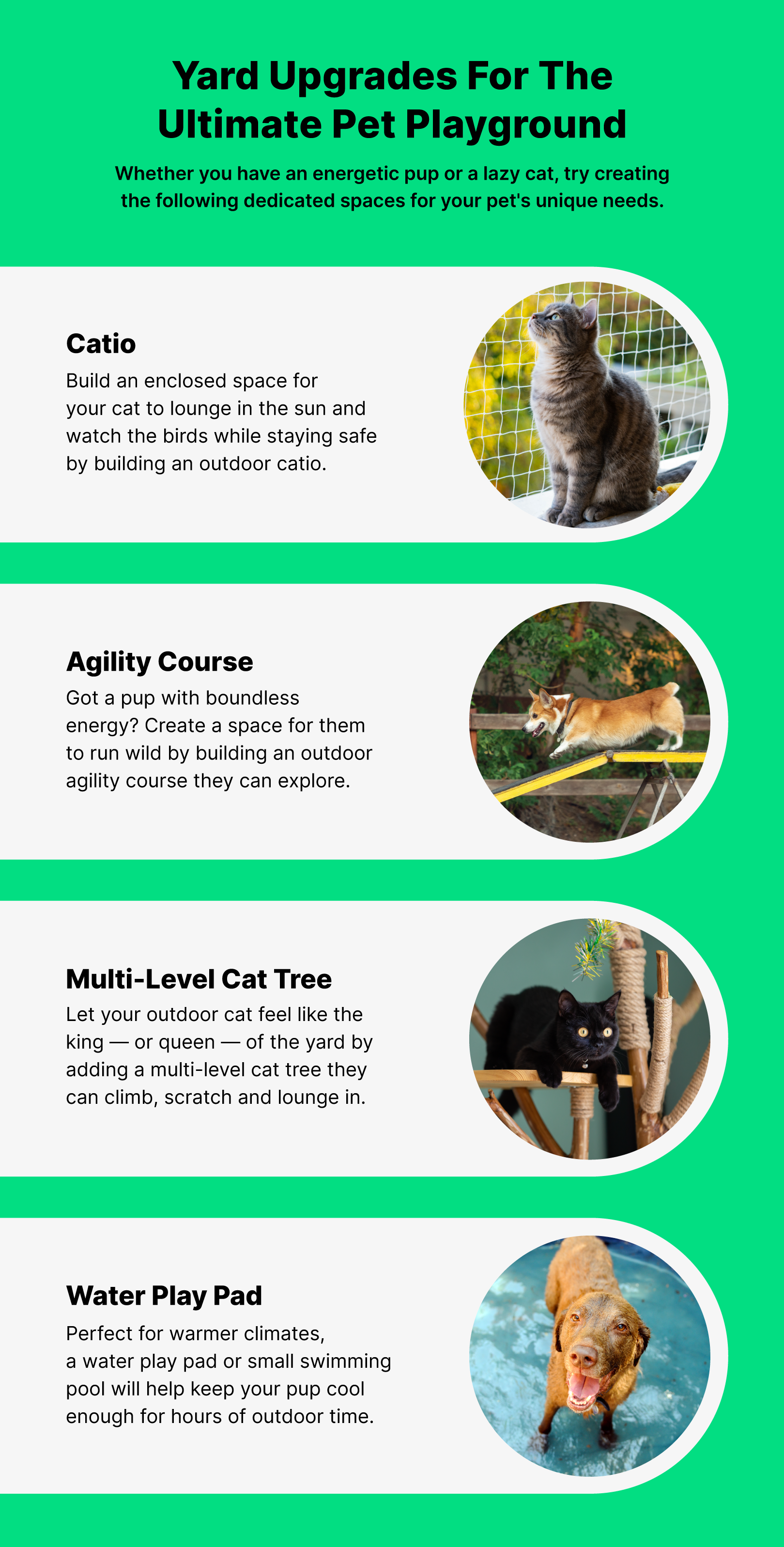 Creative petscaping ideas
Once the landscaping is complete, you might find yourself wondering how to further upgrade your outdoor space to make it more fun for your pet. From adding a place to swim to installing an agility course to help them get out their excess energy, try out the following creative petscaping ideas to take your lawn to the next level.
Dog agility course to get out excess energy
A water feature or play pad to keep cool
Dog-friendly garden to encourage healthy snacking
Hardscaped path for exploring
Multi-level cat tree for climbing
Enclosed catio to allow safe sunbathing
Artificial turf for worry-free potty time
Large dog house for lounging
Sandbox for playtime
6. Keep your pet's habits in mind
Every pet has its unique habits. Whether you have a dog that loves to dig or a cat that loves to climb, you can design your yard to discourage negative behavior and encourage positive ones.
Keep small, ingestible objects to a minimum throughout your yard. It's also a good idea to keep plants up high if you have four-legged snackers running around your lawn. Some other useful ideas for catering to your pet's habits include dedicating a space for them to dig in, adding in turf to keep them from getting muddy and trimming back overhanging tree branches to ensure they have plenty of sunny spots to lounge in.
7. Consider your climate
When landscaping or petscaping, keeping your climate in mind is crucial. Not only will this allow you to build a lawn that thrives in your area's unique weather patterns, but it can also allow you to keep your pet safer. 
For example, if you live in a rainy climate, make sure to create proper drainage systems to keep standing water from piling up in your lawn. Otherwise, your pup could get sick from drinking from rain puddles. Other examples include providing adequate shade for your pets if you live in a sunny region or building a warm shelter if you live in a snowy or cold climate.

How can I keep my yard nice with my dog?
Keeping your yard nice with a dog is easier said than done. But with a few quick updates listed below, you can ensure the health and longevity of both your lawn and your pets.
Only add non-toxic plants to your yard
Remove any toxic plants or barricade them so your pets can't access them
Provide plenty of shade and water
Plant urine-resistant grass, like ryegrass and fescue
Add a dog house for lounging
Hardscape areas of your lawn to prevent digging
Add in fencing to keep pets out of certain areas
Install security cameras so you can keep an eye on them
Seasonal petscaping tips to keep in mind
Lawn care changes throughout the year, with each season providing its own set of benefits and drawbacks that need to be addressed. The same is true for petscaping, as what your lawn (and your pet) needs will change each season. Below, we've listed petscaping tips by season, though you can also check out our fall maintenance for pet parents article for even more information.
Spring

Update landscaping to ensure proper drainage after spring showers
Treat lawn for incoming pests

Summer

Add a water feature in your yard for your pet to cool off in
Cut grass regularly to discourage critters from hanging out

Fall

Rake and remove leaves on a regular basis

Let your pet jump in the pile for a cute photo op!

Trim back trees to prevent falling limbs in the winter

Winter

Add blankets or a heater to their dog house
Shovel snow regularly

Avoid salting any walks you expect your pets to walk on as it can be damaging to their paw pads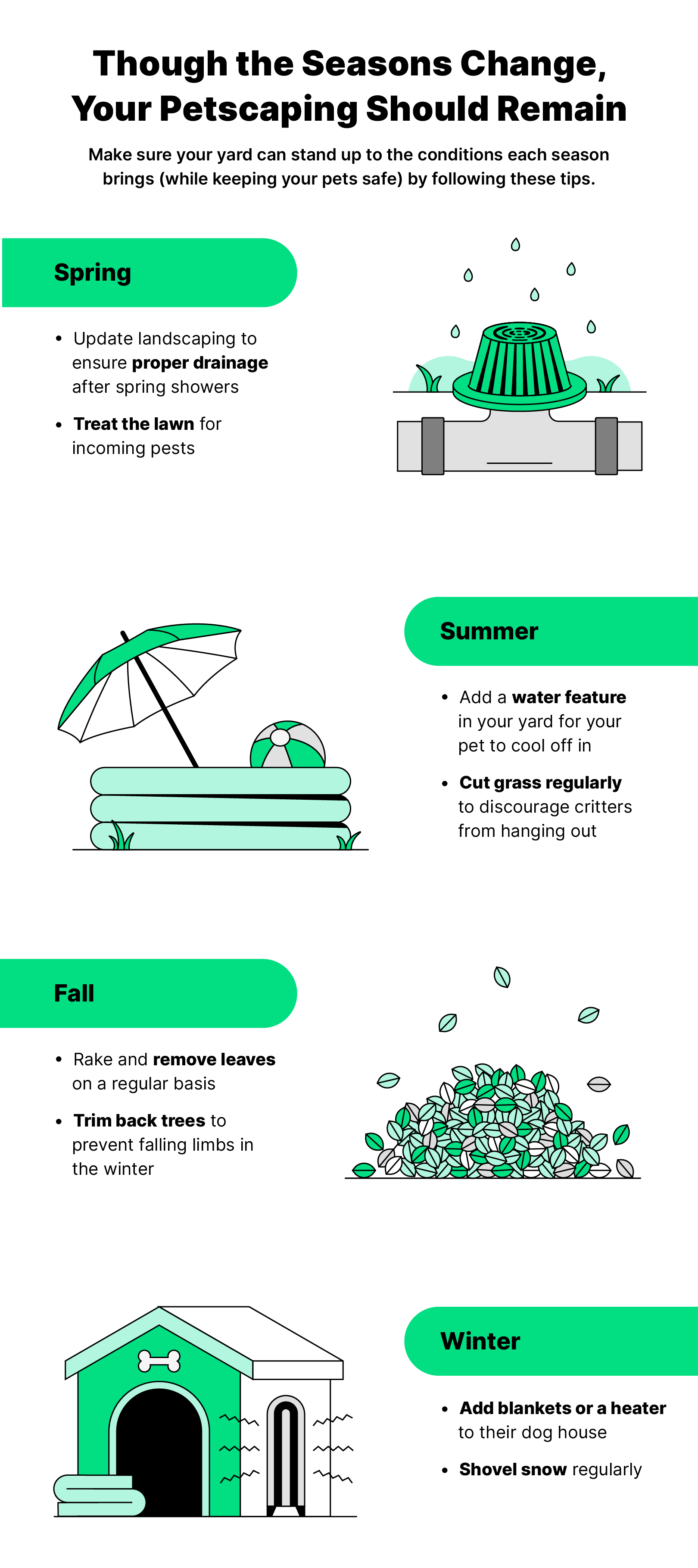 Pets and yards and home insurance, oh my!
When considering how your yard and pets can live in harmony, your home insurance policy is probably the last thing on your mind. But it's a good idea to consider your current coverage when making any changes to your home, and that includes petscaping updates.
Given that your home insurance covers your dwelling, personal property and any additional structures on your property, most of what you add to your lawn will have coverage under your policy. That's why you should alert your provider to any expensive changes you make, so that they can update your policy accordingly. That way, whether bad weather strikes and damages the dog house you bought or your pet destroys the new hardscaping you installed, you'll be able to get the help you need to repair and replace what's damaged. 
By alerting your provider to any changes, keeping up with monthly home maintenance and petscaping, you and your furry friends will be able to enjoy your home inside and out for years to come. Interested in switching home insurance companies? Give us a call, because we named ourselves after an animal for a reason.