Whoever said that the grass is greener on the other side must have been moving to a home with a bigger yard. A 2019 study published in the Proceedings of the National Academy of Sciences has shown that children with limited exposure to green spaces during adolescence are more likely to develop psychiatric disorders. Being connected with nature at home is a way to relax, unwind and ground yourself — literally. 
When buying a first or second home, it's a good idea to make a backyard a priority. Even if you start with an empty lot of grass, you can landscape your way to a beautiful and relaxing outdoor oasis by planting grass or going the xeriscaping route.
We've compiled a few DIY projects that can help make your backyard a special place for your family to enjoy together. Skip down to the infographic or read on for ways to cultivate a green space.
The benefits of spending more time outdoors
Outdoor spaces around our homes can help make connecting with nature and enjoying fresh air a walk in the park without having to, well, take a walk in the park. 
Creating a backyard garden, for example, can not only fill empty hours at home, quarantining but can also have financial and emotional benefits. Growing your own herbs and veggies can save you an estimated $600 per year on groceries. Gardening has also been tied to psychological well-being and life satisfaction. 
Adding green spaces into your home can give you activities to do that don't involve technology or social media, and they can help you feel happier and more satisfied. 
The great outdoors and your children
With so much stimulation inside, it can be hard to encourage kids to get outside and enjoy nature. This means that kids spend half as much time playing outside as their parents did. Cultivating a beautiful, fun green space outside can help encourage your children to enjoy all that nature has to offer. 
There are many benefits to doing so. Playing outside can help kids stay active and lead a healthier lifestyle while improving their happiness. In a survey of educators, 78% said that kids who spend time outdoors concentrate better, and 75% said kids who spent time outdoors are more creative. Giving them a safe space at home to play and be outdoors can help you be confident that they're safe while enjoying the benefits of the outdoors.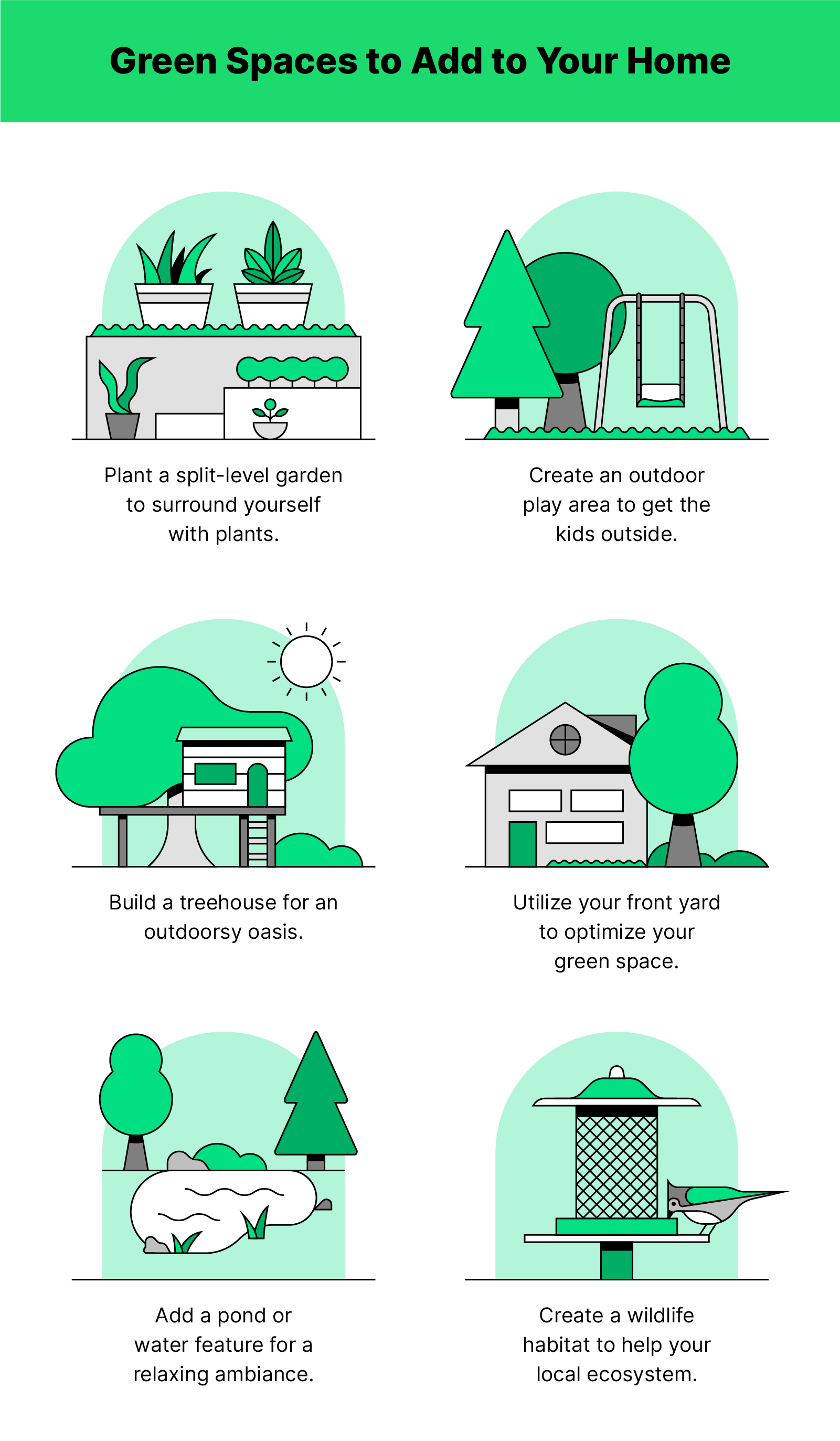 8 green spaces to add to your yard
There are many home updates you can make to improve your mental health, including outdoor ones. Adding green spaces to your home can help liven up your area while getting the whole family involved. 
1. Plant a split-level garden
A split-level garden is a functional, green space that enhances your yard's natural qualities while making the most of your area. Combining plants on the ground level with plants arranged at different height levels can give these spaces the illusion of being surrounded by plants. They can also help hide tricky backyard machines like pool equipment or electrical boxes. 
If your outdoor space is sloped or you just want to add some dimension, adding tiered garden boxes can help create a split-level design that adds character and whimsy to your outdoor space. To create this feature, build garden boxes of varying heights and arrange them into the design that makes the most sense for your area. 
2. Create an outdoor play area
No more need to say "back in my day" — you can get your kids off their devices by giving them something fun to do outside. Create an outdoor play space that kids can enjoy, and even consider building adult-sized games so the adults can get in on the action as well. 
Barricade off a square of the yard for a sandpit; build a swing set, create a life-sized chess game, or invest in a basketball hoop. Whatever your family enjoys, bring it to life in your backyard to get your family interested in spending more time outside and less time online. 
3. Build a treehouse
A treehouse can give your child a place to call their own and can add dimensionality and intrigue to your backyard space. Plus, sitting in the treehouse can help your kid get some fresh air and enjoy time outside. 
Building a treehouse is a pretty big task. If you're not confident you can pursue this safely yourself, you might want to consider hiring someone to build the treehouse for you. That way, you can make sure your green space will be safe and secure for many years to come. 
4. Add some fun to your front yard
If your backyard is too small to add a big green space, or maybe you don't have one at all, take your ideas frontwards. Though a front yard isn't typically made into a fun green space for families to enjoy, there are many possibilities to make it one. Especially while social distancing, front yards have become social gathering places for distant drinks or gatherings with friends.
With some fencing for privacy, porch swings and plants, your front yard can also become a relaxing and fun area to enjoy time outside. 
5. Add a pond or water feature
A pond or backyard water feature doesn't only create an aesthetically pleasing area; it can also provide the added benefit of a babbling brook's relaxing sound at home. You won't have to seek out the nearest stream to relax. You can simply take a few steps outside. 
Putting in a pond starts with digging the hole, but it also involves securing the ground, installing the fountain pump and filling it with water. If you don't think you can DIY this task, there are companies that can do it for you. 
6. Create a wildlife habitat
Creating a wildlife habitat is a win/win. It makes a fun, beautiful area for you to enjoy in your backyard, but it also helps your local ecosystem continue to thrive. By providing safe shelter and food for local bugs and birds, you're helping them stay safe and alive. 
To create a wildlife habitat in your backyard, invest in birdbaths, nest boxes, bird feeders and flora that are local to your community. Then, let the bird watching begin. Once you've got your habitat up and running, you can even have your garden certified as a green space by the National Wildlife Federation.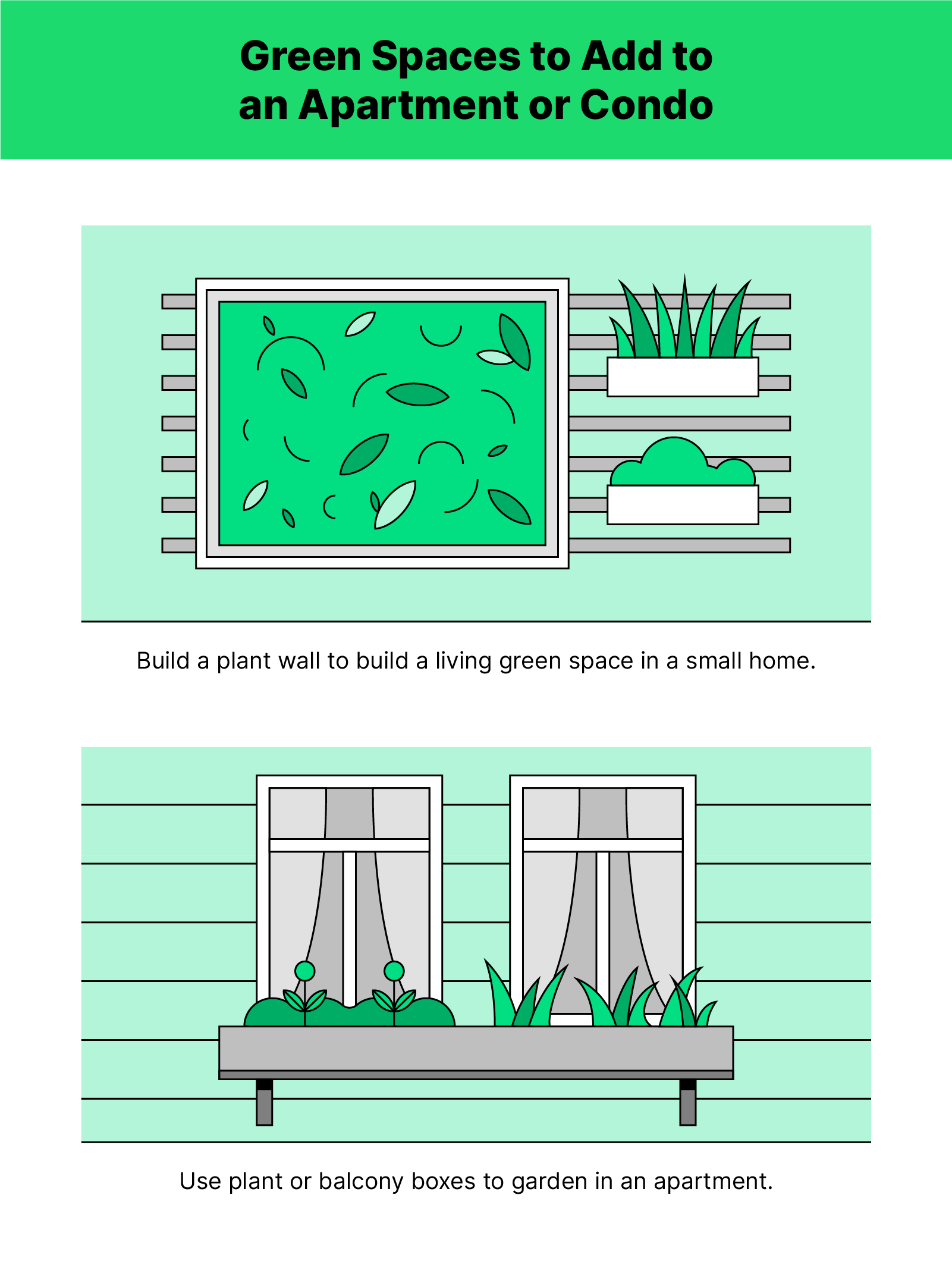 Green spaces for apartments or condos
Those who don't own a home don't have to miss out on the relaxing benefits of plants and greenery. 
7. Build a plant wall 
A plant wall is a great way to add visual intrigue and greenery to your space. You can build a plant wall on any wall that is exposed to sunlight-- outside or inside. Essentially, these walls create the same look and feel as a split-level garden, but they don't require planting in the ground. 
A plant wall can be as simple as putting potted plants on shelves throughout your home or constructing a large planter to attach to the wall. As long as the wall ends up covered in plants and greenery, you'll have done it right.  
8. Plant in window or balcony boxes 
You don't need a big yard to enjoy the emotional and financial benefits of gardening. Window and balcony boxes can bring your garden dreams alive without needing to leave your apartment or condo. 
Purchase these boxes, attach them to your window or balcony, and then select what herbs or florals you want to plant in them. Enjoy the same experience you would if you were gardening in a large yard. 

Outdoor spaces and new homes
There are several green things you can look for when shopping for a home or condo. Even if the space isn't huge, a small and promising green area can grow into something extraordinary. While touring, try to see if your prospective space has any of the following:
A large front or back yard
Fencing for privacy
A covered patio or balcony
A large, blank wall that receives sunlight
A garden or garden boxes
Large trees in the yard
A greenhouse
You don't want to create your dream backyard only to find yourself in the weeds with repairs, finances and accidental damage. Your home and its added features will be protected through Hippo home insurance — so get a quote today.