These days, kids and technology seem to go hand in hand. It's hard to go anywhere without seeing a toddler playing on a phone or watching their favorite show on a tablet. But raising kids with limited screen time is possible. It's a rising trend as parents have come to understand its many benefits, such as better sleep and reduced anxiety. 
But not all technology spells trouble for your growing family. In fact, there are some devices out there that cater directly to your needs, increasing safety and giving you more oversight than ever. Many of these devices can be used as early as infancy to help you keep an eye on your new child and protect them from accidentally injuring themselves. Essential parenting tasks like baby-proofing your home have gotten much smarter over the years, creating the perfect opportunity to introduce children to technology in a positive way.
Here at Hippo, we believe in the value of technology — we even offer smart home kits free of charge to our customers for the same reason; to be proactive and preventative. Whether you bought a state-of-the-art smart home or are looking to upgrade your current space with baby-proofing technology for the first time, our guide has you covered. Wanting to take a step back and learn the basics? Check out posts on smart home trends, smart bedroom ideas and the best smart home devices before diving into the world of baby-proofing tech.
Baby-proofing technology
The days of installing hardware to every corner of your home before welcoming a new baby are long gone. What was once a time-consuming and physically demanding task, baby-proofing is now easier (and safer) than ever before, all thanks to smart home technology. If you're unsure what smart tech to try out, we've broken down the best gadgets based on your child's age and particular needs below.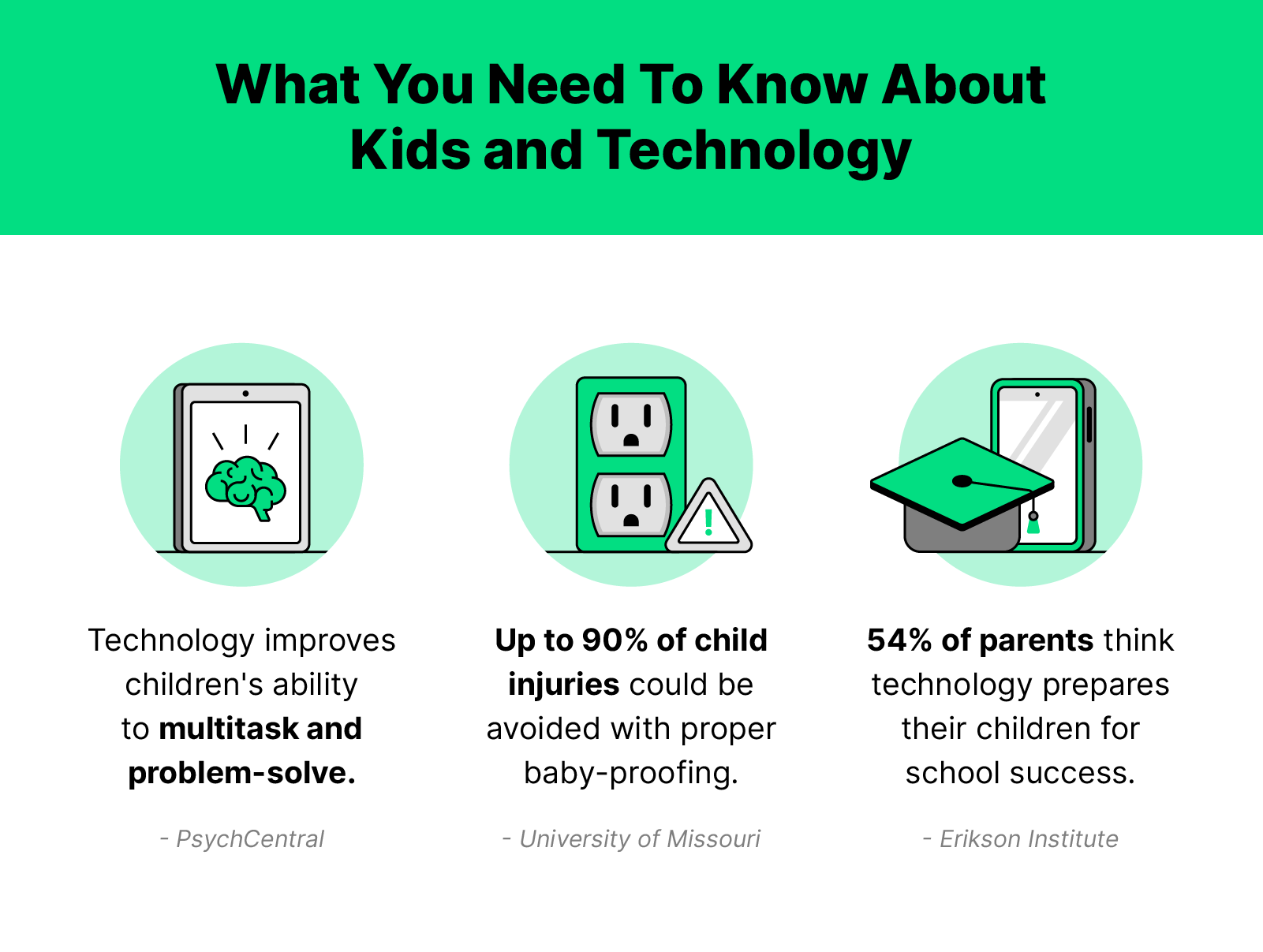 Infant
When you first bring home an infant, your to-do list can seem never-ending. Though each task is important, it can be hard to tear yourself away from your baby's loving coos (and who can blame you?). But with an array of smart home devices at your fingertips, you can get that list taken care of and keep your baby safe with ease.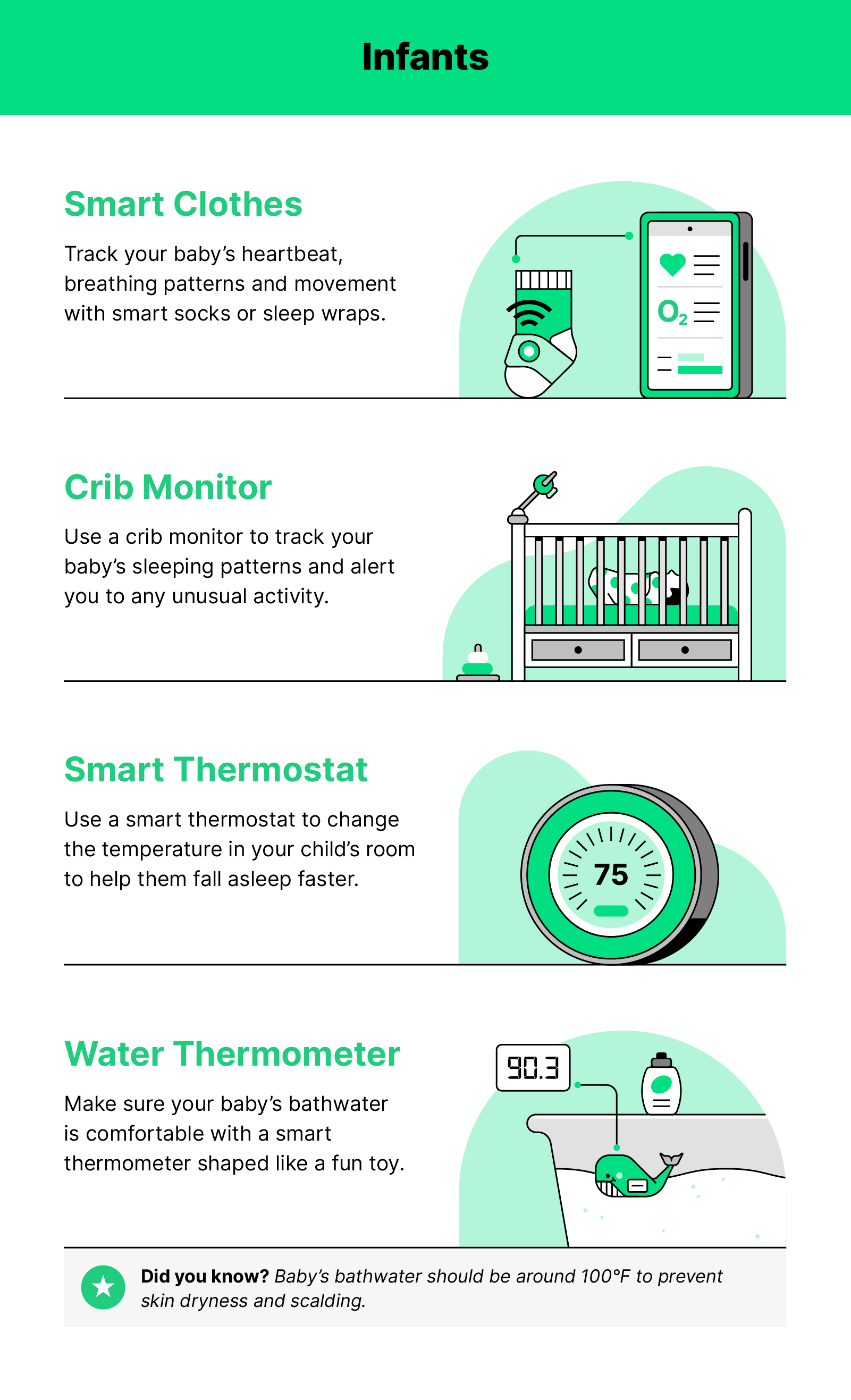 Toddler
Toddlers love to explore and learn, but this can sometimes lead to them getting into things they shouldn't. Help your inquisitive toddler stay safe on their next adventure and get the rest they need to tackle the day with these smart home devices made for every room in your home.
Preschooler
Once your kid reaches preschool age, their child-proofing needs will change. While they may no longer need smart clothes or a crib monitor, plenty of devices still cater to their needs. From smart nightlights to pool protectors, try out these devices for a smarter and safer home.
Smart speaker

When you think of smart speakers, you might not think of them as being kid-friendly. But popular models from brands such as Amazon, Google and Apple actually have versions created just for kids. They not only come in fun designs, but they also allow for total parental control, meaning your kids can ask to listen to their favorite song but can't make any voice purchases.

Portable night light

While there are plenty of types of nightlights available to light up every corner of your home, if your child is prone to nighttime bathroom or cuddle trips, portable nightlights may be the best option. Brands like Munchkin offer fun lights that are as cute as they are functional.

Pool monitor

If you have an above-ground or in-ground pool, a fence or cover is crucial to prevent accidents. But if you want to take your pool monitoring one step further, consider pool monitors like the Safety Turtle or the LifeBuoy that will alert you to underwater movement as soon as it happens.

Robot vacuum
Alarm system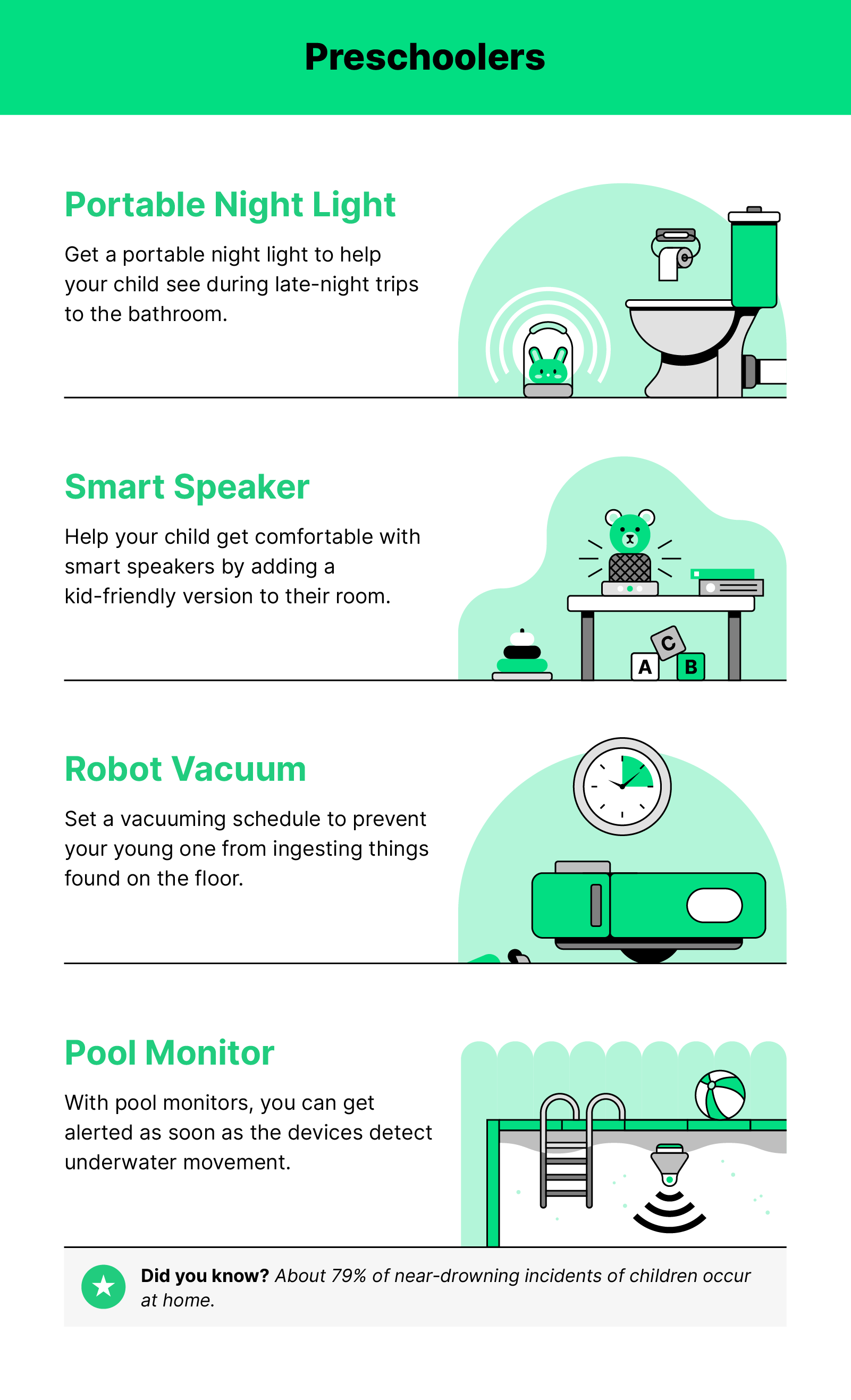 From toddler to teenager: teaching your family about tech
Introducing your kids to technology in a positive way early on in their lives is always a good idea — and there are plenty of ways to do so. From teaching them how to use the phone in case of an emergency to helping them understand how your alarm system works, families can embrace the benefits of technology by focusing on devices that protect rather than entertain. Try out the following tips with your kids to establish a healthy relationship with technology:
Teach them how to use the phone to call 911 (or a neighbor) in an emergency
Show them where the fire detectors are, what sound they make and what to do if they hear it go off
Explain what an alarm system is and why you use it
Once they start using technology for entertainment, explain why you set screen time limits
Show them how to use a smart speaker for lullabies when they have trouble sleeping
Teach them how to turn on nightlights to avoid injuring themselves
Once they get older, however, your task is not to show them how to use technology but how to do so safely. By embracing technology rather than shunning it, you can help your children make good decisions regarding how they behave online. Consider the following tips for your tech-loving teen or preteen:
Set ground rules about where phones are and aren't allowed
Before giving them a phone, download parental control and location-finder apps
Get them involved in extracurricular activities for screen-free time
Set a passcode for any online purchases
Put a timer on their phone or tablet to enforce screen time limits
Have them practice setting and turning off the house alarm
Put their social media accounts on private
Does smarter mean safer? We think so, especially when it comes to smart homes. At Hippo, we believe in the power of smart home devices so much that we've made it a crucial part of our home insurance policies. That way, we can protect your home while you focus on what matters most: your family.