How much would you pay for a perfect night of sleep? To wake up in a smart bedroom, feeling fully rested and ready to take on your day? If you're like most Americans, the answer is a lot.
Turns out, those surveyed would be willing to pay just under $300 a day for a great night of Zzzs — quite a pretty penny to shell out for something that's supposed to come naturally. But it turns out this high price tag is well warranted, as not many adults are currently getting the rest they really need. In fact, studies have shown that 35% of American adults aren't sleeping well…ever.
To get the rest your body needs, you might have invested in a new mattress or high-quality sheets. But as it turns out, some of the best sleep aids money can buy are actually in the tech category. And though you've likely heard you're supposed to keep technology out of the bedroom altogether, just hear us out. To get the rest you've been dreaming about, it's all about the type of smart bedroom technology.
What is a smart bedroom?
A smart bedroom is essentially a regular bedroom with sleep-focused tech upgrades. By adding in sleep-friendly devices, you can enhance your home and bedtime routine in one fell swoop (often without having to lift a finger). And the best part? It's not even that expensive, and the benefits are tenfold.
Benefits of a good night's sleep
We've covered the home upgrades you can make that'll boost your mental health on our blog before, and there are plenty of them. However, no update can beat the boost you get from a good night of sleep. And there are plenty of ways tech can help, from tracking your sleep cycles to darkening your room without having to get out of bed.
But before you add any devices to your cart, let's take a moment to learn the benefits of sleep and the role that technology can play in your circadian rhythms.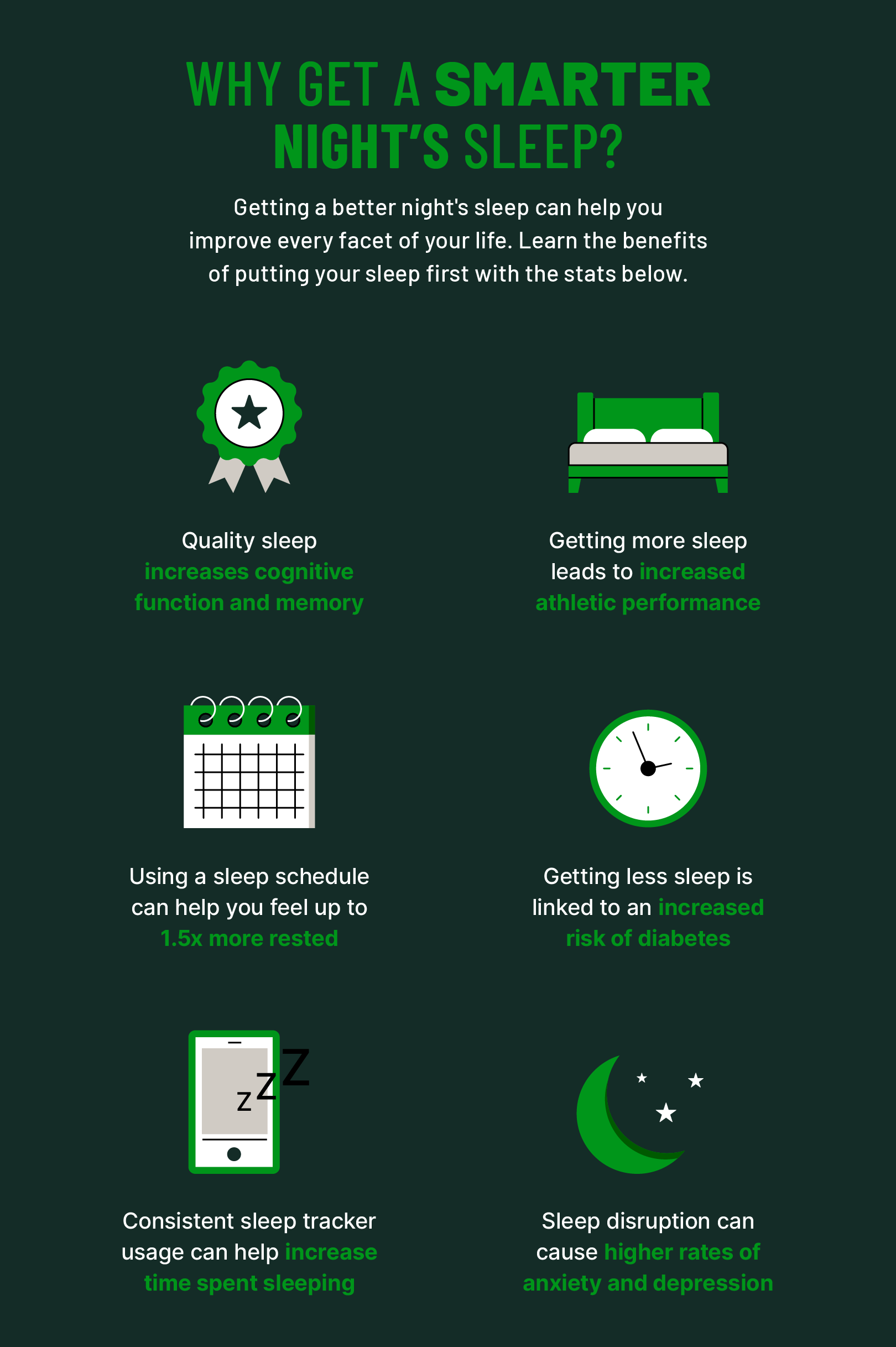 Bedroom technology for a smarter night's rest
So what type of tech can help you drift off without having to count sheep, and what tech will keep you up at night? While the blue light that screens produce has been shown to decrease melatonin levels, that doesn't mean you should ban bedroom tech altogether.
Smart home devices are getting smarter every day, and some are smart enough to help you drift off with ease. Below are a few of those devices.
1. Smart bed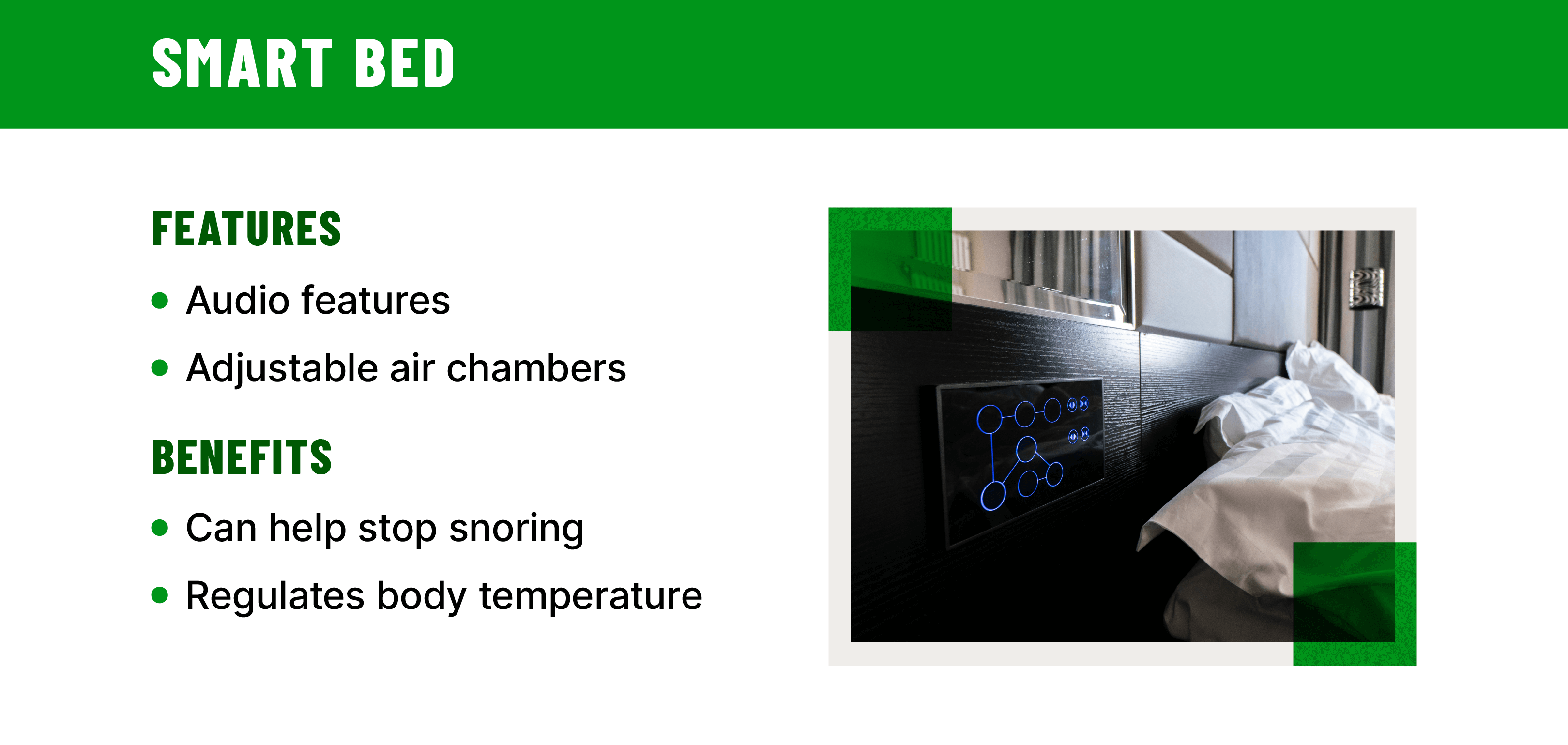 If you've ever upgraded from an old-school spring mattress to memory foam, you know just how life-changing a new mattress can be. But what if your mattress could automatically adjust to stop your partner from snoring? Or if it could regulate your temperature throughout the night to ensure you stay comfortable? What was once a pipe dream is now a reality, as high-tech and responsive smart beds are now in bedrooms across the nation.
And that's not all that smart beds are capable of. Unique capabilities of smart beds include:
App connectivity
Sleep tracking
Snoring sensors and automatic movements
Pre-warming capabilities
Temperature sensors and regulation
Adjustable air chambers
Audio features
2. Sleep tracker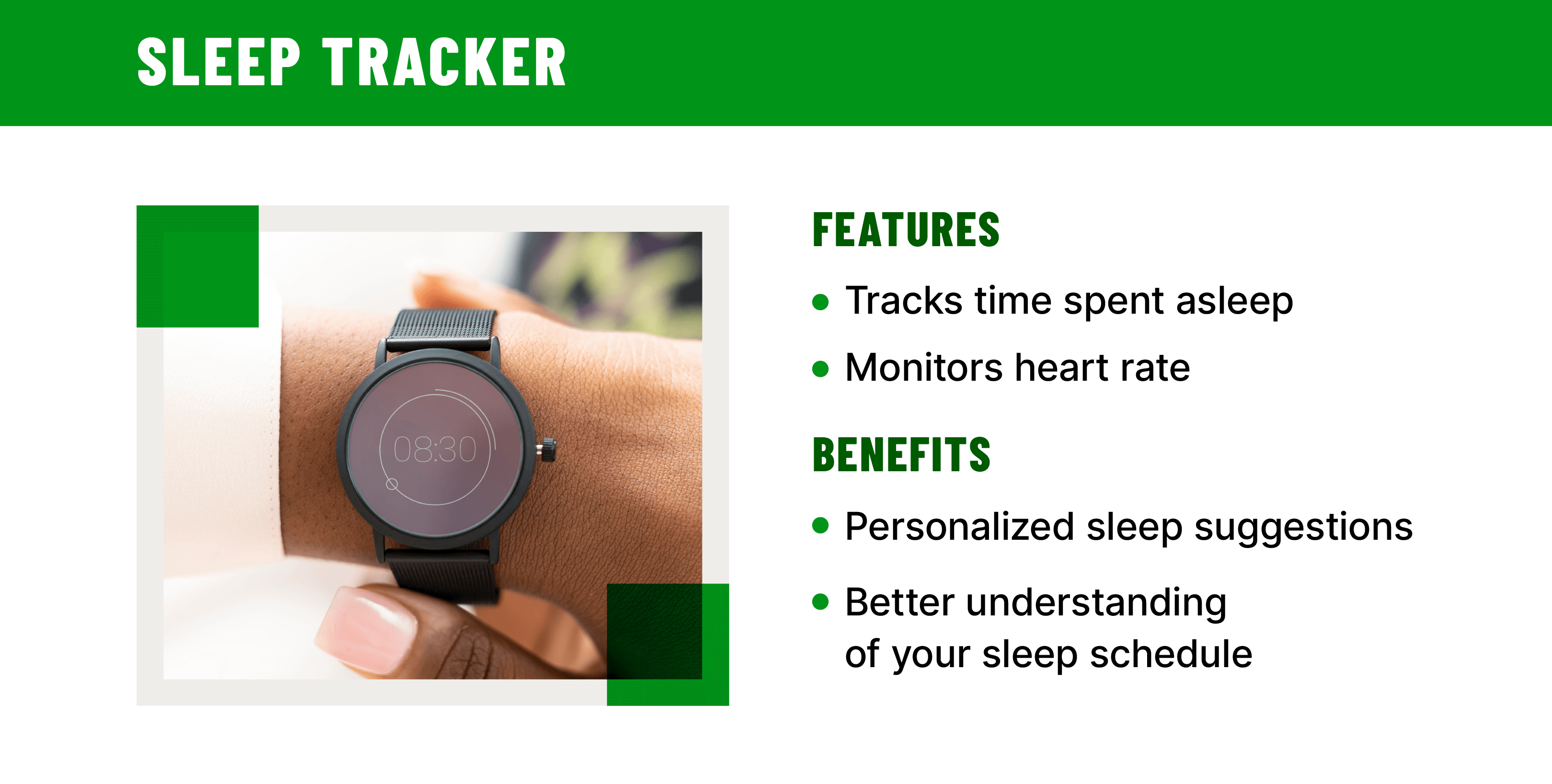 Don't want to shell out thousands on a smart bed but still want to track your sleep? There are plenty of lower-priced tech options available that do just that. From wearable devices to nightstand trackers, you can get an in-depth look at how long you slept and how well with ease.
Outside of tracking hours slept, these devices can also monitor:
Heart and breathing rate
Movement
Light and noise levels
REM cycles
Humidity levels
Body and room temperature
Snoring
Blood oxygen levels
3. Automatic blinds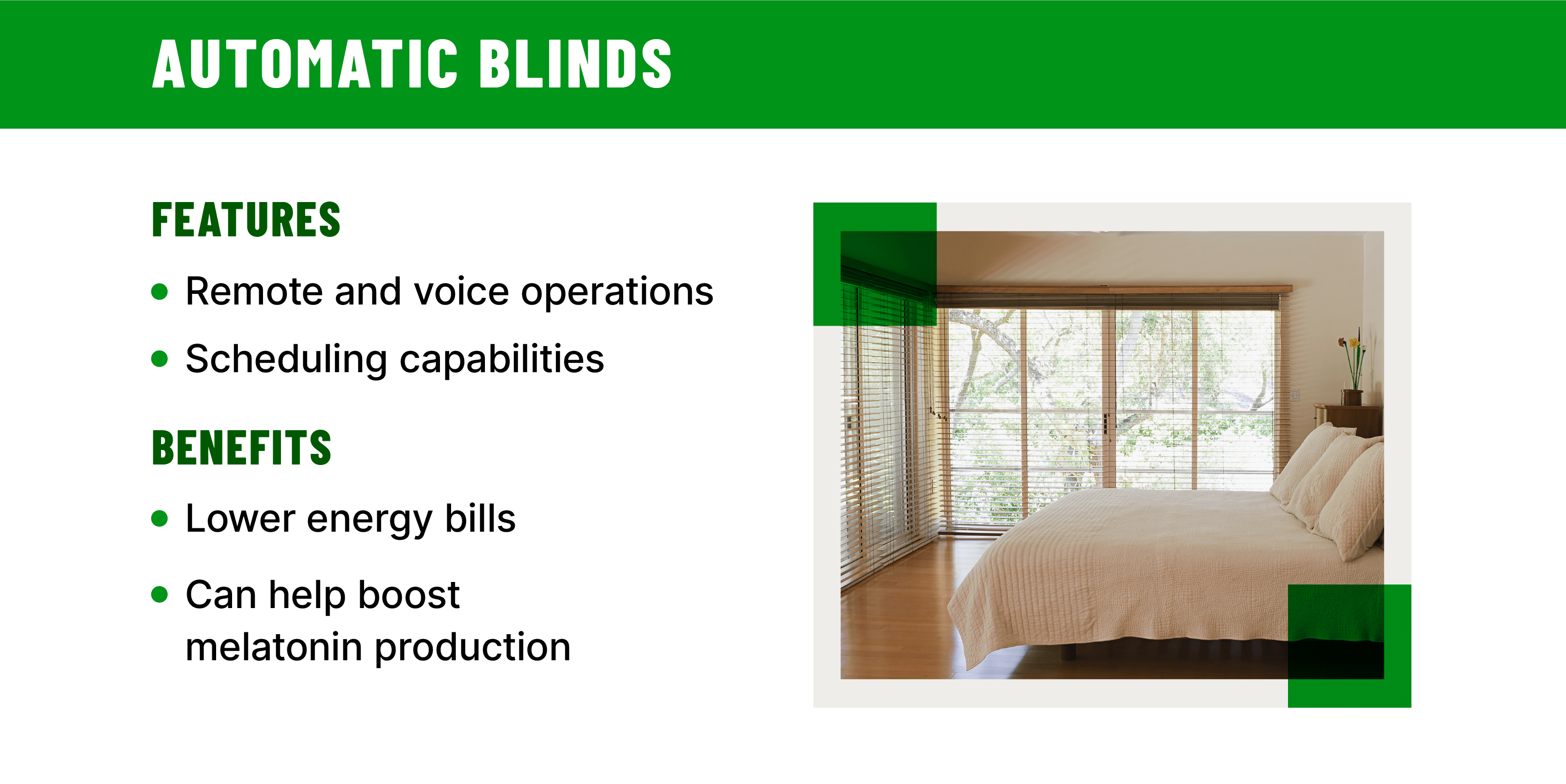 With blue-light-blocking devices hitting the market seemingly every few weeks, there's no denying the negative effects of this light on our sleep. However, being exposed to any type of light at night can be detrimental to your sleep schedule, even if it's just from a street light.
That's where automatic blinds really come in handy, as you can open and close them remotely and even set a schedule for them to follow each day. The benefits of bringing smart blinds into your bedroom include:
Higher melatonin production 
Lower energy bills
More consistent room temperature
4. Smart alarm clock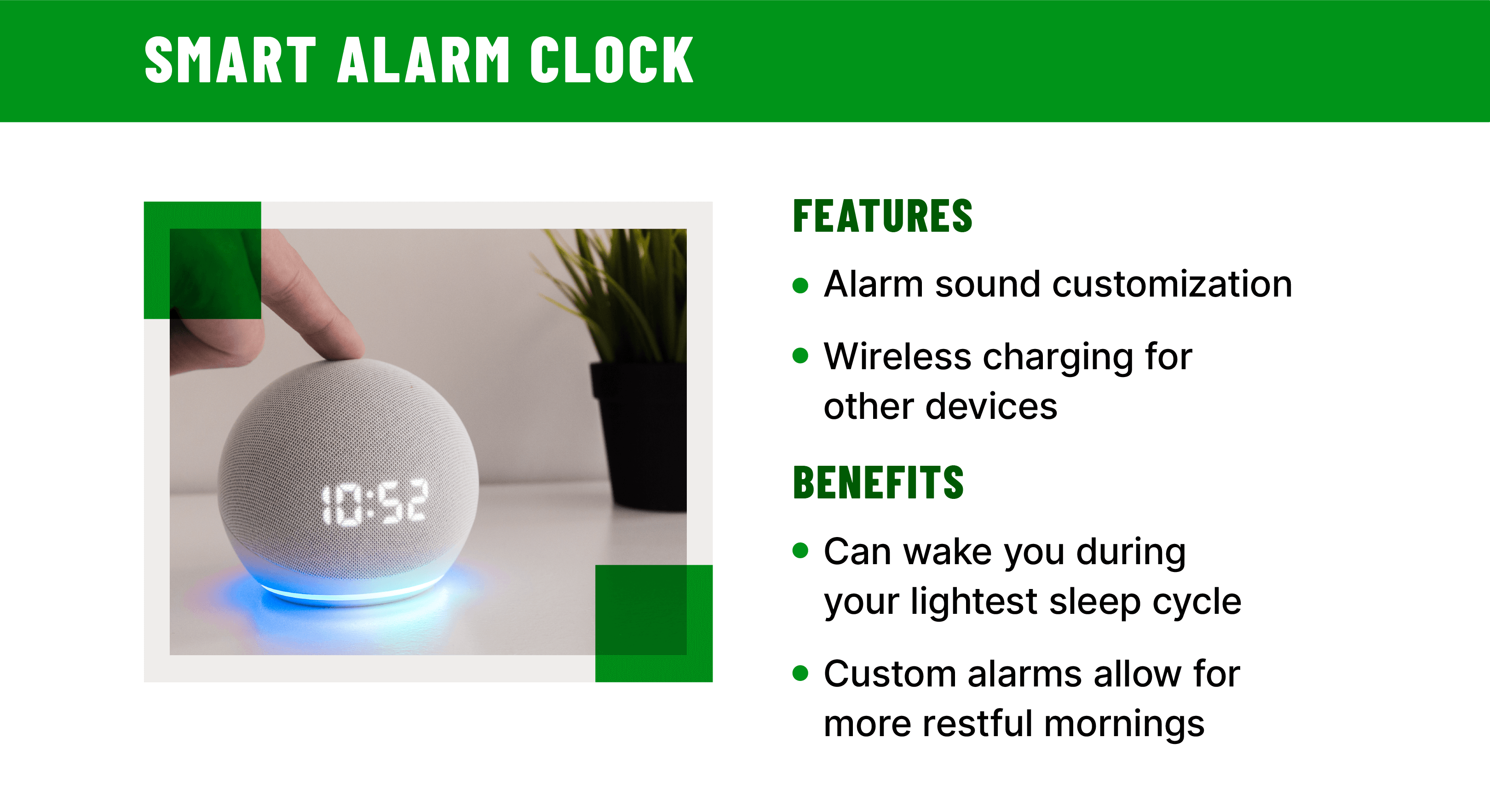 Gone are the days of loud, obnoxious alarm clocks. While they may have done a good job of getting you out of bed, they were also pretty good at souring your mood and raising your heart rate — a far cry from how you want to feel first thing in the morning.
Smart alarm clocks were invented to solve this problem (and do a whole bunch of other stuff too). Vibrations, gentle music, and only going off during your lightest sleep cycle are just a few ways that smart alarms allow you to finally wake up on the right side of the bed.
There are a lot of different types of high-tech alarms on the market, some of which have features like:
Voice-activated snooze function
Total alarm sound customization
Connection with other smart devices
Soft light alarm options
Weather and traffic displays
Wireless charging for other devices
5. Bluetooth outlets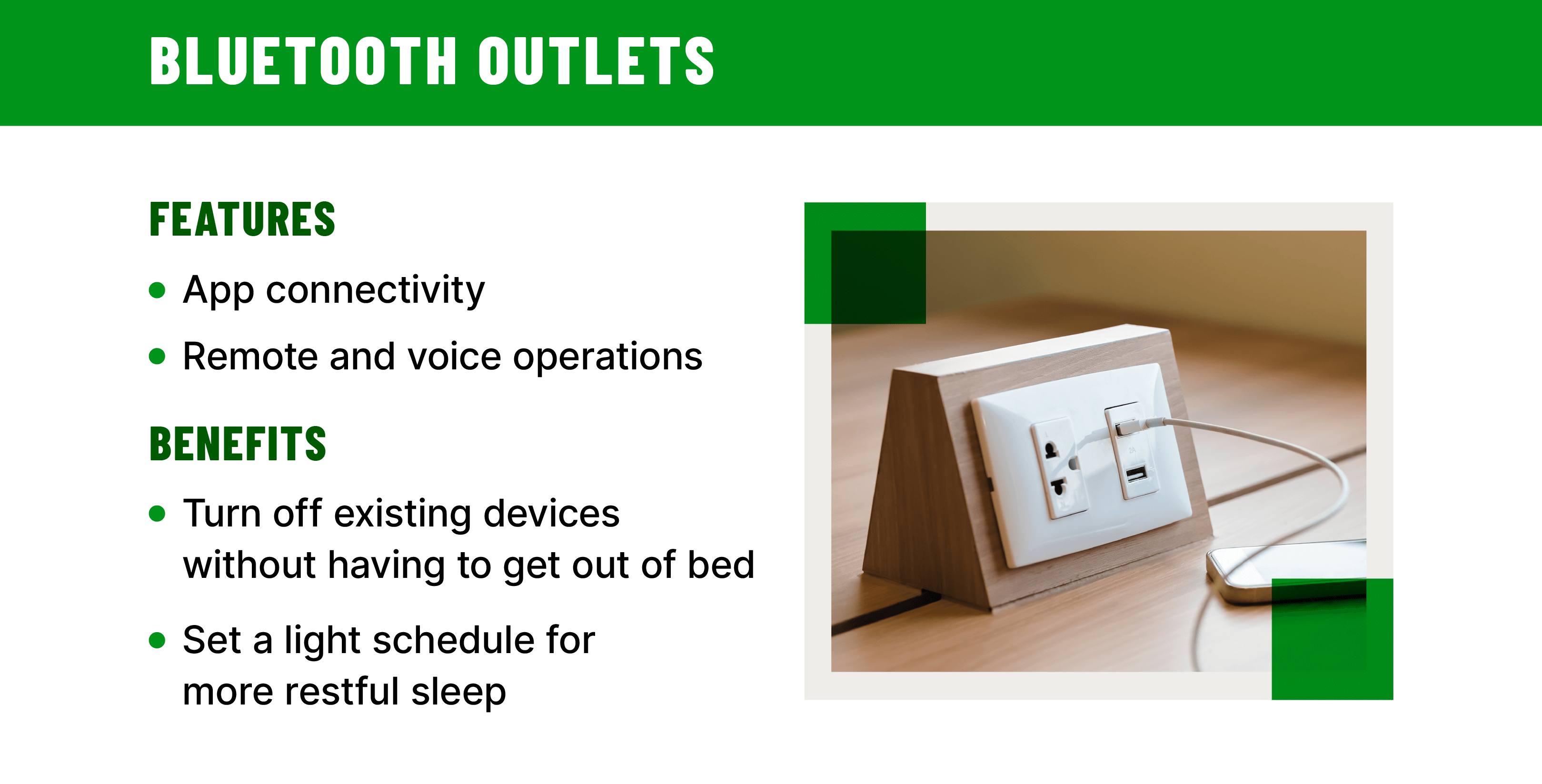 We know that not everyone has the money (or the desire) to completely outfit their bedrooms with the latest smart devices. Whether you just love the way your bedroom looks now or have other savings goals in mind, there are budget-friendly ways to make your existing devices a little smarter.
By plugging your regular items into Bluetooth outlets, you can:
Turn lights on and off without having to get out of bed
Set a schedule for each plug or light source
Automatically turn on appliances
Dim lights or change their color remotely
6. Wireless charger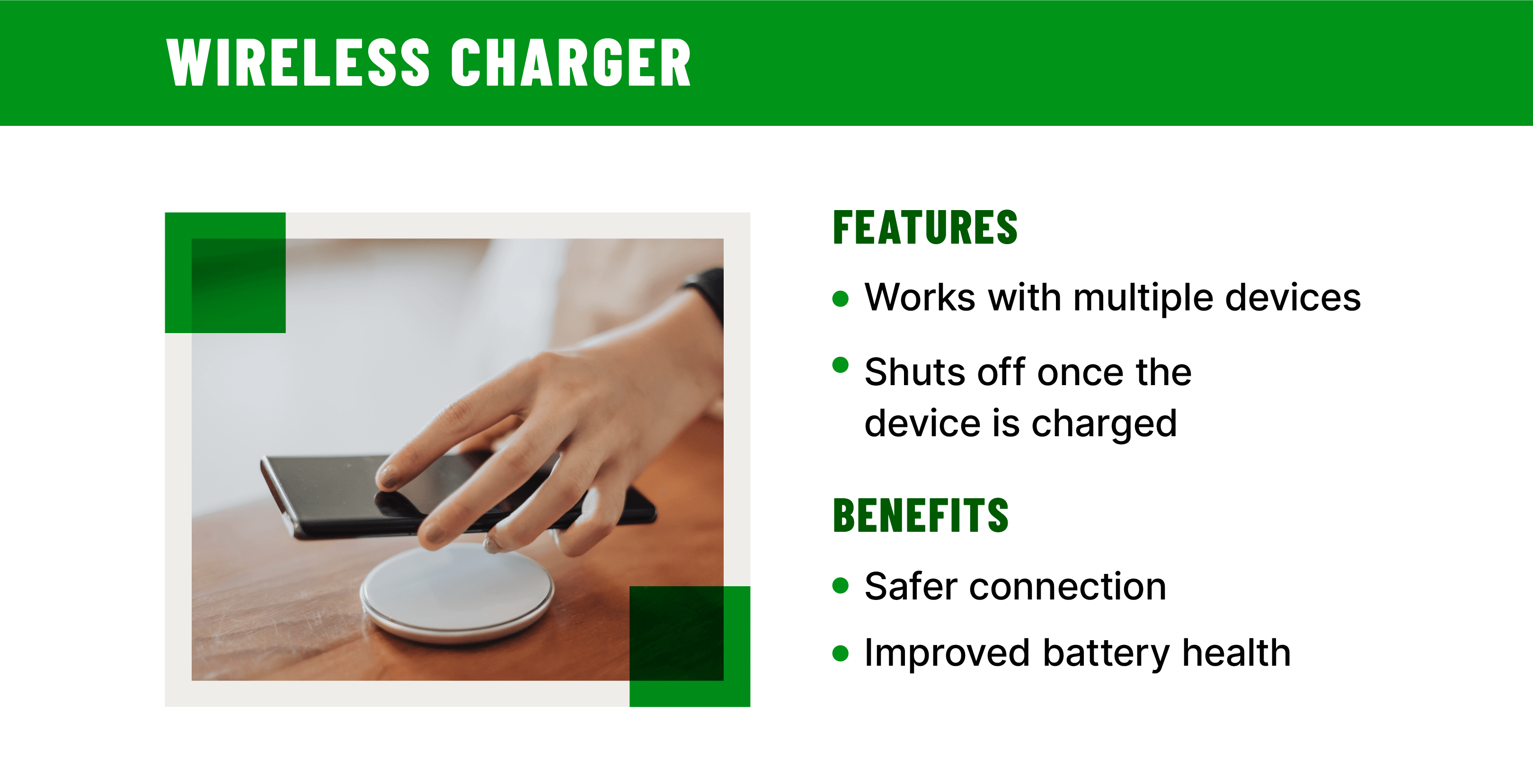 It's a common scenario. You reach for your phone charger as you begin to drift off, only to find your fingers coming up empty. As you fumble in the dark to find the cord, your body begins to wake back up, meaning you'll have to try to fall asleep all over again. But charging your phone for the night doesn't need to be this complicated.
Really want to take your sleep to the next level? Consider setting up your wireless charger on the other side of the room, so you can put your phone away before you even crawl into bed. 
Features of wireless chargers include:
Safer connection
Shuts off once the battery is fully charged
Works with multiple devices, such as phones and smartwatches
7. Smart lighting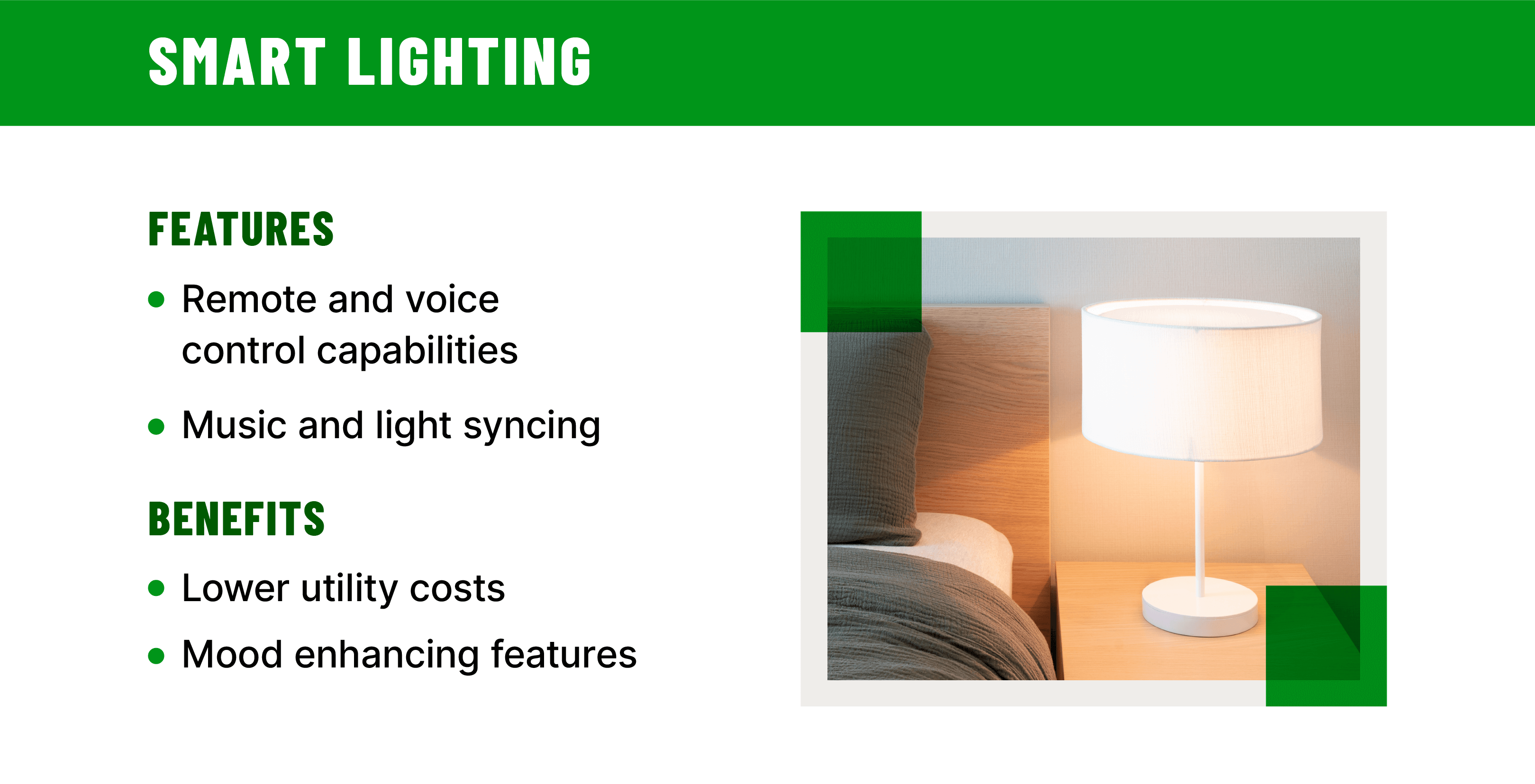 Imagine waking up to the warm glow of your nightstand lamp instead of an alarm or getting ready for bed surrounded by twinkling lights that automatically turn off at a set time. Making these quick changes to your bedroom is as easy as screwing in a new lightbulb.
Smart lights are a great way to save money and sleep better, but they're practical in just about every room for every occasion. If it's aesthetics you're after, try out color-changing bulbs. Either way, you're sure to love the features of smart lighting, such as:
Mood-enhancing dimming and color options
Remote and voice control capabilities
Ability to play music and sync light to the beat
Unique smart bedroom ideas to try
Given how common smart home devices are these days, there's a chance you may have read through the above list and realized your bedroom is already pretty smart. But the enhancement options don't stop there. Turn your bedroom into a master class of smart home upgrades by adding the below items.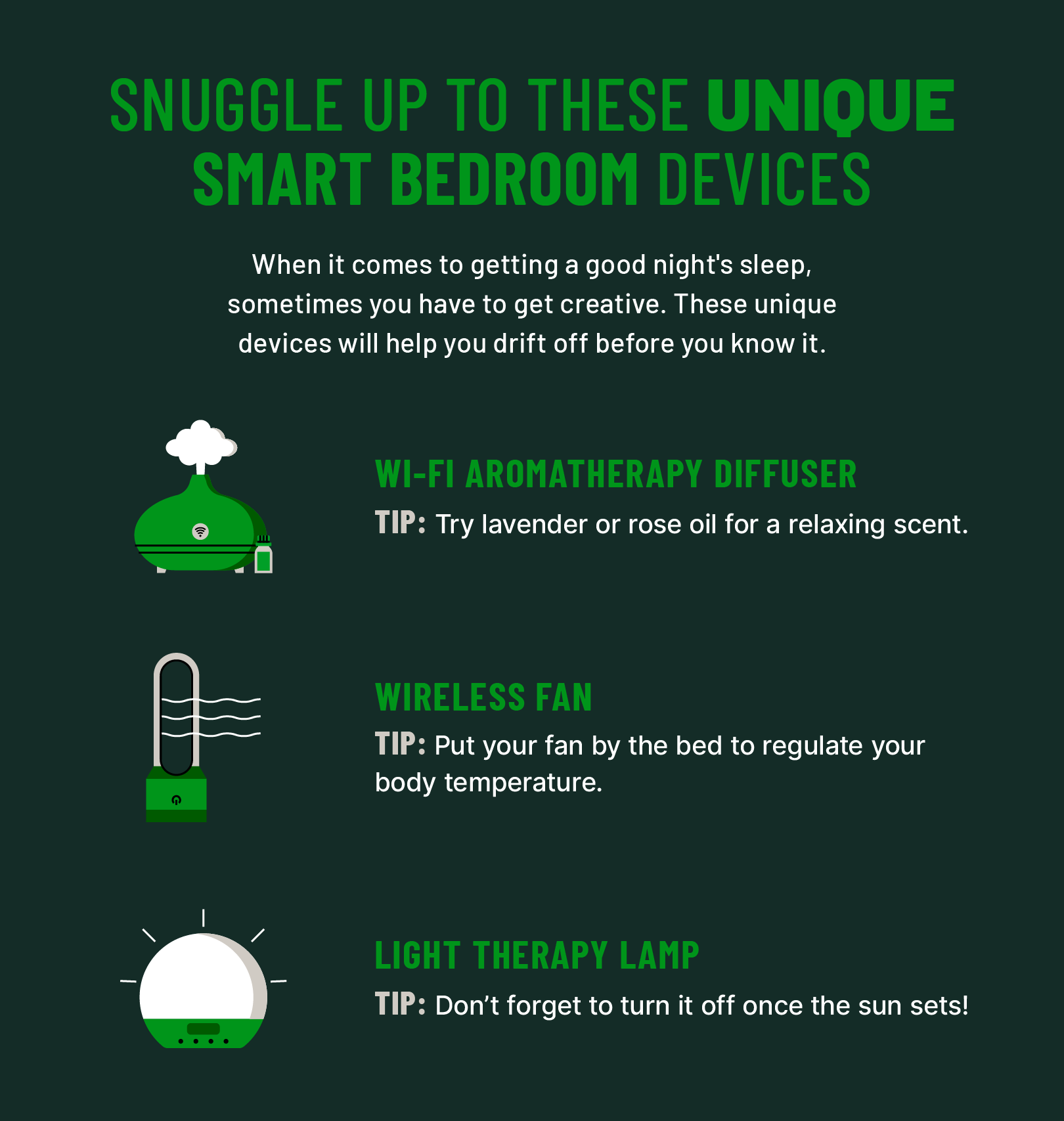 8. Wi-Fi aromatherapy diffuser
Unwind to the scent of lavender or rose oil (both proven to help you sleep) with a smart aromatherapy diffuser. Pick up one with Wi-Fi capabilities and you can remotely control the color, mist strength, and even the timer, which will let you drift off to dreamland without a care in the world.
9. Wireless fan
Studies have shown that your bedroom needs to be at 65 degrees Fahrenheit for you to achieve a good night's sleep. But if your overhead fan isn't cutting it, you don't have to toss and turn all night. Invest in a wireless fan to bring cool, filtered air right where you need it. Another plus? The white noise made by most fans can help put you to sleep.
Pro tip: don't forget to switch the direction your fan blades turn each season. Your blades should turn counterclockwise in the summer and clockwise in the winter for optimum room temperature.
10. Light therapy lamp
Thanks to your circadian rhythm, when the sun rises and light shines on your face, your body wakes up and stays alert throughout the day. And when night falls, your body begins to produce melatonin to help you drift off to sleep. But if you work indoors or live somewhere without a lot of sunshine, your circadian rhythm can get thrown off, making it harder than ever to get that much-needed shut-eye.
Help keep your circadian rhythm in check by adding a light therapy lamp in your bedroom. Turn it on while you're getting ready for the day to soak in its benefits. Just make sure to turn it off as soon as the sun starts to set.

Home insurance for sweeter dreams
Smart home tech may not be for everyone, but there's no denying that sleep is. That's why Hippo is dedicated to helping bridge the gap between smart home devices and our customers, providing smart home kits with each policy signed. That way, you can sleep better knowing that Hippo (and your devices) have got your back. This is especially crucial if you live in Hawaii or Kentucky because, it turns out, you get the least amount of sleep in the whole country.
No matter where you live, you deserve to sleep soundly. Just enter your address online to get a home insurance quote faster than it takes you to climb into bed.