Somewhere over the rainbow, way up high...sits the beautiful islands of Hawaii. A major tourist and film destination, Hawaii is home to pristine beaches, plenty of surf and views that can't be beat. But if you plan to settle down there, you should know that the islands do things a bit differently.
Not only does the state not participate in Daylight Savings Time, but they also have their own language! And the term "island time" isn't just a tourist slogan; it's the real deal. Hawaii sits in its own time zone (Hawaii–Aleutian Standard Time), and its residents take pride in the slower, more calm way of living they've cultivated on each and every island. But there is one thing Hawaii has in common with the mainland, and that's the need for home insurance.
Life on the other side of the rainbow is not without risks (including volcanic activity). Before you set your watch to island time, let us walk you through the process of getting homeowners insurance in Hawaii.
How much is homeowners insurance in Hawaii?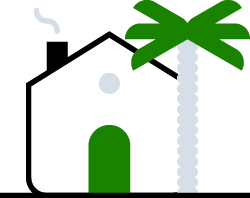 Homeowners insurance in Hawaii costs an average of $1,239 per year, the same price you'd pay for you and seven friends to swim with the sharks off the coast of the islands. While premiums in Hawaii are relatively inexpensive, don't pack up your bags and move to the islands just yet. 
Though you may save on home insurance premiums, the average price of a home in Hawaii runs over $700,000, a 150% increase from the national average of around $280,000. But the costs are well worth it as the islands have limited space, driving up the costs but also making each home much more valuable than a traditional house on the mainland.