Every year in the United States, from about June through November, Atlantic and eastern Pacific coasts brace themselves for "hurricane season," preparing isn't just choosing to either evacuate or hunker down and wait it out. There is much you can do ahead of storm season to protect your home and be preventative to thwart possible damage, especially water damage. With water damage being the #1 reported insurance claim, it is best to be as proactive as you can be against the impending hurricane season and the possible damage it may bring.
Before a hurricane begins to build over the ocean, a flurry of preparations should begin ashore. Important preparations must be done so you can remain calm and collected in the eye of a storm. 
Following a hurricane, assessing necessary cleanup and potential repairs may feel daunting,  and your homeowners insurance is vital. Long before a storm makes landfall and the days and weeks in the aftermath, here's a checklist to help you ride it out as comfortably as possible.
Before the Storm: Don't Panic, Plan
Start with the basics: know your risk
Some states are at a significantly higher risk of suffering damages to real estate than others (we're looking at you, Florida and Texas). However, all coastal states and cities along the Atlantic could potentially be in the path of storm surges. 
The time to prepare is now. If you were in your home last year, you have some idea of what weather to expect, but you may be unfamiliar with what Hurricane season can be like if you are a new homeowner in an area.
Resources like FloodSmart.gov and Ready.gov can help map out potential "hot spots" for hurricanes, arming you with data so that you can be prepared. You can also consult your neighbors, your HOA, Google last year's weather damage, and/or, if possible, speak to the previous owners to gain as much knowledge about how to protect your home during this season best. Knowledge is power.
Plan to protect yourself and your loved ones 
When prioritizing your to-do list before a hurricane, that evacuation planning should be "number one on that list," according to Rick Knabb, director of the National Hurricane Center, states via AccuWeather. 
To keep your home and family safe during emergencies, rehearse the emergency. Practice not only helps the people in your home understand the plan, but it will also allow you to troubleshoot unanticipated issues in a safe environment. Do a dry run and adjust your plan based on what you've learned. Make sure to rehearse different scenarios like "are the kids at school?", "middle of the night" and "can't find the cat!" Then sit back to evaluate together. Readjust your plan to fit the household's needs and scenarios until everyone feels confident.
Many local governments in vulnerable areas will provide recommended evacuation routes. Get acquainted with these routes, drive them well before any storm watch or warning is in place, and make sure you have established a safe destination to wait out the storm. 
Assemble your emergency kit
Even if you don't live in a hurricane-prone area, having a thoroughly stocked emergency preparedness kit is a good idea, but it is essential for those homes that may be in a storm's possible path.
Luckily, we've made it easy (and even fun) to prepare your home for all sorts of unexpected events. Print out the Emergency Prep checklists and keep them handy so that you can relax, knowing that you're prepared for almost anything that comes your way. Just remember to check your supplies annually to ensure everything is up to date and in working order. 
PRO TIP:

Check your homeowners insurance policy for coverage details. Make sure they're up to date and make them part of your evacuation plan. Along with priceless items you may want to bring with you to protect from hurricane damage, your insurance documents may be necessary to account for things that are left behind.
Inventory your home
Creating an up-to-date home inventory is not only to make sure you have the right amount of homeowners insurance to protect your belongings, but it will also help you if you need to file a claim. Trying to recall every single thing you had in your home right after something as serious as a hurricane can be overwhelming, but if you take the time now, it could be a huge relief in the long run.
If the idea of creating a home inventory sounds a bit daunting, don't fret, there's an app for that. With the help of technology, the process isn't as tedious as it once was. In fact, you can even take a video or provide pictures for proof of what you own. 
Flood-proofing
If your area is forecasted to experience a hurricane, move as many of your valuables to the highest, safest points of your home. That could mean attics, upper floors or simply the highest shelves in your storage areas. Depending on the item, you will also want to research the best way to store it against impending water damage.
Because water damage to important documents is often permanent and irreversible, take the proper precautions. Waterproof safes or lockboxes are an easy way to make sure your documents and any other valuables you can fit inside are protected. It's important to note that most of these safes or lockboxes also protect from fire as well as water; you can check a box as prepared for both instances.
Next, prepare your home
We're not just talking boards and sandbags — those should be on your list and already stockpiled at your home. Keep in mind, if you board up your windows, many home improvement and box stores will quickly run out of supply at the earliest hint of a hurricane—stock for the season.
Inspect your home and property
Start from the very top (with the roof and then ceiling), working your way down (foundation and then basement). Doing a thorough inspection of your home is your best bet to prioritize and strategize which projects are most important. This will also help you decide which tasks you can complete and which need to be handled by a professional. The checklist below will help you get started.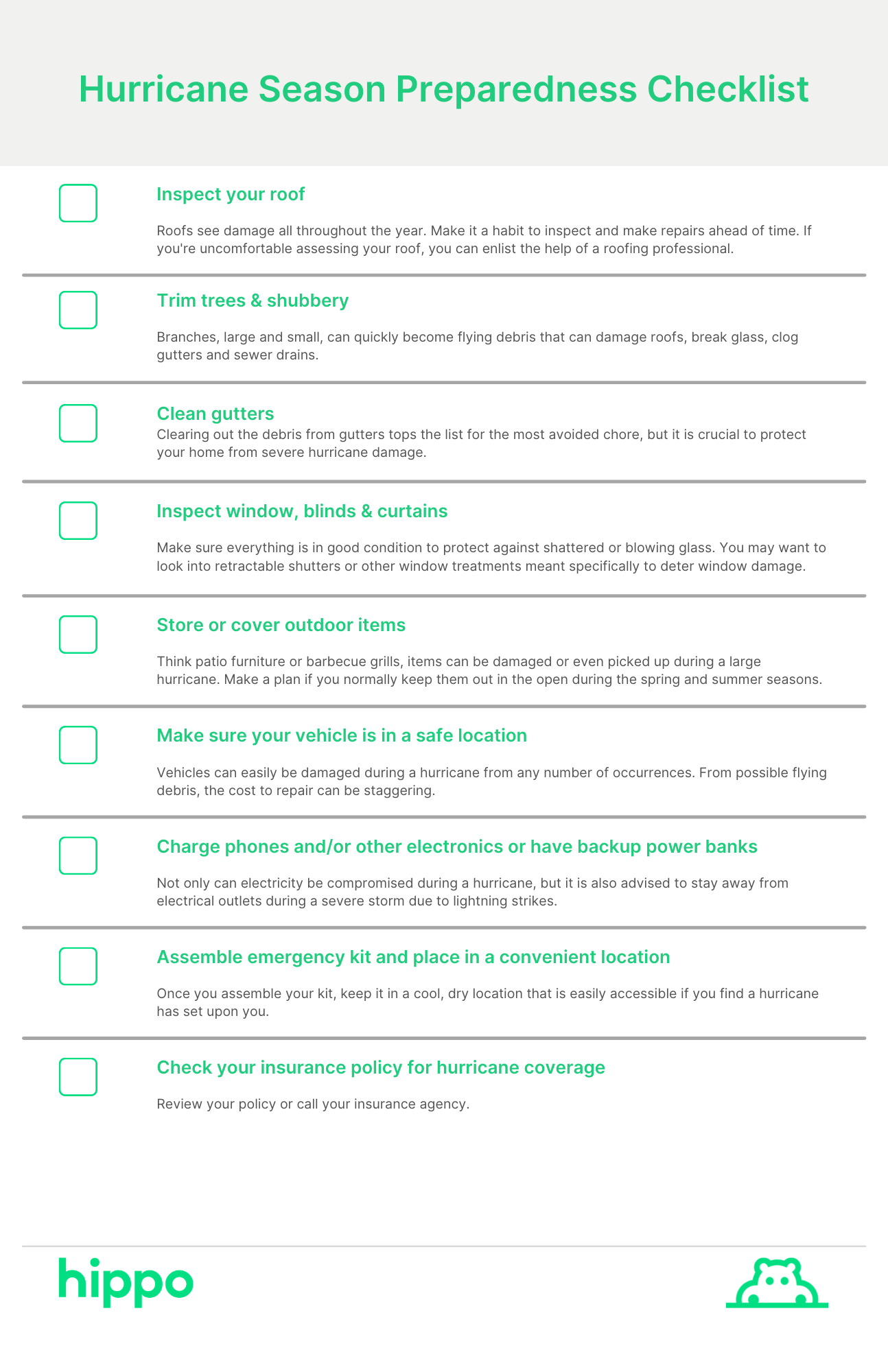 Once a hurricane watch has been issued, it's time to start thinking of the nuts and bolts. If you do not have commercial-grade storm shutters and windows, you can reinforce these with plywood that is at least five-eighths of an inch thick and affixed tightly to the frames. Securing roof straps to your home may reduce potential roof damage or loss while adding caulking around door jambs and windows will help prevent rain from being driven in through small crevices. 
PRO TIP:

Homeowners insurance policies may have specifications for securing cars and other property in case of storms or floods. Safeguarding these items in accordance with your policy will help ensure they are covered. It's a good idea to remember this when hurricane season begins, perhaps keep a printed copy of your policy specifications on your desk or fridge for easy reference. If you've taken additional measures to protect your home against an approaching storm like installing roof storm straps or installing certified storm shutters, as mentioned above, you may qualify for additional premium discounts.
Work smarter, not harder
Invest in smart home devices that actively help you to combat potential water damage. Whether it is one of the water sensors sent by one of Hippo's smart home partners or a much more sophisticated solution like the Flo device, these devices are worth their weight in gold. These not only alert you to a leak or possible flooding but may also employ a smart water shutoff valve to allow you to turn off your home's water supply from anywhere.
Above all, knowledge is king
Take advantage of the wealth of region-specific information to your geographic area to accurately plan for possible hurricanes and tropical storms. Often, in addition to government entities and meteorology tools, your homeowners insurance provider can provide helpful tips. 
After the Storm: Don't Panic, You Planned
The days following a hurricane can be overwhelming as you take inventory of the storm's effects. But not to worry, you planned for this. After loved ones are cared for and accounted for, there are some immediate steps to help mitigate the complications of repairing and rebuilding any damaged property. 
PRO TIP:

Typically following a severe hurricane, FEMA or local chapters of the National Guard will set up hotlines for reporting structurally dangerous homes and buildings. If necessary, call the hotline they provide you, then call your insurance company to file your claim.
If you evacuated, work with local law enforcement to confirm it's safe to return home. When you return home, first look around and note any areas that appear structurally unsound, water-damaged spots producing mold or roof areas that appear soft or sagging. If you feel that any area of your home poses an imminent danger to you or your family, immediately exit the residence and contact safety authorities.
A hurricane could be an event that leaves your home and property in terrible shape. After the weather dies down, take certain precautions to ensure your safety to limit the damage to your home and get help from your insurance company if need be. Knowing what steps to take care of your home after a hurricane can be confusing. Let us shine a light on the process with Hippo's guide to what to do after a hurricane.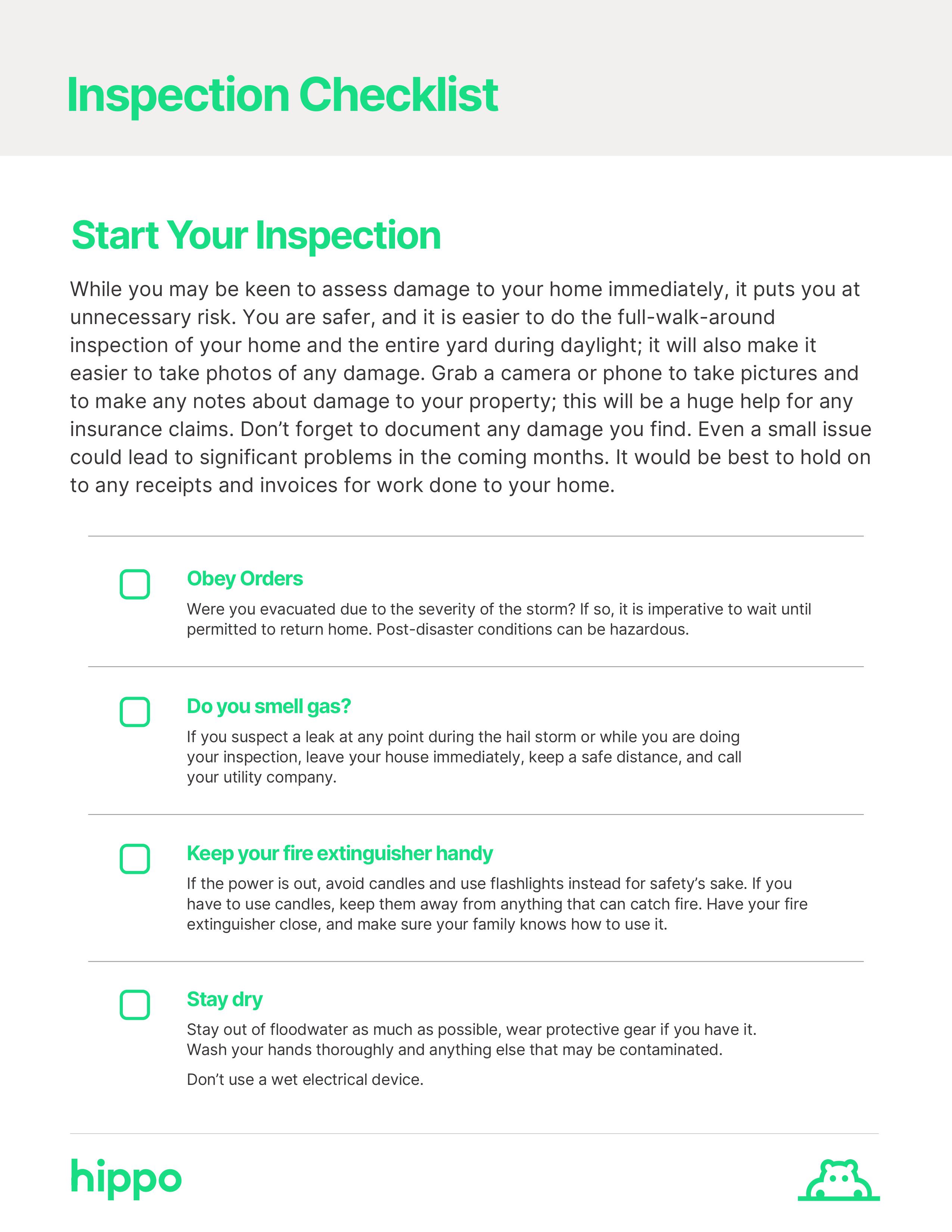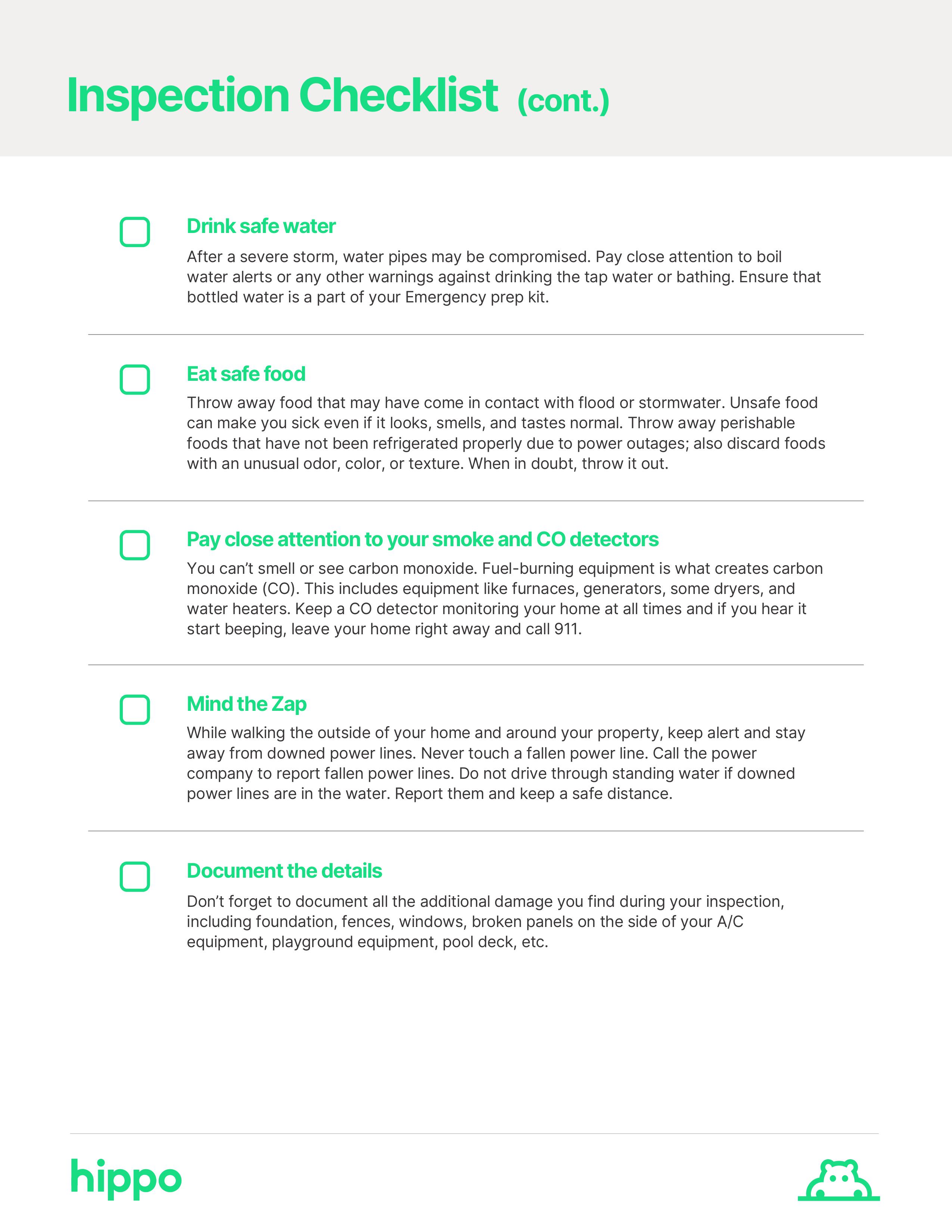 Consult the Department of Insurance 
Arm yourself with as much information as possible about contractor requirements, rate hikes and scheduling parameters for projects and provide this to your insurance company so that you receive the best care at the fairest possible price. A qualified insurance carrier should update you regularly about your property and coverage for incidentals and other expenses, but you can reach out at any time with specific questions.
PRO TIP:

When it comes to repairing storm damage, this is not a DIY project. First, contact your insurance company to determine whether you should file a claim. If you choose to file, most insurance policies will include an "Additional Living Expenses" allowance to pay for hotel or housing during the repair process.
It can be difficult to return to "normal" in the aftermath of a hurricane, but taking steps ahead of the storm can help keep you, your loved ones and your home protected. Be prepared, be informed and be proactive with your home protection and insurance needs. 
It is vital to know your home's risk of hurricane or tropical storm exposure and review your homeowners insurance policy for any gaps. If you need supplemental insurance, make sure you do so well before Hurricane Season and before the first storm warning.
SOURCES:
https://www.accuweather.com/en/weather-news/six-ways-to-prepare-for-tropical-storms-hurricanes-atlantic-season/46771146
https://www.cnn.com/2017/09/11/us/hurricanes-landfall-by-state-trnd/index.html
https://www.weather.gov/safety/hurricane-plan
https://www.ready.gov/hurricanes