Being a homeowner can be stressful, but investing in smart home devices can make life a little easier. In our Hippo survey on the current state of homeownership, 44% of people survey respondents said they invested in some type of smart home device during the first year of the pandemic. It makes sense. The right smart technology can help you create a certain ambiance, delight holiday guests and keep your home safer and more functional. Ready to smarten your home up? Here are a few interesting ways to bring smart devices into your home for a better quality of life. 
1. Clear the air
Breathing fresh, clean air is important for both health and environmental reasons. Stale air doesn't have as much oxygen as clean air. Higher levels of oxygen can potentially enhance concentration, improve blood pressure, increase serotonin levels and support your immune system. 
To ensure your household air remains fresh, consider a smart air purifier. Here are some factors to consider when evaluating different models: 
The size of your room or home: Most smart home air purifiers consider small rooms to be under or around 300 square feet, medium-sized spaces to be under or around 700 square feet and large rooms to top out at around 2,000 square feet. If your space is larger than that, you may want to invest in a smart air purifier for your whole house.
Portability of the purifier: If you're planning to move your air purifier from room to room, make sure it's easy to transport and install. 
The maintenance needed: From replacing the filter to vacuuming the vents, make sure you're comfortable with the level of maintenance a purifier requires. 
Contaminant removal level: Things like candles, cigarette smoke and pet dander can all release pollutants into your home's air, so it's important to find a purifier designed to eliminate the right contaminants. You'll want to ensure your smart home air purifier lists just how small of a micron it's capable of eliminating, and at what percentage. Experts recommend looking for at least 99.97% removal of pollutants and allergens as small as 0.3 microns.  
Noise level: When shopping for your air purifier, look for its decibel output, and if it has quiet or sleep settings. It's also helpful to read customer reviews that indicate that certain models make noise when running.
Filter: When it comes to how a purifier filters the air, make sure you factor in the efficacy, cost and maintenance time needed over the purifier's lifetime.
2. Light it up
Your home's lighting can affect your attitude and well-being. A recent survey from the Harvard Business Review found that people prefer natural light to the glare of fluorescent bulbs. Take the time to ensure your home has the right lighting for a relaxing, functional environment all year round. 
Start by embracing the natural light. You can take advantage of your home's natural light by cleaning the windows and changing your window treatments. Smart shades and blinds are also helpful; they can automatically tilt, retract or extend to adapt to the position of the sun throughout the day, giving your home to have the right amount of natural light no matter the weather. Plus, they can help you save money in energy costs over time.
If natural light isn't an option, here are a few tools to consider to change your home's lighting: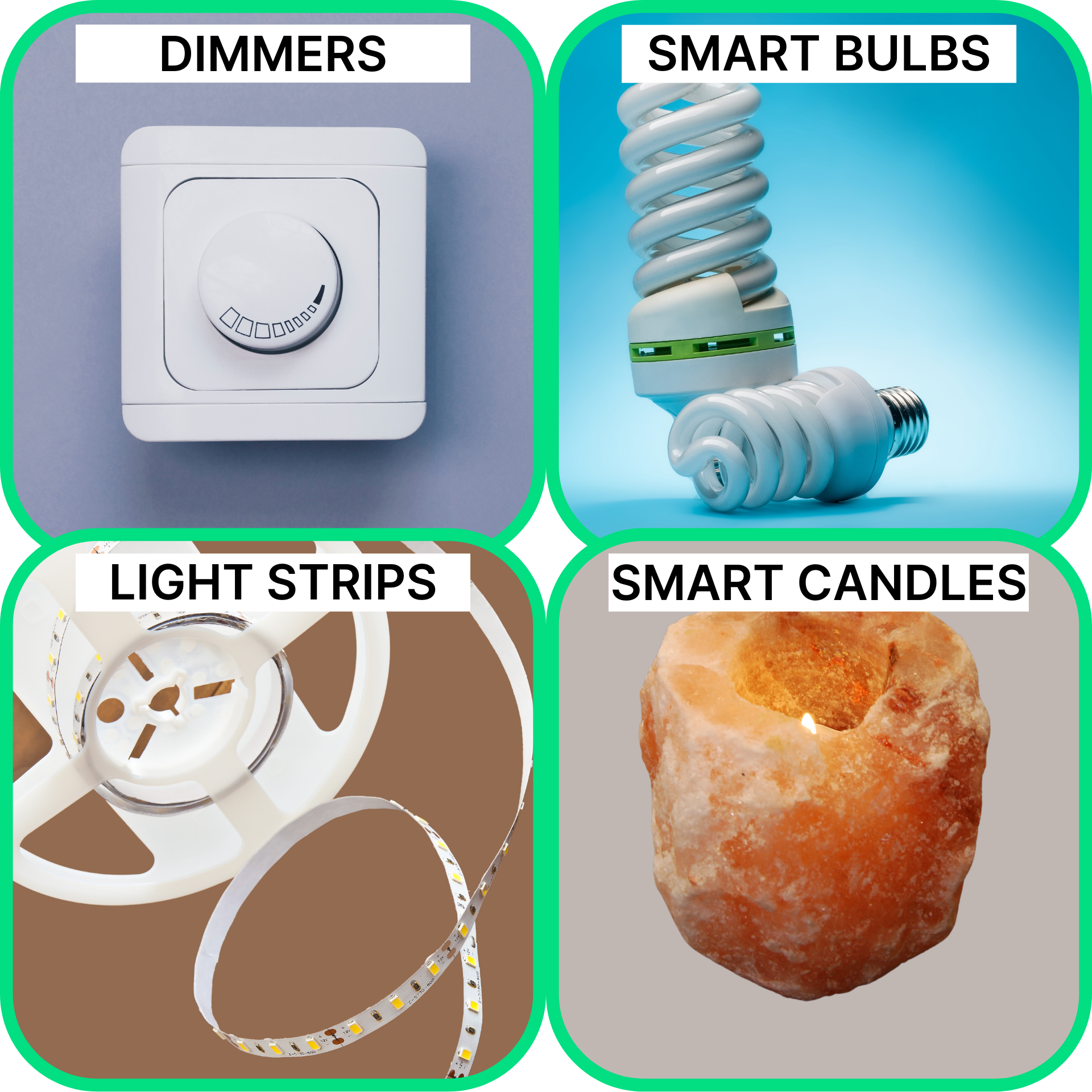 Dimmers: Adding dimmers—especially to overhead lighting, which tends to wash the room in one bright color—allows you to adjust the level of lighting to complement other light sources in the room and create the right atmosphere for working or relaxing. 
Smart light bulbs: Smart bulbs are a cost-effective way to control the spectrum of light you have in each room. Some bulbs can pair with your smart home assistant, while others connect to an app for you to control. 
Smart light strips: No longer just a favorite of gamers and TikTokers, smart light strips allow you to easily customize rooms with a luxury effect and simple installation.
Smart candles: Candlelight is scientifically proven to relax people since the low light signals the brain to calm down. However, candles also come with risks, like releasing toxins into the air and causing fires. Smart candles—which you can control remotely—give you the calming candle effect without the hazards. 
3. Customize your sound 
The noises in your home can affect your mood and overall well-being. Continued exposure to frequent or loud noise can induce feelings of anxiety or stress, which can then make you more sensitive to stress. 
Smart sound machines can improve your home's overall mood. You can also switch your smart home hub device or smart TV into a smart sound mode, which will readjust sound based on your preferences and environmental needs.  
4. Embrace scents 
One of the keys to creating a calming, soothing household environment is to use a scent diffuser. After all, scent is tied directly to our limbic system, the brain's center for memory and emotion. 
With sleek designs, Wi-Fi capability and premium scents to choose from, scent diffusers have come a long way in the past several years. You can customize your scent diffuser to respond to commands from your voice, or schedule certain scents for certain times. Many diffusers also alert you to low supply levels and adjust the strength of scents based on your preference.  
5. Dabble with screen art
If you're reaching a limit with screen time, consider turning your screens into works of art. Many smart TVs, frames and tablets can do double-duty as tech essentials and art displays. That way, instead of staring at a blank black screen when your TV is off, you can look at a beautiful visual piece. Just remember to adjust the brightness of your screen, keeping the artwork at a natural light level to remain comfortable for your eyes. 
6. Sleep sweetly
Sleep is critical to your health and well-being, so it's no surprise that bedrooms are now smarter than ever. Enter: the smart bed. Smart mattresses are designed with technology to improve your rest and comfort at night. The technology can include:
App integration
Firmness adjustability
Temperature control
Sleep tracking
Mattress-position control
Smart mattresses are often a bigger investment than your run-of-the-mill mattresses, but they can pay off in the long term by vastly improving your physical and mental health. Take the time to research exactly what you need before purchasing. For added comfort, consider investing in noise cancellation headphones or a smart sleep mask with built-in earplugs.
Smarter homes, happier homeowners
When it comes to creating a relaxing, rejuvenating environment in your home, smart home devices can be the answer. Smart home devices aren't just for security and home offices—they're for improving the livability of every space. 
Here at Hippo, we understand the connection between home sweet home and home smart home. That's why we offer free smart home kits to our customers, plus four times the technology coverage on your home insurance policy. Get relaxed at home then give us a call—or get a quote in just 60 seconds.