While traveling the country, you may have noticed that seemingly all U-haul trucks have an Arizona license plate, but don't panic. Even though Sedona is known to be quite the spiritual hub, you aren't just seeing things. Most U-hauls are registered in Arizona because the company's main headquarters is in Phoenix, not because everyone is leaving the state in a hurry. Quite the opposite, in fact. Arizona was the seventh most popular state Americans moved to during 2020.
If you're one of those people that moved to The Grand Canyon State during the COVID-19 pandemic, or you're just looking for more comprehensive home insurance in Arizona, Hippo has your back.
How much is home insurance in Arizona?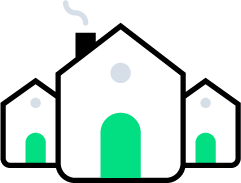 Home insurance in Arizona costs an average of $927 a year, making The Grand Canyon State one of the cheapest places to buy home protection in the US. Arizona is home to such a low premium in part because of its low-risk levels for natural disasters as well as its tendency for bright, sunny days. Arizona has an average of 286 sunny days every year and only receives about 12 inches of rain during that same timeframe.