Wisconsin. The land of dairy, farmland, the Packers and harsh winters (just part of the reason why homeowners insurance in Wisconsin is a must). Outside of major cities like Milwaukee and Madison, you might think there isn't much to do in the Badger State. But oh, how wrong you'd be.
We thought the same before we started servicing homeowners in WI. Not only were we impressed by their famous Midwestern charm, but we've found that the state's combination of lakes, gorgeous scenery and festivals is pretty hard to beat. And the best part? Home prices run an average of $222,000, which is well below the national average.
So if you're planning a move to America's Dairyland, or you've been a Wisconsinite for a while and just want a better home insurance policy, look no further. We've gathered all the information you need below.
How much is Wisconsin home insurance?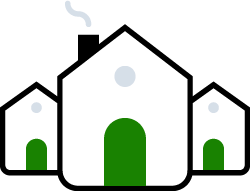 It costs around $876 to insure a home in Wisconsin — or about the cost of six tickets to see Green Bay score a touchdown sitting right by the end zone. Sound too good to be true? It's not; Wisconsin is one of the cheapest places in the nation for home insurance premiums (the cheapest states are Oregon and Utah).