Arkansas is a diamond in the rough. Literally. While many underestimate The Natural State, the biggest and the most perfect diamonds ever found in the U.S. were discovered within its state lines. Surprised? Don't be. 
Beneath Arkansas' tough exterior there is plenty of beauty to be found, from Hot Springs National Park to the Buffalo National River. Perhaps that's why it's one of the happiest states in the nation.
If you've recently taken residence in the state or are just looking to switch up your home protection to something more modern, Hippo's got your back with our guide to homeowners insurance in Arkansas.
How much is homeowners insurance in Arkansas?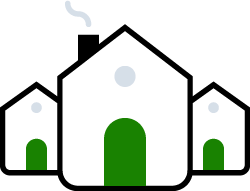 Homeowners insurance in Arkansas costs an average of $1,543 a year — or about the cost of 514 gallons of milk...if you needed that much milk, that is. (No judgment here! You can never have too much of the official state beverage) Though if you recently moo-ved from another state, you may be surprised to learn you'll be paying more for your premiums. Arkansas home insurance runs about $350 more than the national average.