Shopping for any type of homeowners insurance can seem daunting. There's a lot of insurance jargon thrown your way, and if you're a first-time homebuyer or haven't been through the process in a while, you may be lost when it comes to knowing what protection you really need. And though your mortgage lender may be pushing you to purchase home insurance (and sometimes mortgage insurance) ASAP, taking the time to get this decision right is crucial to avoiding headaches down the line.
Here at Hippo, our goal is to be your trusted neighbor throughout the life of your mortgage. So whether you're looking to quickly renew your insurance policy or want to switch providers altogether, we've got you covered with our comprehensive guide to buying home insurance.
Key takeaways:
If you're buying home insurance for a new home purchase, make sure to get your home inspected adequately before getting coverage.
Homeowners should take customer service, policy limits and endorsement needs into consideration when shopping for home insurance.
Home insurance costs an average of $1,200 per year, though this rate can fluctuate depending on location, coverage needs and endorsements add ons.
Buying a new home is such an exciting experience. Full of trips with your real estate agent, seeing lots of potential new homes and planning eventual DIY projects. Likely, the insurance coverage you'll need after signing the papers on your dream home is one of the last things on your mind. (Rightfully so, with everything that's going on!) 
But you don't want to wait until it's too late to find out that your appliances aren't covered or that you can't file a claim for a water backup that completely soaks your first floor. This is why when buying a home insurance policy for your new home, getting your home properly inspected is a must. Not only will this alert you to any issues you want the sellers to fix before move-in, but it will also help you determine how much coverage you need. 
Doing background research on the home's claim history, flooding zone and average utility cost is also a great idea. That way, you can determine what insurance riders you may need to add to your policy as well as the average monthly costs of maintaining your new home.
Ask yourself questions for a smarter purchase
No matter if you're renewing your policy for protection upgrades or changing providers altogether, asking the tough questions is key to ultimate home protection. Below are the questions you should ask yourself (and your provider) to determine how you can change your plan to better your needs.
Where is my home located?

If your home is close to a fire station or hospital, you may be able to get a discount. Conversely, if your location is in a higher-risk area for natural disasters, you may need to pay for additional coverage.

Is my home smart?

Smart home devices are all the rage lately, as they provide convenience and extra security with the touch of a button. But did you know that they can save you money too? Not only can they help lower your utility bills, but your home insurance provider will often offer discounts for having these items installed.

How big (and new) is my home?

The size of your home directly correlates to how much coverage you'll need. And if your home is newer, it may cost more to rebuild to its current standards should you undergo a total loss. Also look at any other structures on your property.

Do I have any pets?

Pets can be risky in the eyes of insurance providers. If you have a larger dog, you may want to upgrade your liability coverage to protect yourself if your pet injures someone or damages property (and pet-proofing will help with this too). There may also be protection limits for certain dog breeds, so make sure you chat with your insurance agent about your pooch before signing any policy.

What extra protection do I need?

Take inventory of your home to determine if any valuables need additional financial protection should they get damaged or stolen. Home insurance policies often limit coverage amounts, meaning that you may have to pay out-of-pocket for higher-ticket items.

Does my business run out of my home?

While more people than ever work from home these days, running a business from your home is another thing entirely. Your home insurance won't protect you from accidents or damage that occurs to your company's property while you're home. You'll need a separate business insurance policy for that.
How to choose the right home insurance coverage
Buying home insurance can be a complicated process, but it doesn't have to be if you take a proactive approach, and this guide is the perfect place to start. First, it's crucial to understand how much home insurance you need. Depending on your home's age, your belongings' value and how many people live in your home. There are many other factors to consider outside of initial coverage, like coverage limits, endorsement opportunities and provider type.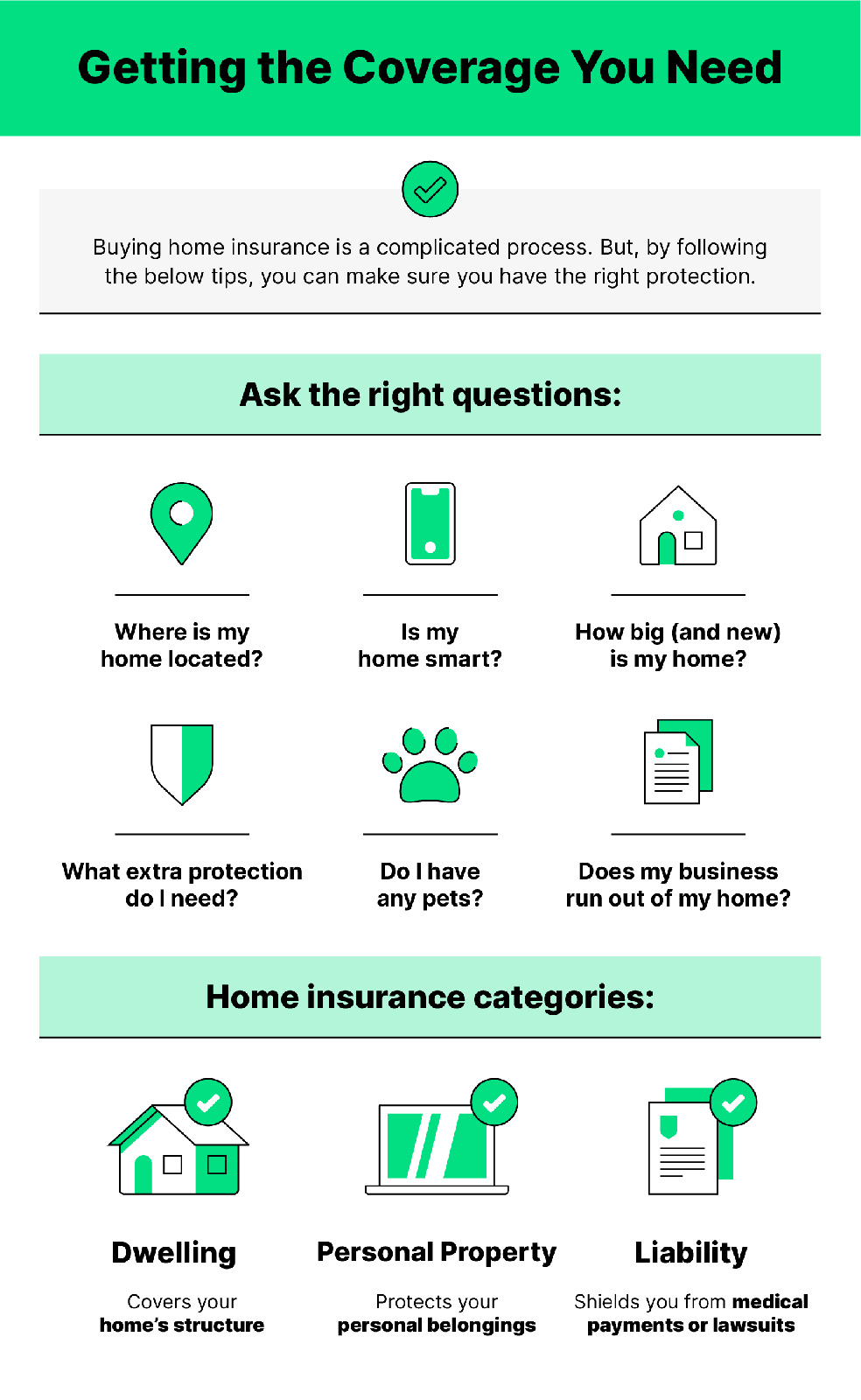 Know your coverage limits
Most homeowners' insurance policies include dwelling, personal property and liability coverage. The limits on those categories, whether monetary or otherwise, can vary depending on your insurance provider. To make sure you're getting the most bang for your buck, doing your research is vital.
Look up average construction and labor costs in your area to ensure you have enough coverage to rebuild your home to its former glory. You'll also want to look at any peril exclusions to see if natural disasters common in your area won't have coverage in your original policy.
Consider endorsement options
Adding additional coverage to your home insurance policy is a great way to make sure you and your belongings have protection, whatever comes your way. Many are even required by the state or federal government, depending on your location. Take a look at some of the most popular endorsement options below.

Think about provider considerations
Insurance companies, especially newer ones, have upgraded their offerings and customer service to fit with the times. With online claim filing and insurance agents available via phone to walk you through the process, you'll want to make sure the company you choose has options to best suit your preferences.
The claims process can be stressful enough; your insurance provider should never add to that. When the worst happens (or even when you need to file a simple claim for minor damages), you'll be thankful you took the extra time to find a company that genuinely cares for you that way that you need them to.
How much should home insurance cost?
Across the U.S., home insurance costs an average of $1,200 per year. However, this rate can fluctuate depending on your location, coverage needs and any endorsements you choose to add to your policy. For example, because of the high rate of natural disasters, the average cost of homeowners insurance in Louisiana is $2,212 a year. While lower-risk states such as Oregon has a home insurance average of $761 a year.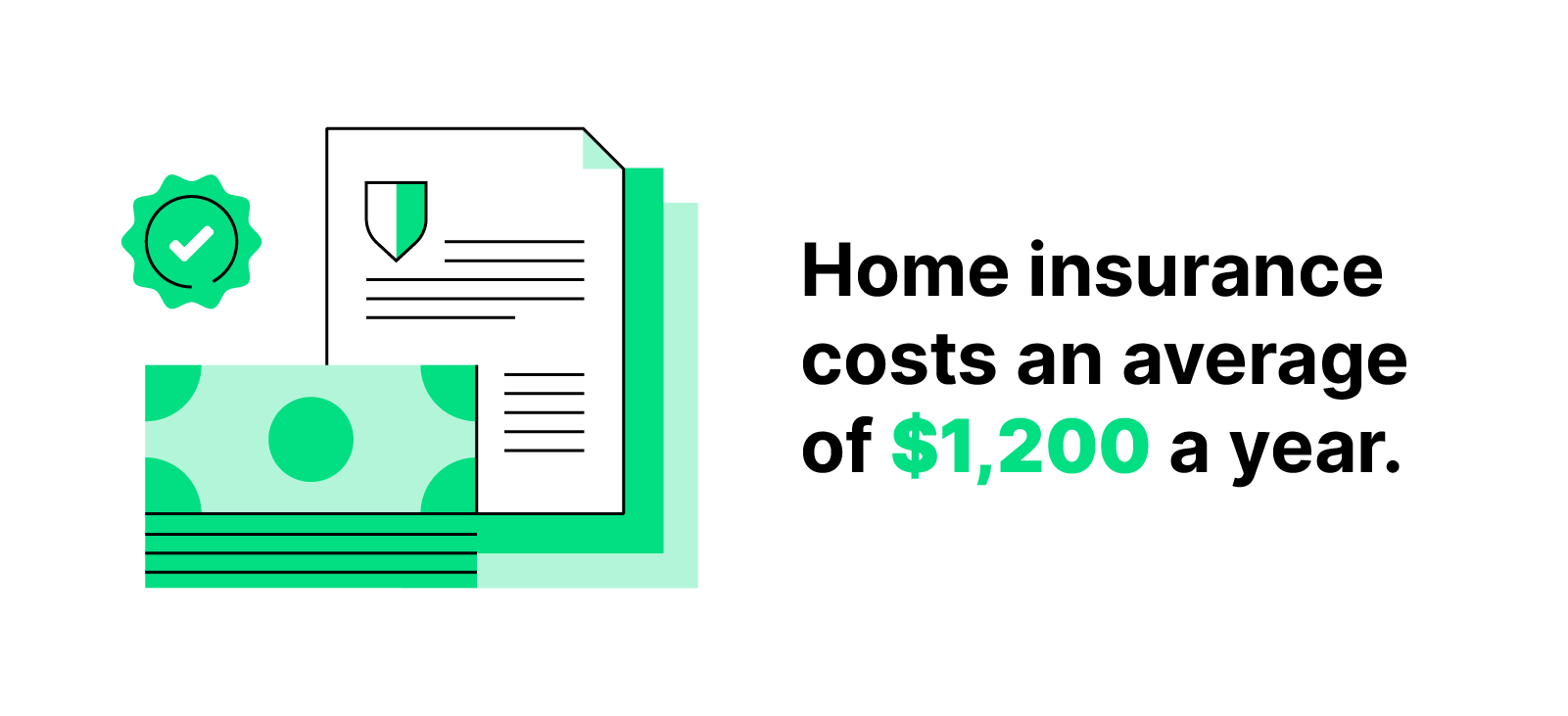 Regardless of where you live, getting several quotes from insurance providers can help determine your needs' average cost. If you're looking to save more money, let your provider know about the safety measures you have in your home. Things like fire extinguishers, smart home devices and security systems that decrease your risk of filing a claim can save you a lot of money on your policy.
Review your current policy
When looking to renew or switch your home insurance policy, it's essential to do a deep dive into your current policy first. Your protection needs change over time, and if it's been more than a year since your last update, your old policy may now have significant gaps in coverage.
First, it's essential to look at your declaration page to see just how much protection you currently have. From there, you'll need to do your research to determine average market rates for your area to see if you're overpaying for your home insurance policy.
What to know about renewing
If you're planning to stick with the same provider but just want to change up your coverage, there are a few things to consider. First, any renovations, additions, or upgrades you make to your home should be reported to your insurance company, as it likely means you've increased the value of your home (and therefore, how much coverage you need). Kitchen remodels, new pools and upgraded appliances will all likely warrant a policy change.
Our experts recommend updating your policy every year to stay updated with your home's most recent value and allow yourself to explore the variety of companies providing the kind of coverage and customer service you require. If it's been a long time since you last took a look at your declaration page, it's important to note that many older policies still cover items that are no longer relevant in the modern home (think fur coats and paper stock certificates). Likewise, those more legacy policies won't often include proper home electronic coverage or newer smart home tech coverage that many homeowners are installing themselves.
Buying the proper home insurance is one of the most important decisions homeowners have to make. Adequate protection can help prevent you from going into debt or diminishing your home's value should damage occur. Have a unique coverage question not covered above? We've got your back. Just speak to one of our insurance experts.