Have you ever heard of a tag sale? Do you know what it means to run to the packie? What about making a U-ey? No? Well, then you probably aren't a Nutmegger. And though Hippo didn't get its start in Connecticut, we got here as fast as we could, and we've loved being able to offer modern home insurance in the great state of Connecticut (even though we might disagree on what some things are called — like a garage sale, liquor store and a U-turn).
No matter what slang you use, getting home insurance in CT is a must. From Stamford to Putnum, we provide affordable protection for all Nutmeggers. Read on to learn what protection you need living in the Nutmeg State.
How much is homeowners insurance in CT?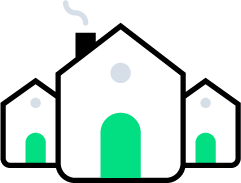 Homeowners insurance in CT costs around $1,662 a year. For that same price, you could also visit the largest indoor ropes course in the world, IT Adventures Ropes Course in New Haven, over 80 times. If you're a recent transplant to Connecticut, you may be surprised to see just how much more it costs to protect your home than in other states across the country. But there's a good reason!