Denver, known for its eternal sunshine and bountiful outdoor activities, boasts an average of 300 sunny days a year, an abundance of scenic parks and all the outdoor sports you could want. Whether you came for the sports, the nature or the high quality of life, hanging your hat in Denver is making sure you don't settle for anything but the best. 
Colorado's state capital isn't nicknamed "The Mile High City" for nothing, as its high altitude makes it a fun place to soak up some fresh air in Cheesman Park or Capitol Hill. What's not to love about life in this urban hub? But no matter why you love living in Denver, you'll likely want home insurance to protect your home and all your belongings (so make sure to check out our tips before you buy).
How much is homeowners insurance in Denver, Colorado?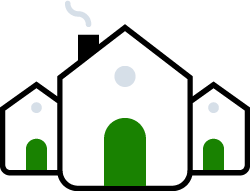 Homeowners insurance in Denver comes out to about $2,886 a year. To put this into perspective, that's about 360 large orders of the city's famous green chile cheese fries or 4 season passes to watch the Denver Broncos football team. Home insurance in Colorado, for comparison, is on average $1,680 annually.
Why is homeowners insurance in Denver so expensive? A big part of the reason is that Denver experiences strong weather patterns, facing intense snowstorms each winter that can drive up premiums. Your insurance premium can vary based on a few different things, including your location, insurance score, and your house's age and size.