End of year, wrap and reflections.
2017 was infamously the costliest year on record for natural disasters. However, between the Mendocino and Carr Fires, Hurricanes Florence and Michael and Subtropical Storm Alberto, I predict 2018 may just take the title. While we at Hippo have been watching traditional insurance companies keep up with the aftermath of our world's increasing rate of weather events, we've been thinking of steps we can take to help our customers before catastrophe strikes.
By implementing artificial intelligence technology and partnering with aerial imagery providers, we leverage unique data sources to monitor the homes we cover. During the California wildfires, we used this information to identify all of our policyholders that live in active wildfire areas, and then contacted them to help secure alternative accommodations. Rather than waiting for claims to emerge, we helped 80% of those customers file before they reached out to us. Our concierge team was also available 24/7 to provide support during the claims and recovery process. To me, this is the future of homeowner insurance.
From what we hear, our customers appreciate our efforts. Jovita, a Hippo customer from California, said we "offer a very human, very responsive touch to home insurance" and that "the customer support has been great." James from Illinois told us he will be recommending our services because of the positive purchase and claims process he experienced, as well as the competitive rates and coverage. Our technology, underwriting partners and relationship with the world's largest reinsurers allow us to protect our clients at every turn. But it is our team culture of treating our customers like family that I believe truly sets us apart.
Keeping in line with our proactive approach, this year we began arming new Hippo customers in qualifying states with a complimentary Notion Smart Home Monitoring Kit when they sign up for a home insurance policy. In addition to qualifying the homeowners for a smart home discount on their premiums, the kit's sensors can alert customers to potential in-home accidents, like water leaks, smoke alarms or open windows, before they create significant damage. Most of our 2018 claims were the result of water (37%) and hail and wind damage (17%).  So these kits will make a real difference in our customers homes, and lives.
At Hippo, we believe that our "reason for being" is not only to proactively help our customers avoid claims but to support our customers when un-avoidable incidents occur. This is why we are focused on learning more and more about how to better their lives in a potential future event. Check out our claims breakdown from the past year to better understand what losses we covered this year: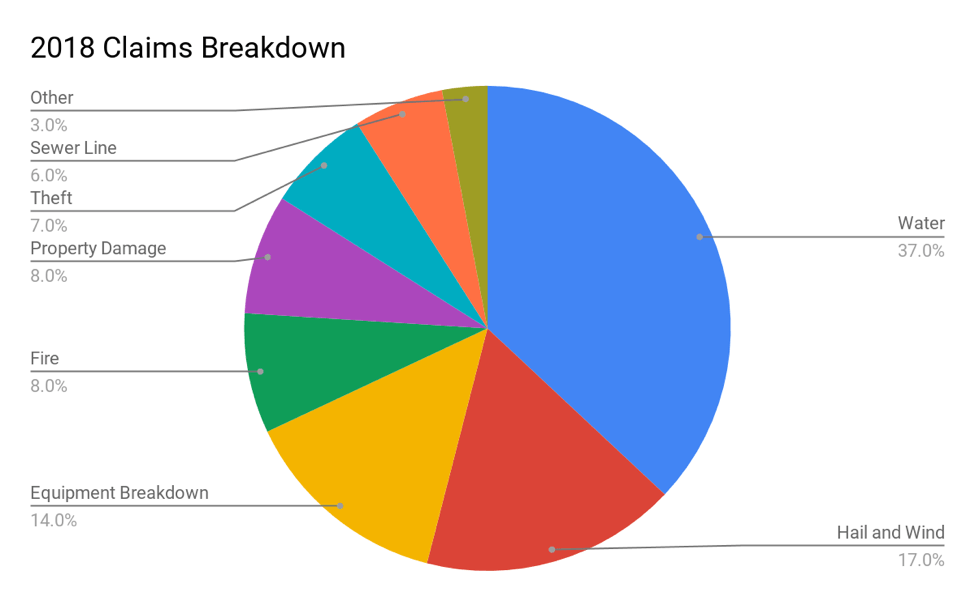 Claims overview, 2018
Some protections are standard across home insurers, but there are several add-on coverages that are quite rarely included which we make part of all Hippo policies. These include things like equipment breakdown and service line, which commonly lead to water damage. Our policies also come with four times more coverage on electronics and home office equipment than more traditional policies.
During 2018, our coverage launched in Minnesota, Wisconsin, Illinois, Missouri, Indiana, Ohio, Pennsylvania, Maryland, Tennessee, Mississippi, Alabama and Nevada. While traditional insurers need nearly 12 months to launch in a new state, Hippo tech and expertise enables us to launch a new state in ~ 2 weeks time.
What else happened in 2018? We opened our insurance headquarters in Austin, Texas and more than doubled our staff. In November, we raised $70 million to accelerate our growth and continue disrupting an industry that hasn't changed much in the past several decades. When the clock strikes midnight this year, we at Hippo will be thinking about how we can expand coverage, enhance our core offering and provide even more value to our customers in the year ahead. Thanks for supporting us along the way.