When Kevin McCallister wakes up to find his family left on vacation without him, he's ecstatic. He binges on junk food, watches his favorite movies and makes as much noise as he wants without worrying about bothering anyone. When you first set out on your own, you'll likely indulge in some of these same benefits.
But as Kevin soon learns, living alone can lead to some drawbacks, like increased risk of break-ins and loneliness. Though the Wet Bandits aren't real, criminals are, so it's worth taking steps to protect your home that doesn't involve flying paint cans and tar-covered stairs.
Outside of investing in home insurance, there are plenty of other steps you can take to make your "home alone" situation much safer. Below, we've highlighted 15 safety tips for living alone and why prioritizing your safety is so crucial.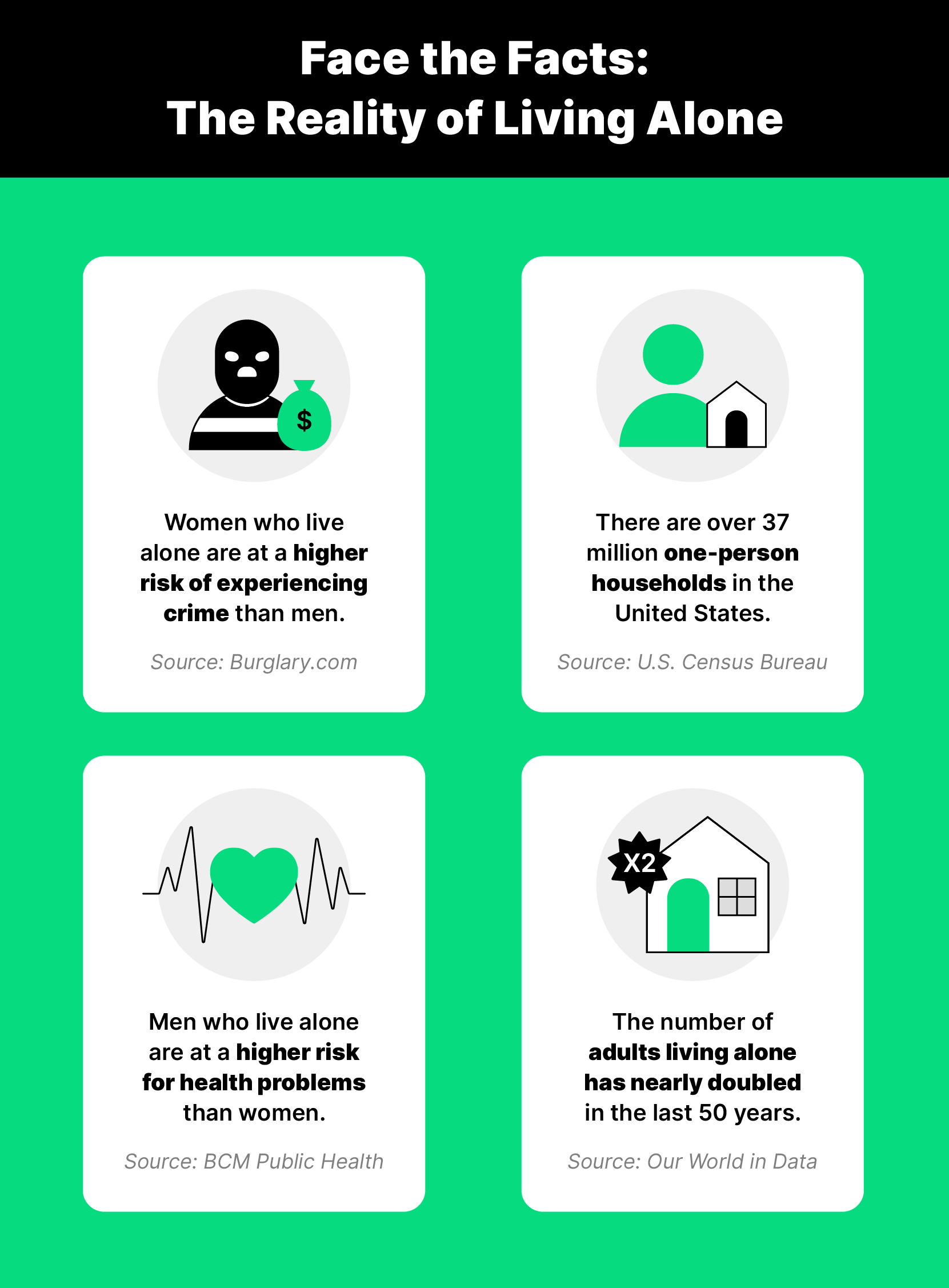 1. Implement daily safety practices
Everyone has their daily routines. Whether you need a cup of joe to get your day started or always work out on your lunch break, routines are important in protecting your mental health and making sure you accomplish daily tasks. But what you may not realize is that by adding certain steps to your daily routine (or by switching up your daily routine altogether), you can make yourself safer in your own home.
Try implementing the following tasks in your daily or weekly routine to keep your home in prime condition and your safety top of mind:
Always lock all windows and doors
Don't leave your blinds open at night
Turn on outdoor lights when it gets dark
Keep your trees and shrubs trimmed for improved visibility
Don't walk alone at night
Bring in trash cans and mail during the day 
Add pepper spray or an alarm to your keychain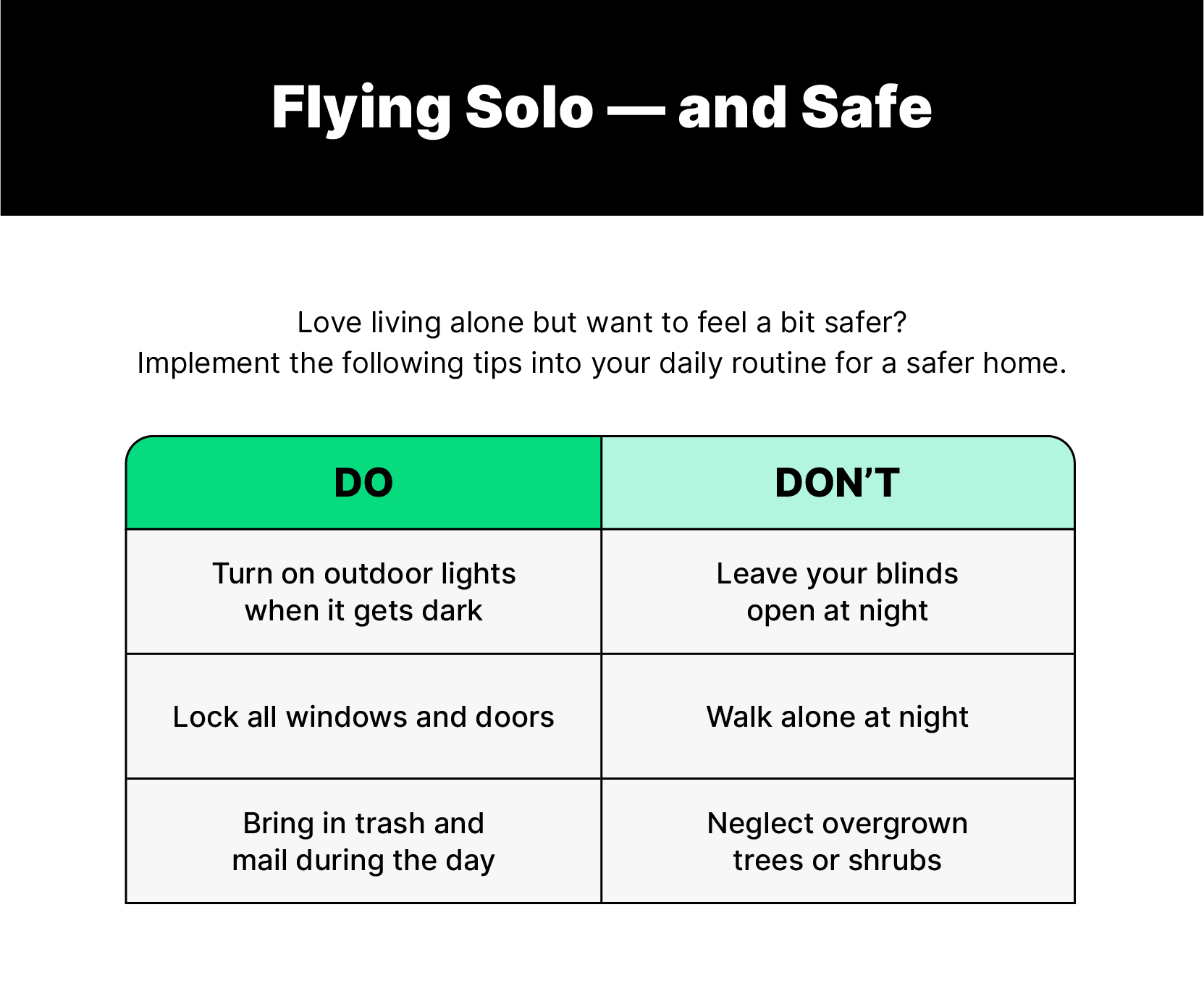 2. Make some neighborhood friends
While you might not plan on asking your neighbor for a cup of sugar any time soon, the act of getting to know your neighbors on a personal level shouldn't be left in the past. When living alone, introduce yourself to a few friendly neighbors, exchange numbers and commit to keeping an eye on each other (only if you feel it's safe to do so, of course). This will help keep your entire community safer.
In addition to increased safety, befriending your neighbors is just plain convenient. When you're out of town, you can ask them to take in your trash and pick up your mail, so it's not obvious that you're not home. Your neighbors also have different vantage points on your home, so they can easily alert you to any suspicious activity you may not have seen.
3. Amp up your security system
To give yourself that extra peace of mind when you go to bed each night, consider upgrading your security so that you can keep an eye on each corner of your home with ease. From installing a security system that goes off anytime an external door or window is opened to adding cameras and motion detector lighting, security upgrades are a no-brainer. They can even improve your property value as well, making these updates a must for your security and your wallet.
4. Create a list of emergency numbers
911 is easy to recall, no matter how stressed you may be. But what about your doctor's phone number? Or the number to Poison Control? When accidents happen, your cortisol levels rise, making even previously memorized numbers prone to falling right out of your head. 
Make it simple to get the help you need by creating a list of emergency numbers and keeping it accessible. Once you save those numbers in your cell phone, you can laminate it and hang it on your fridge or keep it in your desk drawer — wherever you need it. Add numbers for your neighbors, the local hospital and your water company to help shave off precious time if something goes wrong when living alone.
5. Make your home smarter
Smart homes are all the rage these days, both for their convenience and added security. Those flying solo in their homes should definitely consider upgrades like indoor and outdoor cameras, video doorbells, smart thermostats and water leak detectors. Consider them an extra set of eyes, ears and hands that you can always count on to keep you safe.

In fact, we believe in smart home devices so much that we offer free smart home kits to all our customers to give them the extra peace of mind they deserve.
6. Know your exit options
If you didn't already do this when you moved in, it's a good idea to lace up your shoes and take a walk around the neighborhood. Knowing both your home and neighborhood's exit routes can be a lifesaver during emergency situations, as you'll be able to get to safety that much quicker.
Once you've scoped everything out and feel comfortable in your new neighborhood, consider drawing out a map of all your exit options so you won't have to worry about second-guessing yourself later on. (This map will also make a great addition to your go-bag, but more on that later.)
7. Don't announce your vacations online
Though sharing your upcoming vacay on social media can be a lot of fun, what you may not realize is that you're also announcing when your home will be unoccupied — letting strangers know when your home will be empty means a greater risk of theft or property damage. To keep your home protected, try not to advertise when you're heading out of town. Instead, save your photos and post them once you're home and the risk of a break-in is lower.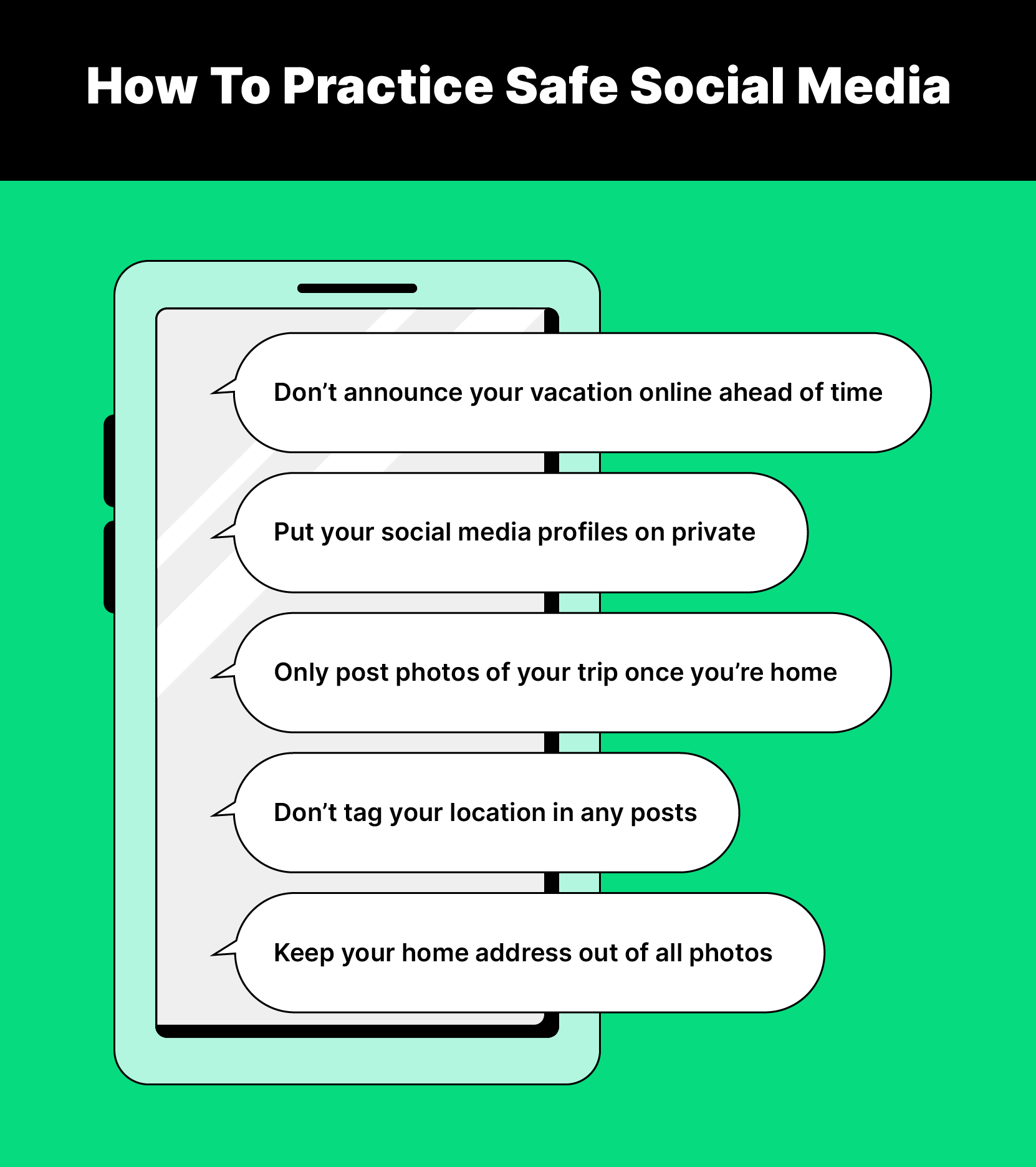 Looking for more ways to keep yourself safe online? Make sure you aren't tagging your location in any posts, never post pictures with your home address and keep your profile private for an extra layer of protection.
8. Only hire people you trust
Throughout the life of your home, many repairs are bound to come up, from plumbing issues to lawn maintenance. While hiring experts can be a huge help in keeping your home in tip-top shape, anytime you invite strangers into your home you should take some precautions.
To make sure you are only hiring trustworthy workers, do some research into their past customers' reviews and conduct a background check before giving out your personal information. You can also ask your neighbors for recommendations or sign up with a company like Hippo Home Care for a safer home maintenance experience.
9. Keep the holidays in mind
Lots of things are on the rise during the holiday season: joy, candy consumption, decorations — you name it, there are a lot of things to celebrate. But unfortunately, crime is also on the rise during the most wonderful time of the year, from package theft to break-ins.
To keep your home tinseled and tough, consider installing some smart home devices made for the holidays like motion sensor lights and automatic locks. More worried about Halloween mischief than the Grinch? We've got a guide to Halloween safety tips for you to check out as well.
10. Get connected
These days there's an app for everything, and that includes home safety and neighborhood connection. Well-loved apps like Nextdoor help communities stay connected, while safety websites like CityProtect and apps like Citizen give you an in-depth look at issues in your area so you can stay informed.
11. Get a four-legged security guard
There's no denying that living alone can sometimes get boring. But if you aren't looking for a traditional roommate, there's a much furrier (and likely cuter) option available — dogs. Getting a pup can help spice up your regular routine, even leading to a healthier lifestyle. But for single homeowners, the benefits don't stop at a brisk walk around the neighborhood.
You've heard the stories of guide dogs saving their owners from walking into traffic or police dogs finding evidence, but what about everyday pups? It turns out even the most docile rescue dogs can be lifesaving in dangerous situations. From alerting their owners to fires or scaring off intruders, pets have saved their owners' lives time and time again. Another bonus? You get a best friend for life and plenty of projects to add to your to-do list (like petscaping your backyard, for one).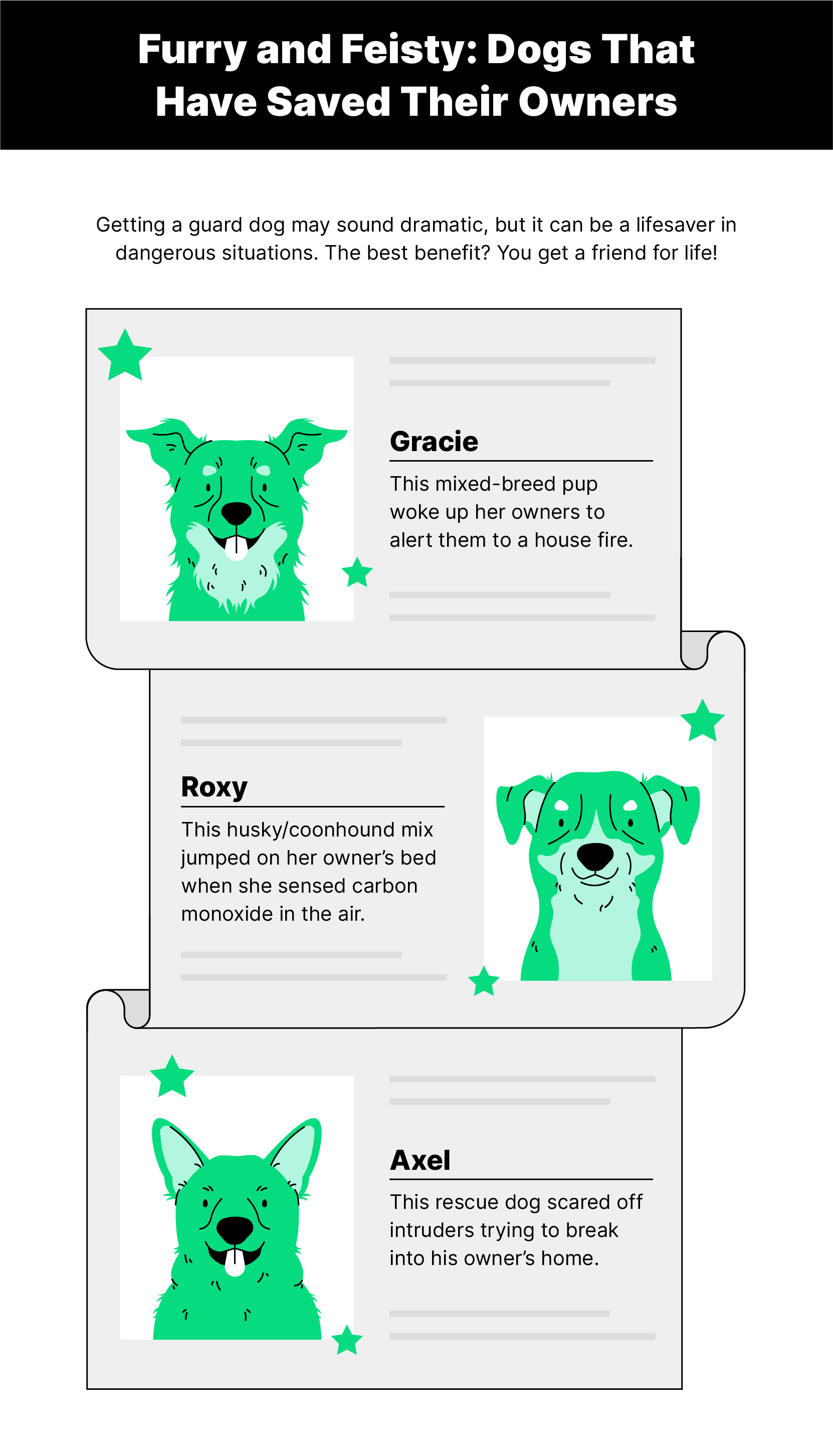 12. Do your research
If you know you want to live alone but haven't taken the real estate plunge just yet — doing your research ahead of time can lead to better peace of mind. Websites like ADT allow you to check out your local crime rate, meaning you can make smarter decisions on where you want to settle down.
For those who have already signed on the dotted line for their new home, research is still a good idea. Instead of letting the data stoke your fears, use it to make better home protection decisions. For example, if package theft is on the rise in your area, you could install a smart doorbell. Or if cars on your street are regularly getting broken into, park your car in the garage for an extra layer of protection.
13. Think of the kids
While the majority of our tips are catered to single homeowners that live on their own, we know that's not every homeowner. If you have kids in the home — even if they only live with you part-time — here are some additional safety tips to implement:
Install door viewers lower than normal so that your children can see out
Create a secure room in the event of a break-in
Keep a list of emergency contacts accessible
Secure all heavy furniture to the walls
Lock all weapons in the home
14. Look for an HOA
To increase your safety, consider looking for a neighborhood with a Homeowners Association (HOA). In addition to setting rules for residents, these programs help maintain safety features in your neighborhood like street lights, walkways and even security cameras in common areas. This fosters not only a safer neighborhood but a more connected one as well.
Since most HOAs come with a yearly or monthly fee to help maintain your neighborhood amenities, it's a good idea to get HOA insurance to protect yourself from incidents that occur in public areas.
15. Pack a go-bag
When disaster strikes — like an evacuation order or a break-in — you'll have little time to act. Help your future self get through any event with ease by packing an emergency go-bag ahead of time. When creating your go-bag, make sure to include any necessities such as medicine, documents, emergency contact information, extra clothes, food and a phone charger.
Learn more about what to pack in your go-bag for every type of emergency by checking out our guide to emergency preparedness.
Pros and cons of living alone
If you're an introvert or highly sensitive person, living alone may sound like a dream come true. After all, what's better than decorating your home exactly how you want it and never having to fight about who left dirty dishes in the sink? But living alone comes with some drawbacks, and you should consider both the pros and cons before making a decision.
Pros of living alone:

Total privacy
Control over decor and cleanliness level
Fewer distractions
More independence

Cons of living alone:

No ability to share chores
Can feel lonely
More expensive
Decreased safety
How to find a home you feel comfortable in
Every person's dream home (and neighborhood) will be a little different. For example, an avid runner may be looking for easy access to trails while a bookworm may want to live near a library. But if you've got safety on your mind, consider the following features to help you feel comfortable in your new home:
A neighborhood watch program
Plenty of street lights
Well-maintained lawns and trails
Police call buttons in public spaces
A gated community
Proximity to emergency services
Regular community events

Whether you live completely alone, have a few furry friends or a house bustling with activity — you'll need home insurance. 
Learn more about how we can offer you the protection you need and the security you deserve by giving us a call (and make sure to add our number to your list of emergency contacts — we're here to help 24/7)!