Groceries. Gym equipment. Maybe some new furniture for your home office. You're spending a lot of time indoors these days, so you've likely been placing more online orders than ever before. And while convenient, increases in online ordering (and the shift to contactless deliveries) have unfortunately created an environment conducive to porch piracy. 
"Porch pirates" are those who steal delivered packages from properties. Before the pandemic, an estimated 36% of people had been the victim of porch pirates, according to a 2019 C+R Research report. It's unknown exactly how many people have been victimized by package theft during the pandemic. However, based on Google search data, concerns about package theft ballooned at a time when many states were under stay-at-home orders.
Let's take a closer look at the recent trends surrounding package theft and explore steps to potentially lower your risk.  
Americans have begun ordering much more online 
First, it's important to understand that there's been a lot more "treasure" for these so-called porch pirates to find. With stores closed or operating under new safety protocols, Americans have begun buying a lot more online during the pandemic. 
In April and May 2020 — when COVID-19 cases began rising rapidly in the U.S. and states carried out stay-at-home orders — Americans spent more than $153 billion online, according to the Adobe Digital Economy Index (DEI). That was 7% higher than the $143 billion spent online during the 2019 holiday season, a time when ecommerce is typically at its peak. Then, in June 2020, online spending totaled $73 billion, a 76% increase from June 2019, according to the same report. 
Additionally, many Americans who had never shopped online before the pandemic began doing so in April and May, according to the DEI. That, coupled with the shift to contactless delivery, has set the stage for more package theft.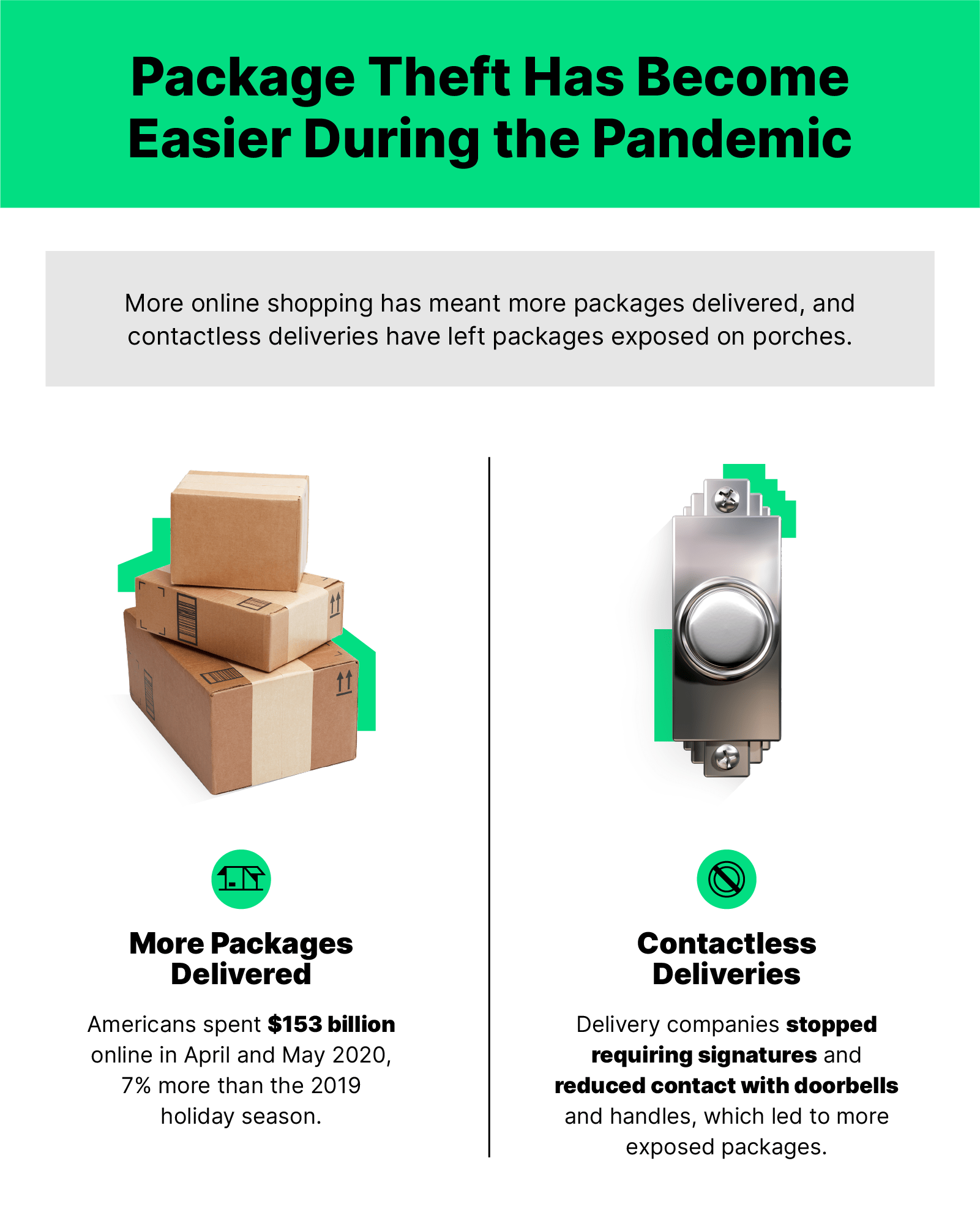 Delivery companies have gone contactless     
In addition to handling more packages, delivery drivers have also changed the way that they interact (or don't interact) with package recipients. 
In April, the Centers for Disease Control and Prevention (CDC) encouraged drivers to practice contactless deliveries, meaning limited or no contact with package recipients or potentially contaminated surfaces like doors and pens. 
Companies like FedEx and UPS temporarily stopped requiring signatures for certain packages. Of course, these policies have been important for the safety of drivers and package recipients, but they also have likely led to unintended consequences. Namely, some recipients have been unaware that their packages had been delivered, which has allowed more time for packages to be stolen. 
Additionally, according to some news reports, delivery drivers were told to avoid touching doorknobs, gate handles and other frequently touched surfaces. In some cases, that led drivers to place packages in visible locations — for example, on sidewalks, instead of within gates — where they are more accessible to thieves.
Has package theft increased during the pandemic? 
There are some clear signs that package theft increased during the pandemic, based on our analysis of search data provided by Google Trends. Specifically, we looked at "stolen package" and "package tracking" searches. 
We found that, in May 2020, more people were Googling "stolen package" related keywords than at any non-holiday time since 2004, when Google Trends data was first available. (It's important to note that we excluded December of every year from our analysis since "stolen package" searches naturally surge during the holidays every year.)
You can see just how popular "stolen package" searches became in May 2020 — in the thick of the coronavirus outbreak in the U.S. — compared to May of previous years. These searches were 1.7 times more popular in May 2020 than in May 2019, 2 times more popular than in May 2018 and 2.5 times more popular than in May 2017. Through June and July, "stolen package searches" decreased slightly but remained largely on par with the levels seen in May.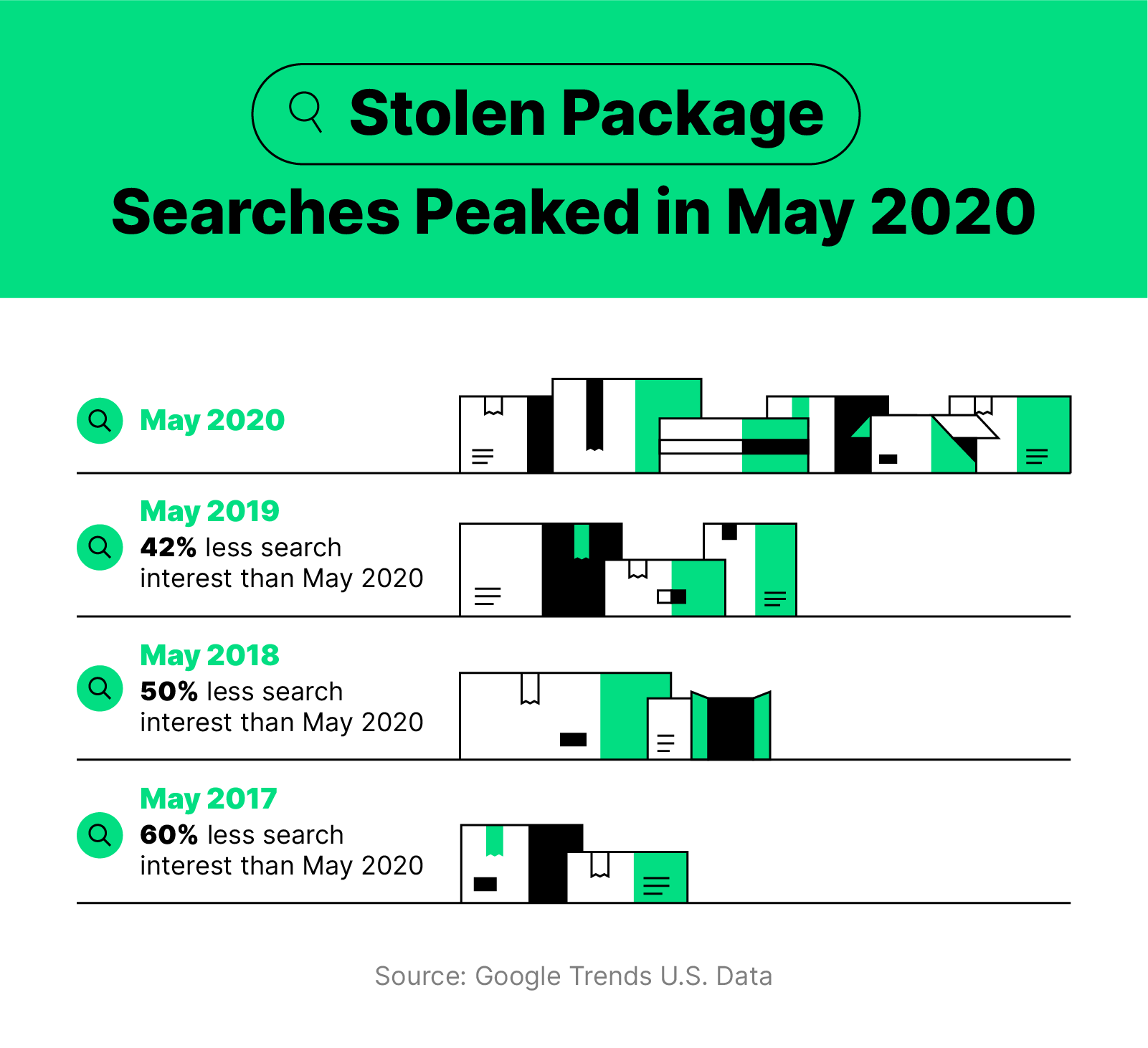 Between the middle of March — when many states began issuing stay-at-home orders — and the end of July, "stolen package" searches were most popular in California and New York:
San Francisco/Oakland/San Jose, California
Fresno/Visalia, California
California and New York, two of the most populous states, also have among the highest number of total recorded coronavirus cases. It's possible that high case counts led more people to stay at home and order products online, which could have led to more packages sitting on porches and ample opportunities for theft. 
For additional context, we also looked at search interest surrounding "package tracking." Americans began searching "package tracking" more frequently at the end of March and the beginning of April. Interest continued to rise through April and into the beginning of May. It peaked at an all-time high during the week of May 3–9, 2020, as many states ended their stay-at-home orders.
What's clear is that, in 16 years of Google Trends data, the search term "package tracking" has never been more popular than it was the week of May 3–9, 2020. In other words, people have never been more interested in learning how to track their packages than during the coronavirus pandemic.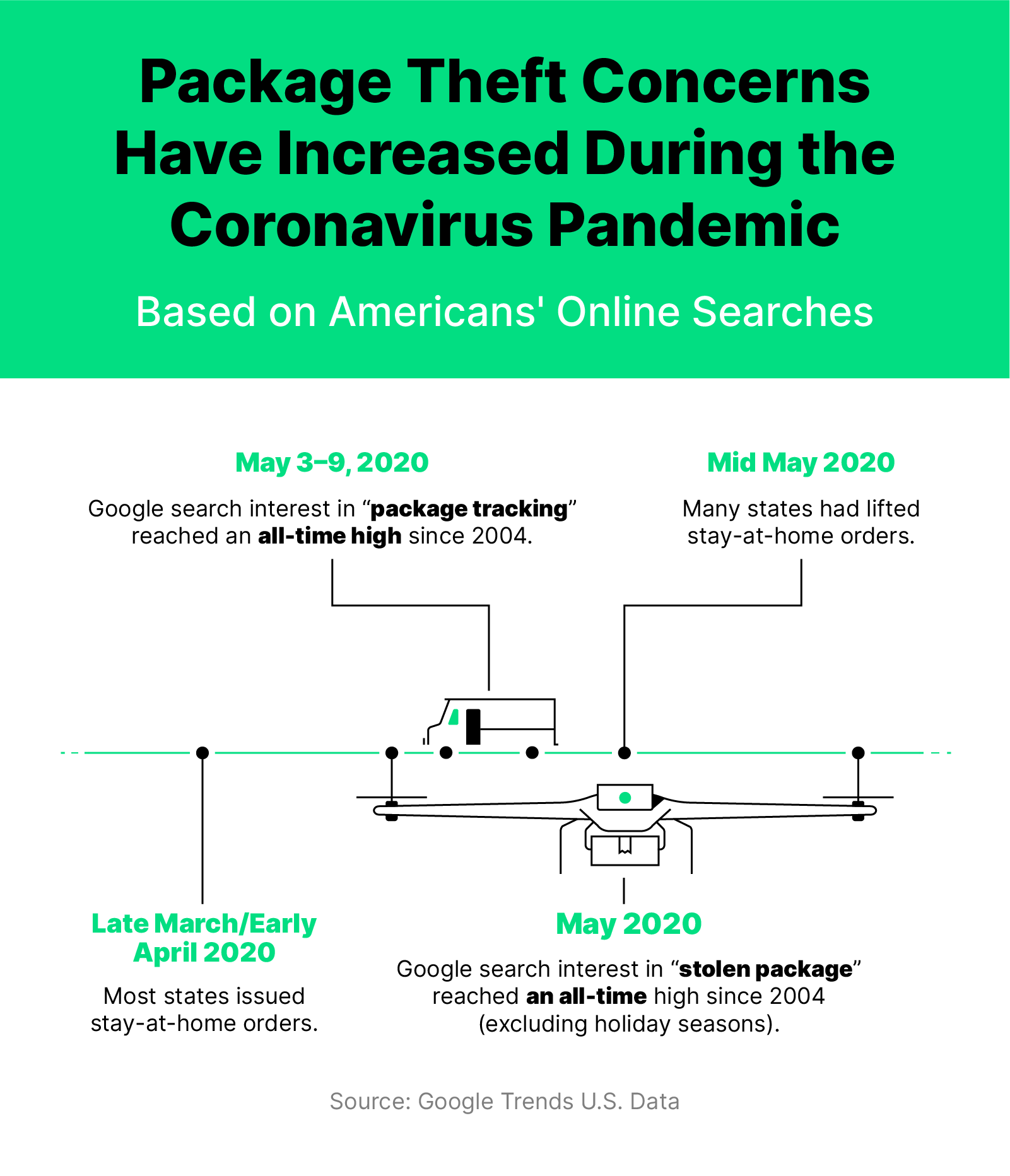 How to reduce the risk of package theft 
Luckily, there are a number of ways to reduce the risk of porch piracy. One of the most effective ways to do this is to hide your packages or remove them from your porch as soon as possible. Here are some ways to do that:
Encourage delivery drivers to place packages behind a plant, piece of furniture or other structure on your porch (Perhaps you might consider leaving a note with special instructions for your delivery driver by your front door).
Ask for deliveries to a side or back door. 
Place an empty container on your porch where packages are delivered regularly (to hide the branding on packages and confuse potential thieves as to if there's a package in there or not). 
Request delivery to an alternate location (package lockers or neighbors' homes).
A team of researchers recently studied 67 videos of porch pirates and found that gates and cameras don't appear to stop thieves since only about 8% of thieves try to hide themselves, even when they see cameras. 
However, home cameras can be incredibly useful when it comes to helping the police identify suspects. For example, police in Houston estimate that, since they partnered with the security company Ring in 2019, they have made more than 100 arrests based on footage from people's doorbell cameras. 
Additionally, encouraging neighbors to install home cameras can add additional footage angles and further help police identify suspects. (Plus, installing smart home technology like cameras, locks and water leak sensors in your home can earn you lower premiums through Hippo.)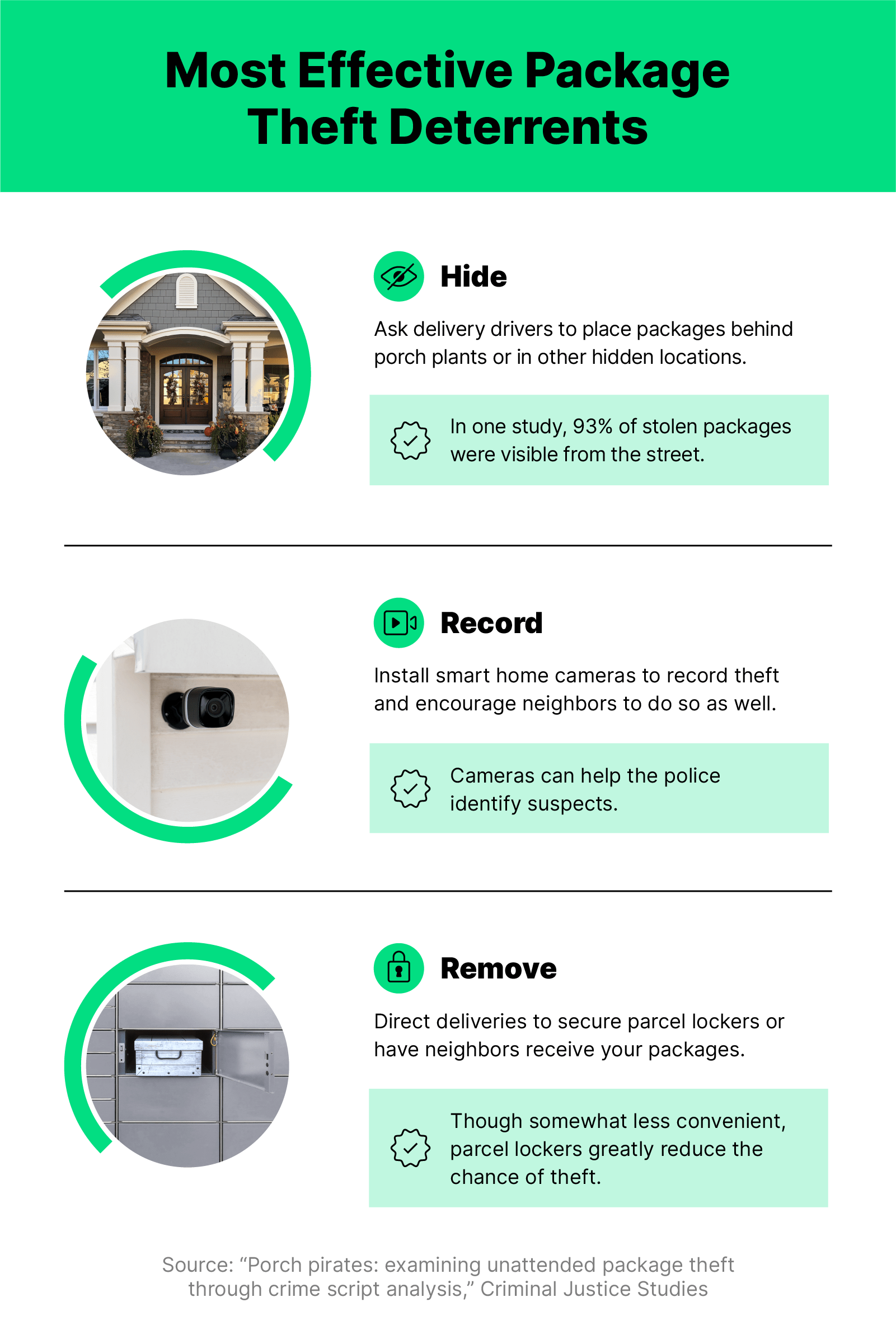 What to do if your package is stolen 
Remember to track your package through shipping companies' online portals. If the shipping company says your package has been delivered, but you don't see it, first check other areas of your property (like side doors and back doors). Also, be sure to talk to neighbors who might have taken your package for safekeeping. After you do that, if you still don't have your package, follow these steps. 
Contact the seller: Your next call should be to the seller. If you bought a package on Amazon, you might need to contact an individual seller first and later file a claim with Amazon. In many cases, sellers will locate your package or issue a refund or replacement. Other times, they might direct you to the shipping company. 
Contact the shipper: Luckily, many shipping companies have online portals where you can file a claim and determine where your package is and if it'll be delivered. 
Contact your insurer: For certain valuable items that are stolen, you might consider filing a claim with your home insurance provider if your item's value exceeds your deductible (typically $1,000). Usually, these high-value items require your signature upon delivery, but if that's not the case, your insurance provider could be able to help. 
Receiving packages during the coronavirus pandemic  
There's been some confusion as to how best to protect your home from the coronavirus and if you need to disinfect your packages before opening them. (This confusion has also led to some people leaving their packages outside for longer periods of time.) 
The virus is thought to last only 24 hours on cardboard, according to a New England Journal of Medicine study. The CDC states that the coronavirus is "unlikely to be spread from domestic or international mail, products or packaging." However, it's always best practice to wash your hands thoroughly after handling mail and packages. 
It's important to look for ways to protect your deliveries, especially as the pandemic continues to affect everyday life and the way you shop. However, with a few simple precautions, you can help prevent porch pirates from getting their hands on your packages (and help catch the ones who do). 
Looking to extend your home protection during the pandemic? Take the time to review your homeowners insurance policy to make sure you can protect your home from other common risks. Receive a Hippo home quote in as little as 60 seconds. 
Methodology:
This piece examined the relative popularity of the search queries "stolen package" and "package tracking" from 2004 to the present using publicly available Google Trends data in the U.S. The locations where "stolen package" queries were most popular are those areas where there were the most "stolen package" searches as a fraction of total searches, not necessarily the areas with the highest number of "stolen package" searches overall.