As the days get shorter and temperatures start to cool, it's time to get started on your fall home maintenance checklist for all parts of your home. 
Fall is the time to think ahead to the snow, wind, rain, and everything else winter can throw at your home. Prioritizing maintenance now for the most costly areas to repair, like your roof and HVAC system, can help you scale back on unexpected repairs in the winter. For example, you can help minimize ice dams by clearing out your gutters and any other areas where pooling water can occur near your roofline in the fall.
Plus, home maintenance tasks are much more bearable in the cool fall weather rather than dealing with home repairs in the middle of winter. Before we dive into your list, check out our downloadable checklist.
Download our fall home maintenance checklist
Let's face it—it's easier to have all your to-dos in one spot. Download our fall home maintenance checklist below to help you track all the tasks you'll need to complete this season.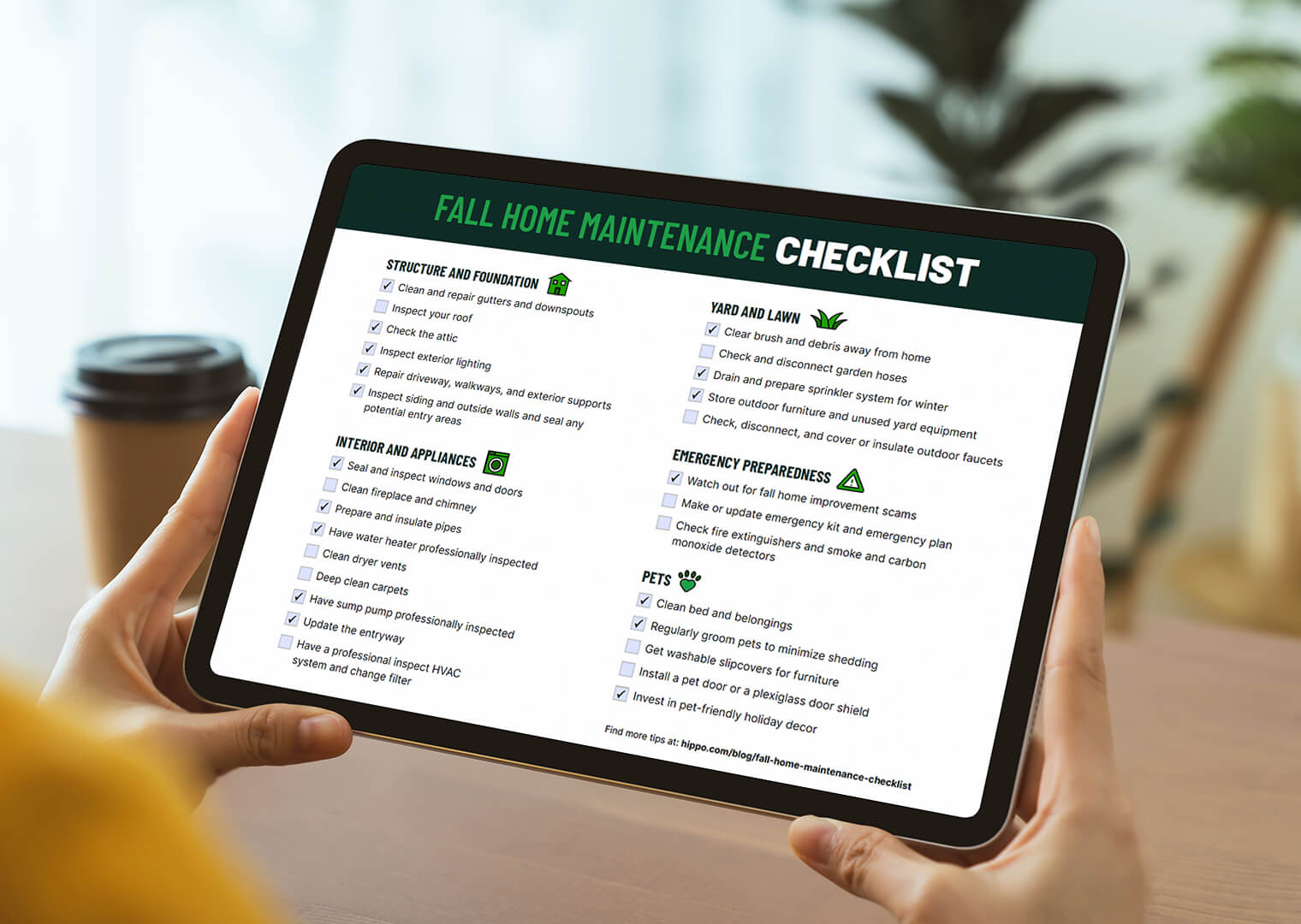 To help you get started, we made a list of the 24 must-do fall maintenance tips, organized by the type of task: structure, lawn and yard, interior and appliances, and emergency preparedness.

1. Clean and repair gutters and downspouts
Why: Clogged gutters and downspouts prevent water from draining away from your roof and siding. In the winter, trapped water can freeze and expand. On top of paying $384 on average to repair your gutters in America, you can also deal with issues like mold, foundation damage, or roof damage.
Actions to take:
Remove leaves and other debris that's impeding drainage.

Use a brush to loosen and sweep away buildup.

Position downspouts away from your home's foundation.

Flush gutters with a hose.

Patch tears or holes and seal gaps.

Consider installing gutter guards to minimize debris in your drains.

Replace gutters if needed.
2. Inspect your roof
Why: 38% of homeowners dealt with unexpected roof damage in 2022. When the first rains of the season come, the last thing you want to deal with in the winter is a leaky roof since it protects your home from ice, wind, rain, hail, and everything in between. When it's damaged, water can enter, leading to mold and structural damage.
Actions to take:
Look for damaged, warped, or missing shingles along with other visible signs it's time to repair or replace your roof.

Keep an eye out for mold, leaves, and other debris.

Check for loose or cracked roof boots around vents and pipes to help prevent water from entering the home.

Call a professional if you're due for a roof inspection or need help with repairs.
3. Check the attic
Why: Attics can be your first sign of issues in the home, like if you notice moisture or discoloration on walls or ceilings. Pests and animals are also known to make their way into attics and potentially cause damage to both your attic and roof.
Actions to take:
Check sheetrock or insulation for discoloration, matting, or dampness.

Note dusty or dirty insulation since it can be a sign of an air leak.

Look for openings around pipes, wires, phone lines, and cables for leaks.

Repair leaks with caulk or expanding foam.

Look for droppings, damaged insulation, or dead pests or critters, and call an exterminator if needed.

If the bathroom and other vents exhaust in the attic, check for signs of mold and mildew.

Inspect roof decking from the attic for any signs of rot or deterioration.
4. Inspect the siding and outside walls
Why: Siding protects your walls and your home from the elements and is generally low maintenance. However, any damage can leave your home vulnerable and could lead to issues with pests, mold, or structural issues.
Actions to take:
Look for signs of damage like loose or damaged siding or chipping paint.

Check for small holes which can be signs of pests living in the siding. Call an exterminator if needed.

Complete any paint jobs and touch-ups ahead of winter weather.

Apply exterior sealants and caulk around the siding.

Remove any brush or tree limbs that overhang or come in contact with the roof or outside walls to help prevent pests.
5. Inspect exterior lighting
Why: Outdoor lights help you and your loved ones safely walk outside as the days get shorter and the evenings get darker. The extra light is especially helpful when walkways are icy. It's also a helpful deterrent to help prevent burglary or theft.
Actions to take:
Ensure all exterior lights are operational.

Clear walkways of cords from the lights.

Turn off the lights and corresponding circuit breakers, then clean light fixtures.

Replace light bulbs and any broken lights.

Install additional lights if needed.

Consider installing motion-sensor lights.
6. Repair your driveway, walkways, and supports for porches and decks
Why: Icy walkways and driveways can become a source for slips and falls in the winter. Any cracks or unstable supports can create an even more dangerous situation. Not to mention, cracks can accumulate water that can freeze and expand to enlarge cracks.
Actions to take:
Inspect your driveway and walkways for cracks, crumbling edges, and other damage.

Clear and clean areas of debris and weeds.

Fill and seal minor cracks that could expand when temperatures drop.

Inspect supports on porches and decks for anything that's loose, damaged, or needs replacing.

Reseal your deck if needed.

Contact a professional for extensive repairs.

7. Clear and prepare the lawn and plants
Why: Winter lawn damage like snow mold and winter desiccation can ruin your lawn and require you to re-sod or reseed in the spring. However, caring for your lawn and plants before winter comes can help it withstand harsh weather conditions.
Actions to take:
Water lawn and plants regularly.

Rake the leaves and clear any other debris.

Cut grass shorter than normal when the weather begins to turn.

Fertilize, top-dress, and reseed your lawn ahead of winter weather.

Aerate the soil to avoid compaction.

Consider tree spraying or injection to prevent diseases.
8. Check garden hoses and outdoor faucets
Why: Water left in hoses and faucets can freeze and burst in the winter, so draining water before freezing temperatures arrive can help prevent expensive repairs. Repairing a burst pipe can cost $500 on average (not including the cost of repairing subsequent damage, like water damage or structural issues).
Actions to take:
Check hose bibbs for leaks in piping and check hoses for leaks as well.

Use the shut-off valve to turn off water and drain excess water.

Disconnect, drain, and store hoses.

Consider covering outdoor faucets for the winter.
9. Prepare your sprinkler system for winter
Why: Just like your hoses and faucets, the water in your sprinkler system can also freeze and burst during cold temperatures. Once winter approaches, spend time draining and prepping your sprinkler system for the upcoming season.
Actions to take:
Turn off the water and timer.

Drain your sprinklers with the manual, automatic, or blowout method.

Insulate any parts of the system that are above ground.
10. Store outdoor furniture and unused yard equipment
Why: Snow, cold, and moisture can age your furniture or tools and can lead to damage. Properly cleaning, winterizing, and storing them can prevent wear and tear from the elements.
Actions to take:
Clean and store outdoor furniture and gardening tools.

Clean and winterize your grill, lawn mowers, leaf blowers, and yard equipment.

Shut off gas and electricity for unused yard equipment and prepare them for storage.

Remove soil from pots and planters left outside.

11. Seal and inspect windows and doors
Why: Energy Star estimates that homeowners can save an average of 15% on heating and cooling costs by adding insulation and air-sealing their homes.
Sealing windows and doors can also prevent bugs, moisture, and other bad weather from entering the home.
Actions to take for doors:
Check doors to see if you feel a draft coming through.

Look for cracks and rot around the external doors' kick plate and seal.

Remove old caulking if needed and apply new caulk and weatherstrip gaps in doors.

Remove screens from doors to avoid damage from winter weather if possible.

Spray exterior door locks with powdered-graphite lubricant on all locks to prevent sticking.
Actions to take for windows:
Look for cracks in caulking or gaps between the window and the frame.

Remove old caulking if needed and apply new caulk and weatherstrip gaps in windows.

Remove screens from windows to help avoid snow build-up; prevent damage from wind, rain, and snow; and let in more natural light and heat during the winter.

Use an unbent paper clip to clear debris out of the weep holes under windows to help ensure proper drainage.

Call a professional to replace windows if needed.
12. Clean your fireplace and chimney
Why: Leaves, bird nests, and other debris can collect in your chimney if it's not regularly cleaned. These materials are highly combustible and increase your risk of a house fire.
A lack of regular maintenance can also lead to backdraft issues. Instead of smoke and soot getting drawn out through the chimney, they enter your living space and can lead to smoke damage and staining to your home's interior.
Actions to take:
Clean the fireplace and the surrounding area.

Check for blockages and creosote buildup in the chimney and flue.

Check for and fill in cracks inside and outside of your fireplace and chimney.

Consider installing a chimney cap to keep out drafts, pests and animals, debris, and moisture while also minimizing the chance of fire.

Contact a professional to service your chimney if needed.
13. Check your HVAC system
Why: In addition to minimizing wear and tear, regular checks and maintenance help your HVAC system operate smoothly and help maintain good air circulation in your home. Getting everything squared away before you need it can help keep your home warm and energy efficient in the winter.
Plus, one-time HVAC maintenance calls cost about $99 on average, but repairs and replacement costs vary greatly based on what's needed.
Actions to take:
Replace or upgrade all HVAC filters.

Turn off the HVAC system; check air ducts for dust, dirt, and fur; and clean if needed.

Clean and cover the outdoor condenser unit for your air conditioner.

Call a professional for an annual inspection, especially if you notice odd noises or if your overall system is struggling to run.
14. Prepare pipes and inspect your hot water heater
Why: Preparing your pipes for winter temperatures and holiday entertaining can help you avoid pipe bursts and water damage. Your water heater, on the other hand, also needs servicing to ensure your household gets clean, hot water throughout the winter.
Actions to take:
Clean out slow or clogged drains by flushing them with hot water and a plunger. If it's not fixed easily with DIY remedies, call a professional.

Regularly check under sinks and below appliances for water leaks. Consider installing leak detectors where water is known to commonly occur.

Insulate pipes and (if possible) walls and ceilings to keep pipes warm.

Flush your hot water heater if you haven't already this year to minimize sediment buildup.

Look for signs of corrosion under drain lines and the water supply.

Call a professional for more complex plumbing maintenance.
15. Clean laundry vents
Why: Cleaning laundry machine vents can help your clothes dry faster and minimize the potential for fires. The leading cause of home clothes dryer fires from 2010-2014 was failure to clean the vents. A report by the U.S. Fire Administration also found that dryer fires in residential buildings were higher in the fall and winter months.
Actions to take:
Regularly remove lint from the lint trap.

Thoroughly clean lint, debris, and dust from the dryer vent.

Clean the exterior dryer vent that helps move lint, moisture, and hot air out of the dryer. To clean it, you'll need to unplug and move the dryer away from the wall, detach the hose from the dryer, and then go outside to brush and vacuum out debris.
16. Combat mold growth in carpets
Why: Fall and winter weather can make carpets more damp and lead to mold. Proactively cleaning and protecting your carpet can help prevent an expensive replacement since carpets can cost $1 to $4 per square foot. For a 160-square-foot living room (16 feet by 10 feet), you can expect to pay $640 to replace your carpet—not including the cost of installation.
Actions to take:
Clean and dry spills right away to prevent mold.

Opt for anti-microbial carpet padding to prevent the growth of mold and mildew.

Keep the home well-ventilated and consider using a dehumidifier if carpeted areas are overly humid during the day.

Identify mold by looking for areas that have been wet for a long time; green, black, or white spots; or moldy and musty smells.

Use a carpet extraction cleaner to deep clean your carpet.
17. Prevent basement flooding through window wells
Why: Well-maintained window wells can keep moisture and soil away from your home, provide sunlight to your basement, and can serve as an emergency exit. However, they can also be a source of flooding if it's not regularly checked and cleaned. This can quickly become an expensive issue since flooding is not typically covered by standard homeowners insurance.
Actions to take:
Clean out debris near the window well and clean the exterior window.

Check for drafts or replace broken panes.

Install or replace window well covers if needed.

Safely test the drainage system.

If you have a sump pump, test the sump pump's sensor to check if it's working properly.

Call a professional for more complex drainage system maintenance.
18. Update your entryway
Why: Your house will soon welcome heavy coats, muddy floors, and wet umbrellas that can leave your entryway messy and potentially hazardous. Updating it for the fall can help protect your floors and walls from damage while also keeping your entryway as tidy as possible.
Actions to take:
Place a boot scraper and heavy rug outside to clean shoes.

Add a slip-proof mat inside to wipe shoes.

Add a place to sit to remove heavy winter shoes.

Designate an area to store shoes, heavy coats, pet jackets, hats, and other cool-weather clothing.

Set up an area to store wet umbrellas so they don't drip on the floor.

Leave a designated pet towel to wipe down your furry friends when they enter.

Keep a mini microfiber mop close to the front door for a quick clean.

Lay down a heavy rug in the entryway to help protect your floor from fall wear and tear.

19. Clean your pet's bed and belongings
Why: Animals prefer a clean place to rest. Regular cleaning of your pet's bedding, favorite blankets, and toys will help ensure that no creepy crawlies are being brought in from the outside. Plus, your pet may also be bringing in mud or moisture in the cooler months.
Actions to take:
Shake your pet's bed and bedding and wash once a week.

Wash and clean pet toys regularly.
20. Take steps to prevent shedding
Why: We love our pets, but excessive pet hair and pet dander can trigger allergies and can make it into your HVAC system. Taking a few proactive steps can make it easy to manage shedding and keep your home (mostly) free of your pet's hair.
Actions to take:
Regularly groom your pet.

Get washable slipcovers for furniture.

Invest in paint-roller-sized lint removers, robovacs, and/or other solutions to help prevent pet hair buildup.

Upgrade your HVAC air filter with a minimum efficiency reporting value (MERV) of at least 8.
21. Minimize hazards for your pet
Why: Spending more time indoors during the fall and winter means that your pet can get their paws into trouble or put themselves in a dangerous position. Home upgrades and pet-proofing your home can help ensure both your pet and your home are safe.
Actions to take:
Trim your pet's claws to minimize damage from scratching.

Install a pet door or plexiglass door shield to minimize scratching.

Use electric cord concealers or wrap them in a plastic conduit to hide cords from pets.

Invest in pet-friendly holiday decor.

22. Check fire extinguishers, smoke detectors, and carbon monoxide detectors
Why: U.S. fire departments respond to an estimated average of 790 home structure fires each year that started with decorations (not including Christmas trees). Heating equipment, electrical sources, and candles are common sources of winter fires. Preparing fire extinguishers and detectors during the fall can help you identify and prevent potential fires.
Actions to take:
Get a fire extinguisher if you don't already have one and inspect them at least once a month after installation.

Inspect each fire extinguisher to ensure they're operating properly, aren't damaged, and are charged.

Test all alarms and replace batteries if needed.

Vacuum the inside and wipe down the outside of the detectors.
23. Watch out for fall home improvement scams
Why: Home improvement scammers can leave your home vulnerable to damage or may take your money and leave. There were more than 82,000 home repair, improvement, and product-related scams reported to the Federal Trade Commission (FTC) in 2022.
Actions to take:
Confirm a contractor's credentials and request references before working with them.

Carefully review the contract before signing off.

Follow other tips for avoiding home improvement scams from the FTC.
24. Make or update your emergency kit and plan
Why: Hazards change with the season. In cooler months, extra warm clothes or blankets can help when the power is out, or your HVAC is damaged in a storm. Doing a seasonal checkup can help you and your loved ones keep track of what you have and refresh yourselves on your emergency plans. Ready.gov also recommends checking your emergency kit every year.
Actions to take:
Review your emergency kit and replace anything that's expired.

Review your evacuation plan with your household and update any outdated information.

Cross-check your kit with an emergency preparedness checklist to see what you may be missing.

Stock up on seasonal necessities you don't already have, like ice melt or rock salt to make surfaces more walkable.
Your future self will thank you when you're comfortably inside your home this winter—and not outside trying to finish up maintenance projects in the frigid winter temperatures.
Now that you have your list, where should you start? It's not always easy to know since every home is different.
Hippo can provide a personalized checklist of tasks tailored to your home's needs. Once you know what you need, check out our personalized DIY guides to help knock out everything on your fall home maintenance checklist.
Download our Hippo Home app for free from App Store and Google Play to learn how we can help you proactively prepare your home.
Disclaimer:
YourHaus, Inc. ("Hippo Home") is an affiliate of Hippo Insurance Services. Services (including all repair or maintenance services) provided to customers through affiliated and unaffiliated third-party contractors. Your use of Hippo Home is subject to Hippo Home's terms and conditions and privacy policies. Use of unaffiliated third-party vendors is subject to the terms of service provided by such third party. Hippo Insurance Services is not responsible for your use/non-use of Hippo Home or any service vendor. @ YourHaus, Inc. 2023
Hippo Insurance Services ("Hippo") is a general agent for affiliated and non-affiliated insurance companies. Hippo is licensed as a property casualty insurance agency in all states in which products are offered. Availability and qualification for coverage, terms, rates, and discounts may vary by jurisdiction. We do not in any way imply that the materials on the site or products are available in jurisdictions in which we are not licensed to do business or that we are soliciting business in any such jurisdiction. Coverage under your insurance policy is subject to the terms and conditions of that policy. Coverage and coverage amounts selected are the decision of the buyer.