What do Bill Gates and Jimi Hendrix have in common? Okay, not a lot. But they were both born in Washington State. So whether you're a computer wizard or a guitar enthusiast, it's natural that you might want to tune in to life in the Pacific Northwest.
With its lush green forests, hip metropolitan areas, mountain views and serene coastlines, it makes sense that Washington residents love their home in the Evergreen State. So it also makes sense that they want to make sure it's protected. Read on for information about home insurance options for Washington residents.
How much is homeowners insurance in Washington State?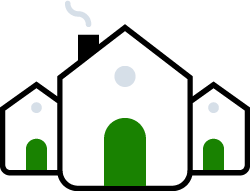 Coming in at an average of $960 per year, Washington State is in the 10 least expensive states for home insurance premiums. Compared to the national average of $1,211 per year, Washington residents can expect to pay about 21% less to protect their homes. Though if you live in Spokane, you might pay a bit more as Spokane home insurance costs around $1,048 per year.