Coming from the Choctaw words "okla" and "humma," Oklahoma roughly means "honored people." Those who choose to live in the state may feel that way living among the mountains, cities and waterways that make up the Sooner State.
Beyond the natural beauty of the Ouachita Mountains and the 77-foot waterfall located in Natural Falls State Park, there are also many unique activities for city dwellers to participate in. From watching the Oklahoma City Thunder score three-pointers, gambling at the Choctaw Casino or taking in a concert at Cain's Ballroom in Tulsa (also known as the "Carnegie Hall of Western Swing"), the diverse menu of activities in the state attracts many different types of people.
With so much to do and see, it makes sense that people may want to settle down in Oklahoma. That's why we've prepared a guide to home insurance for Oklahomans or those who want to learn more about homeownership in the state.
How much is homeowners insurance in Oklahoma?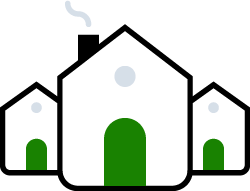 Oklahoma's average home insurance premium is $2,119, coming in at almost $1,000 more than the national average of $1,200 per year. Compared to the neighboring states of Texas and Kansas, Oklahoma's average is just lower than the Texas average of $2,128 and quite a bit higher than the Kansas average of $1,780.