With Summer 2021 officially beginning on June 21st and with COVID-19 guidelines starting to lift, it is expected to be a busy season. Whether you are planning to stay close to home or take the family for an adventure far from the four walls you have been staring at for the past year, Hippo wants to provide a few tips to our customers to safely enjoy the upcoming summer season.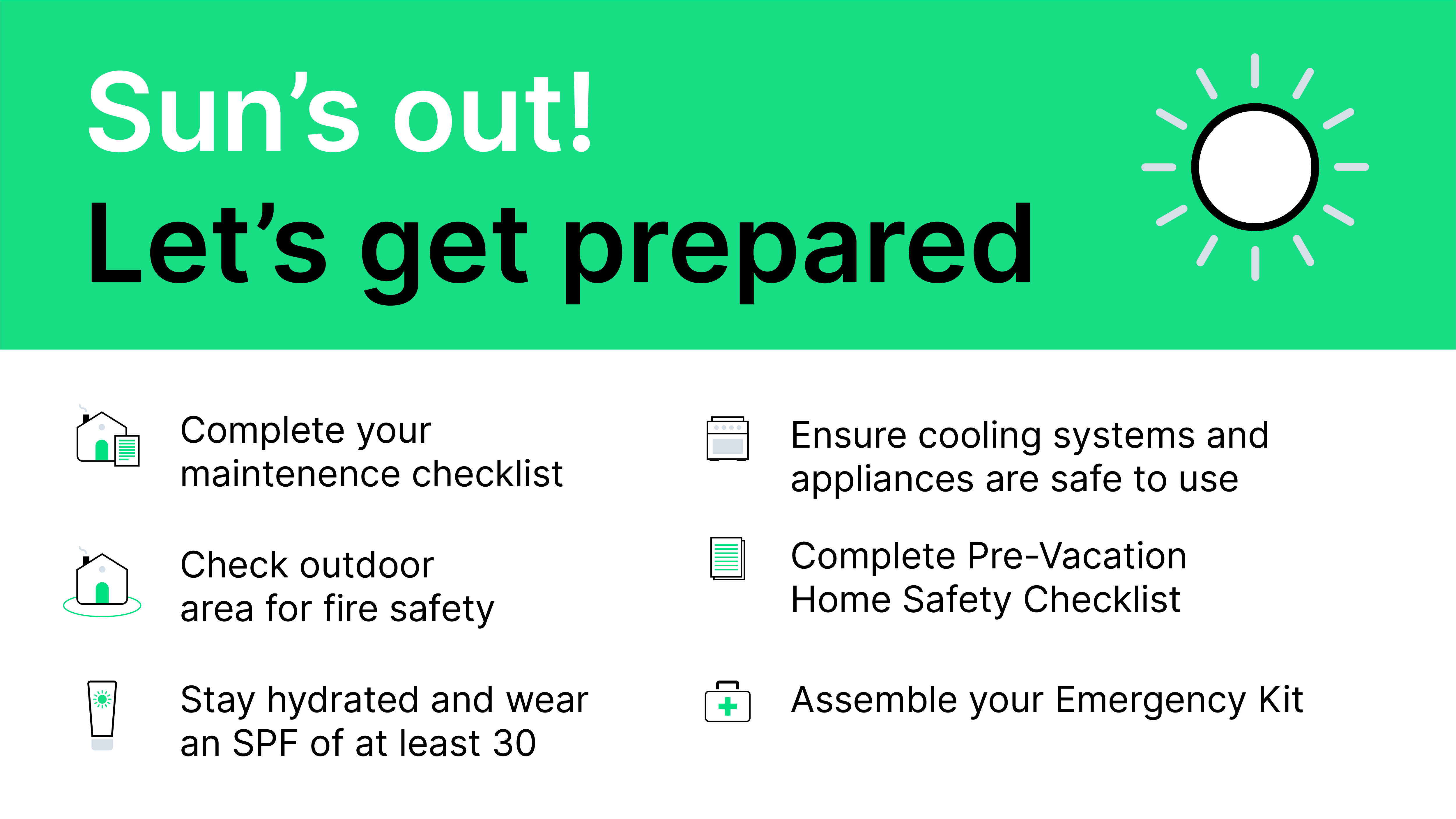 Summer Seasonal Maintenance
Any change in season is the perfect opportunity to break out a home maintenance checklist to set your home up for success from the very beginning of the season, so minor issues don't have a chance to become larger ones.
Coming out of the spring season can do plenty in and around the home, so take the time to walk and inspect your home thoroughly. This will give you a chance to organize, prioritize and delegate tasks to the family members or professionals you may be bringing in to assist.  
Home Sweet Home
People have done plenty to make their homes their sanctuary, especially after the year we have had, and with homeowners spending more time going in and out of their homes in the nice weather, it is even more critical to keep safety top of mind.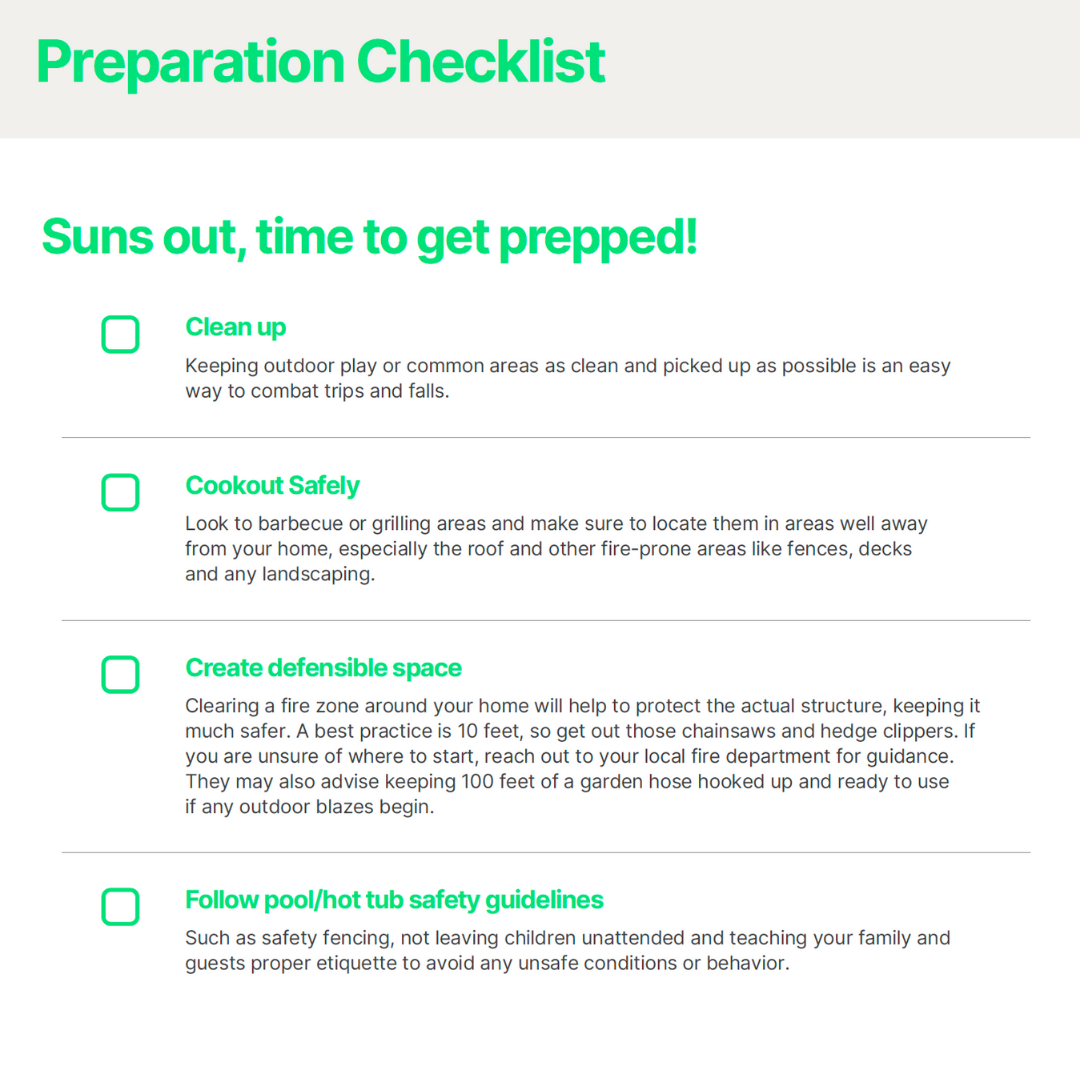 Get Active Safety
Spending more time outdoors means more sun exposure and risk of dehydration and/or sunburn. Make sure to have shady areas to keep cool, keep at least SPF 30 sunblock handy and always drink water. Temperatures are generally at their highest between 11 am and 4 pm, so be hypervigilant, especially during that time frame.
Summer storms are also a very real thing, so when those clouds start to gather, it is safest to begin packing away your outdoor items for protection. It is also important to wait at least 30 minutes after the storm has come and gone before you venture back out for any extended period.
AC/Fan Safety
Warmer temperatures mean that you will be needing to stay cool by using your packed away air conditioning and fan units. For your fans and portable air conditioning units, maintenance is pretty straightforward. Check that any filters are clean and whether they need to be replaced and check the power chords and plugs that they are in good condition and not worn or showing any damage.
If you have central air conditioning or an AC unit built into your home, it is best to have a professional out to inspect and service accordingly. Avoid injury or any hazards from attempting to do it yourself. It also assures an expert eye will pick up on any potential issue that a layperson may not see that could turn into a more significant problem as the unit sees more use during the season. 
Going on Vacation
No matter the length of your vacation, there are steps that you should take to assure the safety of your home while you are away.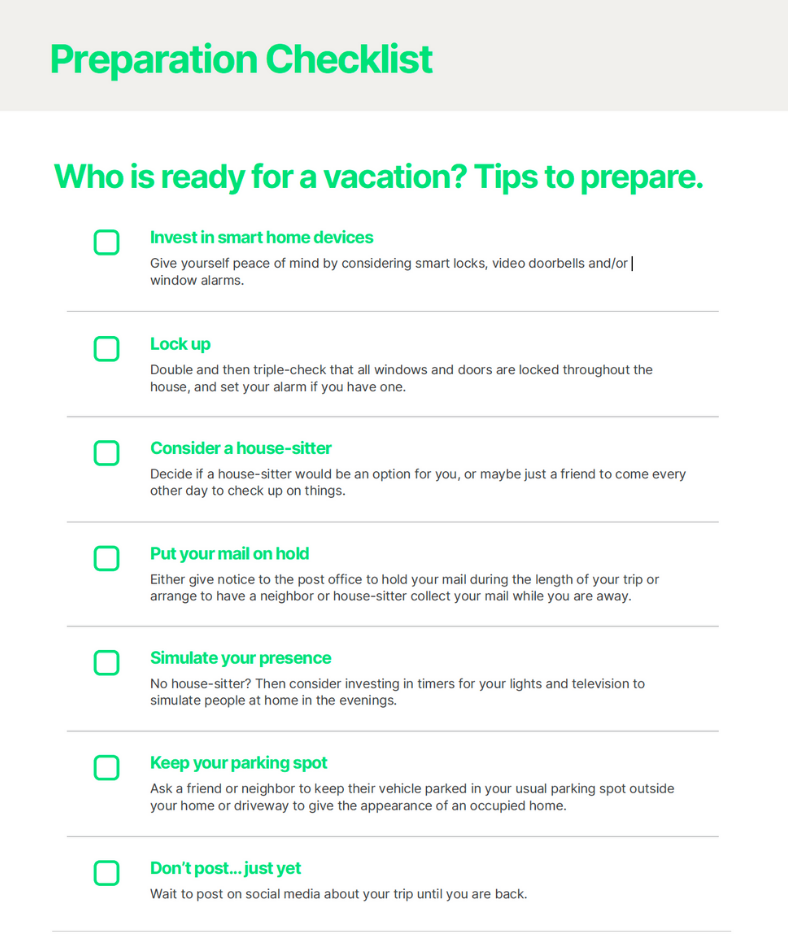 Make your Kit
Natural disasters are occurring at triple the rate they did 50 years ago. Do your best never to be caught off-guard by assembling an emergency kit, just in case. Chances are you most likely have some of the items together already, like a flashlight and a cell phone power bank, but take a peek at Hippo's complete Emergency Supply Kit to get everything needed organizing and easy to find. Bonus points for making an evacuation plan and practicing it.
Summer is a season of endless possibilities. Just make sure to carve out some time for cleaning and repairs — and fun too! While you may make most repairs yourself, some things are better left to the professionals. If you have a home insurance policy with Hippo, you can take advantage of our complimentary Hippo Home Care service to get the right professional to your door in a snap. Wishing your insurance company was like that? Switch to Hippo, and it will be.