Natural beauty and serene lifestyles are guaranteed in the Rocky Mountain state of Montana. Known as "Big Sky Country," Montana provides remarkable views of open landscapes and tons of fun and engaging outdoor activities to do year-round. From hiking and biking to rock climbing and jet skiing, residents will almost always have something to do in their free time. So it's no surprise that more and more people are flocking to this hidden gem. 
Regardless of whether you're trying to find protection for a new home or your current one, we're here to help you through the process. Right now, Hippo is working on reaching Montana as fast as possible, but in the meantime, we've created this ultimate guide to Montana home insurance to help ensure you get the coverage you need for the home of your dreams. 
How much is homeowners insurance in Montana?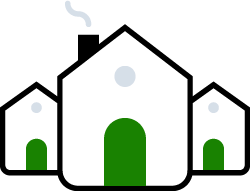 The average cost of a home insurance policy in Montana is $1,319, a 10% increase from the national average of $1,200. This is cheaper than most REI mountain bikes and around the same price as purchasing hiking equipment for a family adventure to explore one of the 66 trails available to nature enthusiasts. 
Neighboring states have varying insurance prices, with Idaho and North Dakota being $890 and $1,408, respectively. Why the price difference? The cost of homeowners insurance can change based on the state's natural disaster risk level since insurance providers adjust policy costs based on the risk of potential damages. For example, Montana is at a greater risk for destructive weather conditions such as tornadoes and wildfires.