In the last couple of years, we've seen a boom in smart home devices. Today, they've become must-haves for homeowners looking to monitor their homes, protect their kids or have smarter kitchens, among other things. In fact, there are over 52.2 million smart homes in the United States in 2021.
With that said, there are some smart home devices that many homeowners may not think about immediately, including smart bathroom technology. Smart bathroom gadgets can offer convenience, safety, reduced waste and improved health, along with lower sticker prices. Below, we cover 15 of the best smart bathroom accessories to add to your home.
What is a smart bathroom?
A smart bathroom connects with your smart home devices (including smartphones and voice control devices) to provide you with complete control and customization of your bathroom experience. You'll be able to use features like personalized temperature control and bath fill control options, just to name a few. The NKBA Design Trends 2021 report found that areas for device charging, bidets and smart toilets are leading the pack in terms of popular smart bathroom additions. Smart toilets, which we'll explore below, seem to be on the top of most peoples' lists.
Convenience, security, and savings are the main benefits of smart bathrooms. In a survey we conducted, 46% of respondents answered that they use smart home technology for convenience, 15% use it to lower utility bills and 16% for security. And that's a smart move considering that plumbing leaks are more common than break-ins. Another plus? Smart bathrooms can also save you money on insurance premiums.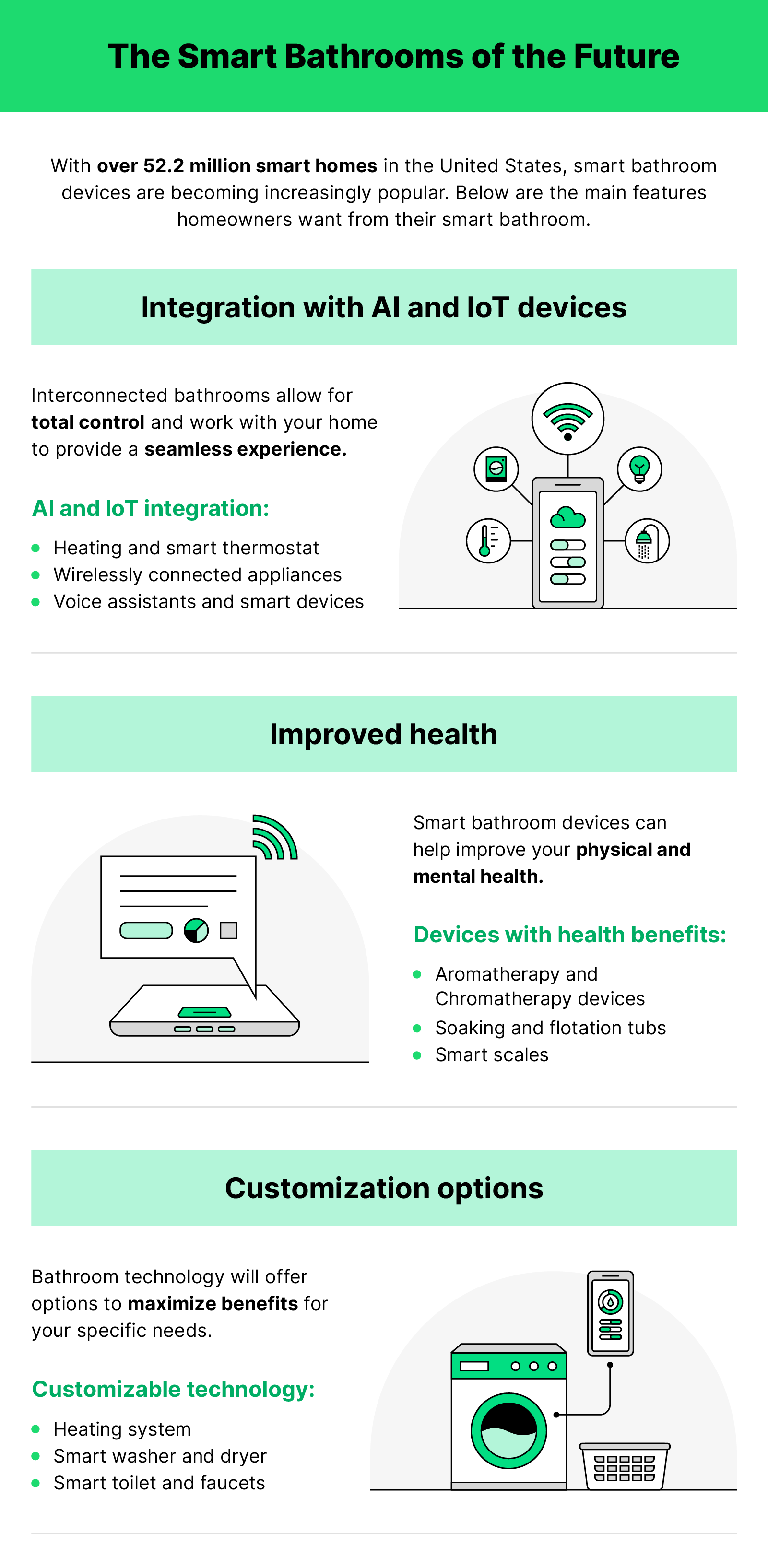 The future of getting clean: top smart bathroom devices
Bathrooms of the future are smarter, cleaner, and sleeker. The biggest smart home trends are integration with AI and IoT devices. These can benefit our mental health and overall well-being and have additional customization choices. Here are some of the top tech options you can expect to see in bathrooms of the future.
1. Smart toilets
In December 2020, Realtor.com® and YouGov surveyed more than 2,000 Americans and found that smart toilets are the most wanted devices when it comes to renovating a bathroom. Many smart toilets have features like seat warmers, touch-free automatic lids, night lights and even speakers for your favorite music. You know, in case you want to listen to ABBA while you're doing your business.
Smart toilets are more compact and better designed than traditional toilets, so they take up less space. They're also more hygienic since they're touch-free and many toilets are self-cleaning. 
Smart toilets carry an initial higher price tag ranging from $2,000 to $13,000. You might think that's a big upfront cost, but these devices are worth the investment. Smart toilets can reduce the risk of overflowing and detect water levels to only use the amount of water needed, saving you on your water bill.
2. Interactive LED mirrors
An interactive LED mirror (or smart mirror) has a built-in display for things like time, traffic reports, weather forecasts, news updates, reminders and appointments. You can ask your mirror questions and control other smart devices in your home. That's in case you wanted to know about how to make a cake while you're brushing your teeth. An interactive LED mirror gives your bathroom a futuristic look and makes your morning routines enjoyable.
Many consumer electronics and furniture brands (like iHome, Bath Knot and HiMirror) sell interactive mirrors and, depending on the size and features, can cost between $1,000 and $2,000. Whether you need personalized help with your skincare and makeup or you want to streamline your morning routines and plan your day while in the bathroom, a smart mirror is a must-have.
3. Adjustable privacy glass
Adjustable privacy glass allows you to change between transparency and opacity in your bathroom windows. The glass has a natural opaque look and blocks vision for total privacy, but it lets natural light pass through. You can change your glass from clear to frosted or set automatic controls using your smartphone or voice assistant.
Adjustable privacy glass can give your smart bathroom a sleek and modern feeling, plus add privacy, versatility, energy efficiency (thanks to the better use of natural lighting) and more hygiene than traditional privacy options like curtains (since it's easier to clean). Need to stay connected even as you brush away your morning breath? Set the glass to opaque and connect via bluetooth to project TV shows and news straight from your phone. You can buy adjustable privacy glass from manufacturing companies like Smartglass, usually priced between $85 and $130 per square foot.
4. Smart shower
A smart shower allows you to set the water temperature, flow rate, shower duration and more through a smart device of your choice. The main benefits of smart showers include consistent water temperature, more safety, remote control and water and energy savings. These showers use a thermostat to keep a steady water temperature and prevent sudden changes. They also have limits on how hot the water can get to prevent you (or your kids) from getting burned with hot water. 
Smart showers can save you about 3% of your monthly water usage — for example, EvaDrop claims that its smart shower can save you up to 50% of water. You'll also save on the energy used to heat the water. You can purchase a smart shower from brands like Moen, Kohler or SmarTap, and the price can vary from $300 to $2,000 or more, depending on the features and number of shower valve outlets. Keep in mind that the price usually doesn't include showerheads, installation or materials if you're remodeling.
5. Chromatherapy lights
Color plays a vital role in the way we think and feel. Each color addresses a physical need we have, so they can help get you in the right mood for your bath. For example, orange can make you feel happier and more energetic, while blue can make you feel calmer and more relaxed. The good news is that you can control this through chromatherapy, which is the use of colored lighting in your bathroom. 
Chromatherapy lights are high-intensity LED lights you can control digitally (usually with a simple remote control) and change the setting you want (for example, romantic or relaxing). Most devices come with multiple color, intensity and brightness options. Long day at work? Or just a long day in general? You can combine chromatherapy lights with aromatherapy, sound therapy, thermotherapy and hydrotherapy to create a relaxing spa experience right in your bathroom.
6. Floor heating system
Floor heating systems (also called radiant floor heating) use thermal radiation to generate heat to keep your feet warm all winter long. With radiant floor heating, you'll feel the heat sooner than with a traditional radiator and at a more controlled temperature. Additionally, the temperature will be more comfortable, and you'll feel it throughout the entire bathroom.
Radiant floor heating is more energy-efficient than a traditional heating system because it requires little electricity and a low temperature to make the bathroom warm (which will significantly reduce your energy bills). It will also free up space on the wall if you're replacing a traditional radiator. You can purchase a radiant floor heating system at a floor heating system retailer like WarmlyYours or Warmup for $10 to $12 per square foot.
7. Smart scale
If you're looking for more ways to focus on your health, a smart scale can make it easier to track your fitness and wellness goals. A smart scale measures your weight and tracks information about body composition, such as body fat percentage, muscle mass, resting heart rate, water percentage and bone mass. What's more, smart scales can track and store data. They also sync with other smart devices like fitness trackers or smartphone apps.
Many fitness and technology brands like FitTrack, Wyze and Renpho sell smart scales. The average cost of a smart scale is between $40 and $60, making this one of the cheapest smart bathroom upgrades available. 
8. Smart faucets
Smart faucets use temperature gauges and efficiency sensors that allow you to control water usage in your bathroom and preheat or cool water based on your specifications before the faucet turns on. This reduces the amount of wasted water and improves efficiency and savings. Thanks to the hands-free feature, you'll also lower the number of germs being spread when you wash your hands.
Smart faucets may not have all the advanced features of other smart bathroom devices, but they're a cheaper option to reduce water and money waste. There are many smart faucet options available at furniture retailers like Delta Faucet, iTouchless and Home Depot, with prices varying from $40 to $2,000. 
9. Floatation tub
A floatation tub (also called float tank, flotation tank, or isolation tank) is a lightproof and soundproof tank of saltwater heated to skin temperature where you will float completely, thanks to Epsom salts. These salts won't just make you float — they also bring benefits like stress relief, detoxification and relief from aches and pains.
You'll be free from gravity and all stimula­tion from the outside world, and you'll get into a deep and complete state of relaxation known as sensory deprivation — involving the removal of stimuli from the senses — that will make you drift into a state of meditation. Research shows that floatation tubs can lead to clearer thoughts, a must-have if you want to let it all hang out after a tiring day. You can purchase a floatation tub for $2000+, depending on the type and features.
10. Smart water assistant 
A smart water assistant is a water monitor that helps you save water and money and integrates with voice assistants for easy control. This tool also enables you to avoid leaks in your home. Not only will it provide detailed insights into how you use water in your home, but you'll also get regular reports, so you're aware of your water usage. Plus, when a leak is detected, you'll get an SMS or push notification to address it quickly.
Smart water assistants can also identify hidden flaws like poor sealing and problems in your water system. Some also have features to avoid frozen pipes by sending you warnings in advance. Depending on the features you need, you can buy leak detectors from consumer electronics companies like Belkin, Samsung, Fibaro and Honeywell for $30 to $800.
11. Water recycler
A water recycler recycles up to 95% of the water from your shower, bath, washing machines and air-conditioning and reuses it for toilets, garden irrigation and swimming pools. Not only does it provide enormous environmental benefits, but this smart device is also a profitable investment and will surely pay off the upfront cost in time. A water recycler can save you up to 45% on tap water and 45% on wastewater and contribute to keeping water supplies stable. You can buy a water recycler at water recycling systems specialized companies like Hydraloop for $4000+.
12. Smart washer and dryer
A smart washer and dryer connects to the internet and your other smart home devices to provide a superior laundry experience. You can start and stop wash cycles or choose and adjust settings directly from your smartphone. You'll also get push notifications when a cycle is ready or when the machine needs maintenance or repair.
Smart washers and dryers can have features like auto-dosing, which automatically detects the right amount of detergent needed, they can monitor energy consumption and the ability to auto-run cycles during off-peak hours. Smart washers and dryers are available at most consumer electronic stores for about $1,000. If you consider that a traditional all-in-one washer-dryer unit costs between $700 and $2,000, getting a smart device that makes your life easier and helps you save water, energy and money is a no-brainer.
13. Aromatherapy diffuser
Aromatherapy is a healing treatment that uses natural plant extracts to improve your physical and mental health. Today, you can do this therapy at home with an aromatherapy diffuser, which diffuses essential oils to create the perfect spa-like experience right in your bathroom.
Unlike traditional devices, smart aromatherapy diffusers provide a deep and consistent experience and let you use smart devices or voice commands to control LED lights, time and intensity. You can purchase a smart aromatherapy diffuser from brands like Moen, BondiWash, Sierra Modern Home and MrSteam for $50 to $200.
14. Smart thermostat
Smart thermostats allow you to remotely adjust the temperature in your bathroom and help you save on your energy bills. This smart device understands if you're at home and analyzes your temperature preferences over time. With this information, it can adjust heating and cooling and maximize energy consumption efficiency.
Studies have proved that a smart thermostat can save you between 10% and 12% on heating costs and up to 15% on cooling costs. You can buy a smart thermostat from brands like Nest, Wyze and Mysa for $100 to $300. First, verify that you have a dedicated C (common) wire and your home has a high-voltage heater — this will ensure that your smart thermostat can work appropriately.
15. Soaking tubs
Looking to create a relaxing bathing experience at home without spending an arm and a leg? A soaking tub is a freestanding bathtub that fully covers your body with water. Not only will this help you not only relax after a tiring day, but bath therapy brings many health benefits, including relief from chronic pain, skin detoxification and even improved heart health.
The most popular models are about $900, but you can find some for about $600 at bathroom vanity retailers like QualityBath. You can add a combination of smart bathroom features, including chromatherapy lights, aromatherapy, sound therapy, thermotherapy and hydrotherapy systems, for the ultimate relaxation experience.

In the years ahead, smart bathrooms will only become more common. Most new homes are already equipped with smart bathroom devices connected to voice assistants. If you choose to create a smart bathroom of your own, be sure to let your home insurance provider know about your remodels since that could lower your premium and help you pay less on your homeowner's insurance in the long run. 
Just like smart bathroom tech, we're here to make your life easier. If you choose to install some of these devices, make sure they're fully protected and take advantage of any rewards. Hippo provides smart home kits with policies to help you save up to 25% on your annual premium. Plus, we offer four times the coverage on your smart bathroom devices to make sure your bathroom oasis is fully protected.