In the hit show WandaVision on Disney+, Wanda and Vision are thrown into a different decade each episode. As their home changes around them to reflect the trends of the time, you may have noticed more and more technology seeping into their kitchen as the decades pass.
The same can be said for homes of us mere mortals, as recent advances in technology have made our kitchens smarter than ever before. Though your home may not change as frequently as Wanda and Vision's, when looking back, kitchens really have changed drastically over the years.
The history of kitchen technology
Kitchen technology has always been at the forefront of consumers' minds. After all, who doesn't want to reduce the amount of work they have to do in the kitchen? While rudimentary versions of things like refrigerators and toasters were invented in the early 1900s, they didn't come to reflect the items we know and love today until the 1930s and '40s. 
Since then, these devices have become smarter, sleeker and more energy-efficient. In fact, you might not even recognize these same devices from just a few decades ago, as technology has come a long way in recent years. While your devices might seem futuristic now, there are a lot of changes poised to take over your kitchen in the years to come.
High-tech kitchen trends
The kitchen is known to be the focal point of the home. Not only is it a place to care for and feed your family, but it also serves as a hub to spend time together over a home-cooked meal. Similarly to upcoming smart home trends, consumers can expect to see their kitchens taking on more tasks for them moving forward, from disaster preparedness to total integration and automation.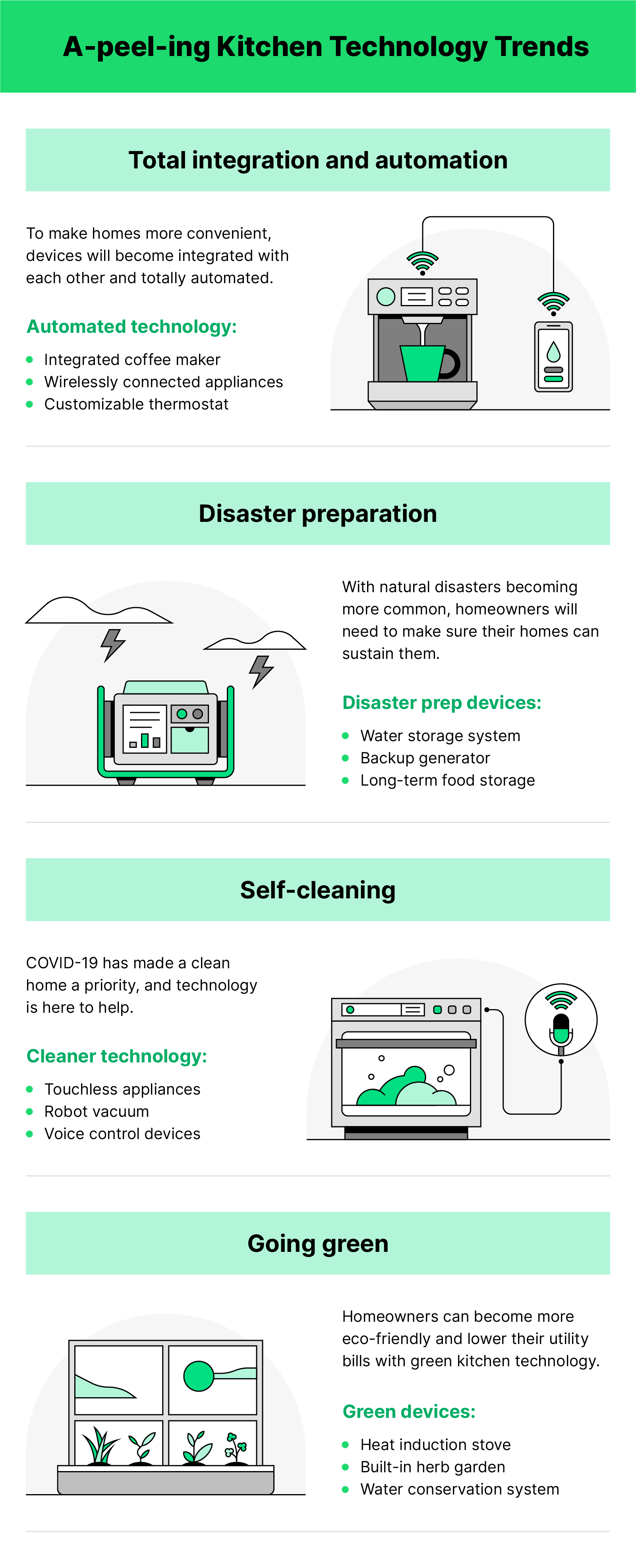 Total integration and automation
As families have transitioned to fully remote work and school this past year, they may have found that their home was lacking when it came to adequately caring for their needs. In homes of the future, however, this problem will be a thing of the past. Total integration of all smart home devices means homeowners will be able to control every device from their phone, and these devices will even be able to communicate with each other to complete tasks.
"A sought-after smart device that people look for in their kitchens is an integrated smart coffee maker," says Aaron Cambden of Fairview Estates. All consumers have to do is set a time for their brew, and the coffee maker will get the necessary water from the sink and have their brew waiting for them when they need it. 
"This kind of automation means that your life is just a little easier," says Cambden, "and [it's] one less thing that you have to think about [during] your busy morning."
To make a home truly smart, however, these devices will need to become flexible. Homeowners' needs can vary widely, so devices that can be customized will be the most popular in years to come. Homeowners should expect to see more devices with artificial intelligence and settings to customize to fit their families' needs.
Disaster preparation
The increasing temperature of our planet means that natural disasters are becoming commonplace across the country. Because of this, homeowners are looking to be prepared for whatever comes their way. Whether it's a winter storm or a hurricane, homeowners may need to be able to survive in their homes for an extended period.
To prepare, many are turning to their kitchens for support. Devices such as water storage systems, backup generators for refrigerators, long-term food storage areas and solar water heaters have become popular for this very reason. While looking to the future, new builds will likely have some of this technology directly integrated to make sure these new homes are meeting homeowner desires.
Self-cleaning
The coronavirus pandemic has changed our homes in many different ways, but perhaps none are more important than keeping homes cleaner than ever before. Homeowners should expect to see more tech like touchless appliances, robot vacuums with built-in mops and more voice control integration. We even spoke with smart home experts who agree that kitchens of the future will reflect this trend.
"As a result of COVID-19, homeowners are spending more time at home and are staying mindful of frequently touched surfaces," says Mitch Klein, Executive Director at Z-Wave Alliance. "Smart home technology enables consumers to have touchless access and control from pre-programmed settings on their mobile device or through voice commands."
This technology means homes will become safer (especially during high-risk times like the holiday season) for families of all kinds as well as more convenient — all thanks to smart home automation.
Going green
In addition to preparing for the natural disasters caused by climate change, many homeowners are also prioritizing doing what they can to reduce their environmental footprint. A greener kitchen is expected to be one of the next decade's biggest trends, with appliances and overall design trends becoming more sustainable and efficient.
Devices like energy-efficient appliances, heat induction technology, built-in herb gardens and water conservation systems will be huge in the coming years. In addition to helping the environment, homeowners will be excited to know these devices will also help reduce their utility bills.
Devices to expect in kitchens of the future
While homeowners will likely see many new devices for their kitchens hitting the market in the coming years, there are a few devices that stand out from the pack. Below we break down eight high-tech devices catered to making your time in the kitchen as easy as pie.
1. Countertop projectors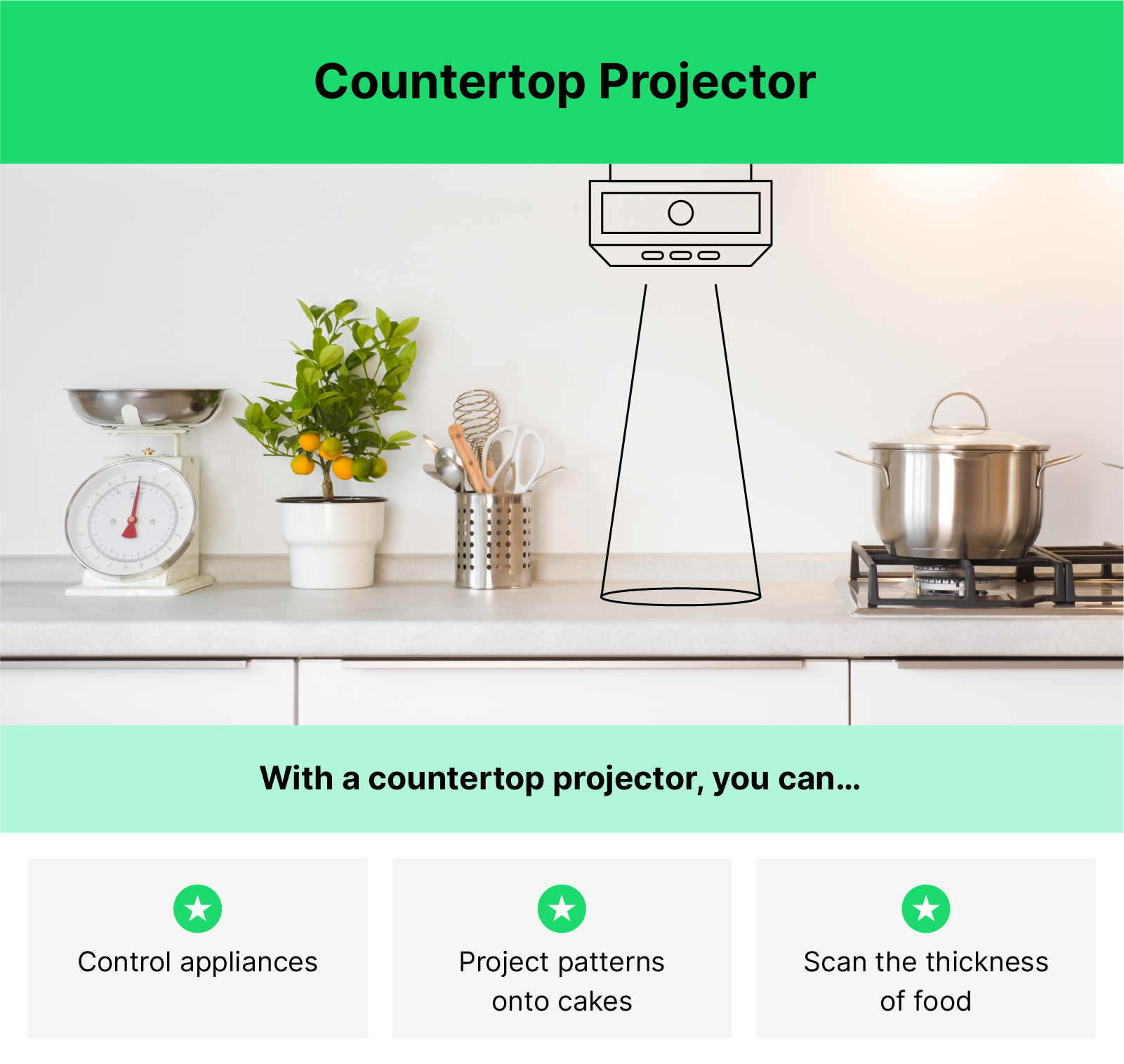 One of the most awe-inspiring devices on this list is a countertop projector. This interactive device allows you to control other appliances, scan the thickness of food, get tips on how long to cook items and even project patterns onto food to make decorating a breeze. And since it attaches to the underside of your cabinet, it doesn't take up any counter space while still improving how you cook, clean and even bake.
There aren't many versions of the countertop projector available in the US yet, even the most popular version, the Bosch PAI. However, you can snag something similar called the Puppy Cube (that includes plenty of games for kids) from Hachi for only $900.
2. Smart refrigerators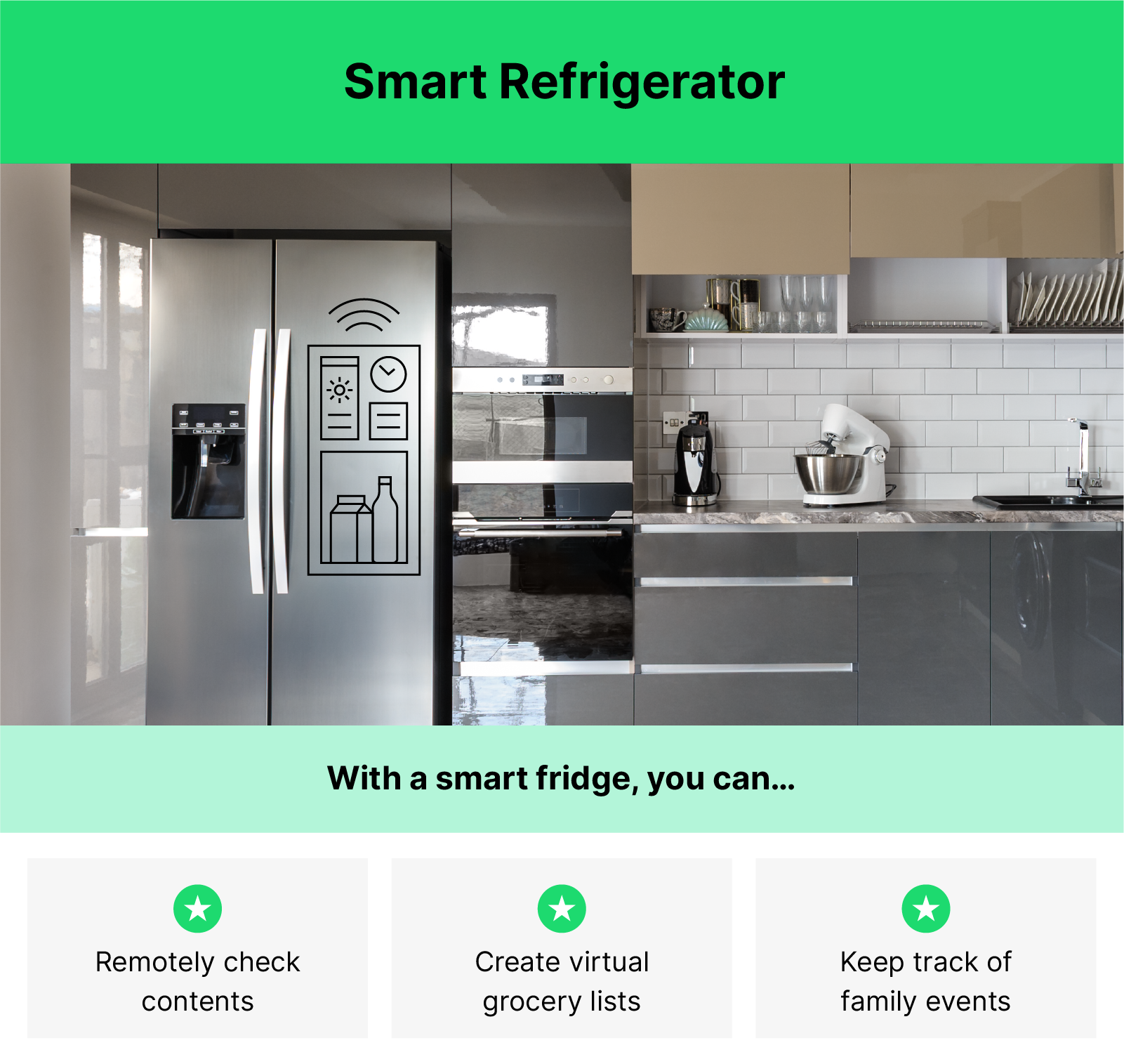 Refrigerators have changed a lot in the past few decades. What used to be a pretty static feature of kitchens around the world has transformed into an interactive appliance that helps keep families organized and well-stocked. Smart fridges feature screens to take notes, create grocery lists and keep track of upcoming events. They also have cameras inside to check on your inventory from the store and a smart assistant who can help you with ingredient swaps or measurement conversions.
3. Steam oven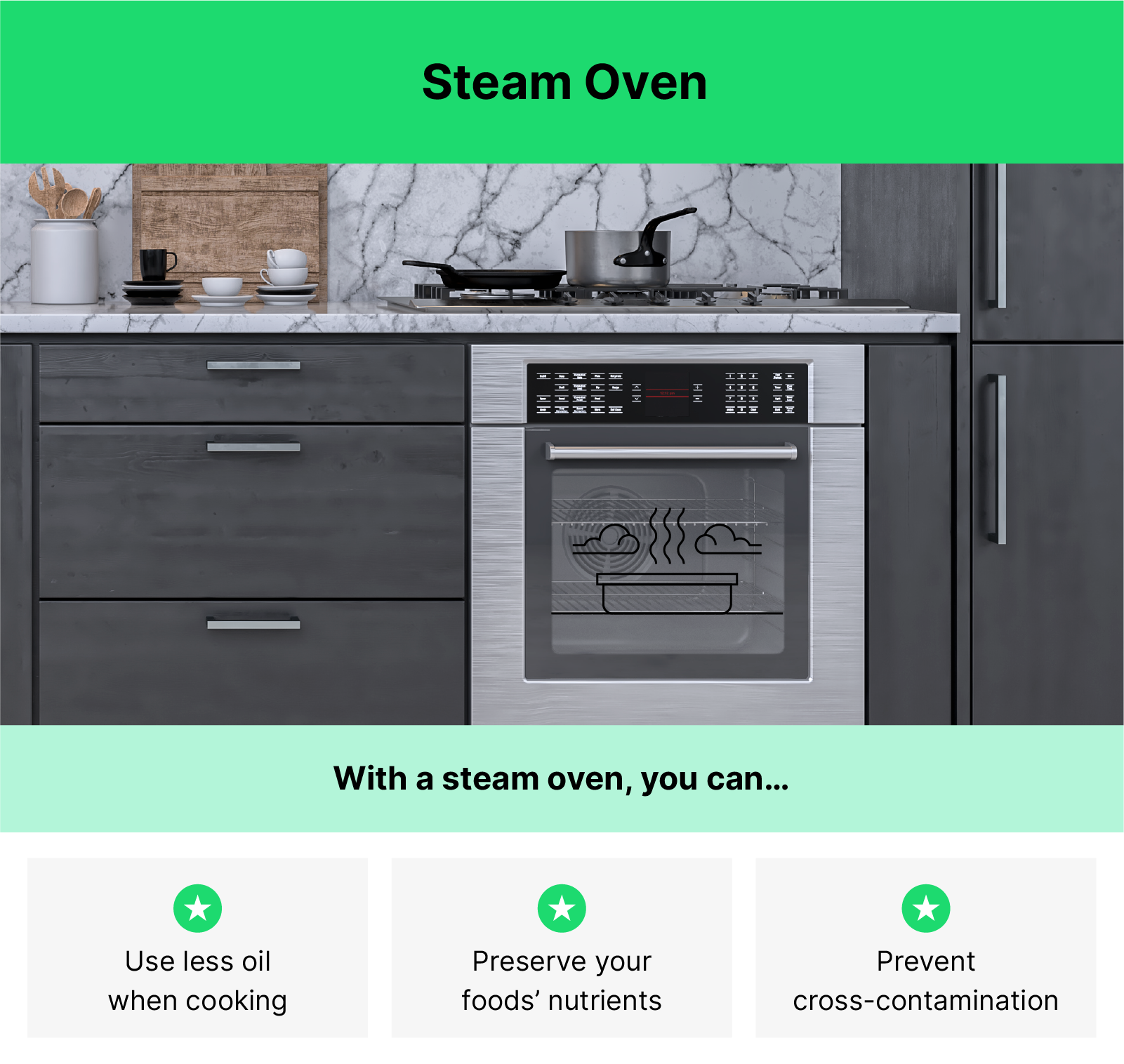 Home chefs are always looking for the latest and greatest device that will make cooking easier. The most recent invention in this category is the steam oven, which is likely to explode in popularity in the coming years. Steam cooking is a healthier alternative to other cooking methods like frying or baking while still providing great taste. Plus, most countertop versions, like the Anova Precision Oven, are compact and sleek, making an excellent visual addition to kitchens across the globe.
4. Smart scales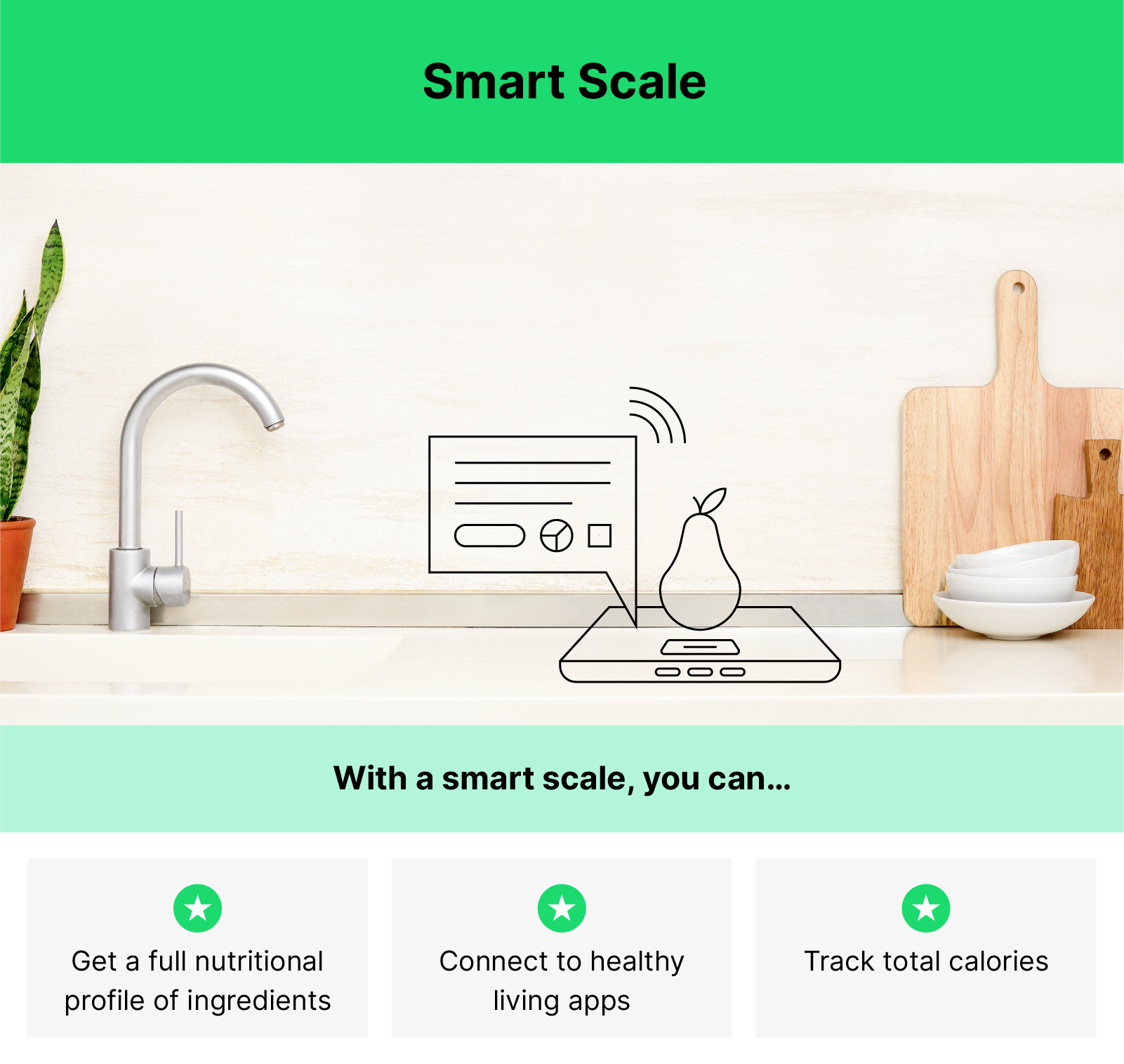 These days, scales do a whole lot more than help you measure ingredients. Smart scales not only tell you the weight of an item, but they can also break down its nutritional value, so you always know what you're putting in your body. Some even use Bluetooth to connect to your favorite healthy living apps to make sure you're on track to meet your goals. If you're trying to lose weight, try out the Smart Diet Scale to weigh your entire meal at once and connect directly with their nutritional app. But if you're looking for something more traditional, the Renpho Smart Scale will measure everything from coffee grounds to fruit down to the ounce.
5. Digital backsplashes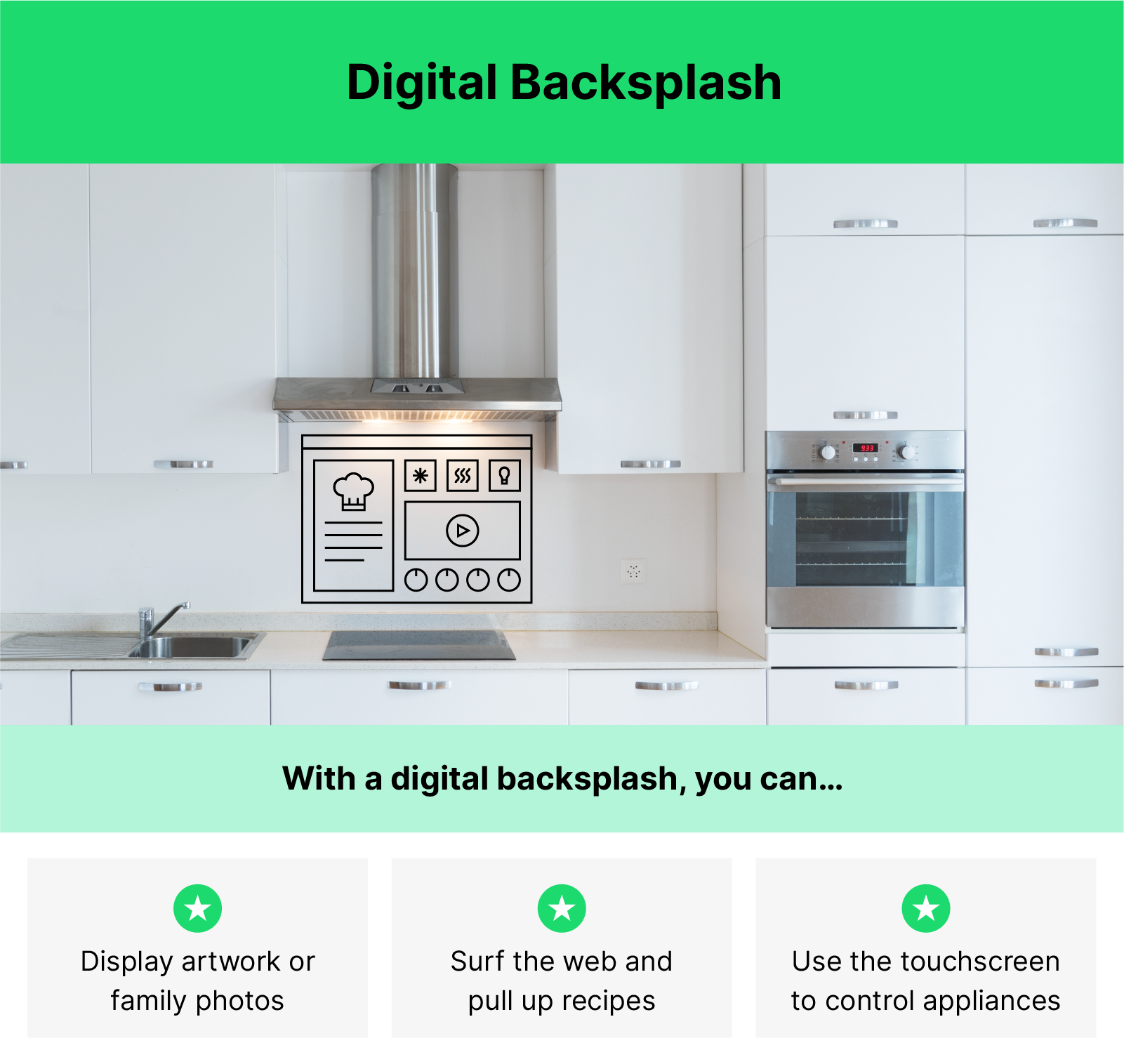 Soon, the days of tiled backsplashes will be long gone. In its place will be a wall-to-wall touchscreen display, allowing homeowners to watch TV, look up recipes and control their appliances from every corner of their kitchen. Plus, these digital backsplashes can display family photos or artwork when not in use to match individual consumers' aesthetics.
While this technology hasn't hit the market yet, homeowners' desire for a seamless and interconnected experience means digital backsplashes are sure to be a hit as soon as they're released.
6. Smart trash and recycling cans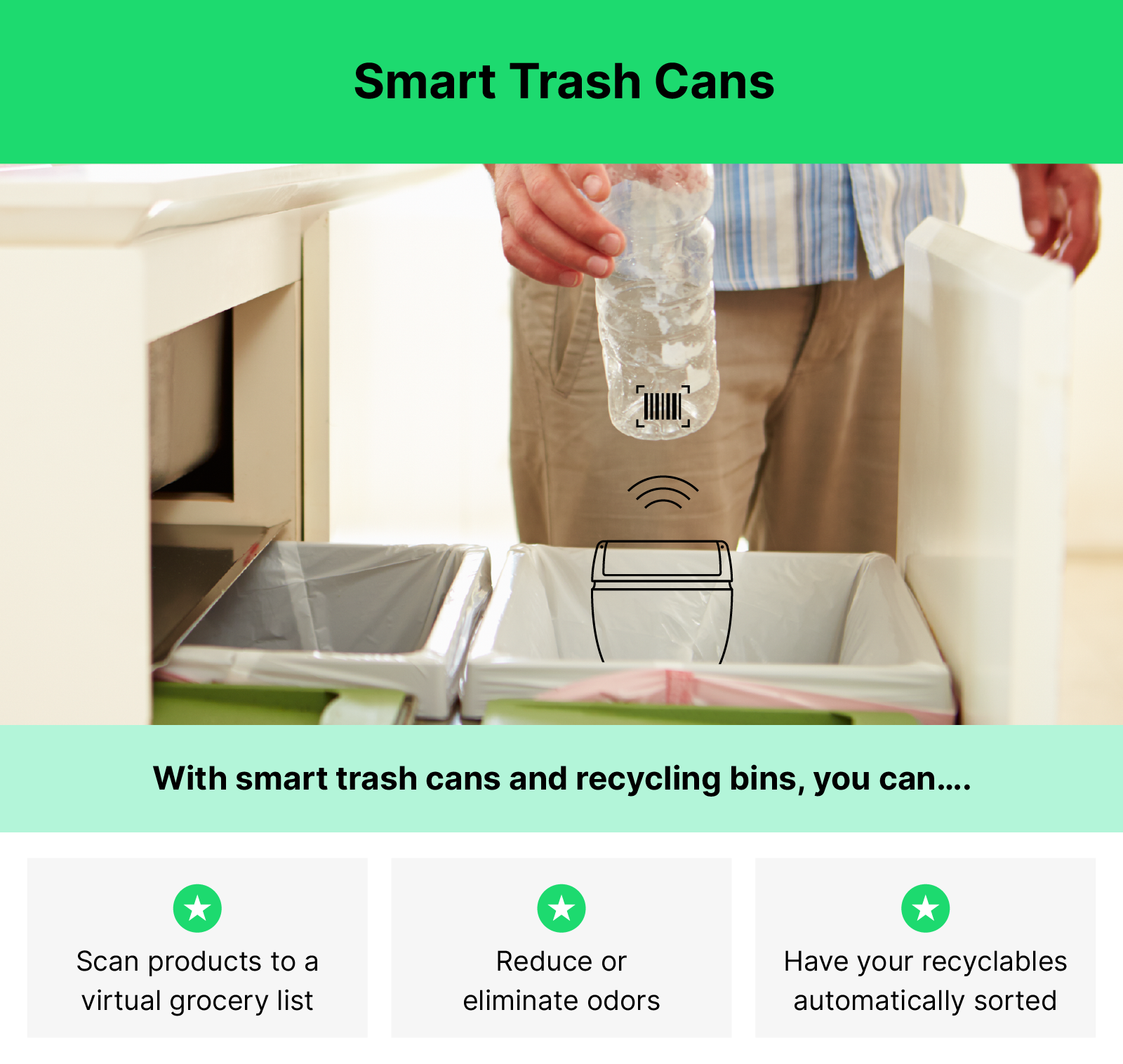 If your gut reaction to a smart trash can is to roll your eyes, you might want to reconsider. While it's true that seemingly everything is becoming "smart" these days, some of these upgrades are well worth the higher sticker price. Smart trash cans and recycling bins not only help reduce odors but can also scan the items you throw away. 
Trash cans attachments like the GeniCan will scan your products and add them to a list on your phone to let you know what to pick up more of at the store. Recycling bins will soon be able to scan and sort your items into the appropriate category for proper disposal.
7. Smart oven hoods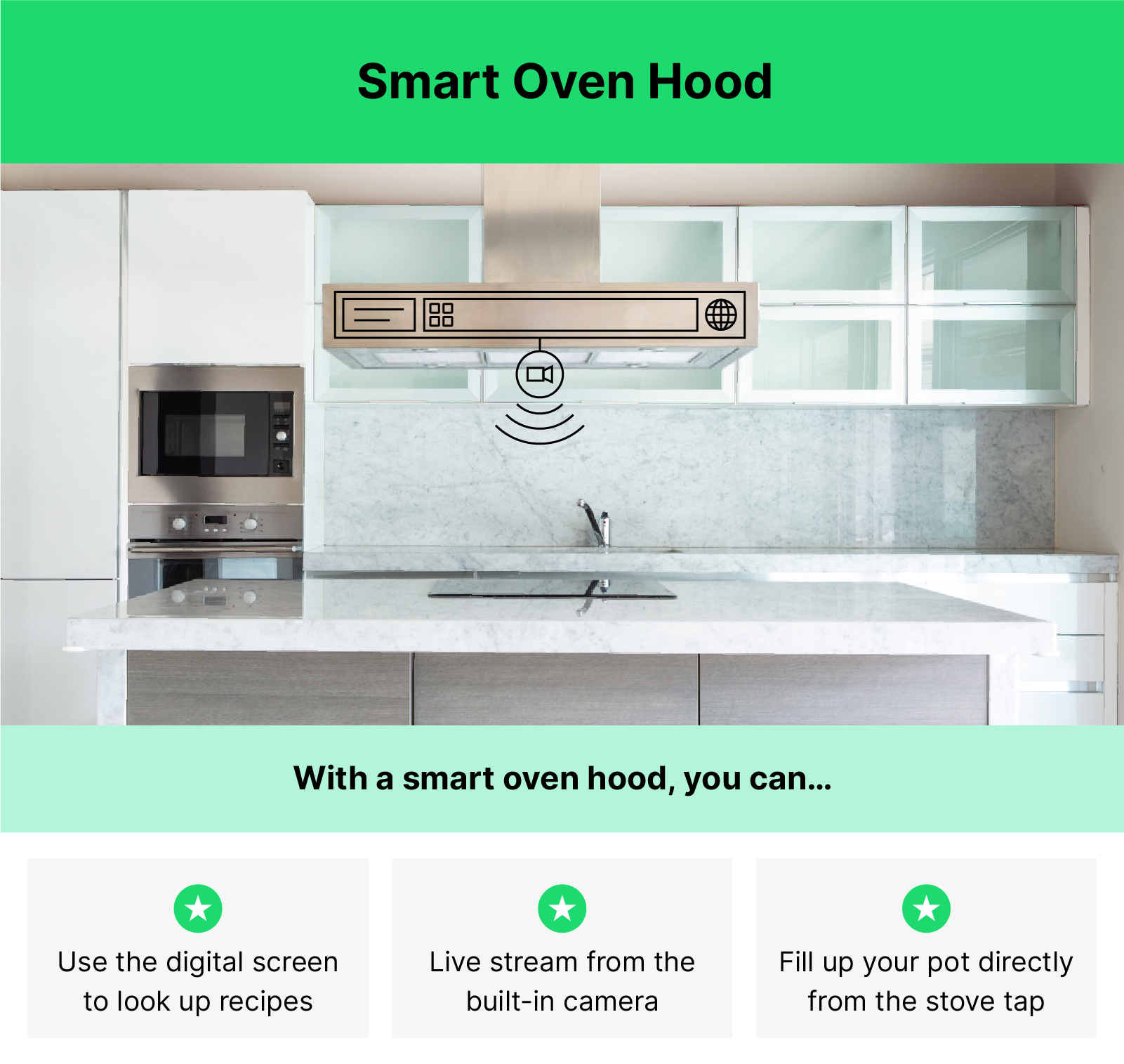 With everything else in your kitchen going digital, it's about time the oven range hoods got in on the action. Instead of just helping to circulate air and reduce odors, oven hoods will soon take on a lot more responsibility. These will include digital screens to bring all your favorite apps within reach and built-in cameras to live-stream your cooking skills with ease.
According to Mitch Klein of Z-Wave Alliance, stove taps are also likely to become more mainstream as well. "One thing that I find many buyers love is the addition of a stove tap or pot filler," Klien says. "These taps are situated just above the hub/stove so that you don't have to carry a full pot of water across your kitchen."
8. High-tech lighting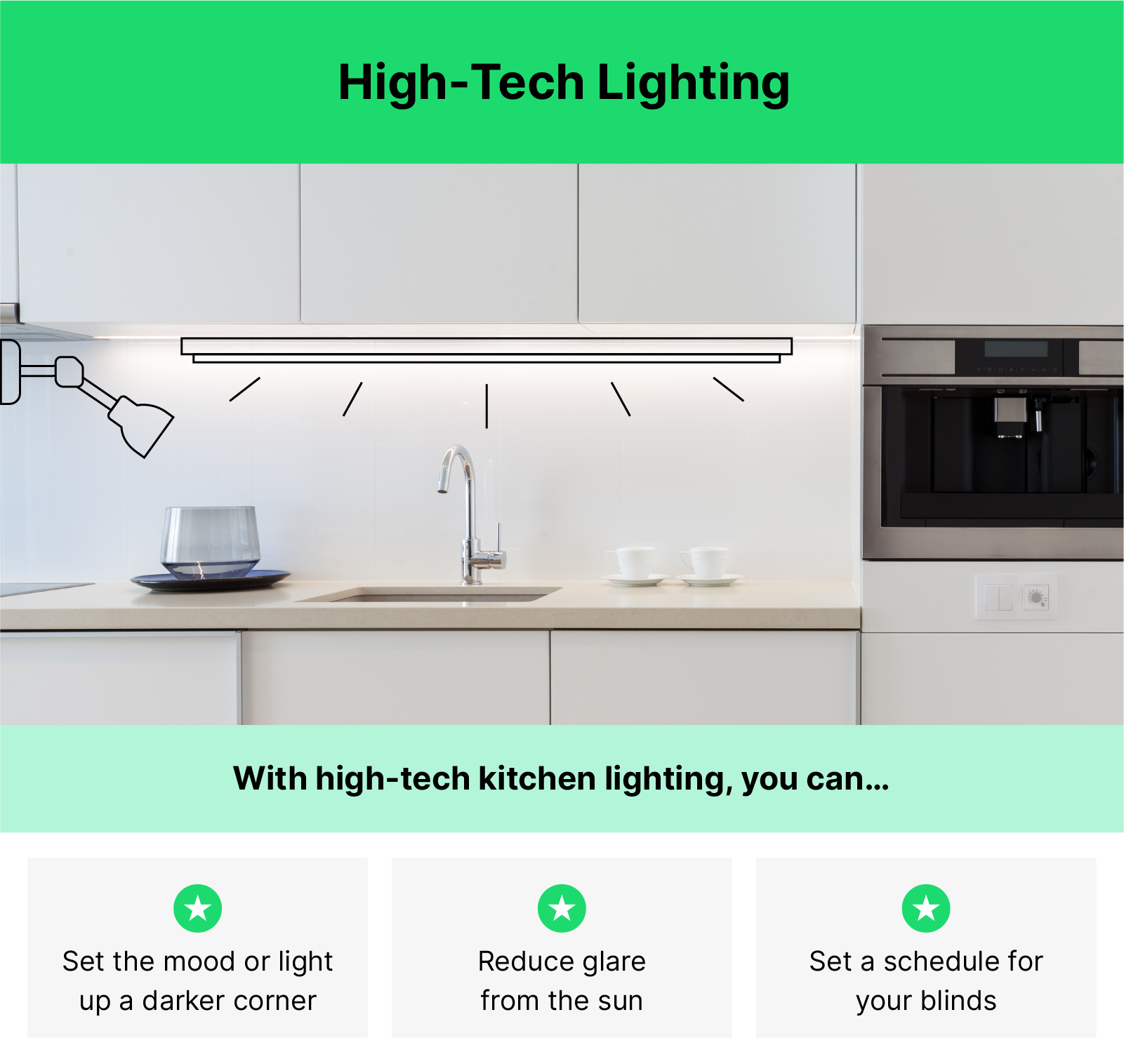 Smart light bulbs and plugs have been all the rage in the home technology industry because they're easy to install and allow for total customization. This trend will continue in kitchens of the future with high-tech mood and task lighting that comes automatically installed and can be controlled with just your voice.
According to Scott Stephenson, Director of Product Management at Hunter Douglas, that's not the only way kitchen lighting will be upgraded in the coming years. "With smart technology, windows and blinds can adjust automatically to reduce glare, let in sunlight, or darken a room based on a schedule to suit the homeowner's routines," says Stephenson. 

While you might not have a Stark Industries toaster sitting on your counter, that doesn't mean your appliances aren't worth protecting. Kitchen equipment will constantly evolve, and if you have a homeowners insurance policy with Hippo, you can rest easy knowing we will protect even the newest technology from whatever comes your way (except for Thanos, you'll have to call on The Avengers for help there).