As business organizations around the world embrace new work environments, homeowners are changing the way they view and experience their homes, turning them into offices, schools, and conference spaces. 
Now, with the hybrid work model growing in popularity, people need to be able to create functional workspaces at home, in the office and in other places. 
Because these terms are often used interchangeably, we want to define the small distinctions between some of the more common hybrid work environments: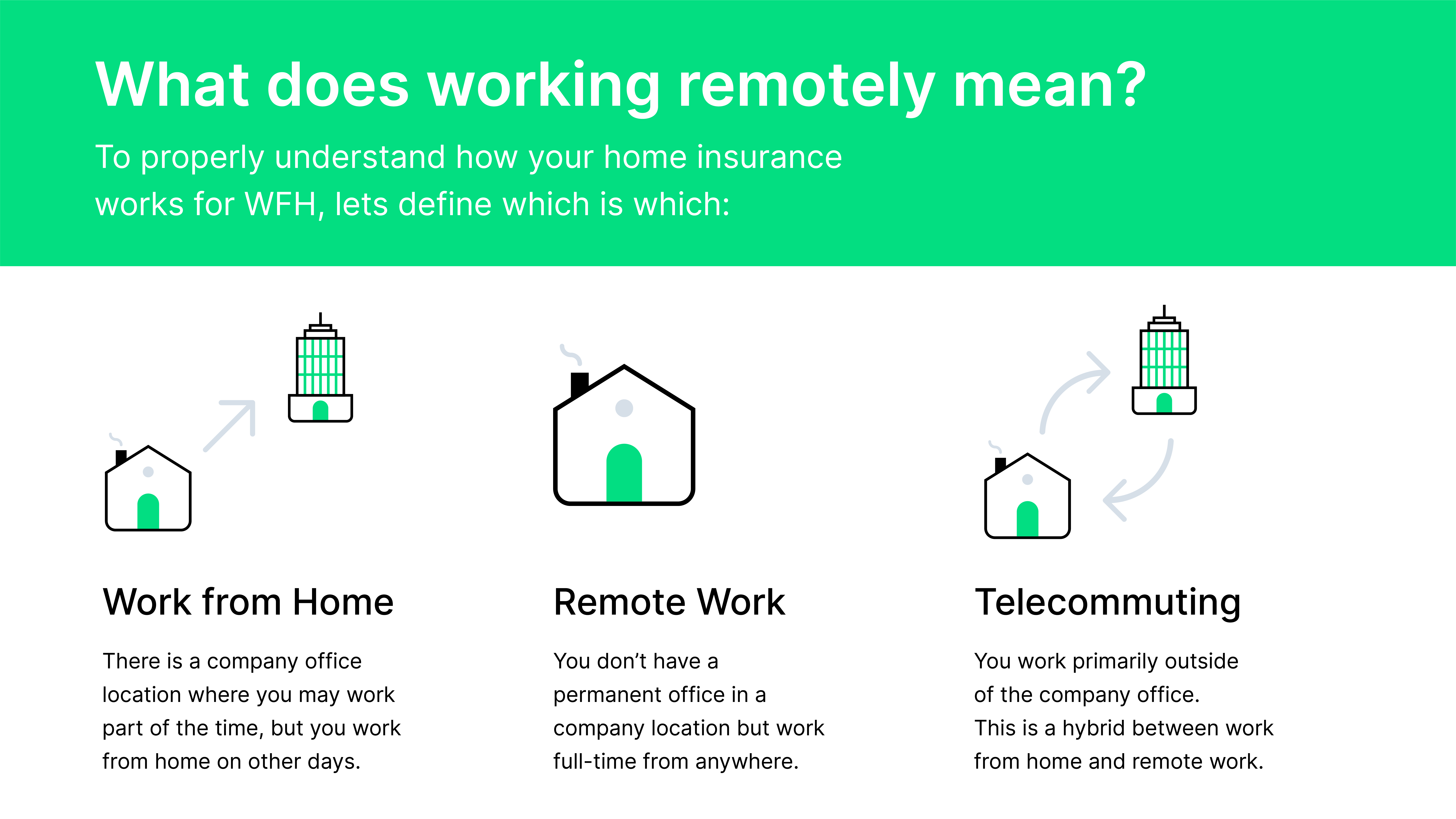 Changes in work and school environments
Advances in technology have made it easier than ever to telecommute or work from home, but remote work comes with unique challenges, too. Not only do you need the right equipment and space to work outside the office, but you also need to ensure you have proper coverage for your items and devices. 
Unless you were already working or taking classes from a home office, chances are you began 2020 working on your laptop from the best flat surface you could find. Surveys show that as the weeks and months went by, many people—especially homeowners—invested in items to make the "new normal" more comfortable and convenient. 
Here are the most common tech items added to home offices to create an environment conducive to productivity and a better work-life balance.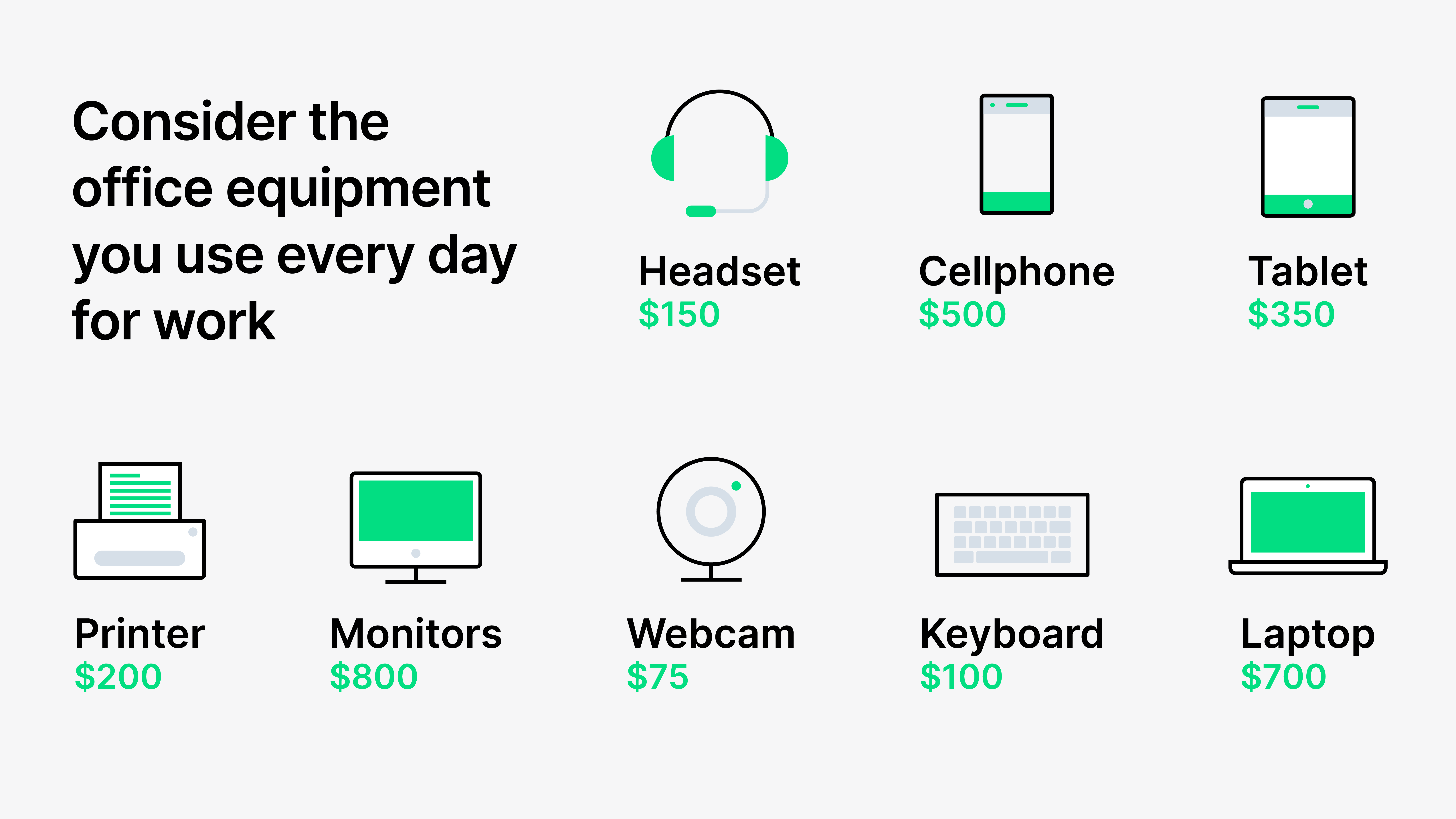 But how is everything covered?
Below you will find valuable information about how your home insurance policies can support you in working outside the office.
Business insurance at home 
Anyone familiar with working from an office knows that accidents—from tripping over a random file box to slipping on a freshly mopped floor—happen. Now, however, work-related accidents can happen at home. 
The good news is that if you're a full-time employee, your employer's business insurance policy will likely have liability insurance for you and commercial property insurance that covers business-owned equipment. In most cases, these types of insurance cover work-related injuries and damage to company equipment.
Even so, it's a good idea to check with your home insurance agent as well as your employer to fully understand the scope of your home insurance policy and your company's coverage—and to identify any gaps.
Insurance coverage for independent contractors and self-employed workers
If you're an independent contractor or self-employed person, you typically operate as a business owner. That means you're likely responsible for paying all your expenses out of pocket, including getting the correct insurance coverage to protect you, your equipment and any employees you have. 
If you used to work out of an office but have now relocated to doing business completely from home, a typical homeowners insurance policy likely won't adequately cover potential claims. You may also be at risk of voiding portions of your homeowner's policy.
This is why it's smart to get advice from an insurance professional on how to best protect yourself, your family, your home and any employees you may have.
Visitors, business equipment, and cybersecurity
At your employer's workplace, their insurance covers office visitors, business equipment and cybersecurity. When you work from home, the rules around these factors can be a bit murky. 
What if a client is injured while at your home, for example? What happens if a fire breaks out at the home office and your work-supplied laptop gets damaged? Or what if you lose proprietary company data because your software got hacked while you were conducting business at home? It's crucial to find out how your home insurance policy or your company's business insurance coverage would handle these various scenarios.
Don't wait to ask
Most people aren't chomping at the bit to talk about home insurance (unless you're us, because it's a Hippo's favorite thing to talk about), which is why it's important to find a home insurance company you trust. 
It's helpful to know that you can turn to your home insurance company when you have questions or concerns, especially as you acclimate to ever-changing work environments. Your home insurance company should care that you're properly insured for every possible scenario and will be excited to talk with you about your options.
At Hippo, we're constantly working to provide our customers with the most modern home insurance experience we can. That's why we offer 4X the coverage over your home's technology, in addition to complimentary smart home devices and free access to our Hippo Home Care division. Not only that, but our customer support team is ready and waiting to answer your calls. They're here to provide the guidance and support you need so you can rest assured that your home has the proper amount of protection—should you ever need it.