From the 2021 winter storms that left 69% of Texans without electricity to the recent wildfires in Maui that majorly impacted residential buildings and communities, extreme weather seems to be all around us. 
With these events headlining the news, anxiety about extreme weather has increased. In fact, our summer safety survey found that one in five homeowners have more anxiety about extreme weather this summer than last summer. 
To understand what homeowners are doing to calm these fears and the proactive measures they plan to take, we surveyed U.S.-based homeowners to learn how extreme weather has impacted their homeownership journey.
Key Findings
About 53% of homeowners did not research extreme weather events and their implications on home costs in their area before purchasing their homes.

About 46% of homeowners are concerned about setting aside savings for emergency repairs to protect their homes against extreme weather events.

Nearly 26% of homeowners spent more than $4,000 in the past 12 months on emergency home repairs.
Read on for an in-depth look at each of our findings.
More than half of homeowners didn't consider extreme weather before purchasing their home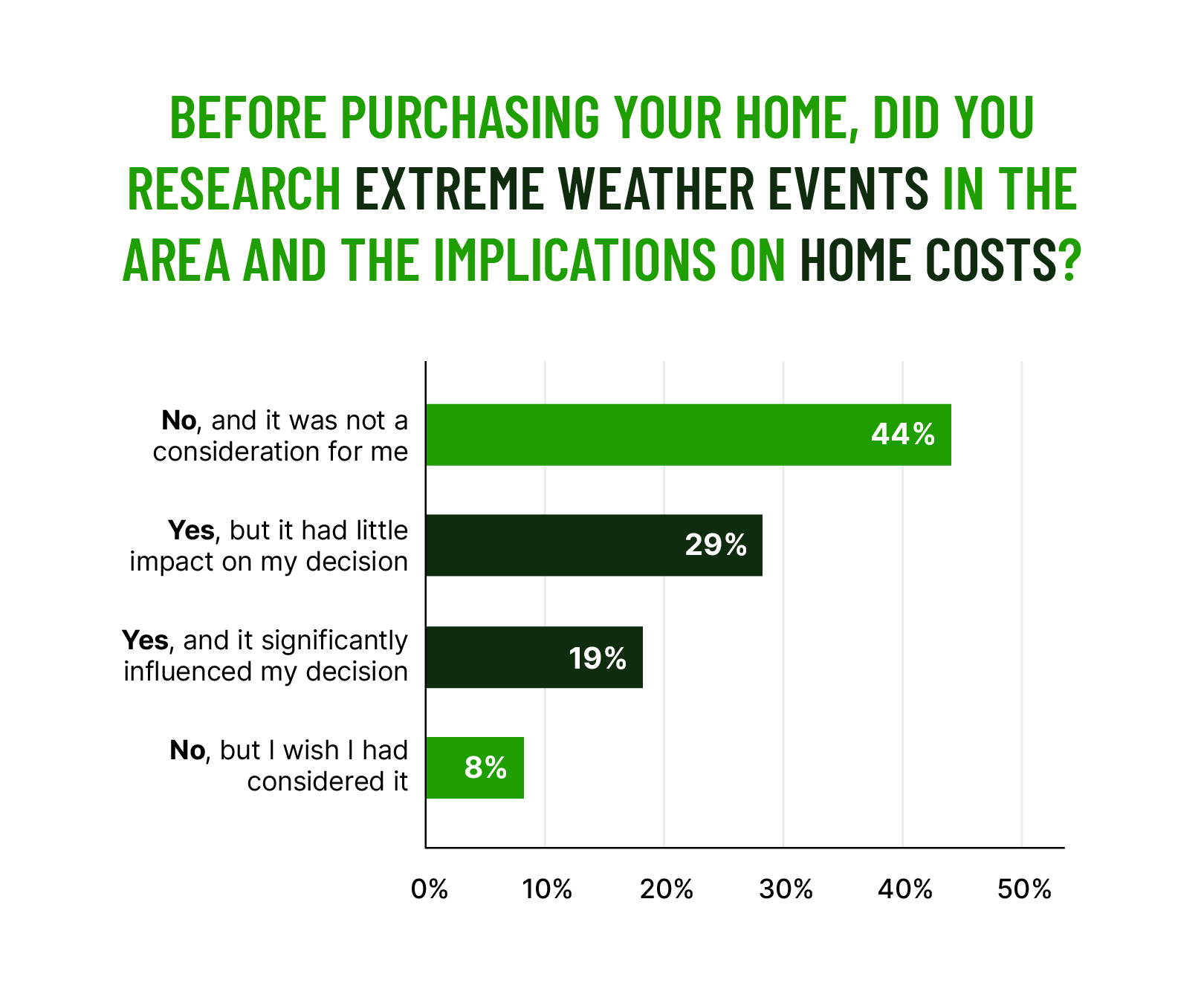 Although extreme weather can take a major toll on homes, we found that about 53% of homeowners did not look into its implications before purchasing their homes—and only about 8% wish that they had considered it.

However, many Americans are recognizing the effects of climate change. According to a study from the Pew Research Center about Americans' view on climate change, 61% say that global climate change is affecting their local community either a great deal or some.

Neglecting to consider climate change when buying a home can leave homeowners at a disadvantage when prioritizing home must-haves. In Florida, for example, you may want to check for storm shutters or if exterior doors are hurricane-proof.

Understanding the extreme weather features your home may need can also help you plan accordingly for upgrades over time rather than resorting to an emergency fund for repairs.
Homeowners are more concerned with emergency savings than emergency kits or evacuation plans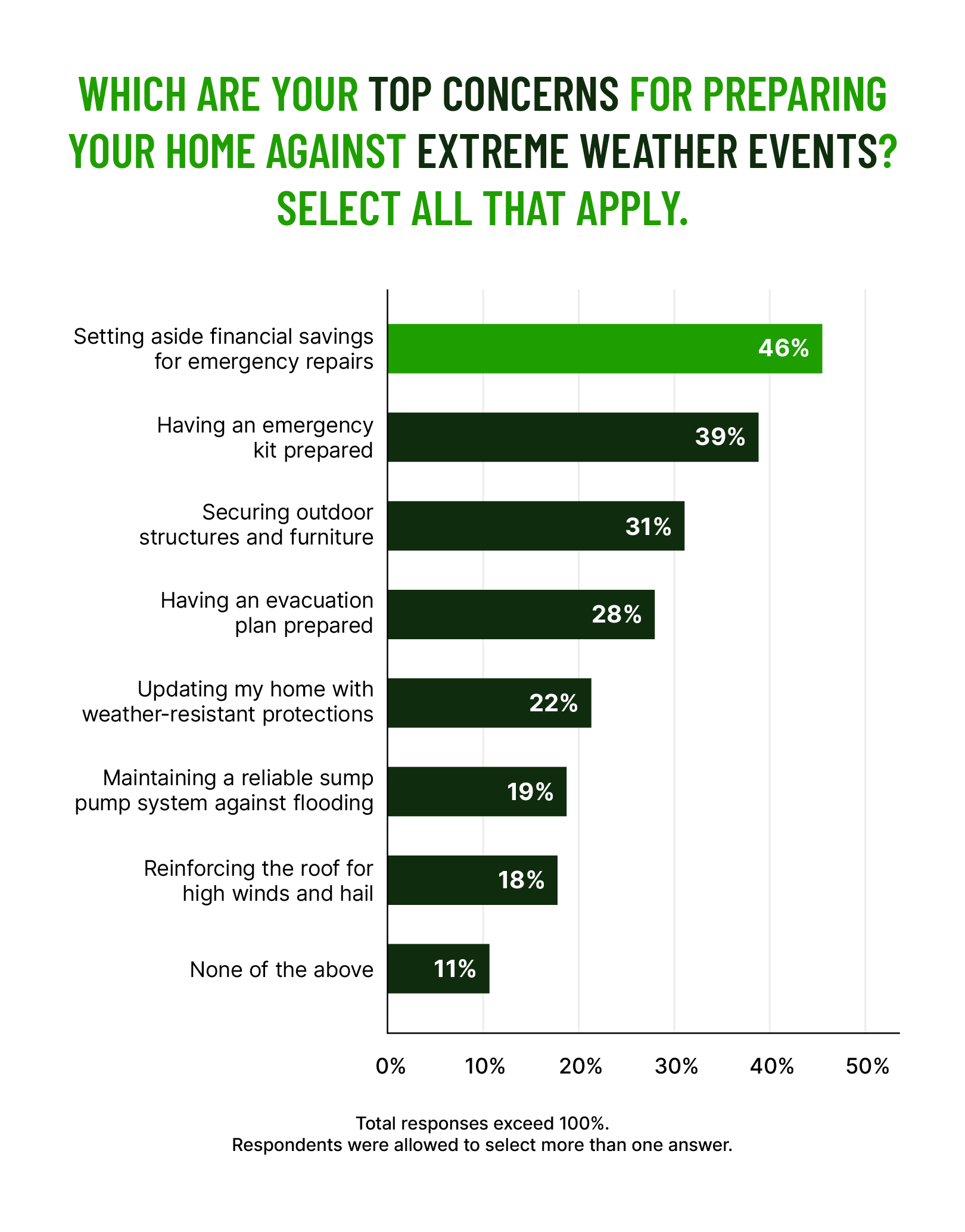 For most homeowners, it can feel like there's an endless list of to-dos to prepare for extreme weather. We found that homeowners are more concerned with having enough money set aside for emergencies (46%) than any other type of proactive preparation, like making home upgrades or having an evacuation plan.
Setting aside finances is an undoubtedly important part of preparing for extreme weather. However, supplementing your budget with an evacuation plan and a well-stocked emergency kit can help prepare your household.
Prioritizing safety-related home upgrades can also help minimize potential risk and damage during extreme weather. For instance, reinforcing your roof can help protect your home from strong winds and hail. A sump pump can also help prevent your home from flooding when heavy storms roll through.
In addition to safety, these precautions can help you avoid potentially expensive emergency repairs.
More than 1 in 4 homeowners have spent more than $4,000 on emergency home repairs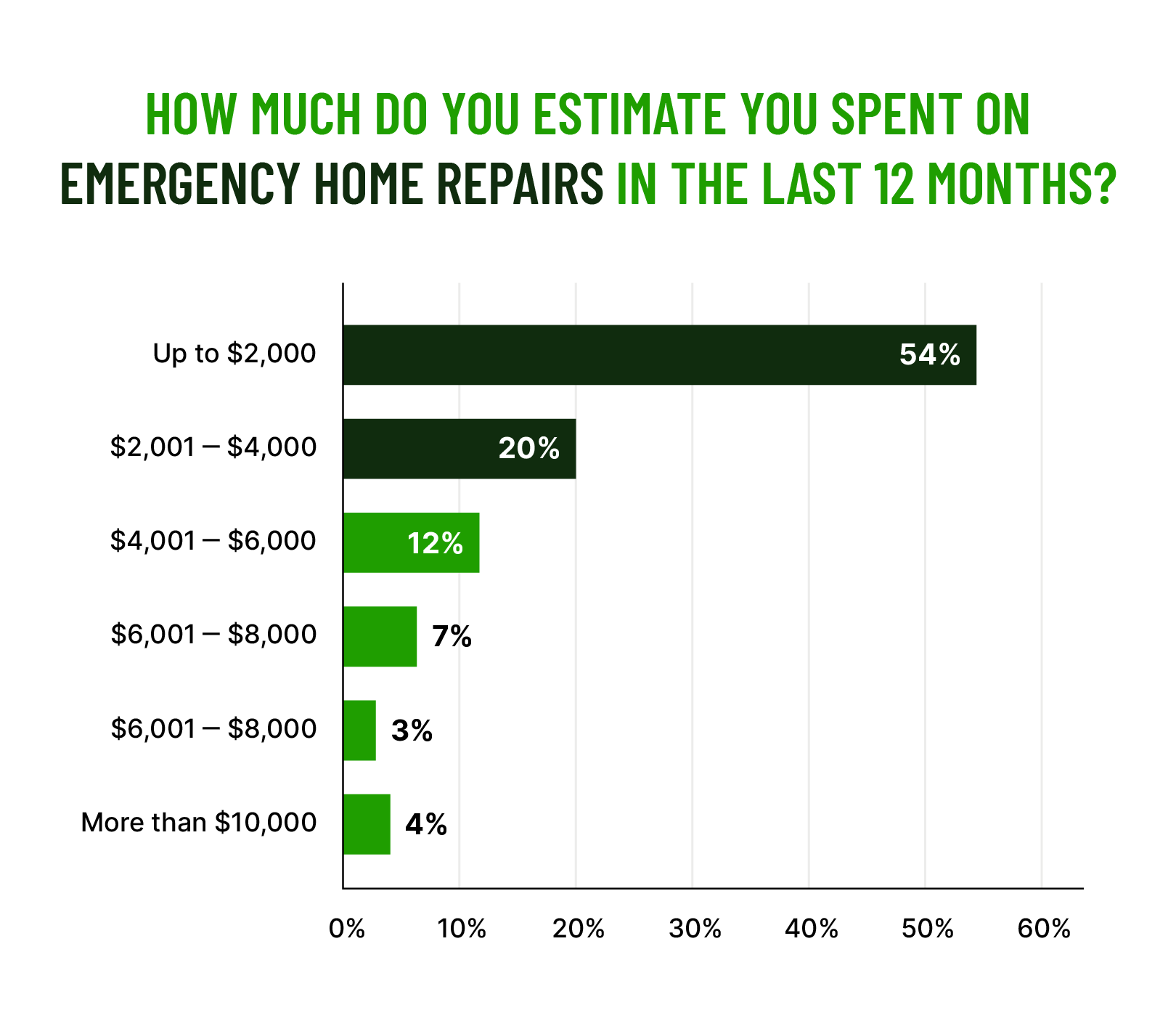 We found that emergency repairs cost more than $4,000 in the past 12 months for nearly 26% of homeowners. This can be a big setback if homeowners don't have a large enough emergency repair fund set aside.
According to our 2022 Homeowner Preparedness Report, 74% of homeowners pay for upgrades and maintenance as they arise, so a few major repairs may create a tough position for homeowners. The same report found that only 15% of homeowners set aside money each month/pay period.
Actual home repair costs can vary based on your home, your location, and the type of repair you need. For example, a roof repair can cost between $379 and $1,796, whereas water damage restoration can cost between $1,306 and $5,737.
Emergencies can happen at any time. However, homeowners have the power to manage risks and get ahead of major damage. By proactively planning for extreme weather, homeowners can help minimize repairs and keep small issues from turning into larger, pricier, and potentially dangerous problems.
How to proactively prepare for extreme weather
Homeowners can prepare for extreme weather by budgeting for what they can and making incremental progress toward reinforcing their homes. Here are some tips to be proactive while managing costs and time:
Research the extreme weather events that are most likely to happen in your area. Use reputable sources like the National Weather Service for reliable and up-to-date information.

Prioritize maintenance and repairs based on your season and severity of needs. For example, reinforcing your roof is an especially important fall home maintenance task to prepare for the wind, snow, and cold it'll endure in the winter.

Create season- or event-specific emergency plans and kits. Revisit these before each season and stock up on supplies over time to spread out costs.

Keep an eye out for free resources and educational workshops in your neighborhood. For example, some local organizations provide free sandbags to help prevent flooding.

Use climate-resistant building materials and prioritize weather-resistant protections when making home upgrades.

Review what your home insurance policy covers and what support or supplemental policies your home insurance provider can provide.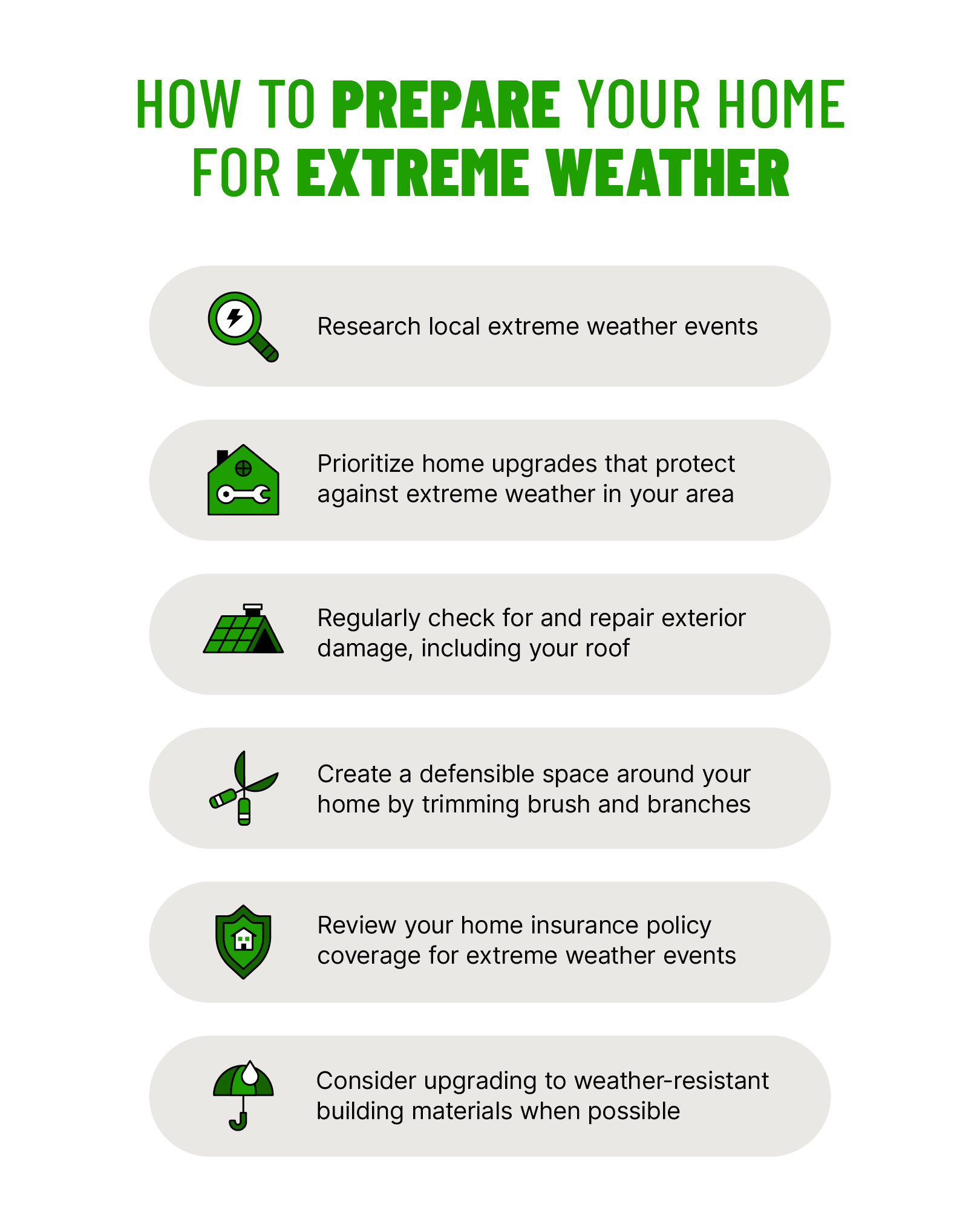 Starting with what's realistic to upgrade or repair, no matter how small, can make a difference when extreme weather conditions head your way. Hippo can support you as you start taking steps towards protecting your home and your loved ones from these events.
Download the free Hippo Home app on iOS and Google Play to find out your property's Home Health and the steps you can take to meet your home protection needs, including seasonal maintenance checklists and DIY guides.
Methodology
The survey was conducted by SurveyMonkey Audience for Hippo Insurance Services. The survey was fielded between August 11, 2023, and August 12, 2023. The results are based on 1,125 completed surveys. In order to qualify, respondents were screened to be residents of the United States, over 18 years of age, and own a home. Data is unweighted, and the margin of error is approximately +/-3% for the overall sample with a 95% confidence level.