It's a big question that many adult children face at some point in their lives: what is the best living situation for my aging parent? Though many older adults can live by themselves throughout their golden years, some may begin to experience cognitive, motor or mobility issues that can greatly affect their daily lives. If this happens, adult children will need to explore new living options to offer their parents the assistance and happiness they need.
According to AARP, 90% of those 65 and older want to stay in their home for as long as possible. And aging in place is doable even for those facing common ailments such as balance issues or hearing loss, as long as their home is modified to fit their needs. Seniors also often move in with their adult children for more hands-on (and cost-effective) care.
There are a lot of things to consider when deciding which avenue is best for your aging parent. Their lifestyle, home modification needs and current home insurance plans will all need to be taken into account when making this transition. Below we cover what you need to know about cost-effective and helpful home upgrades for your loved one, including ailment-specific modifications to cater to their needs. 
Table of contents
Senior living options
Before taking a deep dive into your parent's home and it's ability to support the living situation that may be right for your parents, it's best to consider their physical and mental health. By determining what ailments they are facing, and how much it affects their daily lives, you can make sure they are in an environment that suits their needs. If they are experiencing minor memory or physical issues, they may be able to stay in their home for longer. However, if they are having trouble getting around you may want to consider having them move in with you.
Though all are viable options, making the transition can be difficult. Below we explore the pros and cons of each living option. And while it's up to you, your parents and their doctor to make the right decision for their health and safety, the following breakdown may provide some insight by preparing you for what's ahead.
Moving in with you
Many seniors end up moving in with their adult children as they age, both to be closer to their extended family and to get more help with difficult tasks. This allows you to avoid the costs of senior living facilities while still providing more in-depth care since you're under the same roof. If your parent is moving into your home, taking steps to modify your home (through DIY work or by hiring a contractor) and day-to-day life to accommodate their needs will provide a better experience for everyone involved.
Transitioning into this new living environment can be tricky, so it's crucial to approach the situation with care and respect. Aging.com experts say that communication is the most important aspect of this process, so make sure you involve your parent in every step of the process. Asking them to move in with you and explaining the positive aspects of this move (more time with the grandchildren, an opportunity to grow closer, etc.) can be a great way to open up a dialogue about this move. Once this decision is mutually agreed upon, you can also offer to move their belongings into their new room to help make them feel more at home, or provide transportation to their favorite places to keep aspects of their routine the same.
A few things to keep in mind with this living option is that you'll need to take on more responsibility within the home, you may have less time to yourself and your home may begin to feel crowded. These feelings are a natural part of the process and often become easier with time. Though some of these issues can be resolved with hired help, overall this living option may work best for seniors with enough independence to be left alone for significant periods of time.
Aging in place
Aging in place is often the most ideal circumstance, as seniors are able to maintain their independence in the home they're familiar with. While not always possible, active seniors may be able to stay in their home throughout their old age with very few changes to their lifestyles. In fact, working with your parents to get them what they need within their current home is more important than it seems. Not only does it decrease the risk of depression and anxiety, but it can also help save money on living expenses and healthcare costs when compared to most living facilities (source: Visiting Angels). 
To help them age in place with ease, there are modifications you can make throughout your home to prevent falls, improve quality of life and make daily tasks simpler. Take a look at our general and ailment-specific home modification suggestions down below.
Remodeling for seniors
As adults age, they may start to experience common ailments such as limited mobility, decreased vision or hearing, memory loss or balance problems. Because of this, traditional homes can become dangerous, as they are not equipped to cater to these new needs. Luckily there are a variety of small changes you can make to the home (outside of traditional home maintenance tasks) that can make a significant impact on their independence, happiness and your peace of mind.
General remodeling tips

When it comes to tackling home remodels, there are some updates that can easily be made to benefit seniors of all kinds, no matter their ailments. As their mobility and cognitive levels change, there is a growing need to integrate smart home technology into their lives, as it can make daily tasks easier and get them the help they need when they need it. Whether your parent is aging in place or making the move into your home, the following recommendations can be implemented to make their home life safer and allow them more freedom as well.
Add more phones or communication devices. Put one in each room to make calling for help easier.
Install brighter light bulbs to help aid in visibility throughout the home.
Install new door knobs with a lever. The twisting motion used for traditional door knobs can be tough for those with arthritis.
Install temperature controls in showers to prevent accidental scalding.
Pull up carpets throughout the home to make maneuvering easier, especially for those with wheelchairs or walkers.
Reduce clutter throughout the home to make necessities more accessible and prevent accidents.
Remote controlled lighting can help prevent accidents by making light more accessible.
Remove rugs to help avoid falls and make cleaning simpler.
Update gas stoves to electric, which can help reduce burns and eliminate the risk of gas leaks.
For seniors aging in place, they may begin to have some safety concerns (whether it's fire safety or otherwise), especially if they are living alone. To make aging in place a long-term solution, there are easy updates that can be made to their home to increase their safety. 
Consider adding in new locks, smart doorbells, motion detection lights and outdoor cameras to allow them to monitor their home from the comfort of their couch. Plus, the addition of smart home products throughout the home can lower insurance premiums and gives you the ability to check in on them, even if you live far apart.
Modifications per ailment
According to the Administration for Community Living, over 35% of older adults have some sort of disability. They also noted that one out of every three seniors has trouble using parts of their home. This is mainly due to the fact that most homes aren't built with accommodations for disabilities, so many are faced with the choice of paying for remodels or moving to an assisted living facility. And though many assume that home remodeling is out of their price range, that isn't always the case. In fact, there are many home upgrades that can be made for common ailments that won't break the bank, some of which we included in the lists below.
Limited mobility

One of the most common issues faced by those growing older is limited mobility. The Mobility Resource reports that one in five elderly people struggle with mobility issues. If your parent or loved one falls within this category, there are some things you can do to help. In your (or their) home, consider the following updates to reduce falls and make common areas more accessible.
Add in grab bars and a stool to the shower to make bathing safer.
Adjust bed frames to a lower height to make it easier to get in and out of bed.
Install a walk-in tub to make it easier to exit and enter the bath.
Install handrails and overhead lighting in stairways to improve visibility and support.
Install pull down shelves in the kitchen cabinets to bring plates and appliances to an easy-to-reach level.
Ramps or lifts can be installed in areas with stairs to aid in mobility.
Stabilize any off-balance chairs or couches, and add cushions if needed to provide more support when sitting down and getting up.
Widen doors and hallways to make room for walkers, wheelchairs or electric scooters.
Diminishing vision or hearing

Hearing and vision can often worsen with age, due to a variety of factors such as genetics and lifestyle. However, reduced eyesight or hearing ability doesn't mean a loss of independence. When paired with regular doctor appointments, small updates added throughout the home can help extend seniors' quality of life and keep them safer in a variety of situations.
Add task lighting fixtures to important areas like under kitchen cabinets, at their bedside and in dark hallways.
Connect a screen reader to their phone to allow them to read what's being said during phone calls.
Install a smart doorbell to allow them to talk to/see who is at their door via their phone before answering.
Install fire alarms with lights and sound so your loved one can know when there is a fire.
Install light switches that glow in the dark for easy access at night if motion detecting lights can't be used.
Keep important items easily accessible, such as remote controls, frequently used appliances and first aid kits.
Paint the walls a light and matte color to reduce glare, and ceilings white to reflect overhead light throughout the room.
Replace standard lights with motion detection lights to keep the home lit as they travel from room to room.
Turn up the volume of their phone, or get them a new one that flashes, vibrates and rings to make sure they know when someone is calling.
Memory loss

When a loved one is experiencing memory loss, modifications to their home should focus on helping prevent accidents that can occur from leaving appliances on or forgetting to complete important tasks. 
Luckily, smart home devices and motion detection add-ons can provide much needed support in these areas. Seniors starting to experience memory loss or confusion can get easily disoriented, so helpful reminders and technology should be implemented throughout the home to ensure their comfort and safety.
Cover radiators and electrical outlets to help protect them from shocks and burns.
Hang a calendar of important information including upcoming appointments, medications and telephone numbers on the fridge to help seniors in case of emergency.
Install motion detection faucets on sinks to prevent accidental flooding and high water bills.
Install spring-loaded door hinges to all external facing doors in the home to help them close automatically.
Label important rooms such as the bathroom or their bedroom to help them know where they are during times of confusion. This can be especially helpful if moving them into your home for the first time.
Place smart speakers throughout the home to remind seniors of upcoming appointments or to take their medication.
Remove internal door locks or reverse them so they are accessible from the outside.
Update the stovetop and oven with automatic shut offs to prevent gas leaks or fire if left on for an extended period of time.
Balance issues

Balance issues that occur later in life can include dizziness, vertigo, confusion and blurry vision. When experiencing these symptoms, seniors may have difficulty orienting themselves or keeping themselves upright, which can increase the risk of injury. But with a few simple modifications in every room, you can reduce their risk of falling and give them some peace of mind knowing their home is better suited to fit their needs.
Add grab bars near the toilet to keep seniors steady when using.
Add in no-slip mats throughout the home but especially in high-risk areas such as the bathroom and kitchen.
Add traction to smooth surfaces such as stairs and handrails to aid in balance support.
Highlight the edges of stairs or steps with brightly colored tape that glows in the dark to avoid trips day or night.
Purchase furniture with high armrests for further support when seniors are sitting down or getting up.
Remove unnecessary items from the floor in high-traffic areas such as hallways and rooms, and store at a higher level to reduce the risk of falls.
Tape down the edges of all mats and rugs throughout the home, which can often come up and cause dangerous falls.
Thoroughly inspect the walkways of the home and remove any debris that may cause tripping in the front and backyard.
Other tips for senior longevity 
To keep seniors healthy and active throughout their lives, there are lots of daily habits that can be incorporated into their routine both in their own homes and the community. For instance, daily cleaning can provide an opportunity for exercise as well as prevent allergens. 
Making sure that they continue their commitment to a clean home well past the coronavirus outbreak can be a great way to keep them healthy throughout the year. Encourage them to go through their medications and pantries every month to throw out expired products to prevent accidental illness as well.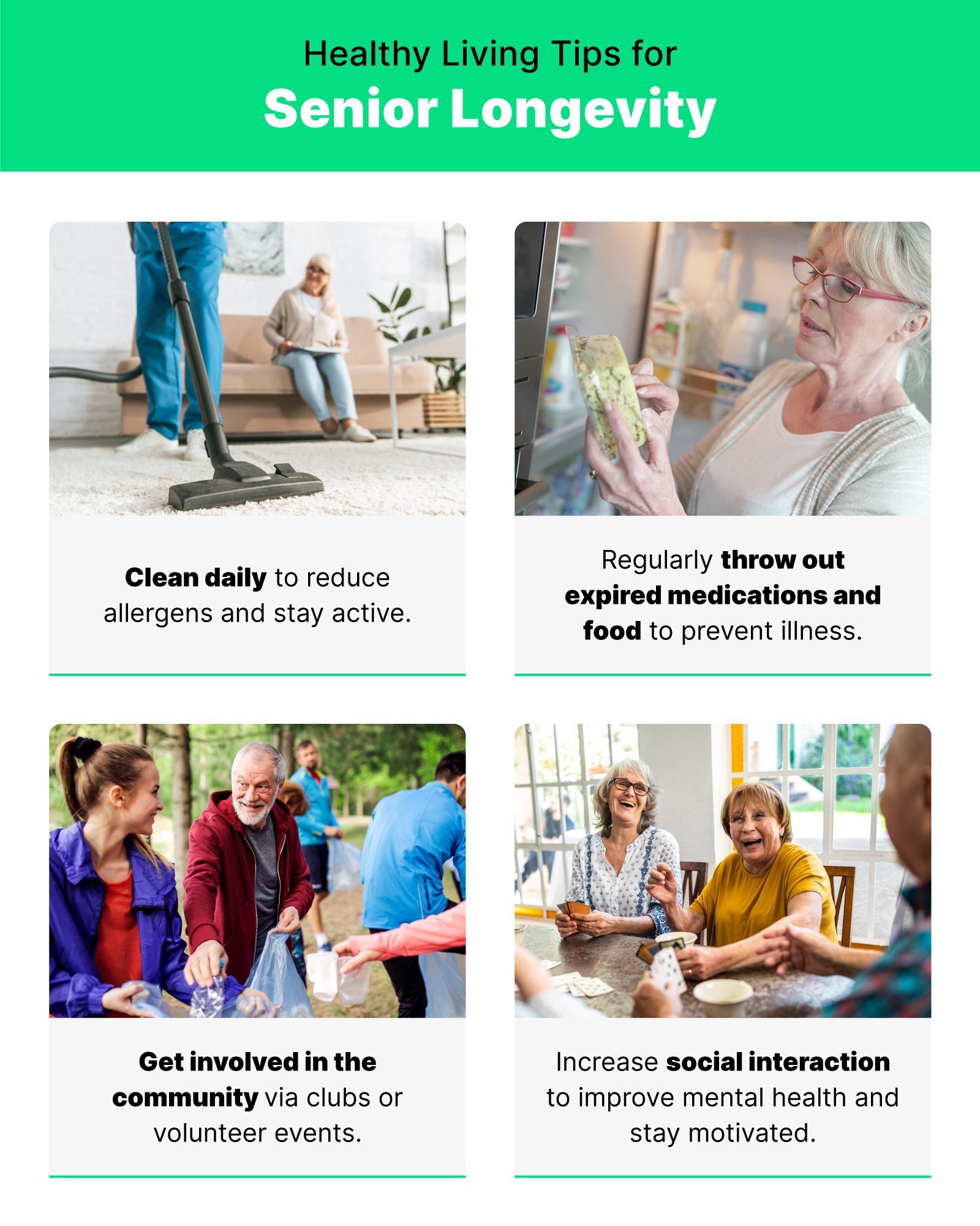 Growing older can feel isolating for some, especially if they are making a big move into a new town and/or a new home. One great way to combat some of these feelings of loneliness is to get them involved in their community. Many senior centers host game nights, or they could get involved in a club for something they're passionate about, such as swimming or reading. 
Making sure they have plenty of social interaction can provide them with an avenue to express themselves with people who understand them, and can provide much needed motivation to stay healthy throughout their golden years.
Home insurance for recently remodeled homes
Remodels, even when minor like the ones mentioned above, require a good amount of time and effort. Ensuring that your new updates are covered is an important part of your remodeling process, so double check with your insurance provider that they are able to protect your new additions. You may even need to expand your policy limit to make sure you can repair and replace new appliances or stair lifts should they break down. 
Home insurance add ons like a dwelling under renovation coverage can offer additional financial protection should your building materials get damaged, lost or stolen. However, if you want to take on bigger projects in your home or theirs, make sure you hire the right person for the job. Our Hippo Home Care service (offered with our home insurance policies) provides easy access to virtual maintenance experts, giving you the help you need at your fingertips.
Home modifications for seniors don't have to be major, or costly, to make a difference in their ability to take care of themselves. And growing ailments don't necessarily mean that they need to leave their home either. By prioritizing home improvement projects based on their needs, you can breathe easy knowing that your parents are in better shape to continue living independently. 
Worried about issues outside of your control? While all the above tips are great ways to improve your senior's safety, in the end, home modifications can only prepare you for so much. Protect your loved ones and their home from the unexpected with a full coverage homeowners insurance policy from Hippo.