The coronavirus has changed a lot about our daily lives (and our homes). Because those infected often have delayed symptoms, this virus can spread very quickly without people knowing. To help slow the spread, businesses are now operating at a lower capacity and social distancing practices have been implemented when possible. But throughout all these changes, the biggest issue on everyone's mind has stayed the same: how can I protect myself and my home?
While it may not seem like it on the surface, communities across the world have been growing closer by staying apart, making joint sacrifices to protect seniors and the immunocompromised. But still, there are a lot of questions left to answer about how those with limited mobility and high risk (typically seniors) can get what they need in the midst of a global pandemic. And as the reality of shelter in place settles in, staying occupied and connecting with others becomes increasingly difficult as well.
Here at Hippo, our ultimate goal is helping homeowners feel safe and secure in their homes, which can be a challenge in today's climate. To help, we've created the ultimate guide for seniors to protect themselves (and their homes) from the virus. Read on for everything that seniors need to know about this pandemic, including tips on how to enjoy their downtime and stay connected. Want to learn even more about coronavirus home care? We've got a site for that too.
Table of contents
What seniors need to know about coronavirus
With so much information regarding the coronavirus, it can be hard to discern fact from fiction. One reputable resource for seniors is the Centers for Disease Control and Prevention, the leading public health institution in the United States. According to the CDC, adults 65 years and older have a higher risk of catching the virus. Seniors also tend to develop more serious complications, especially if they have underlying medical conditions such as heart and lung disease, asthma, diabetes or a compromised immune system.
The CDC reports that the coronavirus spreads through respiratory droplets from infected people (many of whom have yet to show symptoms) that can travel up to six feet. Early symptoms of COVID-19 — the disease you contract when exposed to the coronavirus — include exhaustion, fever and cough. It's important to monitor these symptoms and how they progress to determine if and when medical treatment is necessary. Symptoms such as trouble breathing, pressure or pain in the chest and a blue tint to the face are signs of serious complications and require immediate care. 
While this pandemic can seem daunting, it's important to stay positive and follow the CDC's guidelines to protect yourself and the people around you. The following precautions are recommended for everyone to help slow the spread of this virus:
Steer clear of public places to avoid catching or spreading this illness.
Have the items you need delivered to avoid public exposure. 
If you do venture out into public spaces:

Maintain six feet of distance between yourself and others.
Wear a mask and gloves.
Wash your hands with soap and water often.
Carry hand sanitizer.
For more information, check out our post on minimizing the spread of coronavirus.
How to properly clean your home
Keeping your home clean is another important part of staying protected, especially if you're having items delivered or maintenance completed by third parties. According to Harvard Medical School, the coronavirus can live on a variety of surfaces for up to several days. Cardboard from delivery boxes can host the virus for up to 24 hours, while survival times for plastic and stainless steel surfaces range from two to three days.
This means that weekly cleaning of your home (and daily cleaning on commonly touched surfaces) is crucial to maintaining your overall health. Luckily, soap and water is your best defense for killing off this virus, and most anti-bacterial sprays and wipes can get the job done too. Check out the list below to make sure you get to all the high-traffic areas in your home.

Bathroom

Bacterial hotspots: Toilet handle, hand towels, sinks, countertops, shower faucet handles and light switches.
Pro tip: If sharing your home with others, or if you have live-in assistance, make sure to wipe down commonly used toiletries before handling.

Bedroom

Bacterial hotspots: Desks or dresser drawers, nightstands, lamps, bedding, doorknobs and light switches. 
Pro tip: Remove and wash your bedding (including sheets and comforter) with detergent and hot water at least once a week.

Kitchen

Bacterial hotspots: Fridge handles, coffee machine, stovetop, kitchen countertops, dish towels, light switches, kitchen table and chairs.
Pro tip: Wipe down all boxed groceries before storing in the pantry or fridge, and wipe down surfaces after to kill off leftover bacteria.

Living room

Bacterial hotspots: Windowsills, blinds, rugs, coffee table, bookshelves, remote controls, TVs, lamps and blankets.
Pro tip: Throw machine-washable rugs, curtains and blankets in the wash with your bedding each week.

Miscellaneous cleaning

Bacterial hotspots: Cell/home phones, computer, front door (including the doorknob) and electronic chargers.
Pro tip: Disinfectant wipes can be used on most electronic devices, as long as they are properly dried afterwards. Avoid using rubbing alcohol, bleach and other harsh chemicals to prevent internal damage.
Who to allow into your home during the pandemic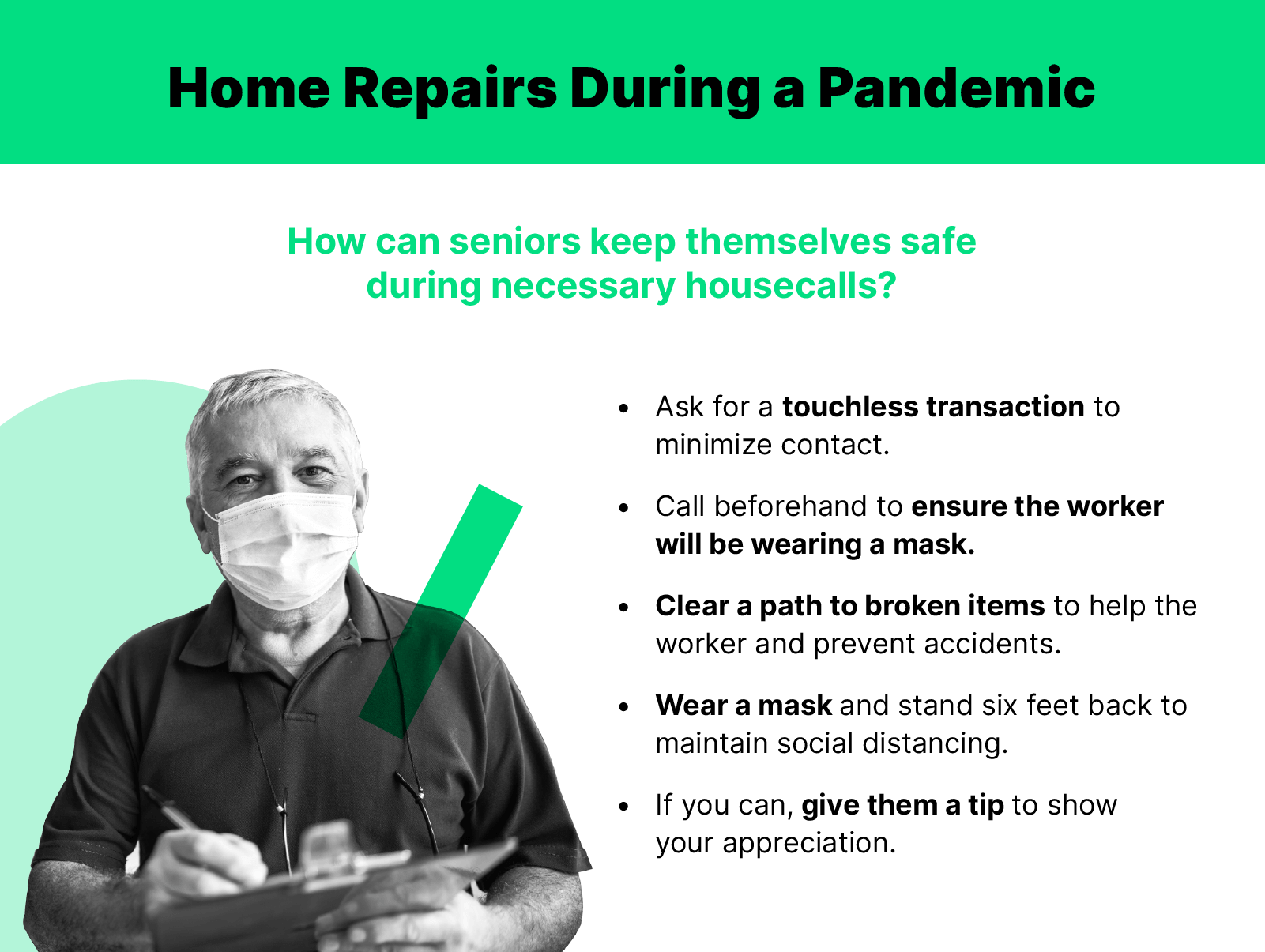 Before this pandemic, bringing in outside services to clean your home or make repairs was standard practice for seniors. But now, having someone enter your home can lead to a host of potential problems. To keep yourself and others safe it's best to reschedule appointments on non-essential items (like small kitchen appliances or TV's) for a later date. Holding off on minor repairs can help prevent potential exposure and keep you and your home healthy for the long term.
However, some home repairs just can't be put off. Issues like a broken fridge or slow internet connection are not only inconvenient, they can severely impact your mental and physical wellbeing. To help get these problems resolved while still minimizing outside contact, consider setting up a virtual home maintenance appointment with a service like Hippo Home Care. This way, a maintenance expert can see the issue directly and walk you through the steps to fix it without ever having to enter your home.
If the home repair is complex and requires an in-person appointment, there are steps you can take to make sure you and the person you hire stay healthy. The first step is to call beforehand. Ask about their company-wide precautions, and make sure you hire someone who is going to arrive with proper protective gear. Workers should be wearing masks and gloves, and seniors should take the extra precaution of wearing some as well. Many companies are allowing customers to skip signing receipts and even prepay online or over the phone to minimize contact.
Before your appointment, create a clear path for the worker to get to the broken appliance. This will help reduce the amount of cleaning you have to do afterwards, as well as aid in a speedy repair. Keep cleaning supplies on-hand for the area both before and after the appointment. Social distancing guidelines apply here too, so stay at least six feet away from them while they work. Finally, if you have the financial ability to do so, consider tipping them once the job is completed. These workers are risking their health to get people the services they need and your tip can show your appreciation for all their hard work. To keep social distancing practices in place, you can leave the tip on the counter (with a note) before they arrive. If you scheduled an exterior repair appointment, you can put the tip in a sandwich bag and tape it to the front door or your welcome mat.
Staying connected with others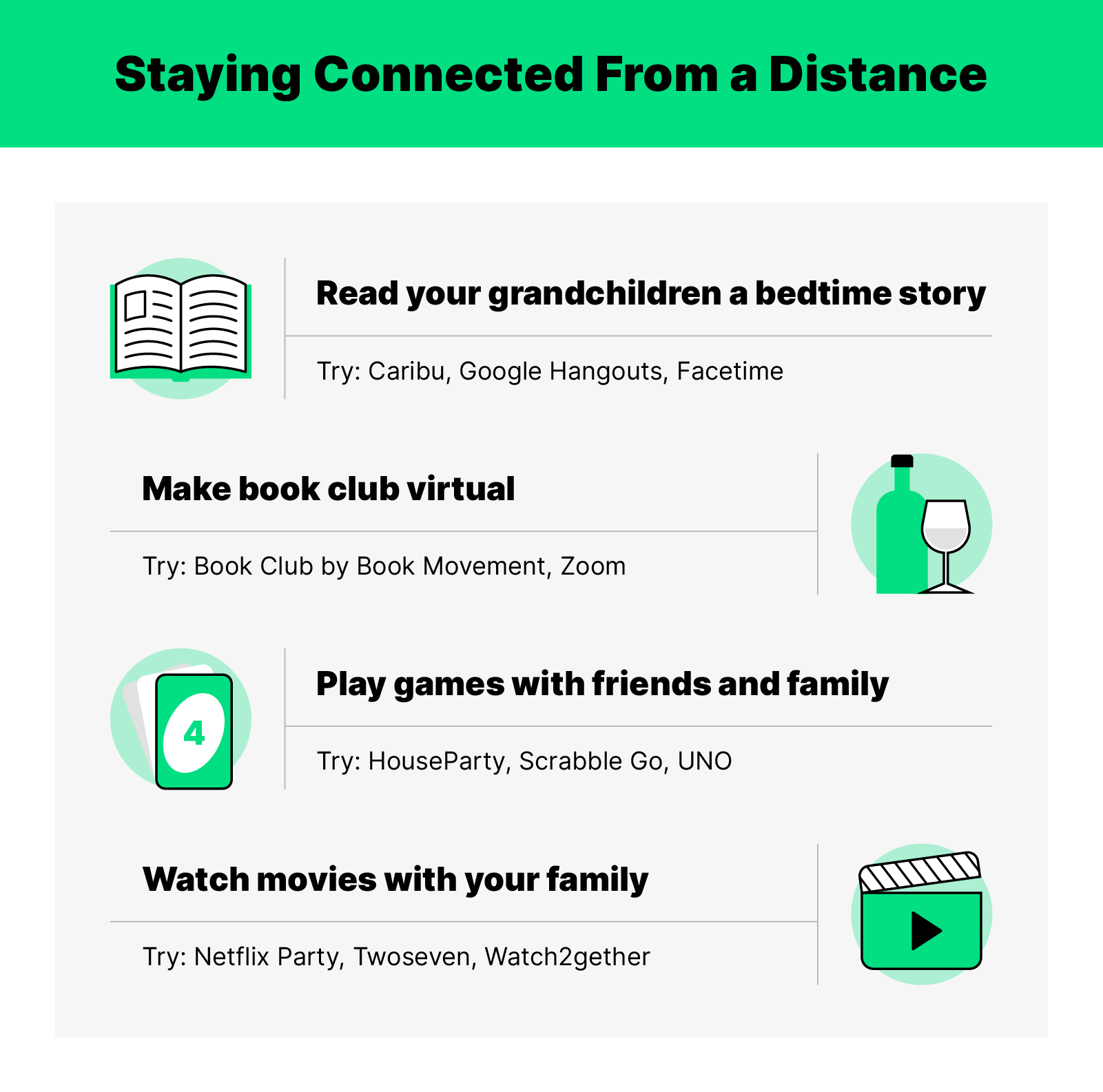 Sheltering in place doesn't mean you can't be social. But unless you live in a granny flat with your extended family close by, staying connected during this time can prove difficult. This can lead to some negative side effects for seniors, including depression (as reported by the National Institute on Aging). Luckily, technology has provided a lifeline to keep everyone connected without risking their health. To keep your spirits high and help pass the time until you can hug your loved ones again, set up weekly phone calls or video chats to check in with friends and family.
There are various apps and websites available that allow you to continue your favorite activities remotely. Download the Caribu app or hop on Facetime to read your grandkids a bedtime story each night, or check out Scrabble Go and Netflix Party for a night of entertainment perfect for family and friends of all ages. If hands-on technology isn't your thing, there are plenty of other ways to stay connected. Free video chat services such as Zoom and Google Hangouts can help bring your family close in just a few clicks.
How to get what you need without leaving your home
Many grocery stores, pharmacies and doctors offices are updating their tech and their hours to assist their higher-risk customers. Larger grocery chains are even waiving their delivery fees for seniors, allowing you to get the food you need delivered for the same price you would pay at the store. For those who still want to shop in-store, some grocery chains are even implementing "senior hours" each morning to lessen crowds and give seniors extra time to get what they need. Many doctors offices and pharmacies are going digital too, writing prescriptions via virtual appointments and ramping up their delivery services.
To help seniors get what they need without having to leave their homes, we've rounded up all the grocery, pharmacy and telemedicine services that are catering to older generations.
Grocery delivery services
From curbside pickup to delivery straight to your door, grocery chains and third party apps are doing their best to get fresh produce and other essentials to those who need it most. While the following are a list of national services, local chains may be participating as well, offering more options and fresher produce than their national counterparts (find your local options at grocerydelivery.org). It's important to keep in mind that demand is high right now, so slots will fill up fast and there may be delays — get your orders in early and be patient.
Pharmacy delivery services
Maintaining overall health through prescription medications is crucial for seniors, especially given our current climate. However, the long lines at the pharmacy and potential contact with sick customers is dangerous for those already susceptible to this virus. Below are pharmacies offering prescription delivery for anyone looking to avoid crowded spaces. 
Telemedicine services
Seeking care for the common cold or a broken bone is now riskier due to potential exposure to the virus. However, telemedicine has taken great strides in recent years, and patients can now speak to a doctor (and get a prescription written) from home. Seeking meds for an ailment or want to know if you should get tested for coronavirus? Sign up for an appointment with one of the telemedicine services below.
Post-coronavirus homecare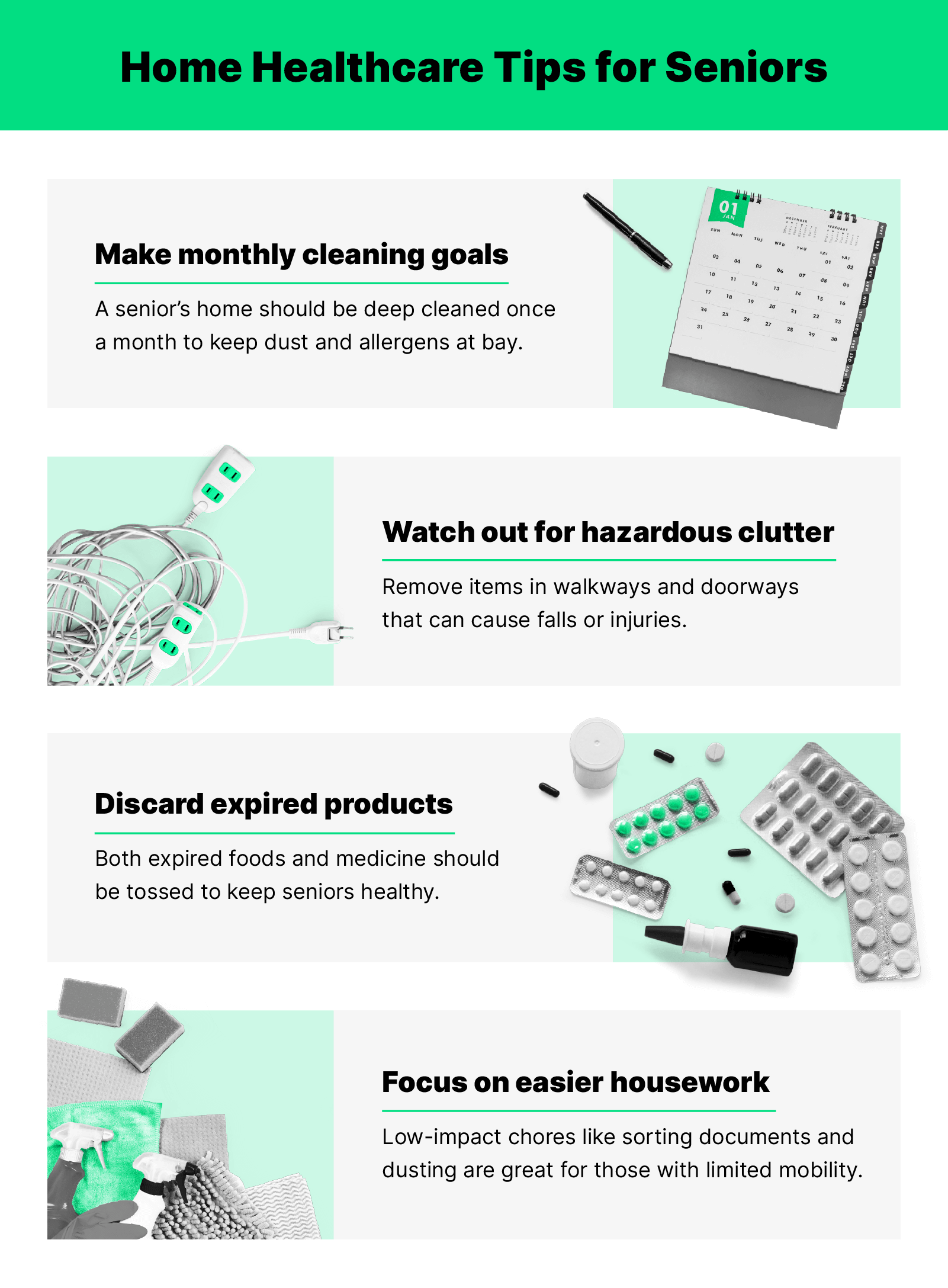 Taking proper care of your home each month is always in the best interest of your health. From keeping dust at bay to reducing seasonal allergies, cleaning your home regularly should stretch well beyond shelter-in-place orders. Here are some expert tips that anyone can implement for a healthier home, even if you have guests coming regularly.
Make a list of monthly cleaning goals. A to-do list can help keep you organized and prevent repetitive, unnecessary work.
Focus on hazardous clutter. Work from the ground up when getting rid of clutter to ensure you don't trip over anything in high-traffic areas.
Go through old paperwork. This low-impact cleaning task can make a huge difference for your overall mental health.
Discard expired food and medicine. Go through your pantry and bathroom cabinets and toss anything past its expiration date to ensure your safety.
Ask for help. For more intensive tasks like replacing batteries in the smoke detector or installing grab bars, ask for help from family or hire a handyman once it is safe to do so.
Concentrate on easier housework. Wiping down counters and dusting are relatively simple tasks that can make a huge difference in your home's overall cleanliness.
It's no question that home care during the coronavirus looks different than what seniors are used to. Precautions like shelter-in-place orders are key to maintaining your health and longevity (and won't last forever). And thankfully, there is plenty of tech to keep you entertained and connected with others no matter how far apart you are. By taking extra time now to clean your home, protect yourself when essential visitors arrive and make sure you have comprehensive homeowners insurance, you'll be prepared for whatever comes next.
Related resources