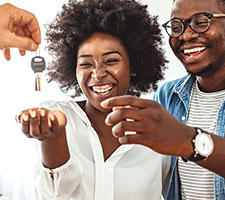 Your heart is practically beating out of your chest as you refresh your inbox. You're waiting on an email from your real estate agent, an email that says your offer has been accepted on your dream home. And there it is! You jump for joy and celebrate with your friends, family and co-borrowers (if you're buying a home with someone else, that is) and start to daydream about decor choices. But your closing on a house checklist is far from complete.
Once the adrenaline has subsided and the party winds down, there's still a lot of work to be done before officially closing. This includes crucial steps like getting your future home inspected and appraised, buying home insurance and completing other required contingencies before signing on your new property.
To make the process easier on homebuyers, we've broken down the most important steps to closing on a home below. Read it, memorize it, print it out — and then take a deep breath and get back to the excitement.
Closing day checklist: 7 steps to closing as a homebuyer
Unless you moonlight as a real estate agent or mortgage broker, you'll likely feel a bit overwhelmed at all the home buying jargon thrown your way. From taking a title to completing required contingencies, it's hard not to feel like you're missing something important.
To keep things simple and ensure you've completed everything you need to accomplish before moving in, follow our seven-step checklist to close on your dream home.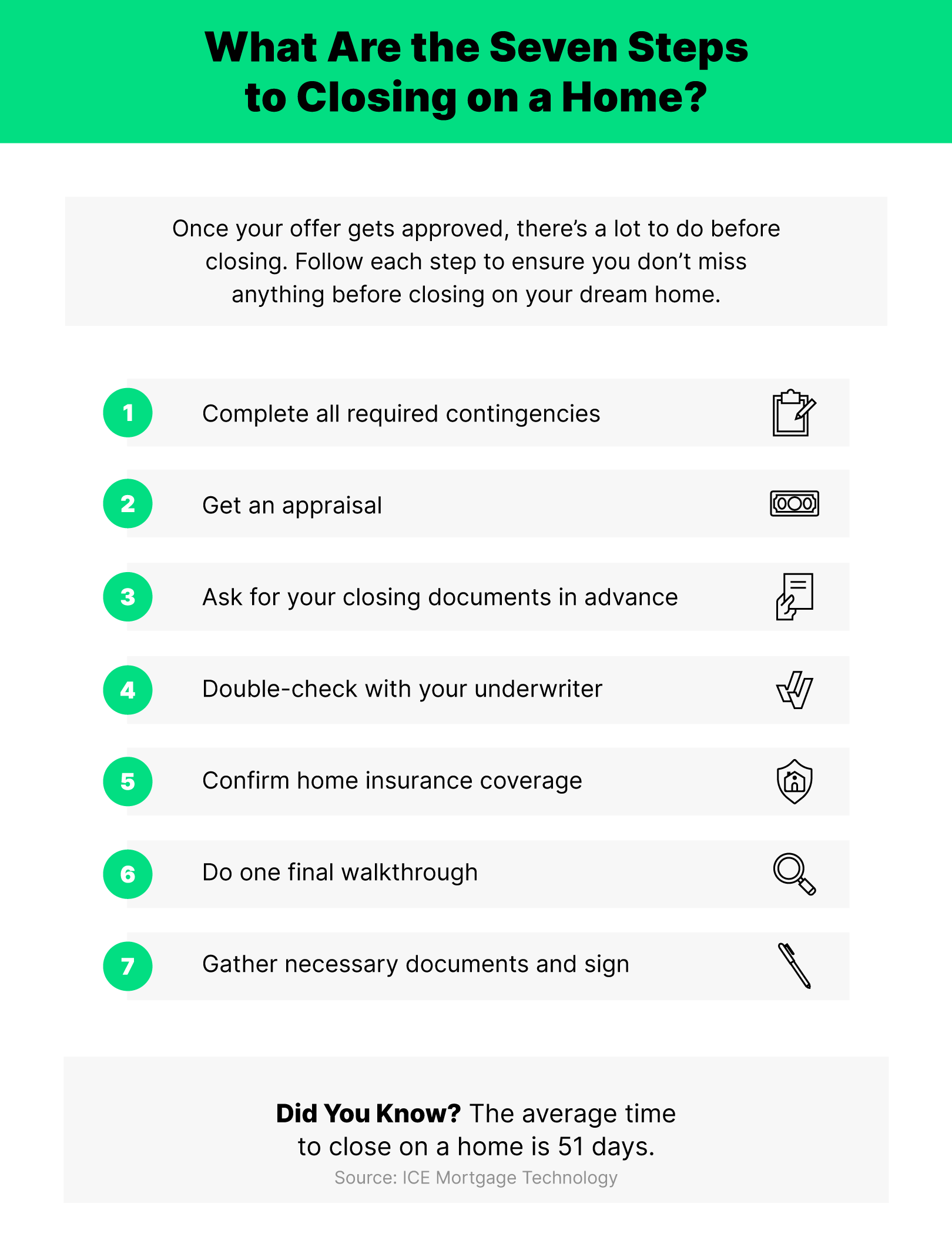 1. Complete all required contingencies
A real estate word you likely haven't heard used in this particular context before: contingencies. When buying a home, contingencies refer to things that need to be completed before the real estate transaction can be completed. This includes credit and financial background checks of the buyer, earnest money payment, inspections, appraisals and transferring of the title (including buying title insurance if needed).
While the exact specifications on most of these contingencies are outlined below, make sure to chat with your real estate agent and lender to see if there are any additional contingencies you need to complete that are unique to your situation.
2. Get an appraisal
After the contingencies are completed — but before ownership is officially transferred over from seller to buyer — you'll need to get an appraisal on your new home. An appraisal is a third-party review of your home and the land it's on to determine if its sale price matches what it's actually worth. Typically, lenders require an appraisal before approving a loan, and homebuyers will be required to pay for the appraisal out of pocket.
3. Ask for your closing documents in advance
When closing, you'll be signing and reading through dozens of documents, and unless you want the process to last all day, it's a good idea to ask for a copy of the closing documents in advance. This ensures that you have enough time to read through each page and know what you're signing, an important part of preventing miscommunication or last-minute change in the deal.
Ask your real estate agent to gather these documents for you a few weeks before the closing date to give them plenty of time to reach out to the seller's agent. Some documents, like the closing disclosure, are legally required to be sent your way a few days before closing. But others will only come your way if you ask, so try not to skip this step when buying a home.
4. Double-check with your underwriter
When you put down an offer on a home, you likely sent through a pre-approval letter from your underwriter or lender. But that letter is not a guarantee of a loan, so once your offer is accepted, it's on you to make sure that your loan is actually approved.
To get this process started, you'll need to work with your lender and real estate agent to gather all the necessary financial documents to confirm they're willing to lend you money. To approve your loan, your lender will often need confirmation of home insurance coverage as well (but more on that below).
5. Confirm home insurance coverage
While many state governments do not require homebuyers to get home insurance coverage, most mortgage lenders will, so it's best to shop for, and obtain a policy early on. Many mortgage lenders may even require proof of coverage before they'll approve your loan, so once your offer is accepted you should start shopping for a policy.
When buying home insurance, it's important to do your research. Get quotes from several providers and compare coverage limits and premiums to ensure you get the best deal for your needs. You should also ask about discounts and bundling opportunities to save even more.
Once you've decided on a policy, you'll need to send proof of purchase to your lender. However, if you're putting your coverage in escrow, you'll just send over the quote and your lender will complete the transaction for you.
6. Do one final walkthrough
At this point, you may feel like you know your new home like the back of your hand. But it never hurts to check everything one last time, right? This is especially important if you requested some repairs after the inspection, as you'll want to make sure they were completed before signing any paperwork. If you're buying a large or older home, this additional walkthrough is a good idea as well, to make sure you didn't miss any glaring issues that would be a pain to deal with once the house is officially yours.
During the final walkthrough, make sure you refer to your list of requested repairs and bring along a friend or family member for a fresh set of eyes that can alert you to things you may have missed.
7. Gather necessary documents and sign
Now comes the fun part: making your purchase official by signing paperwork. Pre-pandemic, this process typically took place in person at the seller's real estate agent's office. But given social distancing guidelines, don't be surprised if the sellers ask to conduct this step remotely.
During this phase, you'll be signing plenty of paperwork to transfer ownership over to you and your co-signer (if you have one). After that, you'll receive the keys and can officially start the move-in process. But before you get started packing up the car, make sure to check out the list of necessary documents below.
What to bring to closing
No matter if you're meeting with the sellers in person or signing your documents while social distancing, there are a few key documents (and even a person or two) that you need to bring with you when closing. If you're closing remotely, it's worth noting that you may need to send through copies of these documents in advance.
Cashier's check or paperwork showing proof of wire transfer
Closing disclosure form
Pen
Photo ID

Driver's license, passport or other government-issued photo ID

Proof of home insurance coverage
Your real estate agent or lawyer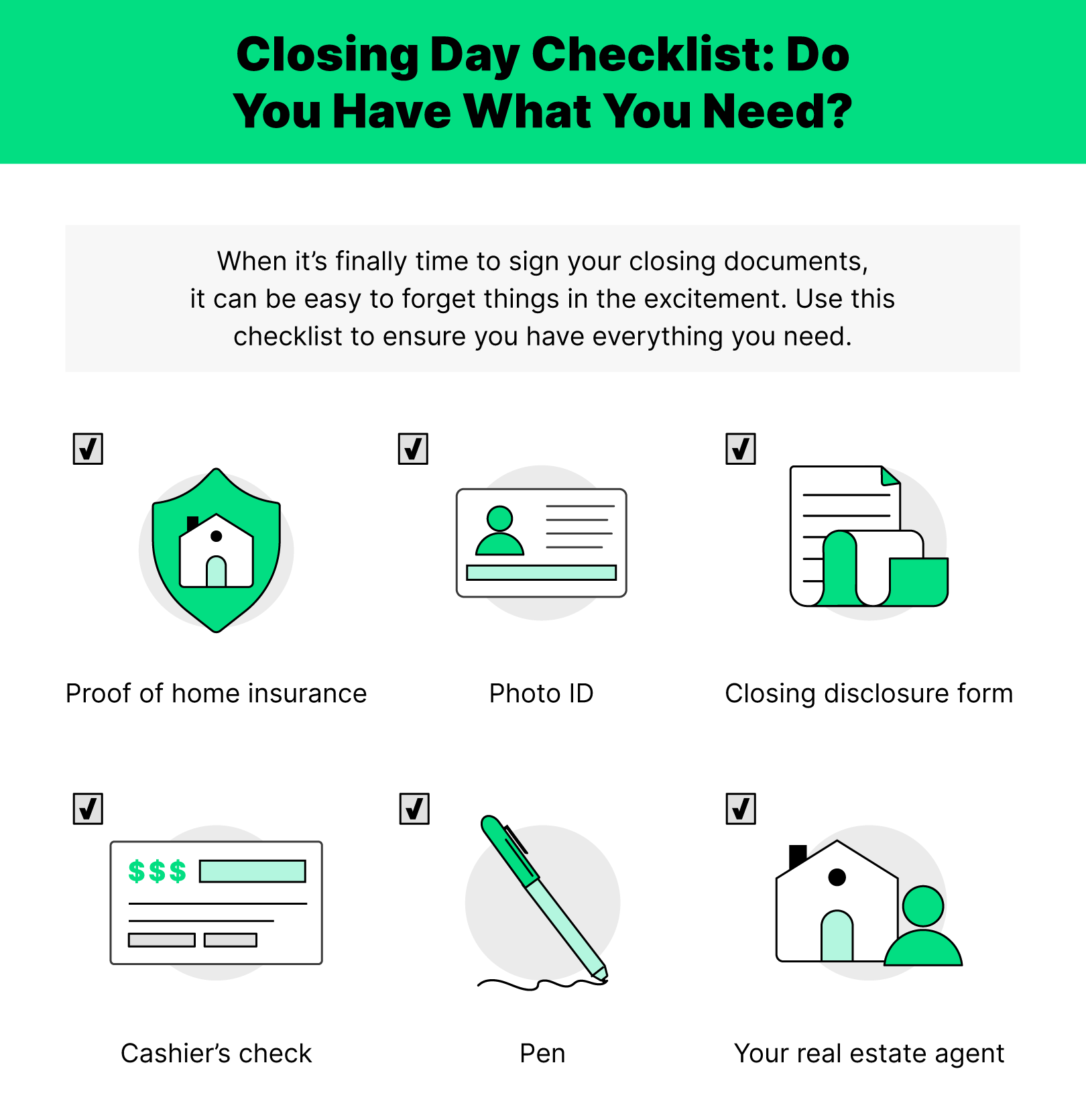 What should you NOT do before closing on a house?
While the closing process happens over a relatively short period of time, the decisions you make during this time can make or break your ability to purchase a home. Given how extensively your background is looked into during escrow, any major purchases or changes in your income level can come off as red flags to potential lenders.
When getting final approval on your loan, it's best to look as financially secure as possible. This means avoiding making large purchases, quitting or changing your job, applying for a new line of credit or making a late payment on a bill or credit card. By keeping your income and financial history stable during this time, you can give your lender peace of mind and get approved for a mortgage with ease.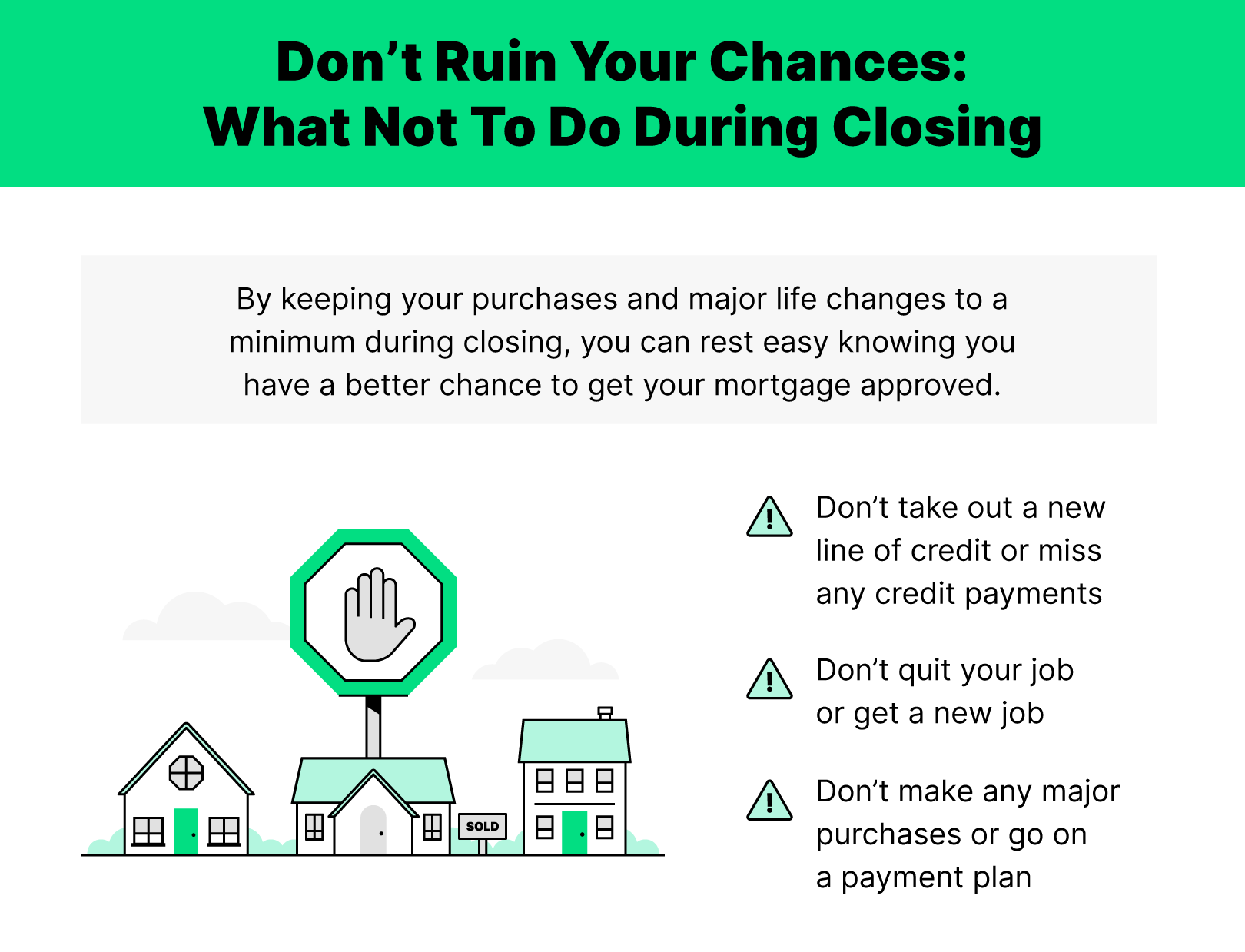 What sellers need to know about closing
Compared to buyers, sellers have it relatively easy during the closing process. While sellers put in a lot of work beforehand to get their homes ready to sell, once an offer is on the table, sellers can breathe a sigh of relief and begin the move-out process.
When heading to the closing appointment, sellers need to bring the house keys and other accessories for the home (such as garage door openers or keys to the shed), in addition to any previously agreed-upon payments for repairs. Then, all you need to do is sign the required paperwork and hand over the keys to officially say goodbye to your old home.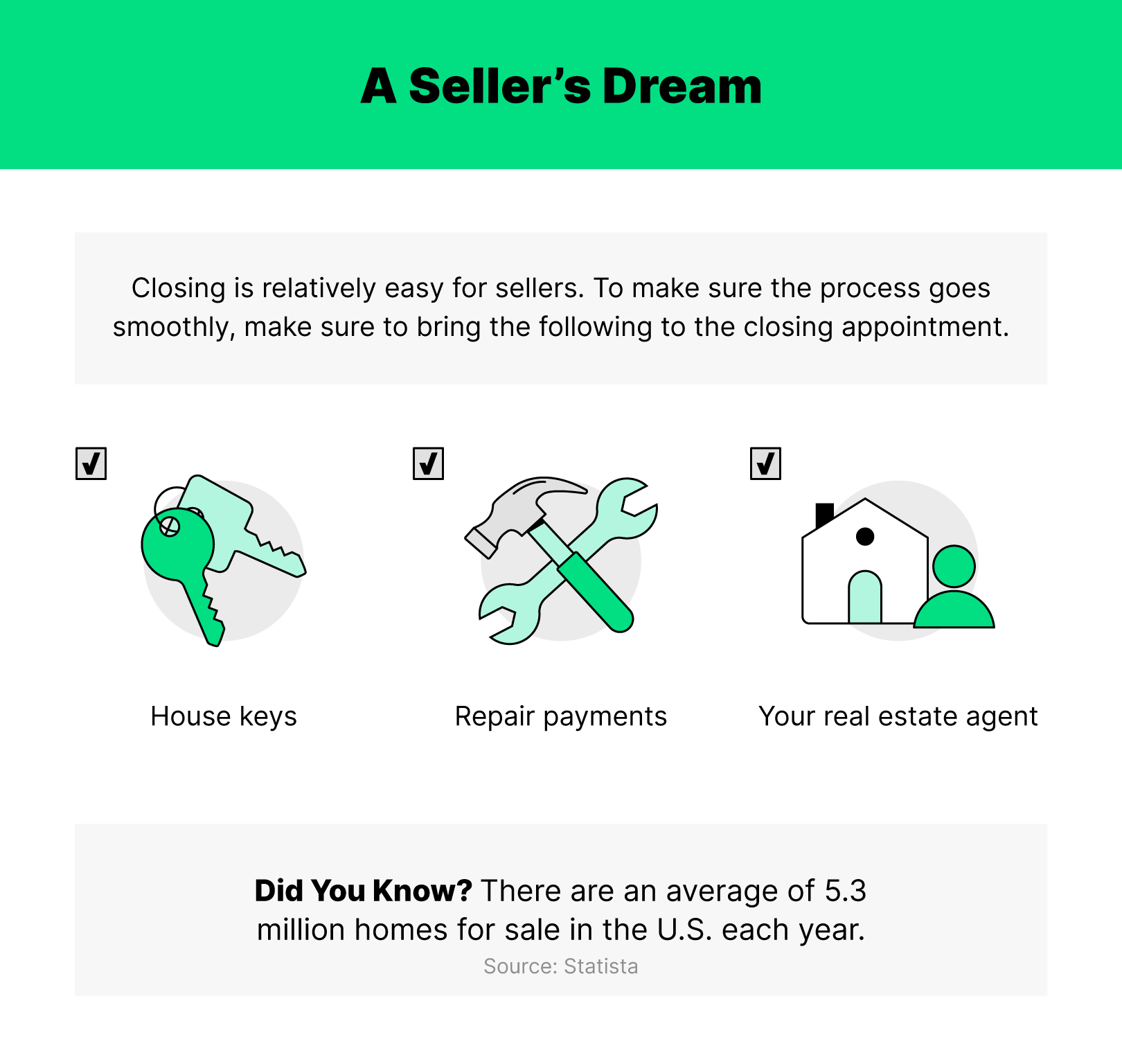 Whether you're the seller or the buyer, closing on a home is a big deal. But once the paperwork has been signed, you're on the hook for keeping your home up to snuff throughout the life of your mortgage. So why not partner with a home insurance company that has your back? With four times the coverage on tech and add-ons like enhanced rebuilding coverage, a policy with Hippo means your new investment will have the modern protection it deserves.