If you're looking to live in a place where the beach meets the city, look no further than Jacksonville, Florida, or "Jax" as it is known to its natives. The most populous city in Florida, Jacksonville is home to an impressive 22 miles of sandy shoreline, and after the beach, you can watch the Jacksonville Jaguars play at the TIAA Bank Field or see a real-life jaguar at the Jacksonville Zoo. There are endless possibilities in the state's fourth-largest metropolitan area.
The tropical climate appeals to a variety of homeowners who love exploring the wetlands of the Timucuan Preserve or the coastal national parks. In Jax, there's something for everyone, including those who'd rather spend the day on the golf course than the swampland. In fact, the city is known as the home of the World Golf Hall of Fame. 
Before you practice the perfect hole in one, you'll want to make sure that your home is protected with the right home insurance.
How much is home insurance in Jacksonville?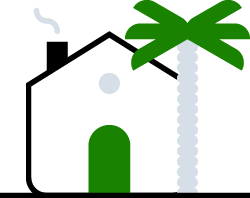 The average rate for home insurance in Jacksonville, FL. costs $2,779 per year on average, according to Insurance.com. While this is only $600 higher than the average Florida home insurance of $2,193, it's more than twice the national average of $1,200.