Fire season preparation is necessary every year. But with more people moving into rural areas like forests, meadowlands and mountain sites, wildfire preparation and awareness has become paramount. In many cases, especially when it comes to new homeowners, some may not be as familiar with the wildfire risks of their new environment. Lack of awareness and preparation combined with the increased wildfire risk the US experiences each new year, it is vital to brush up on what you can do to prepare yourself before, during, and after wildfire season.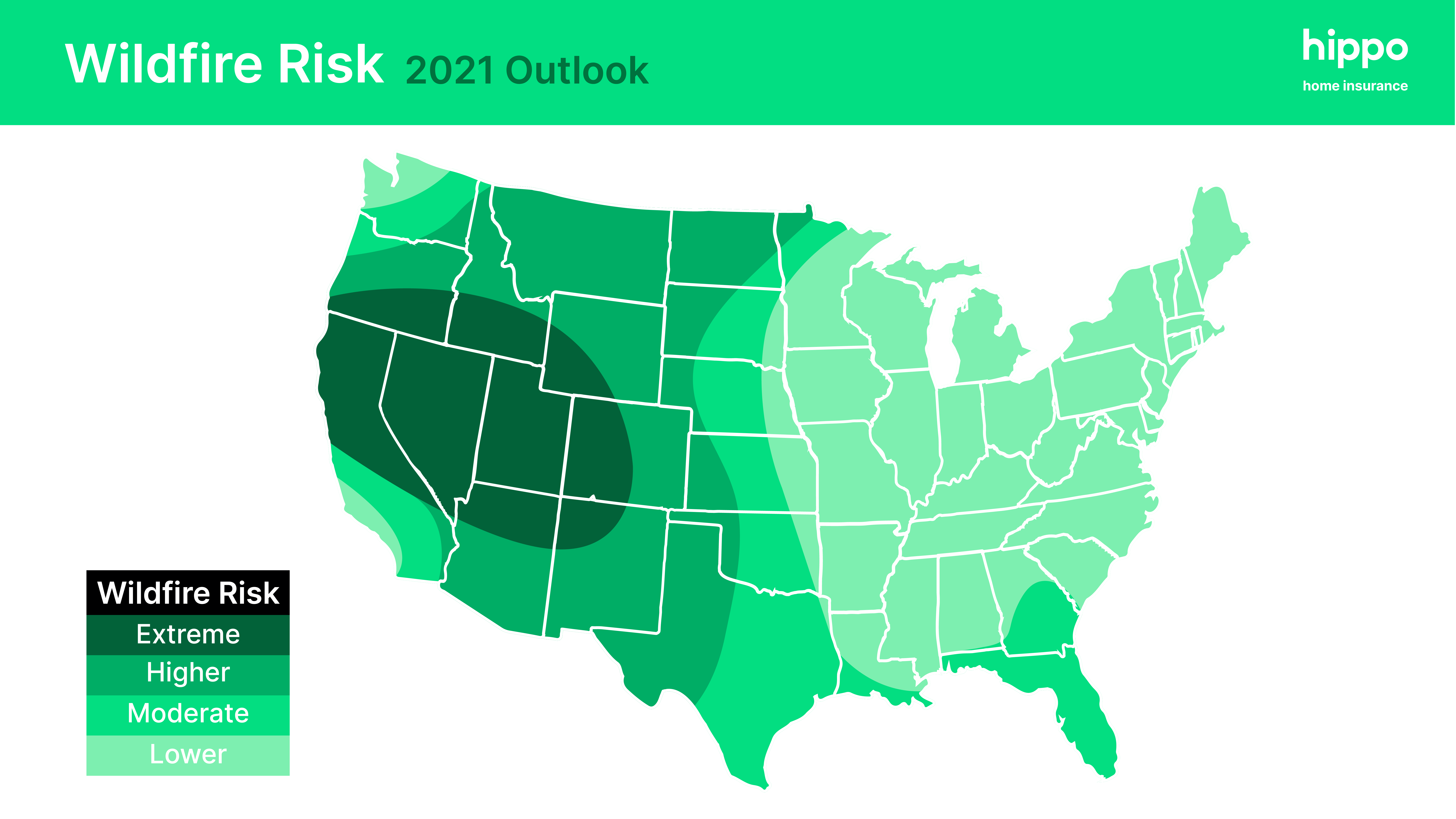 Hippo is chock-full of insurance experts that have been the first people on the ground to help homeowners who have just experienced a catastrophe. We wanted to get the advice and insights of an expert who has helped many customers through the devastating experience of a wildfire. Please meet Hippo's own, Abbey Staumbaugh.
Meet Abbey
The current Senior Claims Property Adjuster for Hippo didn't come from an insurance background but built a reputation as a dedicated worker with a fantastic talent for customer service. When Hurricane Harvey hit in mid-August 2017 as a Category 4 hurricane, it was so destructive that the storm tied with Hurricane Katrina as the costliest tropical cyclone on record at a price tag of $125 billion. Because it was also the most expensive natural disaster recorded in Texas at the time, a close friend who did work in insurance needed help and reached out to Abbey. As a person whose real passion has always been to help people, Abbey dove right in as an independent insurance field adjuster during Harvey, then Hurricane Irma hit just 2 weeks later, and Maria after that. Realizing she had an incredible knack for the industry because of her customer-centric view, she decided to stay in insurance and learn as much as possible.  When Abbey decided to make the leap into insurtech, the newest frontier and frontline of insurance, she found Hippo. 
Why Prepare for Wildfire Season
Homes that survive a wildfire almost always have one thing in common: The property owner has proactively taken the proper steps to prepare their family, home and property in anticipation of such an unpredictable and devastating event. 
We asked Abbey about what customers should know and/or do ahead of wildfire season, and here is what she said: "Wildfires are tricky. They move fast, seemingly disappear and then pop back up again really quickly. From my experience, the best way to protect your home is first to think more about the outside than the inside and abide by the rules of firescaping. Then get to work on what you can do inside to remain proactive and preventative"
Firescaping and Prep
Are you asking yourself, what the heck is firescaping? Firescaping is proactive landscaping that helps prevent a wildfire from damaging your home. Firescaping is intended to slow down or stop a spreading fire near your home by creating fire-safe zones, landscaping using less-flammable plants, and establishing open spaces that can deprive a fire of fuel.
"I've seen wildfire seasons where a customer did their due diligence when it came to firescaping their property, and that may be the only difference that prevented the wildfire from being able to make it to their home. I, unfortunately, have also seen where customers didn't landscape their property with fire prevention in mind... and their homes were either damaged or completely ruined."
Landscaping your property with planned defensible space is essential in safeguarding your home against possible wildfires. Defensible space works by preventing direct flame contact or radiant heat from reaching your home.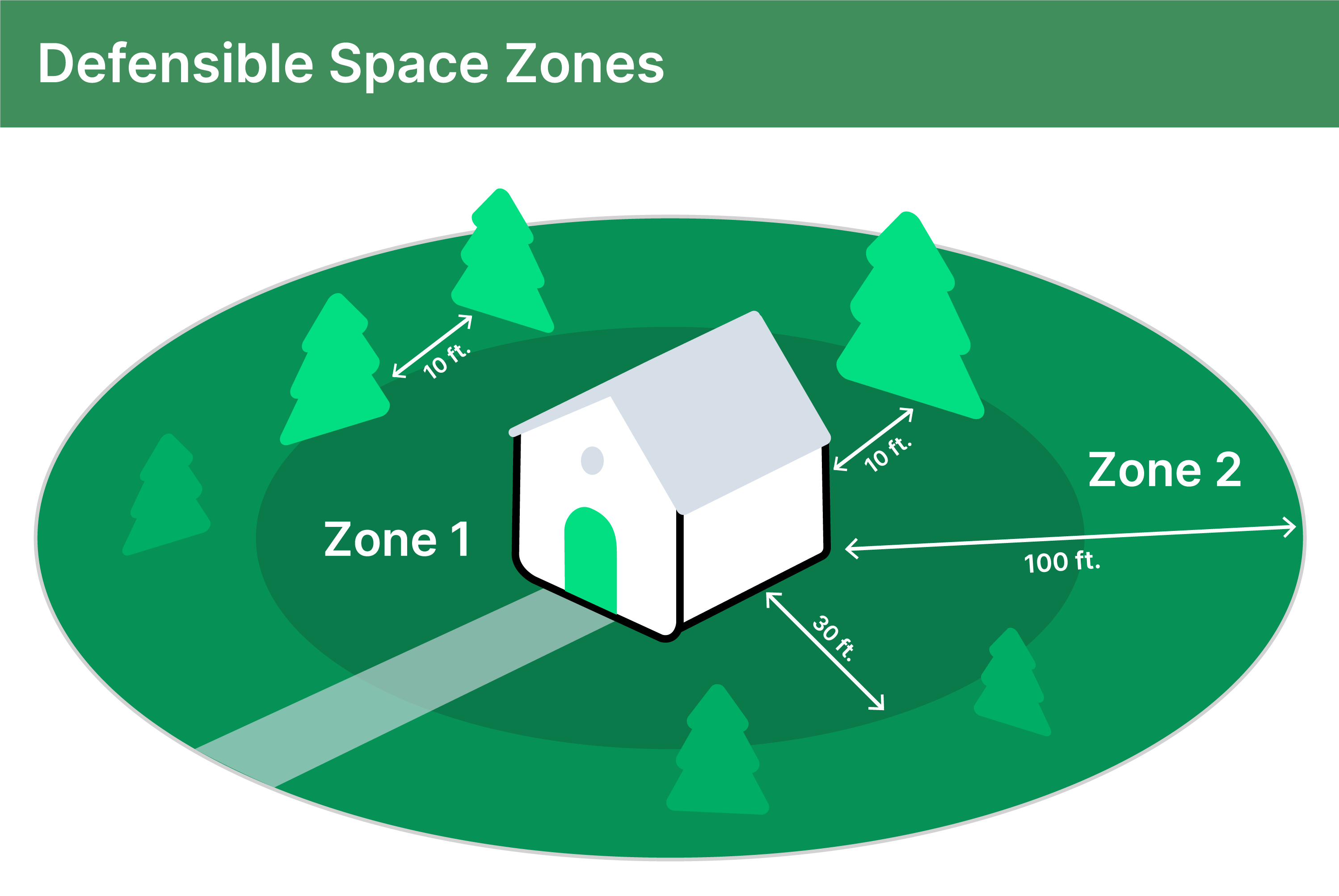 Prepare for Different Situations
"Having a realistic action plan for multiple scenarios is key. Whether there is a risk of wildfire smoke, knowing what to do, or if it is much more serious and you need to know what to do in your home before an evacuation, taking the time to plan and communicate that plan to the household can make a major difference."
In-Home Smoke & Ash Preparation
Our Hippo Home Care experts, who provide preventive home maintenance services and advice for homeowners, have a few tips to protect your home and keep your family safe indoors: 
Prevent ash and smoke particles by ensuring all of your doors and windows have proper weatherstripping with a clean seal when closed tightly.
Consider purchasing a High-Efficiency Particulate Air (HEPA) purifier. The key is to find a purifier suitable for the size of your home.
Check your home's HVAC system filter and upgrade it to a minimum MERV 13 rating filter. If upgrading your filter is not an option, keep a closer eye on its condition and change the filter regularly to maintain clean air in your home.  
Try to avoid producing any kind of smoke indoors, including burning candles and firewood. A lack of ventilation could lead to a safety hazard.
While cooking, check to make sure you've opened the vent hood over your stove.
Scrub down the outside of your home to remove smoke and ash residue. External cleaning will help keep the smoke and ash from making their way inside your home.  
If ash or smoke enters your home and has settled on your carpet and furniture, use an at-home carpet cleaner. If the smoke smell persists, consider hiring a professional cleaning service.
Install a smart Smoke/Carbon Monoxide (CO) detector. A smart smoke/CO detector will notify you of elevated levels when you are home or away, allowing you to call the fire department if necessary.
"Every home is different, so being mindful of its location and possible risk is something every homeowner should make themselves aware of. Contacting the local fire department or forestry service to consult about preventative measures and additional information is a great idea."
Mask Up
If you need to go outside during a time with wildfire smoke in the air, make sure you wear a particulate respirator mask. While you may have masks stocked up from the past year, a cloth face mask will unfortunately not filter out the particulates in wildfire smoke. The most popular facemask (now that we are out of the 2020 shortage) model is the N95, but the P100 model will also work. The N95 is certified by NIOSH and filters out 95% of airborne particles. 
Post Fire Prep
A wildfire can be an event that leaves your home and property in terrible shape. Knowing what steps to take after a fire has damaged your home can be confusing. Let's ask the expert.
"First, if you had to evacuate and you are returning home, make sure you have the 'all-clear' from the local officials to do so." Ashley explains that once you are allowed to return to your property, it is crucial to remain vigilant and be very careful. Be mindful of unstable or hazardous areas; this includes wet and slippery surfaces and confined or poorly ventilated spaces. And even though your first instinct may be to start cleaning up right away, don't.
"I know when people are returning home from a wildfire emergency, some of them are so shocked at how bad things can look with the smell of the smoke and everything that people's reaction is to start to clean and throw things away. Call your insurance first. Leaving the scene as undisturbed as possible will allow the adjusters to see all of the evidence of the catastrophe." You may be asking yourself, what can you do when you return home after a wildfire? "It can be helpful if customers begin to take an inventory list of items that were affected, take pictures of damages, because the more documentation, the more it can help the adjuster."
With the improved visibility, you are not only safer, but it is also easier to do the full-walk-around inspection of your home and the entire yard during daylight; it will also make it easier to take photos of any damage. Grab a camera or phone to take pictures and make any notes about damages to your property; this will be a considerable help for insurance claims. Don't forget to document any damage you find. Even a seemingly minor issue could lead to significant problems in the months to come.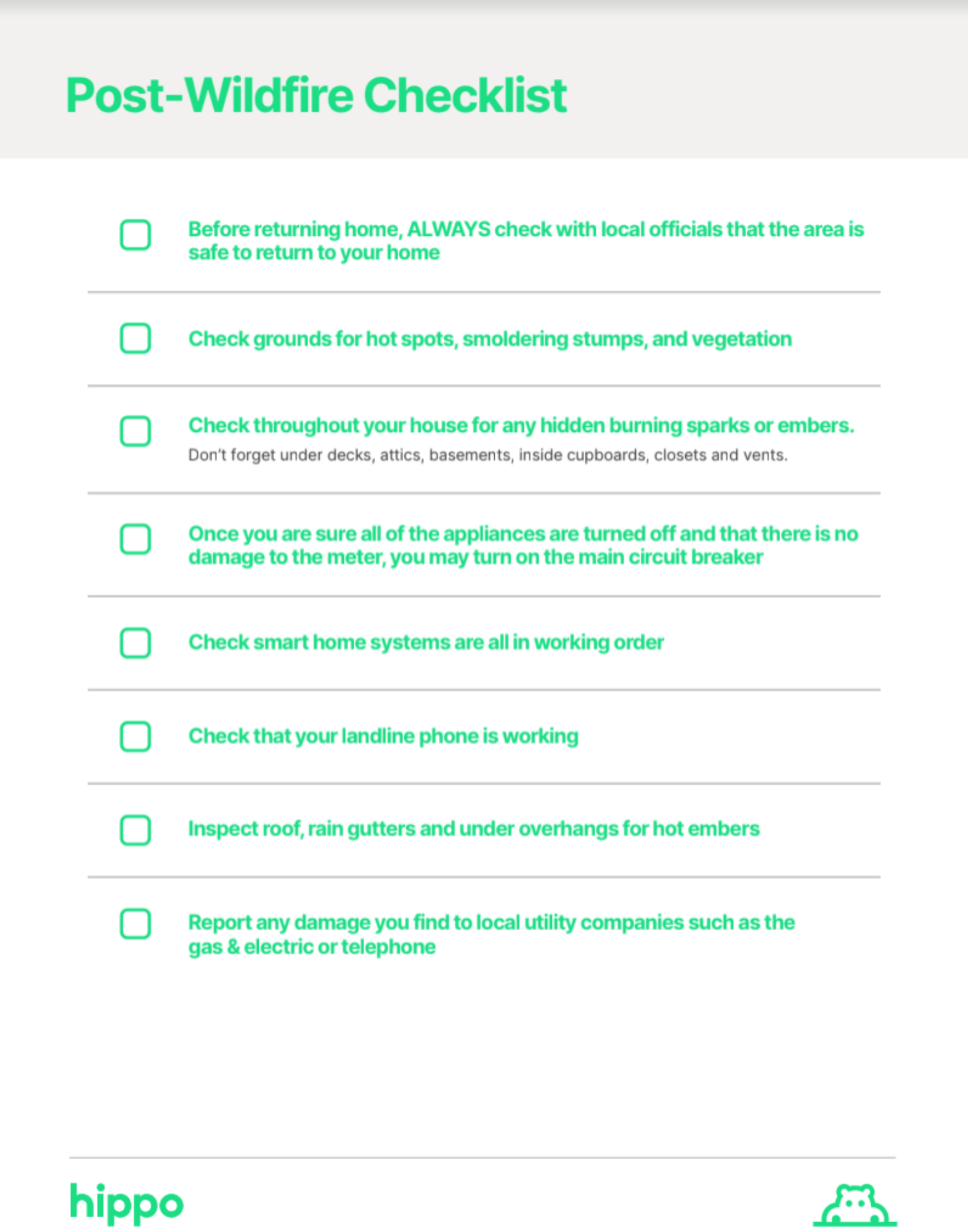 Insurance Claims
Realizing quickly that insurance is the type of industry where people don't comprehend the complexity of coverages and the claims process, Ashley knew she could make a difference. By deconstructing the "black box" that is home insurance and by breaking down industry contract-speak, she wanted to make the claims process more transparent and understandable to her customers. Transparency is particularly important to Ashley when it comes to natural disasters or catastrophes and what homeowners need to know to prepare themselves, but also so that their home insurance policies are ready for what can happen to the home and how customers can be made whole again in the process.
"When in doubt, always feel like you can call Hippo. I have had homeowners tell me they didn't even know smoke and ash coverage was a thing. The only way they found out was because of HIppo's amazing Claims Concierge team calling their homes ahead of big events to let them know they do have smoke and ash coverage, what to do during an evacuation, etc. Hippo can review your policy and walk you through what you may not know."
Hippo From the Heart
While asking Abbey if there were any specific situations she could recall that stuck out in her memory about customers that had been through a wildfire, she smiled and answered, "Wildfire season is notoriously no laughing matter, but last year, a homeowner and I were giggling about a situation where they had to evacuate and luckily the landscaping that had been done coupled with the firefighters' quick response, had prevented major fire damage to most of the home. But when the homeowner returned home, there was a note on the front door from the firefighters that said a bear had been in the home, gotten in the fridge, eaten all the food and done some damage to the kitchen floors. The homeowner couldn't help but laugh about it though, and was showing off pictures of the note and the empty fridge." The moral of the story, of course, is that the homeowner had done such a great job preparing for wildfire season that a bear had found the home safe enough to inhabit. Then the homeowner had had also documented everything for the home insurance company. Lesson learned.
Hippo is Here to Help
"Home insurance can get a bad rap sometimes, but that is what makes Hippo really special. We actively do what we can to let the customer know we are here for them. It isn't the stereotypical thought process of insurers to be so proactive for the customer, but it's what we are built on."
Having started in the insurance industry by helping during back-to-back natural disasters, it became clear how crucial a home insurance policy is to people who may not have taken a second glance at a contract they signed years ago. It also became clear that a home insurance company like Hippo, who strives for preventative and proactive care of customers, was just the right spot for her.
Having an established safety plan, readying your home insurance policy and staying informed is the best offense against any natural disaster, including wildfires.
When we asked Abbey what keeps her inspired at Hippo, she put it simply, "Home insurance is an industry where we can do a lot of good, make a lot of positive moves for the customer and do a lot of great things. Hippo wants to be the one to lead the charge, and that brings me to work every day." 
We couldn't agree more Abbey.