Cooking a Thanksgiving meal is a tradition that many people throughout the country enjoy celebrating. Though you might get into a heated debate around the dinner table, an actual house fire is the last thing you want. But because of the hustle and bustle of the holiday, Thanksgiving Day is the peak day for home fire calls.
Colder months, in general, see more house fire calls than hotter ones, as more people are inside and using heating equipment to heat their homes. But that doesn't mean homeowners need to be wary of things like heating systems, candles and other staples of the winter months — you just need to be prepared.
Fire prevention is possible. We've compiled a list of fire safety statistics that can help you inform your household about the risks and hopefully avoid disaster.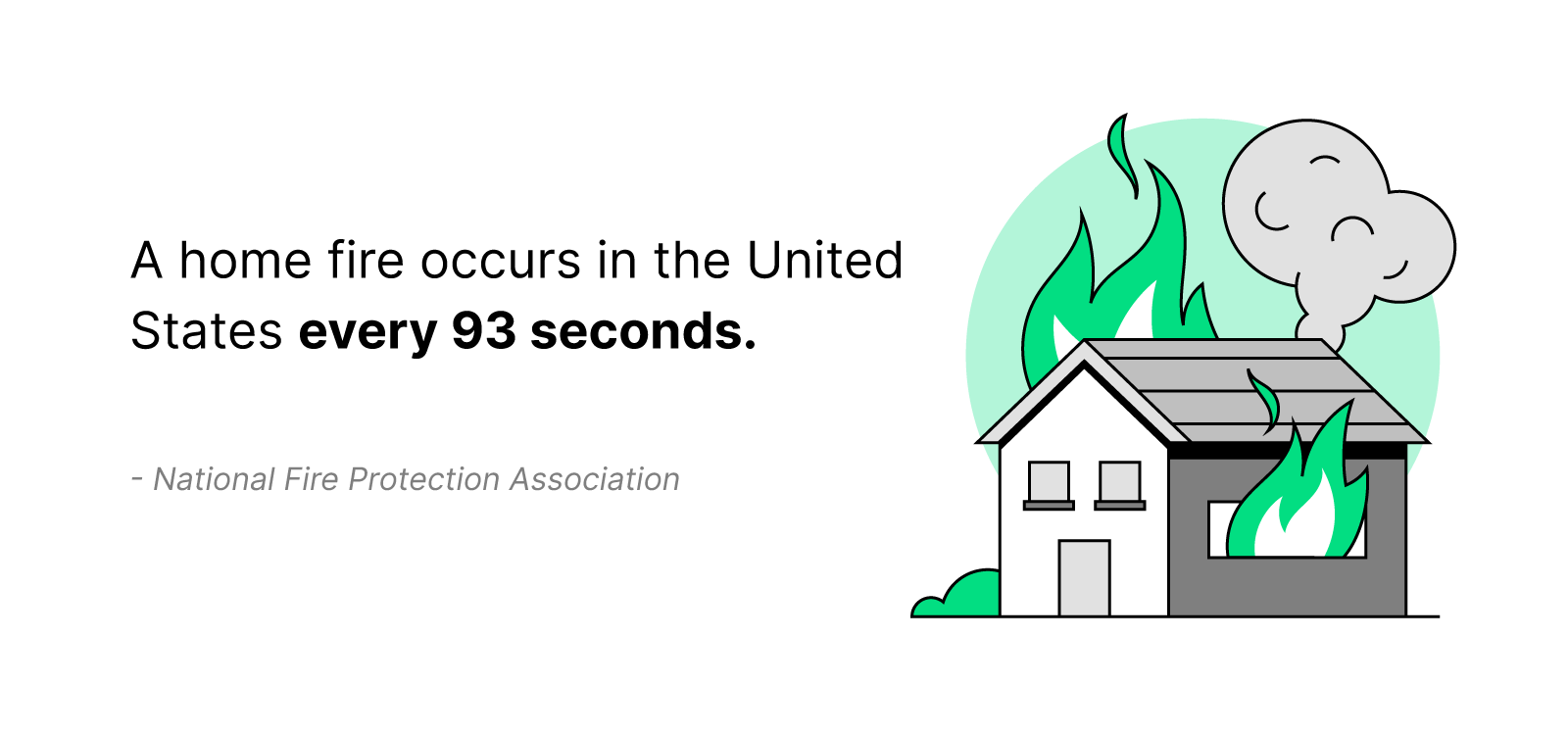 How do house fires start?
Though you might not think anything of it when you leave a pile of laundry next to your space heater, doing so could cause a house fire. These statistics will look into the most common causes of home structure fires.
Fire safety statistics
There's no need to live in fear of a fire starting in your home. By staying smart, you can prevent house fires and keep yourself safe. These statistics will look into ways Americans can keep themselves safe from fires.
Fire damage information
A house fire almost definitely means some sort of property damage. But exactly how much will depend on the scale and the severity of the fire. These statistics will dig into how much damage can be caused by house fires. (Tip: If a house fire does occur, a home inventory can help you track your personal losses.)
Deaths during home fires
Home fire deaths are a tragic reality when fires start. These statistics will look into how many home fire deaths occur throughout the United States.
Pets and home fires
Pets are a family's best friend, so much so that people pet-proof their homes. A home fire can be traumatizing for them as well. These statistics will detail howhome fires impacts our four-legged friends.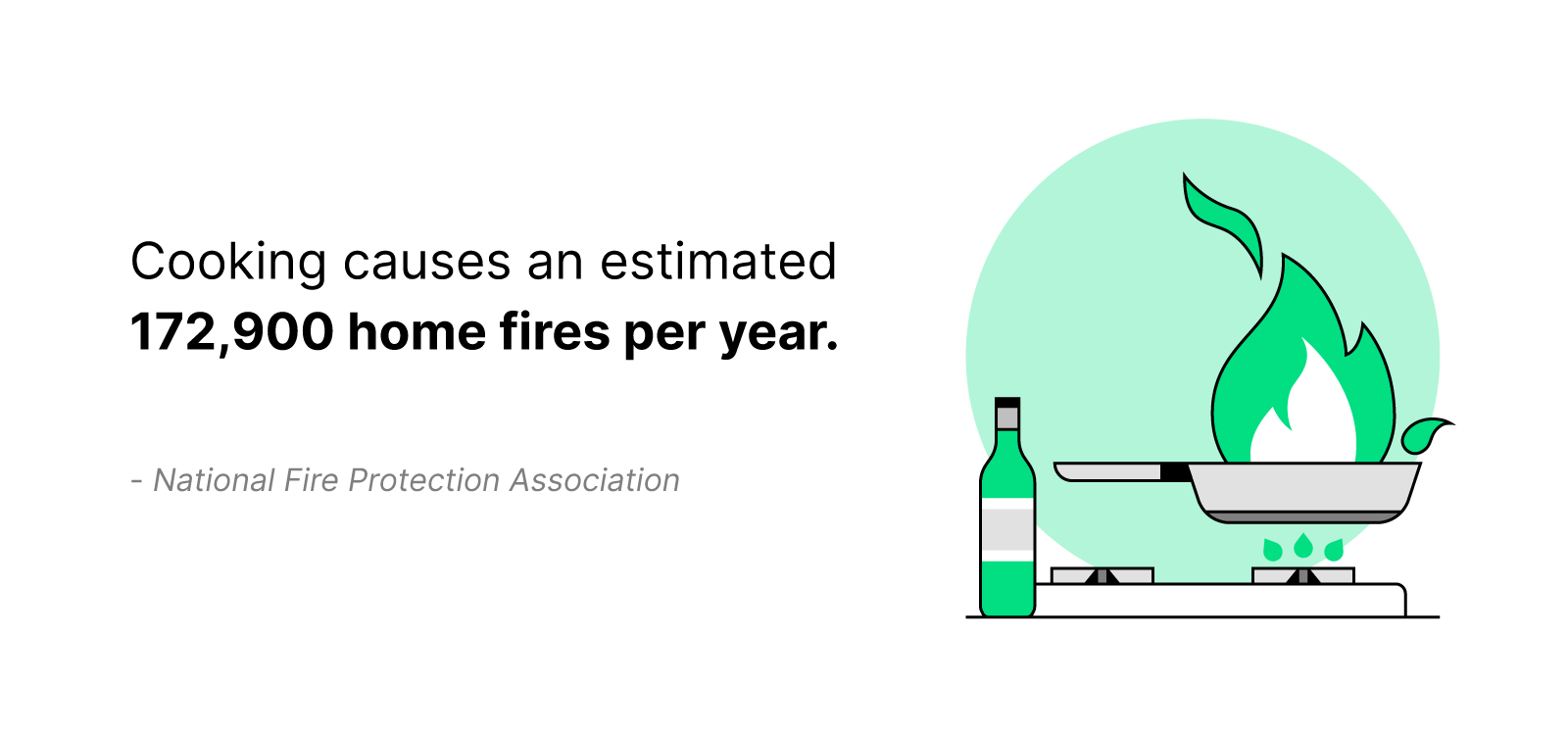 2020 home fire information
Home fire rates are constantly fluctuating year by year. These statistics will look at home fire information for the last year.
What are the leading causes of home fires?
By and large, the most common house fire catalyst is cooking. Cooking fires composed a significant number of total reported house fires — an estimated 172,000 per year. The good news is that most house fires don't actually cause a considerable amount of damage — 93% of these fires are small and contained.
Other top home fire starters include:
Faulty electrical wiring
Smoking
Heating equipment
How common are house fires in the U.S.?
According to the National Fire Protection Association, a U.S. fire department responds to a fire call every 24 seconds. More specifically, the association estimates that a house fire starts every 93 seconds.
House fires are a relatively common occurrence. While most cooking fires may be small and contained, structure fires still account for billions of dollars in damages every year.
When does home insurance cover fires?
While most home insurance policies require additional coverage for wildfire damage, house fire damage is usually covered in a basic policy. A basic home insurance policy covers dwelling, personal property and personal liability.
For house fires, dwelling and personal property damage coverage will come in handy. Dwelling insurance protects your home and any other structures on your property, so the buildings you live in will be covered if they're damaged by the blaze. Personal property coverage will cover your belongings, so you can focus primarily on getting out of the house.
For information on how to keep your family safe in the event of a fire, check out the infographic below.

Though most people will go through life without experiencing a house fire, it doesn't hurt to be prepared. Creating a fire escape route is an excellent first step, along with investing in home insurance that can help you recover from any losses incurred during the fire.
Hippo even created the Claims Concierge to support customers when disaster strikes — just another way Hippo has your back.
">