When Kevin McAlister realized he was home alone for the holidays, what did he do? He stocked up on supplies, ordered a pizza and turned on the TV (before the Wet Bandits arrived, of course). And while you shouldn't expect any lumbering robbers to show up at your doorstep, don't be surprised if your holiday season looks pretty similar to Kevin's this year.
With colder weather and a pandemic keeping everyone home, this holiday season is definitely a bit different than years past. To keep the Christmas spirit alive and well, families will have to get creative with how they spend their time. From Zoom storytime to indoor scavenger hunts, there are plenty of activities to try out this season that will make sure your kids have the holiday season they deserve. So give these downloadable activities a try, because as Kevin says, "you can mess with a lot of things, but you can't mess with kids on Christmas."
Family activities for a fun (and safe) holiday season
Keeping your home and your loved ones safe is kind of our thing, if you hadn't realized. In addition to our home insurance services, we also work to help our customers achieve total home wellness. If you need help getting your dishwasher to run properly or you just need to keep the kids entertained while you cook the holiday meal, we've got your back. Check out these holiday-themed games, activities and crafts that you can use to keep the winter blues at bay.
The fun doesn't have to stop once these activities are complete, though. Get your kiddos involved in the cleaning process in a new way with our cleaning games and printables for kids after the holiday fun has come to a close.
Holiday-themed zoom backgrounds
To keep everyone safe this holiday season, many are only seeing their loved ones from a distance. However, that doesn't mean that the festivities have to stop. Well-loved traditions such as storytime by the Christmas tree can still go on, albeit slightly differently than years before.
Get grandma a laptop and set up a Zoom storytime night with the kids to make sure they get in that much needed bonding time. And to make the event a bit more cheerful, try out these downloadable holiday backgrounds that are sure to excite kids of all ages.

Christmas plastic wrap game
Get your Christmas playlist and a roll of plastic-wrap ready for this time-sensitive game where each family member tries to unwrap the present-filled ball as fast as they can. You can make each contestant wear oven mitts to make unwrapping that much harder and have them hand the ball off to the next player every time the music changes. Add in some gift cards, toys and candy inside the plastic-wrapped ball and you've got a game the whole family will enjoy.
Search for Santa
With the winter weather settling in, you're likely spending less time outdoors than you were at the beginning of the pandemic. To keep the cabin fever at bay, organize an indoor Christmas scavenger hunt for the kids. Hide their favorite ornaments, toys, candy and plush Santas throughout the house for them to find. You can even make a point system for each item depending on how easy they are to find. Blast the holiday music and let them run loose, and make sure to have a treat at the end for the winner (and some participation prizes as well so no one feels left out).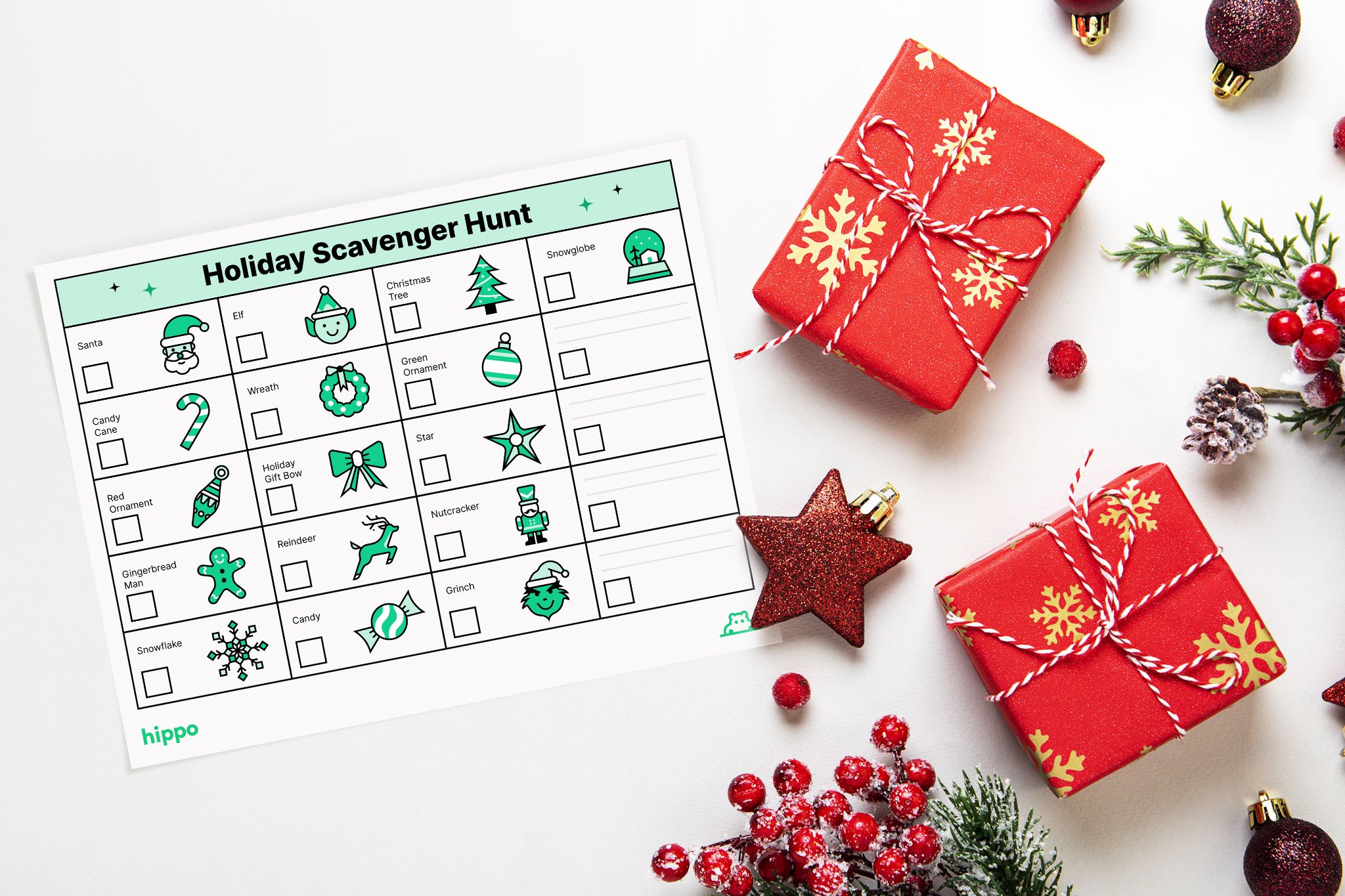 What Christmas character am I?
Hop on a Zoom call with your friends and relatives for a Christmas guessing game made for social distancing. Send everyone a list of Christmas characters beforehand so they can draw a card from a hat, then each player will place the card on their forehead. Take turns asking questions to find out what your card says; just make sure to minimize your own video while playing so you don't see your character name. Finish off the night by watching a holiday movie together via a site like Netflix Party for a pandemic holiday party for the books.
Santa limbo
A game that gets the whole family moving, all you need for Santa limbo are pillows, Santa hats and something to use as a limbo pole (a shower curtain rod works perfectly in a pinch). Get the whole family dressed up as Santa and take turns shimmying under the pole without your belly touching or your Santa hat falling off. Keep track of your scores on the printable sheet below — the last Santa standing wins.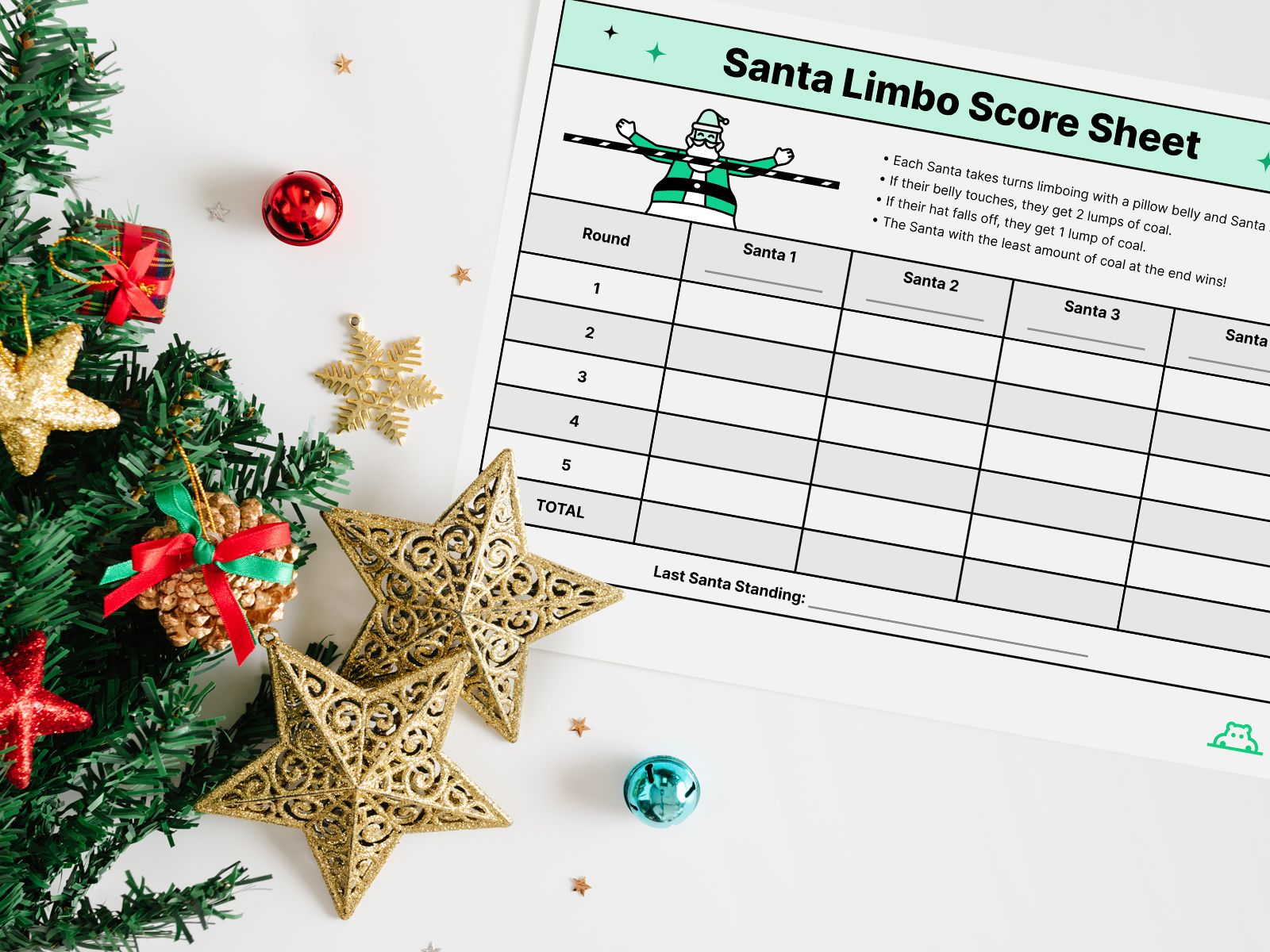 Christmas ornament crafts 
Commemorate one of the most unique holiday seasons in recent memory by making an ornament you can hang every year. If you have little ones (or furry friends at home), this is a great time to mark their size with an outline of their hand or paw imprinted on a clay ornament. For older kids, let their imagination run wild by setting out plenty of crafting supplies and see what fun ideas they can come up with and create.
Coloring page placemats
With all the wonderful casseroles, desserts and other sides cooking in the kitchen during the holidays, it's no surprise that kids might start to get antsy while waiting for dinner (and let's face it, adults too). Help keep them occupied while you prepare the feast with printable coloring page placemats that they can show off to the family before you all dig in. You can even put them up on the fridge for the rest of the season, if they stay clean enough, that is.

Marshmallow snowmen recipe
Let the family get crafty by making delicious snowmen out of marshmallows, gumdrops, chocolate chips, pretzels and icing. You can make it a game by seeing who can make their snowman the fastest, or draw names so that each family member has to create a snowman that looks like someone else. And the best part — you'll get to enjoy your creations after you've declared the winner.
A safe and happy holiday home
We've broken down the top tech for a safe holiday season on our blog before. There are various hazards parents need to be aware of, especially given how much time everyone will be spending at home to finish out the year. Below is a breakdown of the biggest hazards (and potential solutions) we've uncovered in our time of protecting families in their homes.
On average, 160 home fires start from Christmas trees every single year.

Smart devices such as tree nannies and smoke alarms can help prevent disasters before they start.

About 200 decor-related injuries occur every day during the holiday season.

Smart ladders, light-weight decorations and smart plugs help ensure that you can spread your Christmas cheer without ending up in the ER.

36% of homeowners have reported instances of package theft in the past.

Smart doorbells and outdoor cameras allow you to monitor your packages until you get home.

Cooking fires spike over the holidays, with Thanksgiving and Christmas day seeing the most incidents.

Smoke alarms, robot vacuums and smart speakers can help make sure everything goes smoothly in the kitchen this year.
Making sure the holiday season is memorable for your family should be your only worry. Leave the holiday home safety and protection to us so that you can enjoy a stress-free end to one of the most unprecedented years in recent memory. And if your home insurance company is giving you more problems than they're solving, give us a call to chat about switching to a provider that will prioritize your family.