Which state experiences three months of constant sunlight, has the largest number of volcanoes in the United States and is only 50 miles from Russia at its closest point? Hint: there's a reason that some people call Alaska the Land of the Midnight Sun. 
With its natural beauty, unique lifestyle and the lowest population density in the US (only one resident per square mile!), Alaska is a state that's unlike any other. 
People who choose to settle down in Alaska are accustomed to cold temperatures, whale sightings, 34,000 miles of beaches and the chance to see aurora borealis for about 240 days of the year. Realistically? They should also be prepared for winter weather damage and other various homeowner issues. We've compiled a guide to home insurance in Alaska for those looking for more info. 
How much is homeowners insurance in Alaska?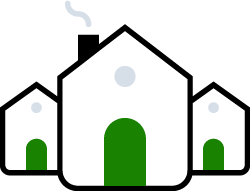 Home insurance in Alaska costs about $1,078 per year, coming in at about $133 less than the national average of $1,200.
While many consider Alaska to be one of the last truly wild places in America because of its sections of uninhabitable land, over 700,000 people have settled down in The Last Frontier.
While Alaskans may need thick skin to survive the long, cold winters, those who do decide to live in Alaska will experience the natural beauty found in the highest concentration of national parks in the United States and a relatively low average home price of $370,000.