There are a lot of advantages to working from home, not the least of which is a 30-second commute to a home office you designate and design. Creating a home office gives you a lot of choice and freedom. Want a gamer chair with built-in fans and a cup holder? Go for it! Feel inspired by striped walls? Be our guest! 
No matter how you decorate, furnish, or set up your home office, it's important to design with safety and security in mind. Keep reading for home office safety tips to keep your WFH workspace safe, comfortable, and conducive to productivity.
Set up safely
Location location location
Just like with any successful business, location matters. One of the most common mistakes people make when setting up their work-from-home offices is choosing a short-term solution, instead of planning for long-term happiness and productivity.   
Take the time to consider what will help create the most comfortable, healthy, and productive environment for you.. Does your home office have natural light? Is it quiet and clean enough to focus or take calls? Do you have a comfortable place to sit for hours? Think about where you'll be happiest in your home—and where you'll work most efficiently. Depending on your preferences, you could move a desk to your hallway, set up your workspace at the kitchen table, or clear out a less frequented room for your workstation. 
Account for ergonomics
Ergonomics—the study of someone's efficiency in their working environment—can play a big role in your day-to-day comfort and productivity at work, not to mention your long-term well-being. To figure out how to improve your working environment, start by considering your body, health concerns, and personal needs. If you regularly suffer from neck or backaches, have a tough time falling asleep, or notice your posture taking a turn for the worse, it's crucial to invest in more supportive furniture and tech setups. 
Here are some tips for creating an ergonomically correct workstation: 
Invest in a comfortable chair with plenty of lumbar support, wheels, and adjustable armrests.
Make sure your desk stands at the proper height, so your feet rest flat on the ground. 
Position your computer or monitor an arm's length away from you. 
Adjust your computer or monitor so your line of sight is two inches from the top of the monitor. 
Adjust your chair height so your wrists lay flat at the keyboard. 
Prevent trip hazards
Working from home means you have more technology and paperwork in your space, both of which can pose a risk of tripping and falling if you don't position or store them properly. To keep your space clear of potential trip hazards, look for solutions that keep your cords, papers, and electronics organized and out of the way. Power strips, charging stations, shelving systems, desk hooks, and under-the-desk racks can all help you keep everything tidy. 
Discourage distractions
Distraction at your home office can cause you to be over-tired both mentally and physically. When you're distracted at work, you might end up working longer hours and feeling more scattered, kicking off a cycle that can jeopardize your health and contribute to burnout. 
To eliminate distractions, start by creating a distinct separation between your workspace and living space. Privacy and separation will help you focus while at work, and also allow you to get up from your desk and "clock out" when you need to.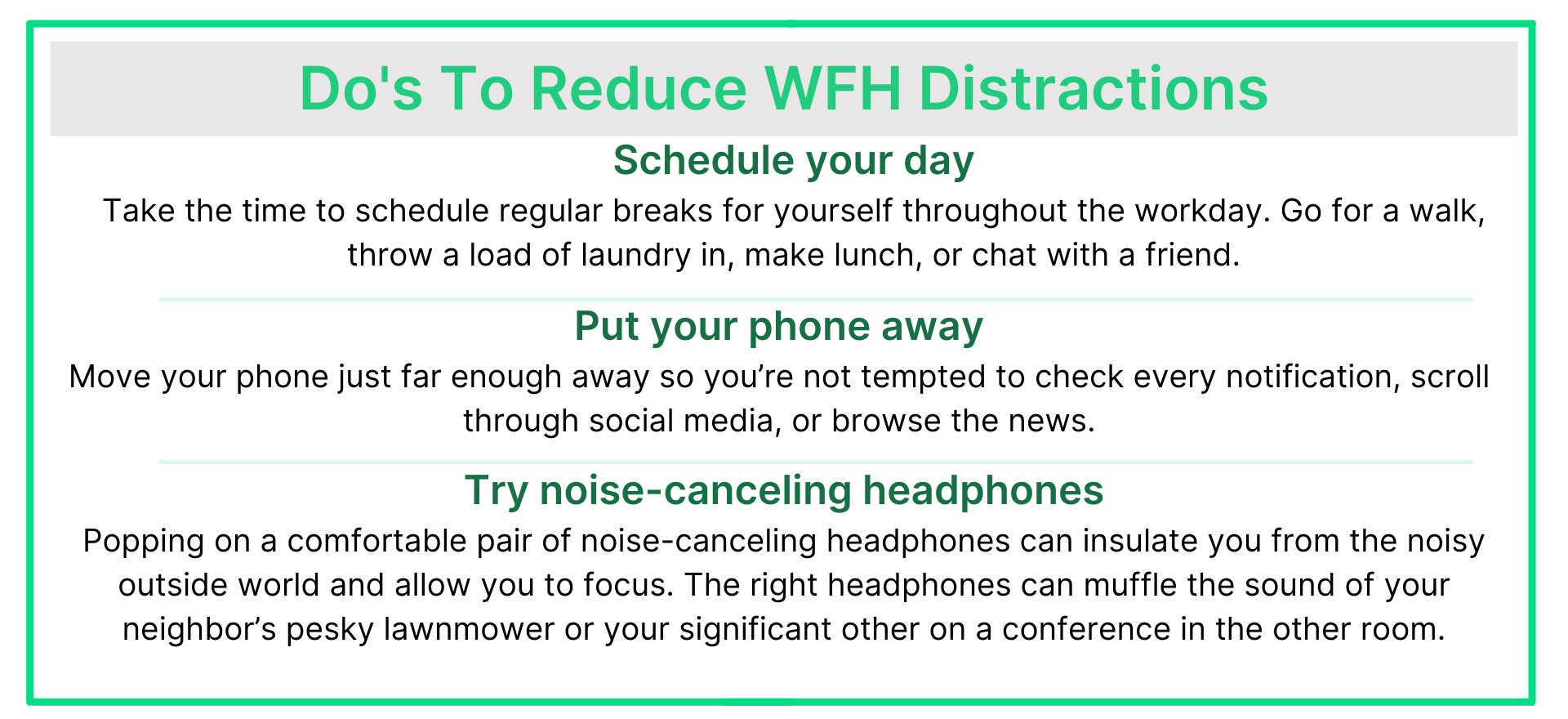 Information security and data privacy at home
Part of setting up a safe home office is rethinking your information security and data privacy. Here are some common concerns when working from home: 
Email scams
Many scammers send phishing emails with the intent to steal sensitive information from the recipient or the company. Especially in complicated times—like during the coronavirus pandemic—phishers are hoping to take advantage of trusting victims. They'll often pretend they're someone within the company, like the CEO or a manager, to establish false trust. Remote workers are easy targets because they're not in the office and, therefore, hackers are hoping they won't check to see if the email is legitimate.
Unsecured Wi-Fi
Many remote employees use their private home network, which can increase the risk of leaked data. Third parties might be able to intercept and access sensitive emails, passwords, and messages. There's also the risk that others who live in your home (and use the same internet connection) may see valuable company data.
Personal computers
Many remote workers admit to using their personal devices rather than their designated work tech. According to Cisco, 46% of employees report transferring files between their work and personal computers. If employees obtain sensitive data and store it on their personal devices, that puts many companies at risk—especially if said employee leaves the company. 
Another source of vulnerability is cyberattacks. As a remote employee, if you use your personal computer and don't download the latest updates, you could be more vulnerable to cyberattacks. The safest option is to use a company-provided device (if possible) to complete your work. 
Cybersecurity
Working from home, while convenient, does expose you to a range of cyber security risks. In order to put your best cyber security foot forward from home, here are a few remote working security tips to ensure you are working from home safely.
Implement multi-factor authentication: Does your company-issued laptop require multi-factor authentication? Multi-factor authentication grants access to the device and all software after the employee provides more than one form of identification. Anyone can memorize a password or steal a physical device and unlock a computer. Multi-factor authentication can prevent hackers from physically accessing your company device. If your company laptop doesn't currently have multi-factor authentication enabled, ask your employer about implementing one.
Use strong passwords: Physical devices aren't your only concern. If a hacker tries to access any sensitive accounts, you want to make it as difficult as possible for them to log in. Using a password manager is a great precaution, as it ensures you are only using strong passwords, like those with special characters, numbers, and upper and lowercase letters.
Encrypt your messages: Data encryption helps protect sensitive information by translating it into a code that only people within your company can access using a secret key or password. Even if scammers intercept your data, they won't be able to interpret it properly. This goes for any messages or information you send, receive, or store on your devices.
Invest in antivirus software: Your employer may provide a recommended application for a company-issued device, but if you use your personal laptop for work, you need to keep your system protected. If you aren't sure if your employer has invested in antivirus software, check in with your company's IT department for how to best protect your system while working from home.
Don't allow family members to use your work devices: Even if you don't think it's risky, err on the side of caution and ensure that you are the only one that uses your professional devices.
Keep your physical workspace secure: While virtual security is important, it's equally important to make sure your home office is physically secure. Home offices often contain expensive equipment or physical files and documents that contain sensitive information, so it's imperative to explore security options. While it's not possible for your home office to have a security guard, it's important to add whatever elements of traditional physical security you can. Depending on your needs, you can look into a smart home security system or simply add a locking cabinet drawer.
Follow company policies to the letter: Your company likely has clear policies for accessing the company network outside the office. Those guidelines and rules should always be followed, but it's especially important when you're working remotely. Report any suspicious behavior to IT immediately and follow basic computer hygiene standards. Think: updating operating systems and using antivirus/malware and regular scanning.
Use company-approved programs: Adhering to company policies also includes using only the designated programs that your employer wants you to use, even if you prefer a different program. This is so the IT administrator doesn't have various security configurations that may or may not comply with the company's security requirements. It establishes a set standard, which is much easier for the company to support remotely.
Creating a safe, happy home office
Working from home comes with its own list of pros and cons, but what matters most is safety. Whether it's safely securing all the cords from your screens so you don't trip and fall, or installing that last anti-viral software update to ensure your network connection is secure, taking the right steps to ensure your safety is vital. 
The good news is that all it takes is a bit of planning, and you can create a productive, safe home office that supports your work and your well-being. 
If you need guidance or help to protect your home office, give Hippo a call. We offer insurance that will put you at ease, with the great coverage you expect, plus extras like 4x higher coverage limits on your electronics than other providers and enhanced coverage on the appliances that help run your home, like your water heater and air conditioner. ​​We even provide smart home kits with most policies to take your home to the next level.