Homeownership is a powerful and meaningful step for any family, but it can be especially symbolic for those who are serving in the armed forces. While juggling a mortgage payment and deployment or active duty service might seem like too much to handle, it is possible for service members and veterans to own their homes by being proactive and doing their research.
To help our troops answer a few questions they might find themselves asking during the home buying process and their homeownership journey, we've put together a guide tailored to veterans and active service members. Read on to learn more.
Military homeownership statistics

It can seem like a lofty goal to own a home while, or after, serving in the armed forces, but in reality, veterans have a higher homeownership rate than the general population. A study by the Urban Institute provided helpful insight and data into veteran and military home buying and ownership. The statistics below can help you gauge how service members view and achieve homeownership.
Veteran households have the highest homeownership rate among military and nonmilitary households at 79%.
43% of active duty military members own a home.
Older veterans and active duty service members are more likely to own homes: 84% of veterans and 87% of active duty service members ages 55 and older are homeowners.
Only 28% of active duty service members ages 18 to 34 own a home.
White veterans are the most likely to own a home (82%), followed by Asian veterans (75%) then Hispanic veterans (67%).
Finding a home while on active duty
Whether you've just been stationed in a new location or retirement is on the horizon, active duty military members may choose to invest in a home. These guidelines will help navigate that process.
Choosing a realtor
The right realtor can help make the relocation process easier. The home buying process can be tricky enough for civilians, which is only compounded by the extra considerations that military families need to make. Realtors can obtain a Military Relocation Professional (MRP) certification to learn more about specific needs military families have and help those families make the right decisions.
When searching for a realtor, look for someone with an MRP certification as they will be well-educated on finding the right homes for military families.
Choosing a home
There are many reasons why someone in the military would want to purchase a home. Whether you want a little bit of permanence during a longer-term station, a backyard for your kids to play in or a place to live once you return home from active duty, you'll want to find a home in your budget that also fits your family's needs.
As far as your budget goes, Military Consumer recommends looking for a home that costs 2-2.5 times your annual income. As the base pay for a first lieutenant in the Army is about $51,000 per year, that would mean you would want to look for a home in the $127,000 range.
A few questions to ask yourself while choosing a home are the following:
What amenities am I looking for?
Where do I want to live?
How long am I going to live in this house?
Is this house too big or too small for my needs?
Is this house within my budget?
Will this home fit my family?
Considerations to make
Purchasing a home is a big decision that requires preparation and forethought for any family. For military families, doing so may require a contingency plan in the event you get deployed or relocated.
In the event you're deployed or relocated without much time to work through selling your home, you'll want to make sure you are able to relocate without significant cash loss or stress. Your real estate agent can walk you through your options if this occurs, including short selling, accepting cash offers or becoming a landlord.
The home buying process for veterans
The home buying process doesn't vary much between civilians and military members, but there are still some specific boxes to check and ways that veterans and troops can make their home application stand out.
Putting in an offer
Falling in love with a home is invigorating, but afterward comes the sometimes-fraught competition to win the home. When putting in your offer, consider sending in a buyer's love letter, or letter to the seller. In the letter, mention things you liked about the home and why it's a good fit for your family. You might also consider mentioning your military service and how much homeownership will mean to you as a member of the armed forces.
A successful letter to the seller should be handwritten and include:
An introduction to who you are
What you like about the house
Why the house is a good fit for your family
Your military service history
Getting your documents together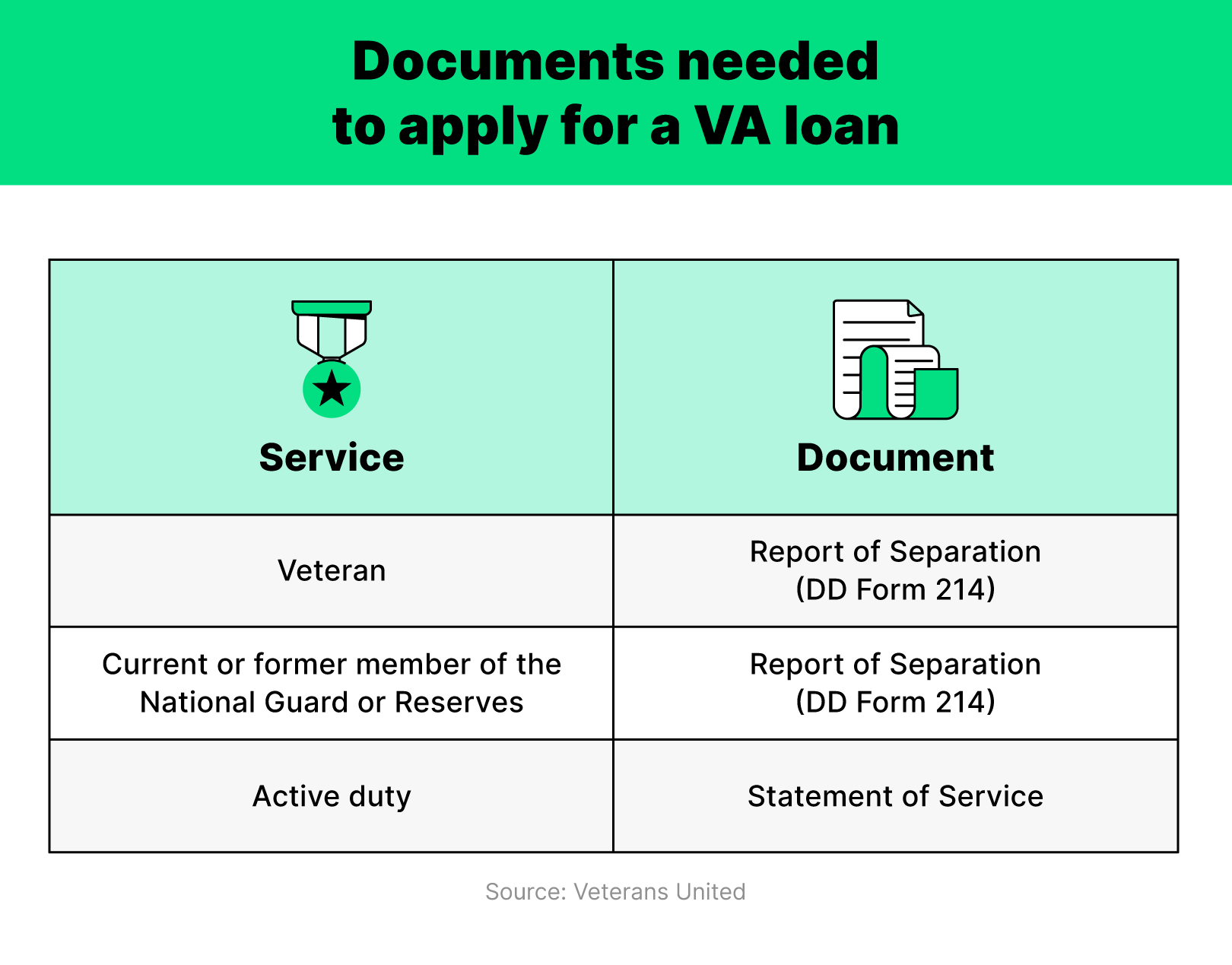 Applying for a mortgage and getting your home offer accepted will require proof of income and the ability to pay for the house. A few documents you're going to need throughout this process are the following:
Credit report
Current open loan information (think car payments or student loans)
Pay stubs
W-2 forms
Bank statements
Having these documents prepared ahead of time can help expedite the home buying process and give you leverage over other buyers.
For veterans or service members looking to apply for a VA loan, you may need additional documents like service records or separation notices.
Financing and insuring a home
Financing and insuring a home might mean a lot of paperwork and jargon. But choosing the right lender or provider can make the process easier.
Choosing an insurance provider
When you've made such a big investment, you want to make sure it'll be protected. The right insurance provider can help. Armed Forces Insurance can help military members and veterans find the right home, renters and auto insurance by connecting them with a lender that meets their needs.
And for those looking to cut insurance premium costs, some home insurance lenders, including Hippo, will offer discounts to families who take steps to protect their homes from damage. By buying fire protection equipment, purchasing a home near first responder stations or investing in smart home equipment, you can keep your family safe while saving money.
Financing options for veterans
The good news for veterans interested in homeownership: There are loans available to members of the armed forces that aren't available to civilians. A few financing options for veterans or service members include:
Both of these loans offer little to no down payment and lower interest rates to help service members own homes without sinking all of their money into it. 
Military members may also choose to forego a VA or military-based loan and opt for a loan that is tailored to low-income or needs-based families, like a USDA or FHA loan. These loans aren't military-specific, but they are good options for military families because of their flexibility and low payment rates.
Disabled veterans benefits
Disabled veterans will likely be eligible for additional benefits from their VA loan. While the VA loan typically comes with a minimum service requirement, disabled veterans who were injured during their service don't have to meet the required service days to qualify for the loan.
In addition, disabled veterans may be able to receive grants to help make modifications to their homes for accessibility. Specially Adapted Housing (SAH) grants are provided through the U.S. Department of Veterans Affairs and provide funding to help make a home more accessible or purchase/construct an accessible home.
According to the U.S. Department of Veterans Affairs, funding may be available to veterans who have the following disabilities:
Limb amputation or loss of use of limbs
Blindness
Loss of use of a limb affecting balance or unaided movement
Severe burns
Avoiding potential scams
Veterans who are eligible for or a recipient of a VA loan should be wary of offers to refinance their loans or loan conditions that seem overly generous. Some lenders might trick the borrower into a loan that isn't good for them and ends up costing an unnecessary amount of money, while other scam companies may not issue the loan at all.
A few red flags to look out for regarding loan offers or refinancing:
Exponentially low-interest rates
Offers to push or skip payments
High cashback offers
Pushy, aggressive or time-sensitive customer service
No or extremely low out-of-pocket costs
The best way to avoid getting scammed is to shop around, compare your options and weed out any offers that are too good to be true — more than likely, they aren't.
What is a VA loan?
A VA loan is the most popular loan option for retired and active military service members who want to secure long-term housing. VA loans are accessible through private lenders but come with a number of additional benefits like low-interest rates or low or no down payments.
Eligibility requirements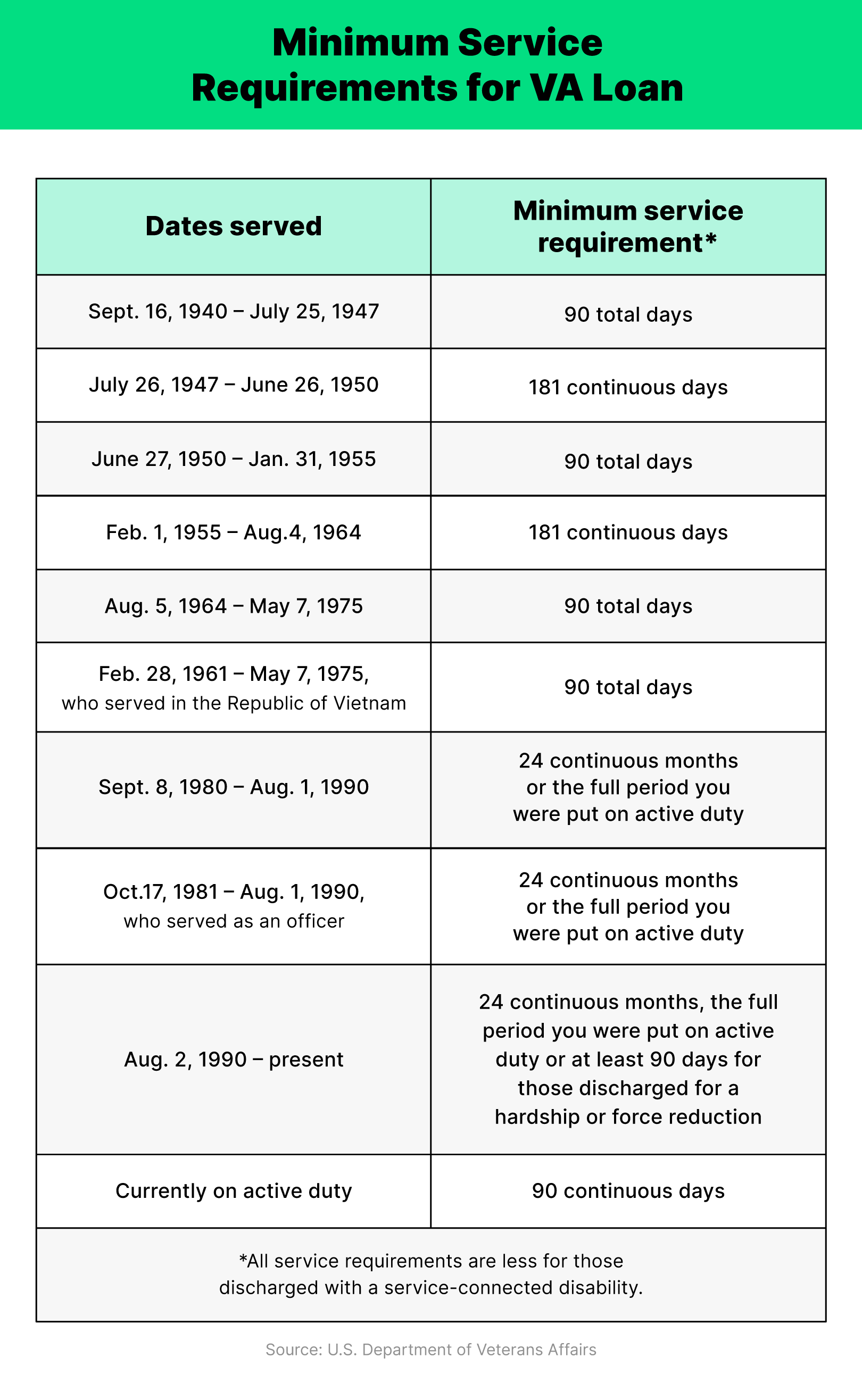 First and foremost, you'll still need to meet your lender's eligibility requirements for a home loan, which will vary by lender. To receive VA benefits, you'll also need to meet a minimum service requirement to receive a Certificate of Eligibility.
Service requirements vary based on time and dates served but are broken down by the U.S. Department of Veterans Affairs like this:
The eligibility requirements are different for members of the National Guard and Reserve members:
Those who served from Aug. 2, 1990, to the present: 90 days of active duty service
Any time: Six creditable years and meets one of the following conditions: honorably discharged; placed on the retired list; transferred to the Reserve after honorable service; serving in the Selected Reserve
How to apply
The general steps for applying for a VA loan are the following:
Find a VA loan lender. Many private lenders provide VA loans, so it will be beneficial to shop around and find one that is right for you.
Obtain your Certificate of Eligibility (COE) using these steps from the U.S. Department of Veterans Affairs.
Finalize your loan application by providing your COE and any other relevant financial documents.
Home buying benefits for veterans
There are a few other VA-backed programs and benefits that veterans can use while buying a home. These include:
Interest Rate Reduction Refinance Loans: Those who are currently paying a VA loan may be able to reduce their mortgage payments by refinancing their loan using an Interest Rate Reduction Refinance Loan (IRRRL).
Native American Direct Loans (NADL): Veterans who are, or are married to, a Native American can apply for a Native American Direct Loan (NADL) to buy or build a home on federal land.
Adapted Housing Grants: Adapted Housing Grants can help disabled veterans who own or will own a home make necessary improvements or changes to the home to improve accessibility.
Foreclosure Avoidance Assistance: The VA has systems in place to help veterans or service members avoid foreclosure. In the event your mortgage becomes delinquent, contact the VA to discuss your options.
Military Housing Assistance Fund: A nonprofit that aims to help military members and veterans pay the closing costs for their homes.
Additionally, states may have individual benefits, grants, tax breaks or financial assistance available for veterans. Contact your local state veterans agency to see what options are available for you during the home buying process.
Home maintenance for veterans
In addition to SAH grants to help disabled veterans make home renovations, there are a few other programs available for veterans wanting to repair or improve their home.
Nationwide service organizations may also provide home maintenance help to veterans. The Habitat for Humanity Repair Corps program aims to help veterans with critical home repairs in homes they own.
Maintaining a home during deployment
During deployment or time spent away from your home, it's important to have someone to keep an eye on your property if your family won't be living there.
A few ways to protect your home while you're deployed:
Hire a property management company and rent out the property to tenants while you're gone
Allow family or friends to live there while you're away
Winterize the property before leaving
Ask family or friends to stop by your property and check for maintenance issues every few weeks
Schedule routine interior and exterior maintenance ahead of time
Frequently asked questions
Home buying can be a tricky process, so we've compiled a few frequently asked questions to help military service members align themselves during it.
Do you need a down payment to buy a home?
The short answer: No. At least if you're using a VA loan. Because the home loan is backed by the VA, the home buyer usually won't be required to pay a down payment on a loan over $144,000. Even so, some veterans will still choose to pay a down payment because it will lower their monthly mortgage payment.
Veterans who choose to go a traditional route with a traditional home loan will most likely have to pay a down payment on the home.
What credit score do veterans need to buy a home?
Typically, a military service member or veteran will need a minimum credit score of 620-640 to be approved for a loan. Most lenders look for a credit score of 640 or higher, but those who are in that ballpark may still be approved by another lender if their score is higher than 620.
Where do most veterans live?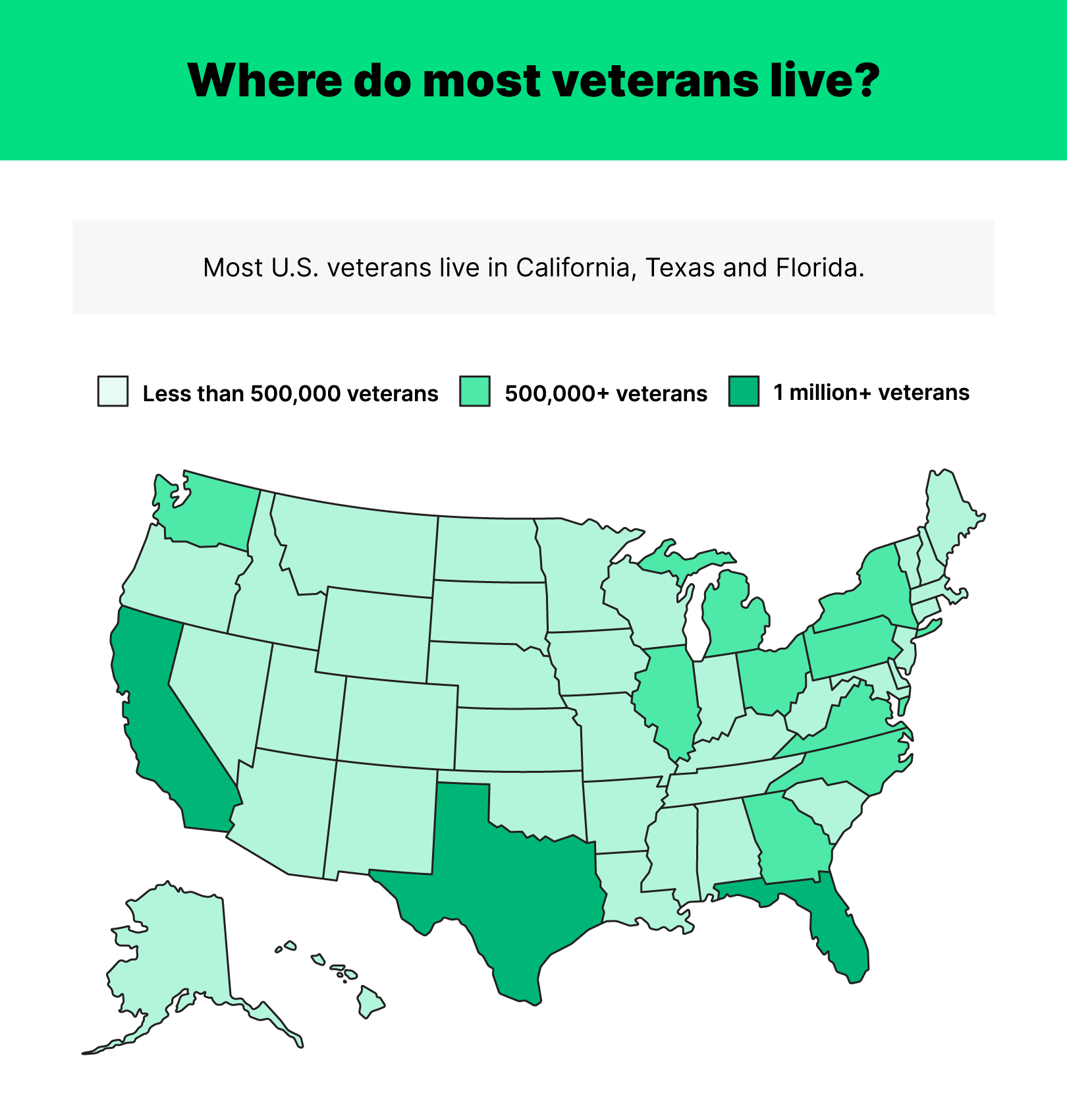 Most veterans in the United States live in California, Texas and Florida, with about 1.4 million veterans living in each state as of 2019. Other popular states for U.S. veterans include Pennsylvania, Virginia, Ohio and New York.
Military homeownership resources
Here at Hippo, we're devoted to protecting those who serve and protect. Home insurance can keep your home protected in the event of accidental damage, weather events or break-ins. Contact us today to see how we can help you get coverage.