The widespread orders to shelter in place have affected everyone in different ways. For many people, it's meant spending an unprecedented amount of time at home—a place which is now not just a home, but also an office, a school, a gym, and more. And with all this extra activity going on, many of our homes are experiencing additional wear and tear.
We call it "Home Strain": the extra pressure on our home's resources and infrastructure from running at full capacity, 24/7. To find out what effect all this extra time at home is having on our dwellings, we asked more than 3,000 Americans to tell us about their experiences sheltering in place, including what kind of home maintenance issues they're seeing. Here's what we found.
Home needs are changing
While people are sheltering in place, our homes are shouldering more than ever before. We wanted to know how people were handling this challenge, and if they thought their homes were up to the task. First, the good news: While virtually everyone reported that at least one person who was usually at work or school was now home full-time, almost 87% reported that their home was sufficient for their new needs. 
People in houses are 16% more likely to say their home meets their current needs than those in apartments or condos.
However, we found that satisfaction seems to depend on the type and size of the home and the number of people in it. While 89% of respondents in houses were happy with their arrangement, only 75% of people in apartments and condos agreed. Likewise, 92% of two-person households said they're doing fine compared to just 80% of homes with five or more occupants.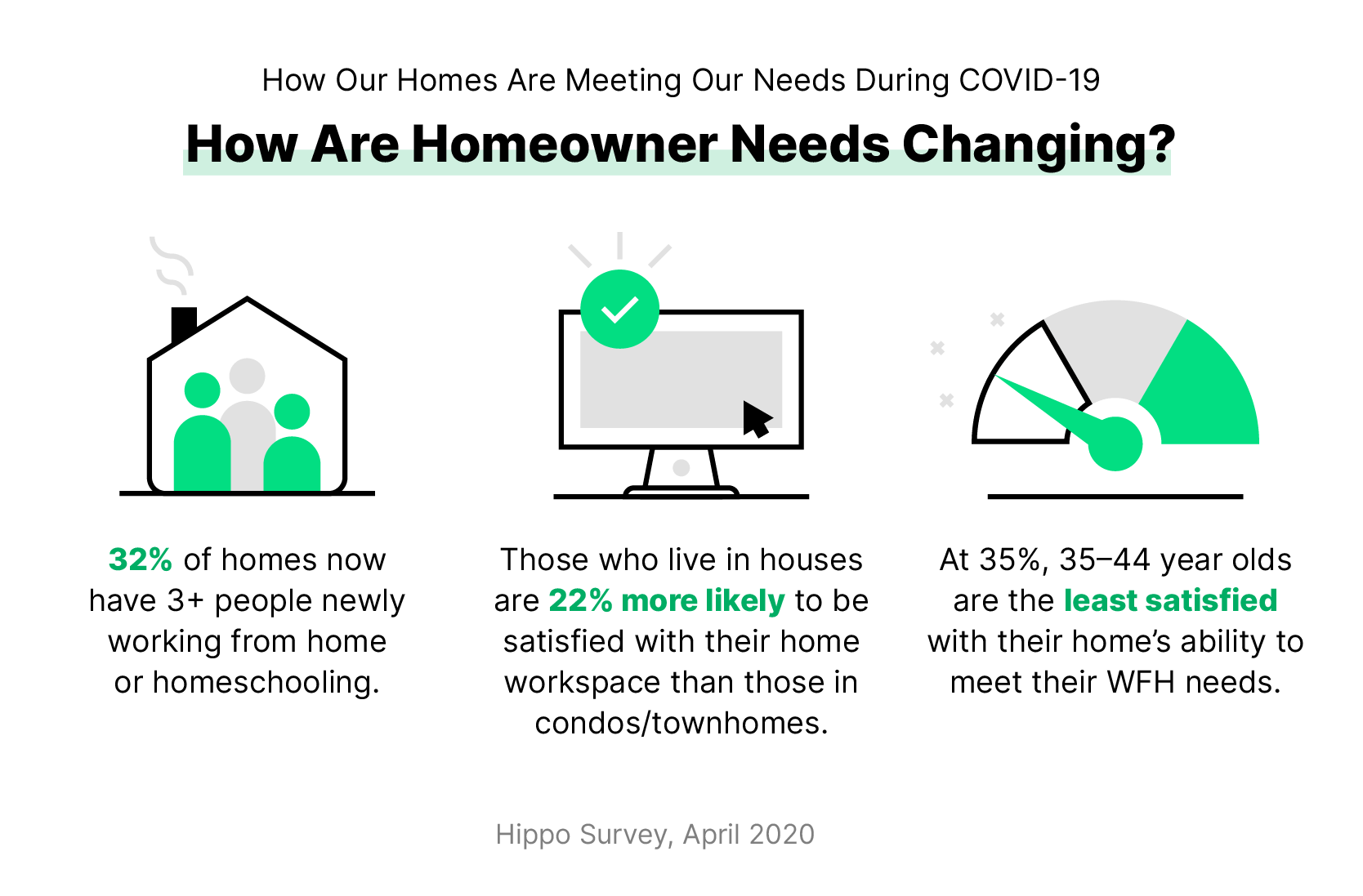 Ultimately, the less space available per person, the harder it seems to be to make things comfortably liveable. And of course, the more people there are at home, the more likely that both your patience and the pressures on your home will be stretched to the breaking point.
Maintenance needs are increasing
The more you use something, the more maintenance it needs. And because we're all spending so much more time at home, our normal maintenance routines aren't enough. "We're used to spending about 30% of our day at home," estimates Mike Gulla, Hippo's Director of Underwriting. "Right now, it's basically 100%. That's three times the normal amount—it's a huge jump." Sure enough, since we all began to shelter in place, 28% of people have noticed more strain on their home appliances, equipment, and electronics. 
From the time sheltering in place began, 35% of respondents have reported home repair needs. 
Tripped circuits and power surges are the most common complaint, followed by broken kitchen appliances and water leaks or backups. Here's what else people reported: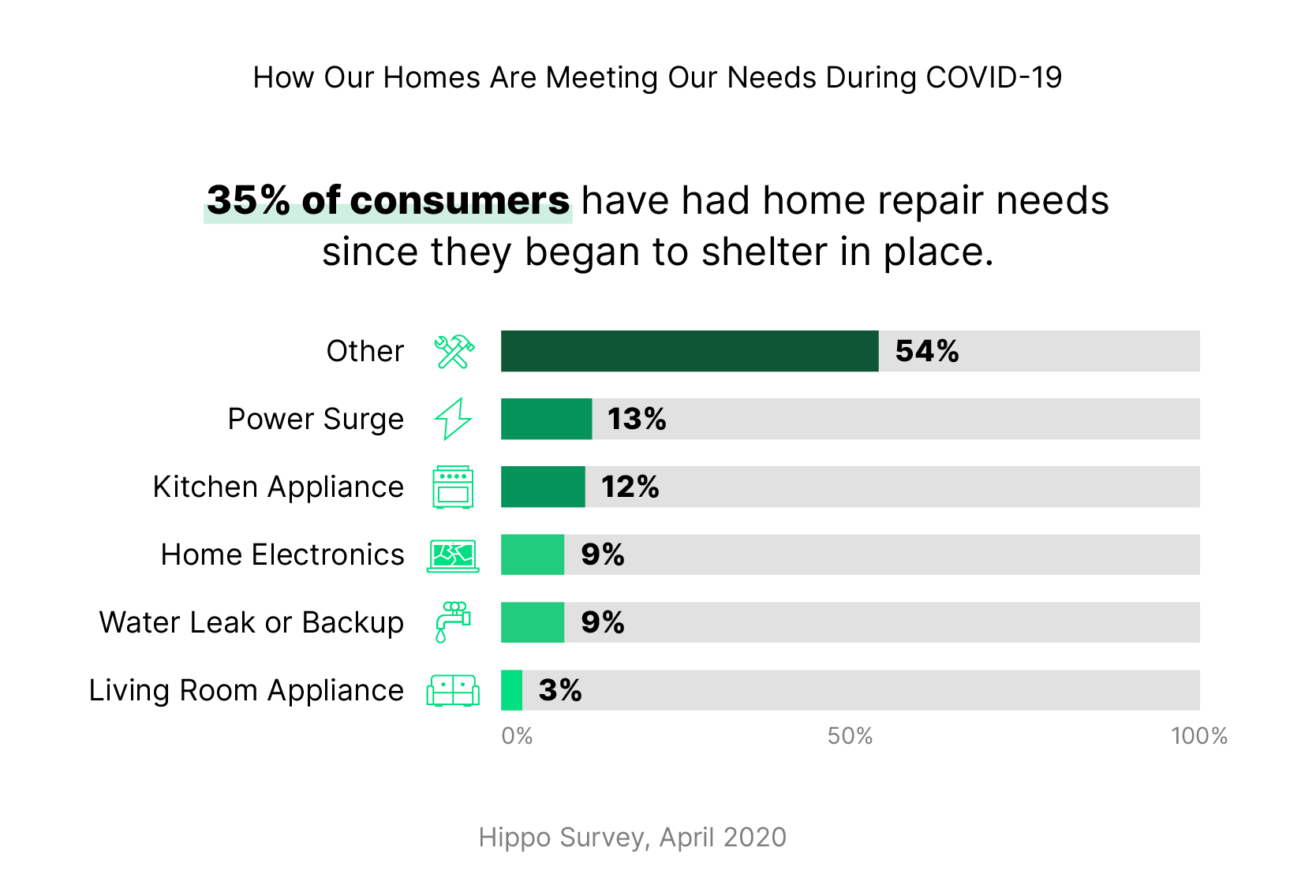 If you notice your circuit breaker tripping, pay close attention—it's often an early warning sign that you're overloading your circuits, which can lead to much bigger problems down the line. 
Tips for prevention
The old adage is true: An ounce of prevention is worth a pound of cure. Right now, it's more important than ever to take good care of your home. Preventative maintenance practices can save you quite a bit of money down the line:
A broken dishwasher costs between $1-2K to replace, including labor

A water heater costs between $1-2K to replace, including labor

A flood or fire caused by overuse can cost tens of thousands of dollars
 Fortunately, you can reduce your risk. In the kitchen, clean your dishwasher filter and check under the sink for leaks. You should check your bathroom sink, too, and clean your shower drain. If you have a washer and dryer in your home, look for cracking or brittle patches on the hoses and clean your dryer vents. And all over the house, check your smoke detectors, change your HVAC filters, and swap out your old lights for LEDs—in addition to using less energy, you'll save money, too.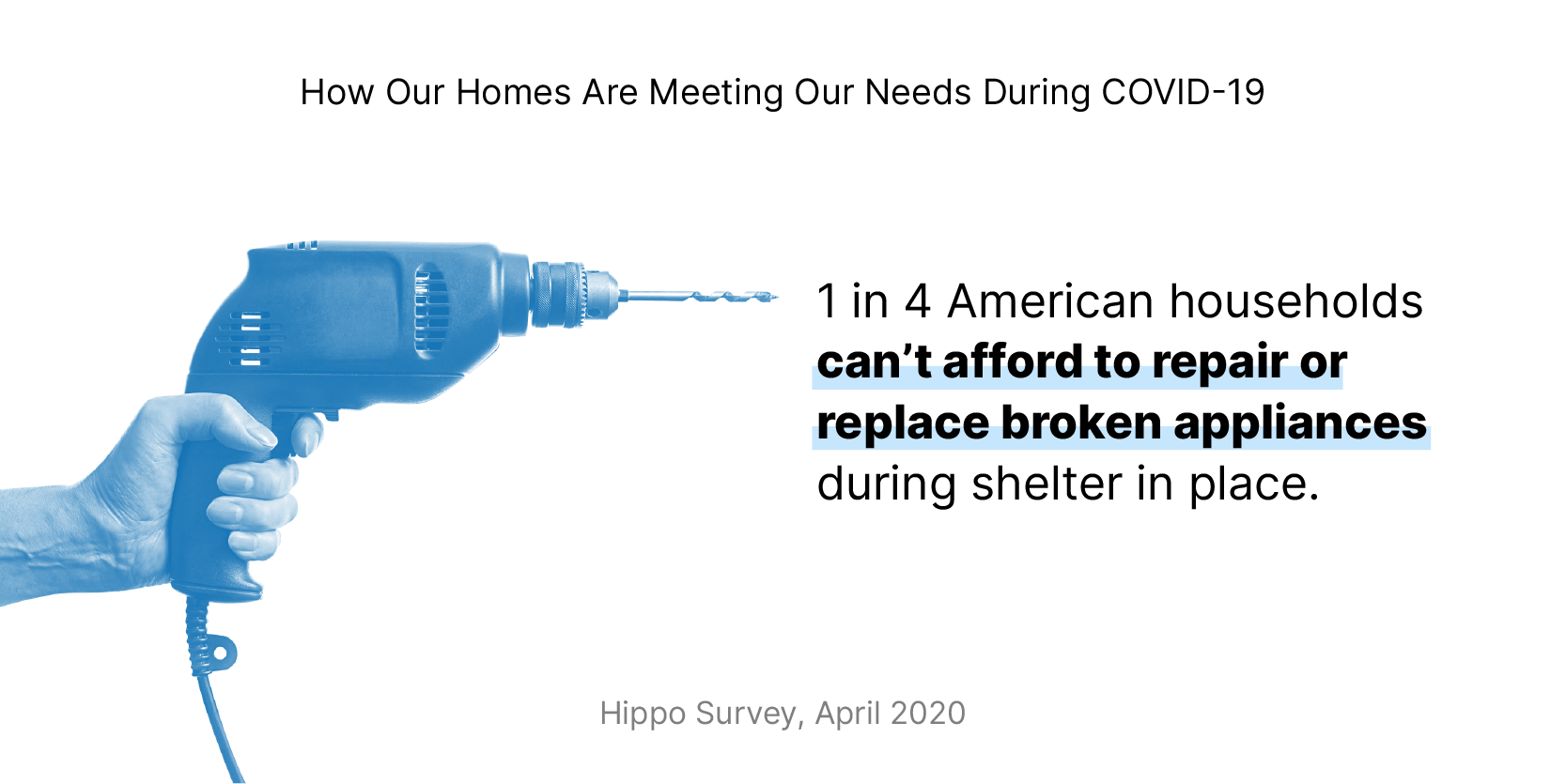 However, on occasion, things just break. Under normal circumstances, you'd have three options: hire someone to fix it, fix it yourself, or leave it broken. In today's climate of sheltering at home, these are not normal circumstances, so your options may be limited. Not all repair services are available right now, and you may not have access to all the supplies you need to DIY. Calling your handy friend to come over and do it for you is out, too with COVID restrictions. So now what?
Fixing the problems
One increasingly popular option is telemaintenance, which includes a video consultation and potential DIY fix for your issue. According to our research, 26% of homeowners who recently needed repair work either weren't able or didn't have the ability to hire a professional. If your repair is deemed "non-essential" and you can't get (or don't want) a professional to make a house call, you can contact a Hippo Home Care Pro to help you troubleshoot issues and walk you through a repair by video, free of charge to anyone.
 For smaller repairs, you may be able to tackle them yourself. In our survey, 31% of homeowners with a maintenance issue chose the DIY approach. Interestingly, people in houses reported feeling less prepared to fix items than people in other dwellings, as did smaller households. On the other hand, while larger households felt more confident about tackling a DIY repair, they also reported having less budget to handle them.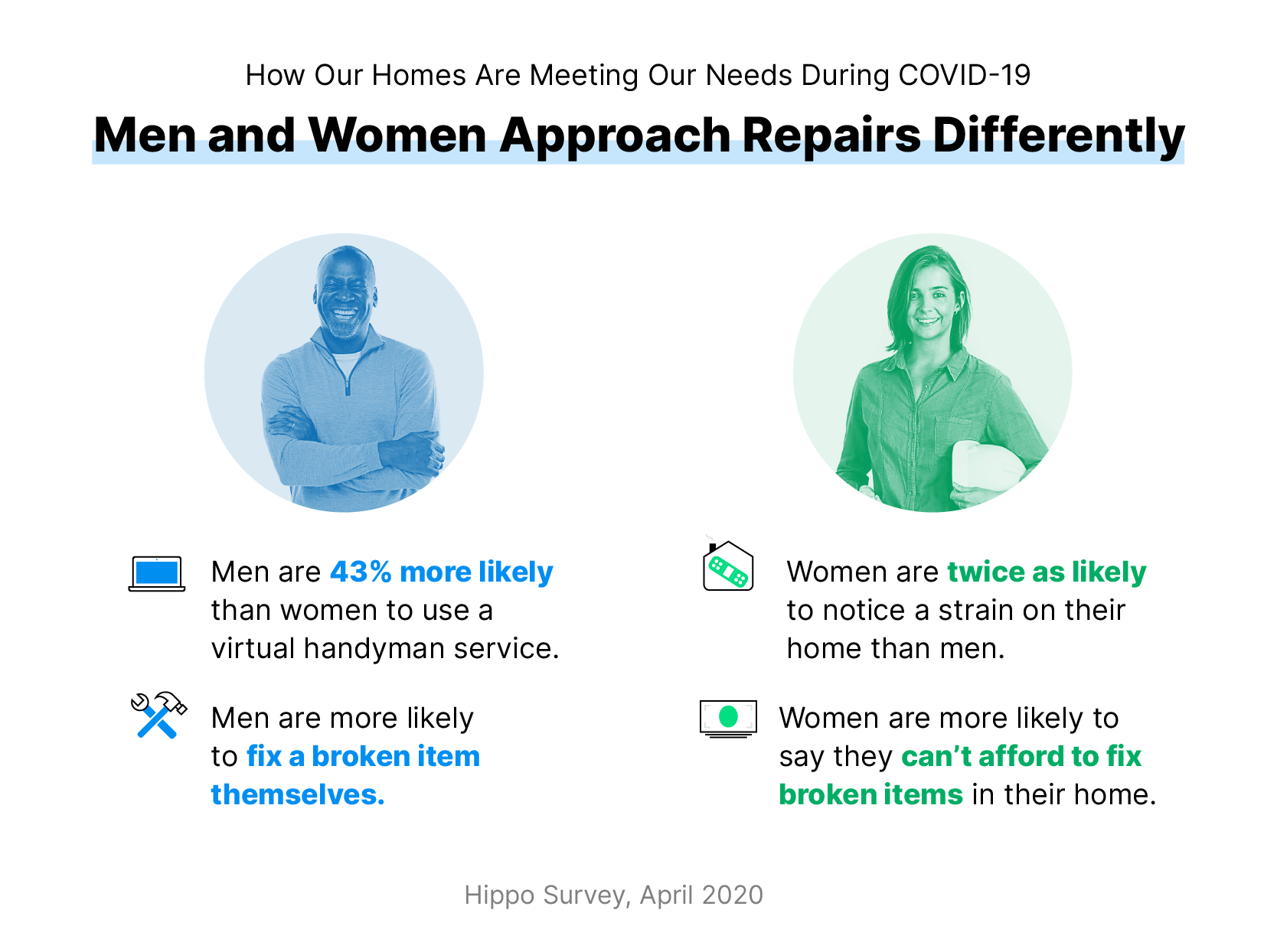 Ultimately, if you think something might be wrong with your home, don't panic. You can handle a lot of DIY maintenance on your own, but some things—plumbing, roofing, and electrical work, for example—are best left to the experts. A Hippo Home Care Pro or other professional can help you tell the difference.
Now is also a good time to review your homeowner's policy. If you're working from home more than usual, find out your home office coverage limit and request an increase if necessary. The average policy limit is just $2,000 for home office equipment—less than the cost of a new high-end laptop. On the other hand, Hippo's home office limit starts at $8,000 and allows homeowners to request more depending on their needs. So, check out your policy and see what your limits are now—hopefully, well before you need your policy.
Methodology
This survey was conducted using the online survey platform from Google Publishers Network. Users complete survey questions in order to access high quality content around the web. Google automatically aggregates and analyzes responses. The sample of more than 3,000 adults (18 years or older) in the United States were surveyed between April 10-17, 2020 with the minimum respondents per question being no less than 1,000.