While the Maine coastline may conjure images of waves crashing on a rocky shore and a lighthouse shining onto the Gulf of Maine, life in the Pine Tree State is more than just lobster dinners and sea salt.
Maine has a rich and varied culture. More than just producing a walloping 40 million pounds of lobster per year, Maine also produces 95% of the United States blueberry supply. But just as farmhands work overtime to stock grocery shelves, Maine's great minds are working to innovate in other areas, too. Without the great inventors of the north, we wouldn't have earmuffs, microwave ovens, L.L. Bean or even donut holes.
But just because Maine is home to horror author Stephen King, purchasing home insurance doesn't have to be a nightmare. Read on for more information about home insurance in Maine, the most forested state in the US.
How much is homeowners insurance in Maine?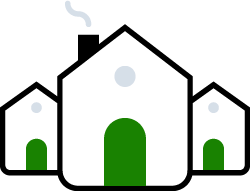 Though Oregon is the least expensive home insurance premium in the country, Maine still ranks in the top 10 least expensive. Coming in at number eight, the average annual home insurance premium in Maine is $991. Compared to the national average of $1,211 per year, Mainers pay an average 18.2% less for home insurance. Though if you live in Portland, you can expect to pay a bit more, as Portland, ME home insurance costs $1,295 a year.